Introduction: In this article, Melissa Davenport Berry continues the story of the people affected by the huge fortune left by railroad magnate Mark Hopkins, focusing on Maria Bresee joining Timothy Hopkins' lawsuit contesting Mark's widow Mary's will, which left the estate to her second husband Edward Francis Searles. Melissa is a genealogist who has a blog, AnceStory Archives, and a Facebook group, New England Family Genealogy and History.
Note: Melissa is writing a series of articles about the people affected by – and the mad scramble for – the huge fortune left behind by Mark Hopkins when he died without a will or heir in 1878. This is the eleventh article in that series; links to the first ten installments can be found at the end of this article.
As detailed in my last few articles, when Mary Frances Sherwood (Hopkins) Searles, aka "America's richest widow" (widow of railroad magnate Mark Hopkins), died on 25 July 1891, her will named her second husband Edward Francis Searles as sole heir.
Timothy Nolan Hopkins, the son Mary adopted before she married Edward Searles, was cut out of her will and he was bent on getting a share of her estate. He, along with many relatives of Mary, sued to break her will and deny Searles the entirety of her huge fortune, claiming Searles confused and defrauded her by pretending he was in contact with "spirits" that instructed her to marry him and give him all her money.
Many of Mary's relatives had received a yearly allowance from the wealthy widow while she was alive, and others were promised a slice of the pie after she was gone.
When Timothy Hopkins filed to contest the will in Salem, Massachusetts, many of the widow's first and second cousins hopped on board. One of the contestants, Maria Elma Hebbard Bresee, filed in October 1891, represented by Brander W. Lee of the firm Wells, Monroe, and Lee of Los Angeles, California.
As this article reported:
"This lady [Maria Bresee] comes right out boldly and declares that the will now offered for probate is not the last will of Mrs. Searles. In this respect a greater interest attaches to this appearance than to any of the others, for it is the first document approaching a formal declaration – impeaching the will offered by Mr. Searles, and averring fraud, duress and undue influence."
Lee joined forces with Hopkins' legal team; however, it was made clear to the Los Angeles Herald that the cooperation was only to strengthen the defense and break the will: "All he [Timothy Hopkins] brings forth will be to our benefit," Lee said, "until the will is broken, then we shall enter a fight with him."
Maria's brother, Rodney Lewis Hebbard, a farmer living in Davenport, New York, had filed with 21 other first and second cousins to the widow. Maria told reporters another sister had filed along with Rodney, but her name is not listed in the newspaper coverage. (The only sister still alive in 1891 was Deborah Jane Hebbard, married to Chester Crawford and living in Davenport.)
Maria married Phineas Franklin Bresee, who was deeply committed to the Methodist Episcopal Church.
Newspaper headlines read "Minister's Wife after Millions," and noted that Maria's claim was the first document of formal declaration to add much clout to Timothy's claim. It also provided intrigue for the public who could not get enough of the controversial case.
Maria's complaint stated that the decedent [Mary Hopkins Searles] was not competent, and not free from duress, fraud, or undue influence. Therefore, the will was not valid and Searles, with the aid of others unknown to her, attempted to gain all rights to the estate. The "others" were noted by Lee to be spiritualists, mesmerists, and the like. Maria's complaint said that she "prays" that contestants be allowed to join with others and impeach the suspect will and Searles himself.
According to the press, Maria's bold assertions caused a sensation from coast to coast. It was a new dish of scandal for Salem, Massachusetts, especially for those who had a seat in the courtroom.
Maria had her shocking accusations, but Searles held a celestial diversion to sweeten the bitter battle. He entertained the Boston Fusiliers at his castle in Methuen. Searles was delighted as the visitors marveled at the beauties of his estate. They banqueted and gave "Lord Searles" (an undeserved title he richly enjoyed) three cheers, elected him as an honorary member, and presented a framed photo of them all. I am quite sure that whatever hell Maria had crusaded for Searles in that courtroom was vanquished that night as the "Lord" found a heaven.
Stay tuned for more on this drama and more Hebbard contestants, and I will describe the outcome of the legal battle.
Further Reading:
Girvin, Ernest Aleander. "Phineas F. Bresee: A Prince in Israel, a Biography." Pentecostal Nazarene Publishing House, 1916.
National Society Sons and Daughters of the Pilgrims, 1982. "Sixteen hundred lines to Pilgrims, Book 3."
Fremmer, Ray; Ellison, Andrew M.; DeLage, Robert. "The Life Story of Edward F. Searles: from the Unabridged Hand-written Manuscript of 1948."
Phineas Franklin Bresee (1838–1915): Recovering the Spirit of Original Methodism
Genealogy of the claimants in the case:
The claimants were connected to Mary Francis Sherwood Hopkins Searles through her father William Sherwood, of Jehial Sherwood (1738/39-1807) and Sarah Squire (1747-1793), daughter of Daniel Squire (1722-1775) and Abigail Osborn (1729-1815). The Sherwood family were in Connecticut.
Abigail Sherwood (1777-1860), daughter of Jehial Sherwood (1738/39-1807) and Sarah Squire (1747-1793), married Nathaniel Hebbard (1778-1825), son of Elisha Hibbard (1746-1825); grandson of Nathaniel Hibbard (1709-1790); great grandson of Nathaniel Hibbard (1680-1725) of Wenham, Massachusetts, and Sarah Crane (1680-1721), daughter of Lt. Jonathan Crane (1658-1735) and Deborah Griswold (1661-1704). "Genealogy of the Hibbard family who are descendants of Robert Hibbard of Salem, Massachusetts." Note: The spelling of the name is Hibbard/Hebbard. Abigail Sherwood was sister to William Sherwood, father of Mary Frances Sherwood, wife of Mark Hopkins and Edward Francis Searles, and adopted mother to Timothy Hopkins.
Elisha Hebbard (1802-1872), son of Nathaniel Hebbard (1778-1825) and Abigail Sherwood (1777-1860), married Olive Ferry (1802-1875).
Children of Elisha and Olive:
Jane Hebbard (1831-1918), married Captain George Thomas Hollingworth (1831-1911), son of Thomas Hollingworth, buried in Forest Hill cemetery in Utica, Oneida County, New York. Their daughter Ida L. Hollingworth married W. H. Fitchard. Ida was a member of the Daughters of the American Revolution #74830 1924.
Nathaniel J. Hebbard (1833-1910), married Elizabeth Mercer (1840-1915).
Alonzo Hebbard (1827-1887), married Margaret Ann Chitry. Their children: Alonzo Hebbard (1856-1930); George Hebbard (1840-1907), married Annie Eliza Sherman (1846-1926).
Josephine Hebbard (1836-1913), married Harry Davis.
Horace Hebbard (1806-1883), son of Nathaniel Hebbard (1778-1825) and Abigail Sherwood (1777-1860), married Samantha Hoyt (1805-1875), daughter of Joseph Bouton Hoyt (1775-1844) and Thankful Benedict (1781-1844), and married 2nd her sister Thankful Hoyt, no issue.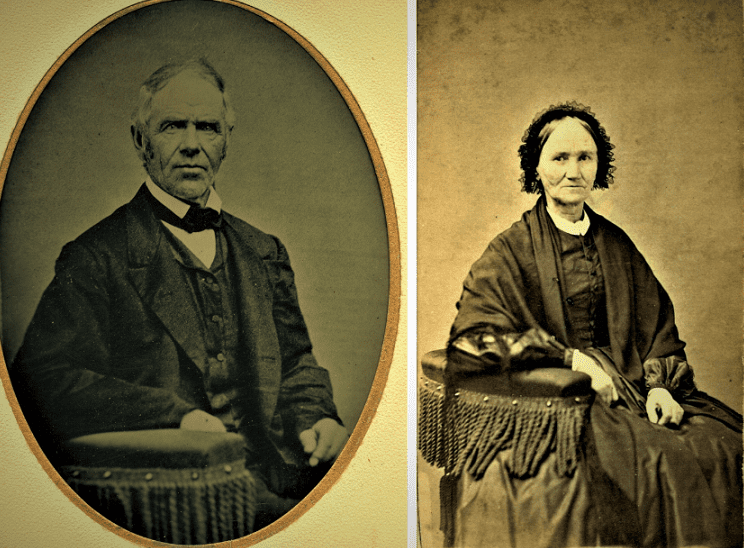 Horace's children with Samantha:
Rodney Lewis Hebbard (1830-1906), married Sarah Agnus Hanford (1834-1875), daughter of Ebenezer Hanford (1789-1875) and Hulda Follett (1794-1861), and married 2nd Agnes M. Montgomery (1839-1907).
Maria Elma Hebbard (1836-1920), married Phineas Franklin Bresee (1838-1915), son of Phineas Philips Bresee (1812-1895) and Susan Brown (1812-1902).
Harriet Hebbard (1809-1894), daughter of Nathaniel Hebbard (1778-1825) and Abigail Sherwood (1777-1860).
Jane Ann Hebbard (1811-1897), daughter of Nathaniel Hebbard (1778-1825) and Abigail Sherwood (1777-1860), married William Smith, a jeweler.
Lyman B. Sherwood (1781-1877), son of Jehial Sherwood (1738-1807) and Sarah Squire (1747-1793), married Betsey Minor (1786-1856), daughter of Jonathan Minor (1754-1835) and Sarah "Sally" Frost (1763-1837).
Lyman's children with Betsey:
Lyman B. Sherwood (1824-1901), married Sarah Moorehouse Banks (1823-1895).
Delia Sherwood (1817-1904).
Nathaniel Hebbard (1817-1851), son of Nathaniel Hebbard (1778-1825) and Abigail Sherwood (1777-1860), married Mary Ann Williams (1817-1844), daughter of Isaac Williams (1775-1843).
Mark Hopkins (1813-1878), son of Mark Hopkins (1779-1828) and Anastasia Luken Kellogg (1780-1837), married his first cousin Mary Francis Sherwood (1818-1891), daughter of William Sherwood (1786-1871) and Lydia Ann Kellogg (1793-1865), daughter of Ezra Kellogg (1758-1833) and Mary Whiting (1758-1837).
Mary Francis Sherwood Hopkins, married 2nd Edward Francis Searles (1841-1920), son of Jesse Gould Searles (1805-1844) and Sarah Littlefield (1809-1896); grandson of James Searles (1773-1857) and Abigail "Abi' Duren (1771-1868). Edward and his wife Mary Francis Sherwood Hopkins Searles (1818-1891) are buried at the Presentation of Mary Cemetery, also known as Our Lady of Sacred Heart Chapel, Searles Chapel.
Mary's adopted son, Timothy Nolan Hopkins (1859-1936), was born to Irish immigrants Patrick Nolan (1829-1862) and Catherine Fallon (1834-1903) in Augusta, Maine. (Harold Clarke Durrell, "Memoirs of Deceased Members of the New England Historic Genealogical Society" NEHG Register April 1936.) He married the niece of Mary and Mark Hopkins, Mary Kellogg Crittenden (1862-1941), daughter of Hiram Crittenden (1814-1883) and Lydia Sherwood (1829-1877). They had one daughter, Lydia Kellogg Hopkins (1887-1965).
Timothy Hopkins was a member of the New England Historic Genealogical Society and produced genealogies; one was a three-volume series, "The Kelloggs in the Old World and the New" and "John Hopkins and Some of His Descendants." His wife Mary was a member of the Daughters of the American Revolution, the Mayflower Society, and the Colonial Dames. (P. 30 "Order of the descendants of colonial governors Prior to 1750: Roll of Members in State of California.")
Other Articles in This Series: