Introduction: In this article, Melissa Davenport Berry continues the story of the people affected by the huge fortune left by railroad magnate Mark Hopkins, focusing this time on the mysterious death of Lydia Hopkins. Melissa is a genealogist who has a blog, AnceStory Archives, and a Facebook group, New England Family Genealogy and History.
Note: Melissa is writing a series of articles about the people affected by – and the mad scramble for – the huge fortune left behind by Mark Hopkins when he died without a will or heir in 1878. This is the sixth article in that series; links to the first five installments can be found at the end of this article.
Lydia Kellogg Hopkins, granddaughter of railroad magnate Mark Hopkins, was born at "Sherwood Hall" in San Mateo, California, to Timothy Nolan Hopkins and Mary Crittenden in 1887. (Her father Timothy was the adopted son of Mark Hopkins' widow Mary.) In her youth, Lydia attended teas and luncheons surrounded by society's elite, which included her godmother, Mrs. Leland (Janet) Stanford.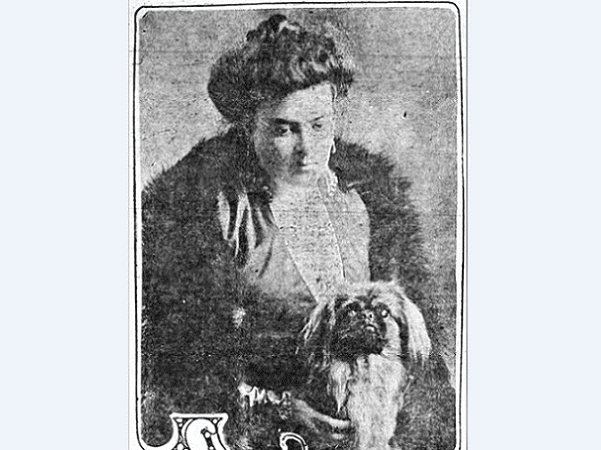 Lydia became interested in show dogs and her parents furnished her with the finest breeds money could buy. By the age of 16 Lydia had shown over 150 champion dogs, earning her a solid reputation in the dog world. She was the first American invited to the Plaza in New York to judge Pekingese. In 1907 Lydia had her debut into society, but never married. Instead Lydia pledged her love to dogs and her enterprise in breeding them.
The last 10 years of Lydia's life are an enigma. When she died in 1965, her remains were cremated. There is no obit for her, no grave, and the location of her ashes is unknown. Only Helen H. Kincaid holds the answers – and she is long gone.
The Mysterious Helen H. Kincaid
Who is Helen H. Kincaid? She was Lydia's "only loyal companion" who showed up on 3 February 1965 at San Mateo Superior Court to file Lydia's last will and testament. Helen managed to pocket the remainder of the Mark Hopkins millions.
According to Kincaid, she had forged a "close knit family" with Lydia, but GenealogyBank and archival records reveal a different story – one of greed, calculated fraud and blatant malice. That scoop will come later, in an upcoming article.
But back to Lydia…
Lydia's Interview with Reporter Robert Wooley
In 1954 Lydia Hopkins invited the press to her estate "Hidden Acres" in Woodland, California, for a tell-all. Lydia had removed herself from public life, but agreed to a rare public appearance at the San Mateo Kennel Club that day.
Robert Wooley of the San Francisco Chronicle interviewed Lydia. Wooley thought he was gaining insight into the secrets of an expert champion dog breeder, but Lydia dished up another scoop: the family scandal.
Wooley was given an earful. Lydia was 67 years old and confessed she distanced herself from the public because "dogs often seemed so much nicer than people." She told Wooley she sends her staff "out on the circuit" to show her champions.
Lydia reminisced with Wooley on the golden age of her birthplace, Sherwood Hall, when she was surrounded by her magic kingdom of animals. She talked of "M. Bobee de Bolgne," her first poodle, which started her lifelong passion.
Lydia told Wooley she became soured when the family engaged in battles over the money. It caused her to walk away from society. She recalled Edward Searles, an interior decorator from Massachusetts who was 46 when he married Lydia's 69-year-old widowed grandmother Mary Hopkins in 1887. The marriage really triggered a great divide in the family and lasted less than four years. Mary died in 1891 and left the Mark Hopkins fortune to Searles.
Lydia's father Timothy was adopted and doted upon by Mary Hopkins, but his opposition to her marriage to the much-younger Searles left him cut out of her will. He pursued legal action against Searles after Mary's death until a settlement was reached. (This settlement was only a portion of Timothy Hopkins' financial portfolio. More will be revealed in an upcoming article.) Lydia revealed the final figure of that settlement: it was $3 million. Her share was used to build "Hidden Acres."
In her interview with Wooley, Lydia made no mention of Helen Kincaid or any "close knit family."
Additional Details about Lydia's Life
Lydia Hopkins attended the well-regarded Miss Stevens School in Pennsylvania. The year she graduated, her family was devastated by the 1906 San Francisco earthquake.
However, her father Timothy Hopkins bounced back and suited up for Lydia's debut into society the following year. The whole season of teas and introductions were reported in the newspapers. On 18 January 1907, all of California's top-drawer members attended the ball held at the Palace Hotel.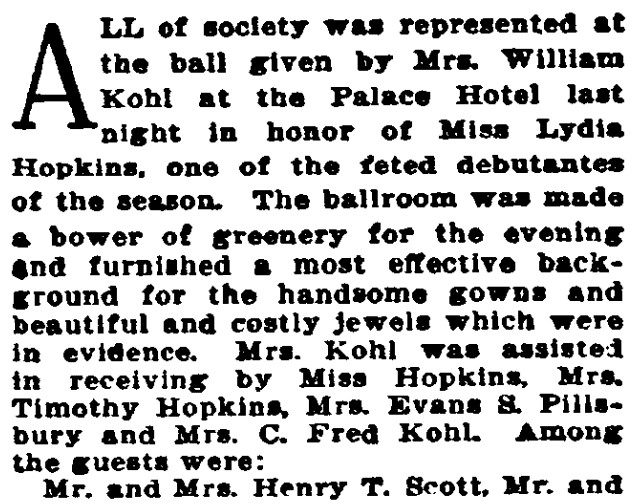 Lydia could have had any number of beaux, but chose the four-legged furry type: "they don't talk back." She preferred to win a Vanderbilt male in the show ring rather than wed one.
This heiress was a worker. During WWI in 1917, Lydia left for Europe and got active in the Red Cross in Italy. She moved to France where she held a clerical position for the war department and returned home in 1922.
She found a sales position in a department store in downtown San Francisco. She told the press millinery was her specialty. She wanted the experience to add to her interest in social welfare.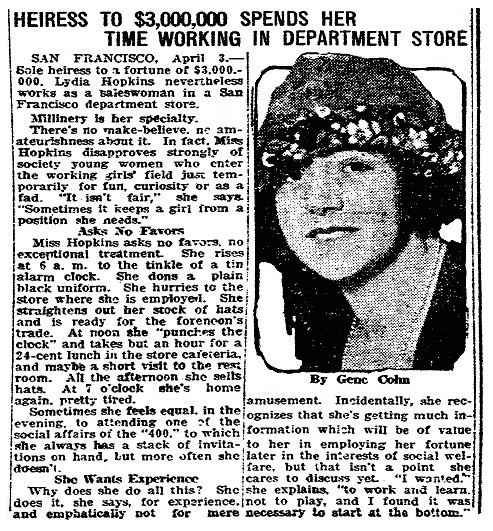 Lydia eventually made dogs her full-time vocation. She opened Sherwood Kennels in San Mateo on B Street. In 1939 she moved the operation to her home "Hidden Acres." Lydia published a book, The Complete Poodle, which was released at a fancy cocktail party, attended by all the town's best poodles. If you plan on showing poodles or breeding them, this book is highly recommended.
Lydia had a few of her own courtroom dramas. However, her mantra was always "Will Fight to the Last Bark!"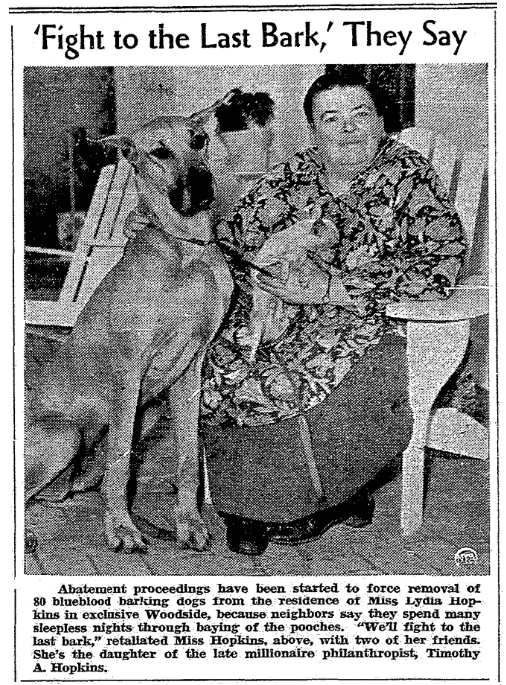 In 1940 nine of Lydia's neighbors in Woodland filed a noise nuisance complaint regarding the more than 100 dogs living at Sherwood Kennel. The judge ordered all canines off the premises, but Lydia defied the county commissioners and refused to remove the dogs.
Lydia gathered signatures from 67 socially prominent citizens who attested that her dogs were not the annoying barkers that her neighbors claimed them to be. She soundproofed the kennels and hired a veterinarian surgeon specialist to de-bark the dogs via operation. She returned to court and won her case after six dogs took the stand and refused to make a noise.
In 1954 Lydia was sued by her butcher Louis Casaretto for $5,572.34. The butcher provided invoices which spanned over a six-year period. Lydia told Judge Murrary Draper the bill was outrageous, and it did not even include the pooch's cuts. The judge ordered Lydia to pay $4,579.61.
Coming soon: the story on Helen H. Kincaid, who won both the confidence of Lydia Hopkins and her millions.
Note: Just as an online collection of newspapers, such as GenealogyBank's Historical Newspaper Archives, told the stories of Lydia Hopkins' life, they can tell you stories about your ancestors that can't be found anywhere else. Come look today and see what you can discover!
Genealogy:
Mary Kellogg Crittenden (1862-1941), daughter of Hiram Crittenden (1814-1883) and Lydia Sherwood (1829-1877).
Mary married Timothy Nolan Hopkins (1859-1936), who was born to Irish immigrants Patrick Nolan (1829-1862) and Catherine Fallon (1834-1903) in Augusta, Maine. (Harold Clarke Durrell, "Memoirs of Deceased Members of the New England Historic Genealogical Society" NEHG Register April 1936.)
Timothy was adopted in 1878 by Mary Hopkins (1818-1891), widow of the railroad magnate Mark Hopkins (1813-1878).
Mary and Timothy had one child, daughter Lydia Kellogg Hopkins (1887-1965).
Helen Harrison (1908-2000), daughter of Frank Edson Harrison (1883-1939) and Nina Pearl Kerr (1883-1957).
Helen married James G. Kincaid (1903-1985), son of Millard Fillmore Kincaid (1860-1950) and Lucinda Martha Martin (1864-1948).
Helen married John Robert Still (1921-1993), son of John Robert Still and Deborah Ann Brame (1877-1928).
Other Articles in This Series: