Introduction: In this article, Melissa Davenport Berry continues her story about the probate battles over the huge estate left by railroad magnate Mark Hopkins, and the Gilded Age mansions built with that money. Melissa is a genealogist who has a blog, AnceStory Archives, and a Facebook group, New England Family Genealogy and History.
After her husband, railroad magnate Mark Hopkins, died in 1878, Mary Hopkins busied herself building and decorating fine mansions. She began a courtship with Edward Francis Searles, an interior decorator sent by the Herter Brothers firm of New York. He was 23 years younger than Mary.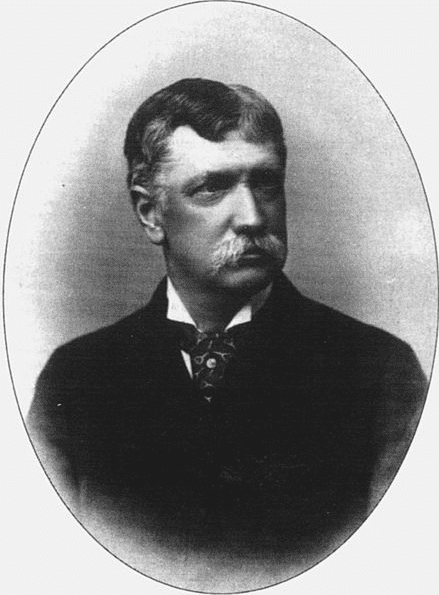 The gossip in the Nob Hill society of San Francisco was all about Edward and his interest in the wealthy widow. Timothy (Nolan) Hopkins, the son Mary adopted a year after her husband Mark's death, disapproved of the relationship from the start but had no influence with his mother.
Mary's drawing-room in her Nob Hill mansion became famous. She drew an eclectic mix of artists and literary types and became known as the "patron goddess."
Mary longed to return to Great Barrington, Massachusetts, where she had attended school as a young girl. She inherited property from her aunts (the Kellogg family) who had a seminary school for girls. Mary built a 40-room French chateau-style magnificent castle, which cost over two million dollars and included a "dungeon" basement.
The exterior was designed by the firm of McKim, Mead & White, and built from blue dolomite quarried on the property.
Mary called it Kellogg Terrace, but it is known today as Searles Castle. The mansion of marble halls, located in the beautiful Berkshire mountains, had a national reputation for the extensive art collection and "could not be equaled even in the most noted palaces of Europe." In the Louis XV Versailles Room (all imported from Venice) Mary and her paramour Edward, dubbed the "Napoleon of love" in the press, lived lavishly.
In 1883 Timothy took the position of treasurer of the Central Pacific Railroad, which had been co-founded by Mary's husband Mark. At about the same time Mary proposed to Edward at the Windsor Hotel in New York, but Edward wanted to "sleep on it."
Mary purchased more properties: a summer home on Block Island, a town house in New York, and a castle in France. She spent millions on home decorating, art, and gardens. Edward moved in with Mary and brought along his male friend, Arthur T. Walker. Timothy was alarmed by the situation, but his mother was smitten and just kept decorating – money was no object.
Mary and Edward were married on 8 November 1887 at Trinity Chapel in New York City. The newlyweds took a six-month honeymoon around Europe.
Edward was dubbed "Lord Methuen." Apparently, while in England he purchased a tortoise shell, mother-of-pearl inlaid chest from a direct descendant of Lord Methuen, the namesake of his hometown in Massachusetts. In France he acquired some of the original tapestry of "The Field of the Cloth of Gold," which dates to l520 when Henry VIII of England conferred with Francis I of France in the town of Guisnes, France.
Edward, who was born poor, became increasingly eccentric. After Mary's death, this article appeared.
According to this article:
"Searles now has the delusion that he is a real live lord. He imagines himself to be 'Lord Searles of Methuen,' and requires his army of servants and workmen to greet him accordingly.

"He requires them to address him as 'My lord,' to remove their hats in his presence and to bow as he passes by. None of them may remain seated before him. He believes himself to be an actual member of the British peerage."
After their honeymoon, Mary decided to cut her adopted son Timothy out of the will, stating: "The omission to provide in this will for my adopted son, Timothy Hopkins, is intentional, and not occasioned by accident or mistake."
On 4 July 1891 Mary made her final public appearance to society in Massachusetts. The entire grounds were illuminated with hundreds of electric lights and a chime of bells were rung from the bell tower. Mary died on 25 July 1891.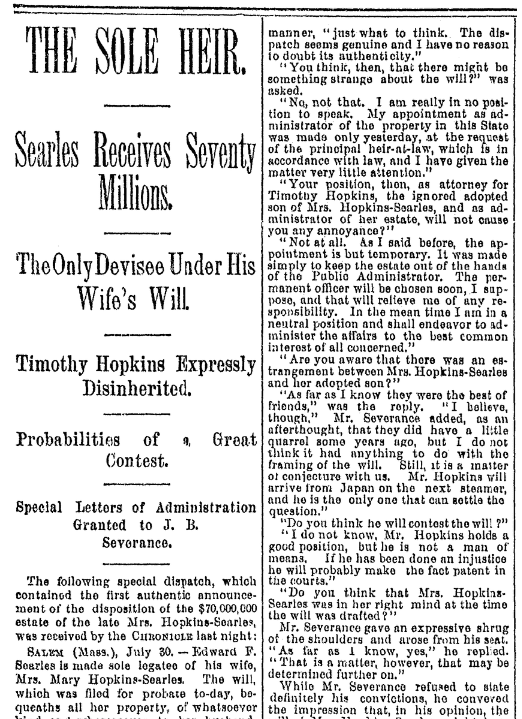 According to this article:
"Naturally this will was a great surprise to all interested in the case in this city. The assumption of those who were nearest to Mrs. Searles was that she would leave the great bulk of her estate in a trust, to be controlled by her confidential advisers, Stillman & Hubbard. Despite reports to the contrary, it was supposed that she would make some special provision for her adopted son, Timothy Hopkins, as the gifts she made to him in life were so trifling when compared with her enormous wealth. Although no definite statement to that effect was made by anyone in a position to speak with authority, still it is pretty certain that Timothy will make a contest of the will, probably on the ground of undue influence and perhaps of failing mental powers of the testator."
After her death, a legal battle between Edward and Timothy became front page news. The probate hearings were held in Salem, Massachusetts.
Timothy alleged that Edward wormed his way into the marriage on false pretenses, even posing as a medium to win both Mary's heart and her fortune. According to sources, the couple were into Spiritualism and Mary held séance circles. Edward claimed to be a medium and "advised" Mary on all matters.
The hearings involved claims of conspiracies, forgery, spiritual exploitation, and overall manipulation. The West Coast newspapers sided with Timothy while the East Coast papers firmly stood by Edward. (Cross, John "Whispering Pines: Stranger Than Fiction? The Story of Searles Science Building") The court eventually ruled in favor of Searles, although Hopkins later received a hefty settlement.
General Thomas Hubbard had been named the executor of Mary Frances (Hopkins) Searles' will and when the probate case closed in Edward's favor, Hubbard suggested an endowment to his alma mater Bowdoin College instead of monetary compensation.
Edward Searles died in 1920 and the Mark Hopkins fortune was willed to his male friend Arthur.
But the drama was just warming up… Check back tomorrow for Part 3 of this story!
Note: Just as an online collection of newspapers, such as GenealogyBank's Historical Newspaper Archives, told the stories of Mark Hopkins' fortune, they can tell you stories about your ancestors that can't be found anywhere else. Come look today and see what you can discover!
Genealogy:
Edward Francis Searles (1841-1920), son of Jesse Gould Searles (1805-1844) and Sarah Littlefield (1809-1896), grandson of James Searles (1773-1857) and Abigail "Abi' Duren (1771-1868). Edward and his wife Mary Frances Sherwood Hopkins Searles (1818-1891) are buried at the Presentation of Mary Cemetery, also known as Our Lady of Sacred Heart Chapel, Searles Chapel.
Research Sources and Aids:
"Timothy Hopkins: The Ironic Journey of Palo Alto's Founder," by Steve Staiger of the Palo Alto Historical Association.
Related Article: