Introduction: In this article, Melissa Davenport Berry writes about the probate battles over the huge estate left by railroad magnate Mark Hopkins. Melissa is a genealogist who has a blog, AnceStory Archives, and a Facebook group, New England Family Genealogy and History.
When California railroad tycoon Mark Hopkins died in 1878 his estate was the largest inheritable fortune ever in the world. He died intestate and without an heir. His wife Mary was duly appointed administratrix and adopted the son of her maid, which provided an heir.
She was dubbed "America's Richest Widow" by the press, who loved to chronicle her extravagant and eccentric lifestyle. Mary erected mansions and hosted seances. She "cougared" her interior decorator, which resulted in a scandalous marriage.
Mary died in 1891 and the estate was battled out in probate court between young hubbie and a disinherited son. Mark Hopkins' estate was later called into question by a swarm of Hopkins hopefuls in the 1920s who turned up with bogus pedigrees, fake wills, and forged Bibles that claimed a genealogical connection to the magnate. The newspaper headlines screamed "A New Gold Rush Is On!"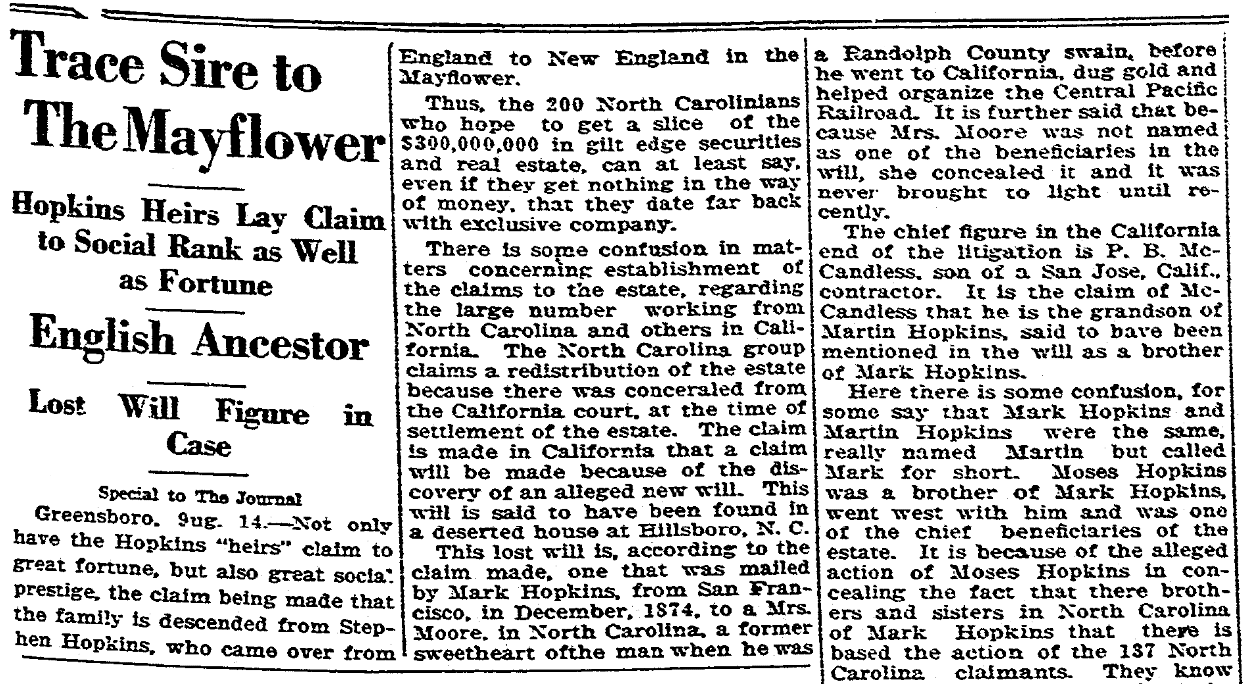 Mark Hopkins, the "Vanderbilt of the Pacific Slope," was a true pioneer and a "49er." He sailed on the ship Pacific from New York City on 22 January 1849 to seek his fortune in California. He started the New England Mining and Trading Company with a group of 26 men, who each invested $500 to purchase goods and ship them to California for sale.
He was one of the "Big Four" that formed the Central Pacific Railroad, along with Leland Stanford, Charles Crocker, and Collis Huntington.
Mark married his cousin Mary Frances Sherwood on 22 September 1854 in New York City. Their family lineage can be traced back to Mayflower passengers, settlers of Massachusetts Bay Colony and Connecticut.
Mary loved romance novels and castles. Mark "liked hard work more than the laziest man liked to loaf." He was known as "Uncle" Mark by his partners, who relied on his even temperament and solid business sense.
Mark was the anchor for many, including Timothy Nolan, the son of his widowed housekeeper. Timothy became part of Mark's household early on and he groomed the young lad for business and Harvard. When Mark Hopkins died in 1878, plans for attending college were cancelled and Timothy's life was altered forever. He would play a convenient role for Mary Hopkins and her financial affairs.
On 21 May 1878 Mary Hopkins filed a petition in the San Francisco County Court for letters of administration. She received most of her husband's estate, and a portion was given to brothers Samuel Frederick Hopkins of Michigan and Moses Hopkins of California. She also adopted Timothy Nolan and he became the Hopkins' official heir.
Soon after the estate was settled Mary moved into a mansion on Nob Hill, San Francisco, and retained the Herter Brothers firm of New York to decorate her palace. The papers noted "America's Richest Widow" was living it up large in her fancy mansion and traveling like a princess in her Midland Railway "Drawing Room Car" to New York.
Mary told the press that she loved to indulge Timothy with all his desires. She spent $7,000 on rare books on one shopping trip to New York, hoping to encourage Timothy's reading. Timothy loved his new digs and told the press: "My room is magnificent, and I just gave Herter carte-blanche, and suits of armor are hung up on the walls, he has made it look like a castle."
Meanwhile, the courts were swamped with letters from chaps who claimed Hopkins promised to adopt them too, and one Midwest woman lay claim for $1,000,000 that she said the railroad man had promised he would leave for her. This would be just a taste of what would come later.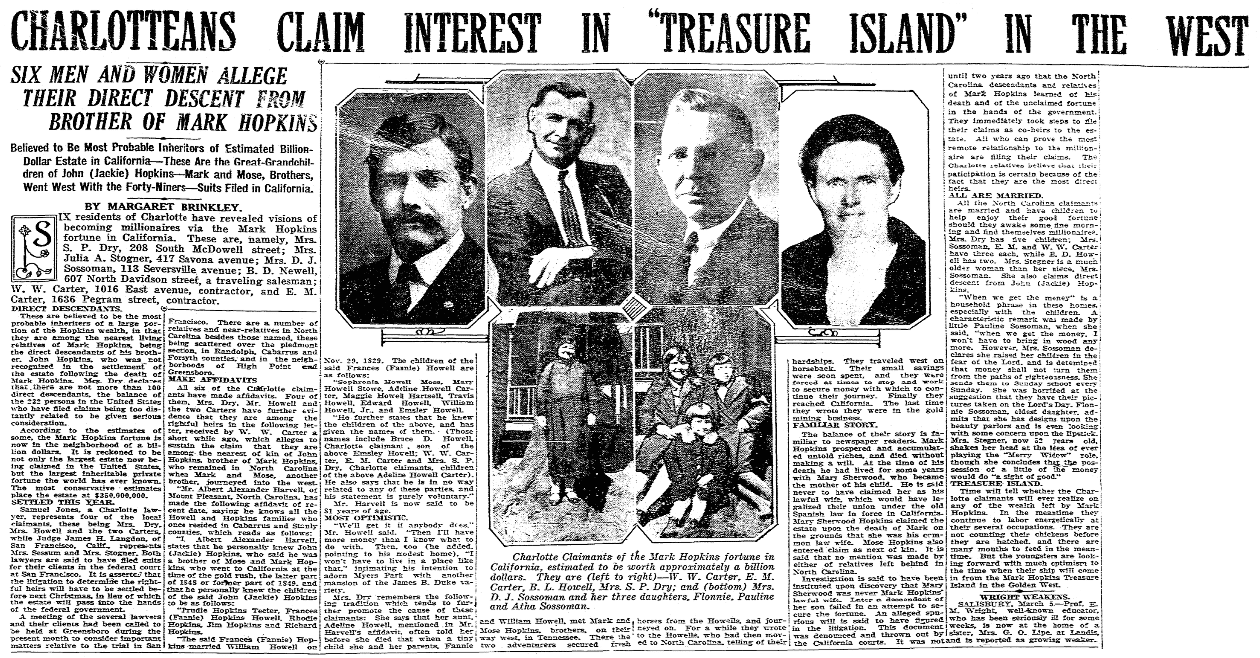 Mary encouraged Timothy to do his apprenticeship with Central Pacific Railroad and to marry her niece, Mary Kellogg Crittenden. The couple married on 28 November 1882. For a wedding gift Mary purchased Governor Milton Lathrop's estate at Menlo Park and named it Sherwood Hall. She hired the Herter Brothers firm again to decorate.
Herter sent out a young interior decorator from Massachusetts… I think you know where this is going. Check back tomorrow for Part 2 of this story!
Note: Just as an online collection of newspapers, such as GenealogyBank's Historical Newspaper Archives, told the stories of Mark Hopkins' life, they can tell you stories about your ancestors that can't be found anywhere else. Come look today and see what you can discover!
Genealogy:
Mark Hopkins (1813-1878), son of Mark Hopkins (1779-1828) and Anastasia Lukins Kellogg (1783-1834), who are first cousins. Mark's siblings: Samuel Frederick Hopkins (1803-1884), Henry Kellogg Hopkins (1807-1846), Moses Hopkins (1817-1892) and Ezra Augustus Hopkins (1821-1865).
Mark married first cousin Mary Frances Sherwood (1818-1891), daughter of William Sherwood (1786-1871) and Lydia Ann Kellogg (1793-1865).
Others in the family tree:
Moses Hopkins (1751-1838) and Ann Whiting (1754-1834).
Ezra Augustus Kellogg (1754-1833) and Mary Whiting (1758-1837).
Samuel Hopkins (1721-1803) and Joanna Ingersoll (1726-1793).
Captain Timothy Hopkins (1691-1749) and Mary Judd (1701-1774).
John Hopkins (1662-1732) and Hannah Strong (1660-1730).
Stephen Hopkins (1631-1689) and Dorcas Brown (1633-1697).
John Hopkins (1613-1697) and Jane Strong (1615-1679).
Elizabeth Needham, genealogist and Mayflower Society member, confirmed the genealogy for Mayflower line connections which also include:
John Tilley and Joan Hurst Tilley; daughter Elizabeth Tilley married John Howland and daughter Desire Howland married John Gorham.
William Bradford and second wife Alice Southworth Carpenter; son Major William Bradford and wife Alice Richards.
Thomas Rogers and Alice Gosford; son John Rogers married Anna Churchman and had son Rev. John Rogers, married to Elizabeth Peabodie.
Other direct lines include:
William Whiting, early settler of Hartford, Connecticut; and John Gillette, an early resident of Canaan, Connecticut.
Timothy Nolan (1859-1936) was born to Irish immigrants Patrick Nolan (1829-1862) and Catherine Fallon (1834-1903) in Augusta, Maine. (Harold Clarke Durrell, "Memoirs of Deceased Members of the New England Historic Genealogical Society" NEHG Register April 1936.) He married Mary Kellogg Crittenden (1862-1941), daughter of Hiram Crittenden (1814-1883) and Lydia Sherwood (1829-1877). They had one daughter, Lydia Kellogg Hopkins (1887-1965).
Timothy Hopkins was a member of the New England Historic Genealogical Society and produced genealogies; one was a three-volume series, "The Kelloggs in the Old World and the New" and "John Hopkins and Some of His Descendants." His wife Mary was a member of the Daughters of the American Revolution, the Mayflower Society, and the Colonial Dames.
Research Sources and Aids: