A family tree is an excellent visual tool for exploring your family genealogy. Whether you are retracing your heritage for a school project or wanting to learn more about your family, researching your family tree history can help you uncover a deeper understanding of who you are and where you came from.
Despite the seemingly simple concept of the family tree, there are specific genealogy and kinship terms that can be confusing to understand when starting your family tree research. With that in mind, we're sharing this guide to explain the different family tree relationships.
Affinal v. Consanguine
When attempting to build anything other than your immediate family tree, you will inevitably run into some new terminology. "Affinal" and "consanguinity" are the two most important of these often-unfamiliar genealogy terms. Understanding their definitions is critical, as they will take you down two very different paths.
An affinal relationship is a kinship term meaning "by marriage." On any family tree, an affinal relationship is signified by the term "in law."
Consanguinity is translated directly as "of the same blood," or in other words, a blood relation. Your parents, (great) grandparents, uncles, aunts, brothers, sisters, and cousins of various degrees are all a part of your consanguine family tree.
When exploring your family tree history, it is important to make the distinction between those to whom you are bound by marriage and those to whom you are bound by blood. The rest of this guide will exclusively explore the blood relationships. However, you can just as easily apply many of the kinship terms used for blood relations to your spouse or partner by adding "in law" as a suffix to their title.
Genealogy Terms: The Great, Grand, and the Great-Great Grand
When constructing your family tree, it is essential that you consider the irreplaceable roots without which you would not exist: your parents, their parents, and their parents' parents. Your grandparents can be the key to correctly placing your uncles, aunts and their children (your first cousins) into your family tree.
Great-grandparents and great-great-grandparents are often harder to trace, connect, and find a record of, as there are many branches of cousins that emanate from them. A great-grandparent is the parent of your grandparent and a great-great-grandparent is the parent of your great-grandparent.
Generations before great-great usually go by numerical terminology. For example: third great-grandparent, fourth great-grandparent, and so on. Using this terminology avoids an extended repetition of "great-great-great-."
The generation gaps that exist between great-grandparents (and beyond) and ourselves can often lead to a loss of information and family records. As such, tracing these relatives can help you find other ancestors and expand the branches of your family tree.
Cousin Kinship Terms: Degrees and Removed
During family gatherings and your research, you may have heard the phrase "third cousin twice removed" and marveled that anyone could possess such a relation. It's quite common to have third cousins twice removed, not to mention a whole slurry of other seemingly impossible family tree relationships.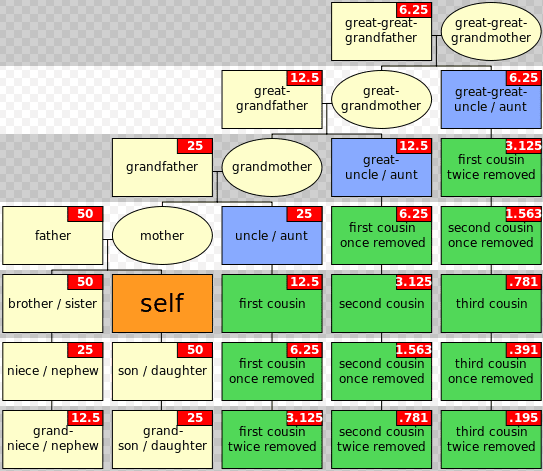 Degrees of Cousins
There are a few degrees of relationships with your various cousins to know when it comes to your family tree:
First cousins: those who have the same grandparents as you but are not your siblings.
Second cousins: those who only have the same great-grandparents as you.
Third cousins: those who only have the same great-great-grandparents as you.
The term "removed" is a signifier of how many generations apart you are from that specific cousin. For example, your second cousin twice removed is the grandchild of your second cousin, as they are removed from you by two generations.
Table of Consanguinity
While understanding and tracing all these relationships can be confusing, a table of consanguinity exists to save us all from the headache of counting our family tree relationships out. The table helps to take you step-by-step through your relatives, from your great-grandparents to your great-grandchildren and everyone in between. Establishing how everyone is connected can help you learn more about your ancestors and trace the different families in your family tree.
What's Next? Build Your Family Tree!
A family tree can go back many generations and expand across many related families. However, tracing every relative and their records to help fill in all the details can be difficult. Memories fade, family records are lost, and stories are forgotten. After collecting as much information from your relatives as you can, use online genealogical resources to help you learn more.
Local newspapers published countless stories about the people in their communities. Many newspaper articles are the only remaining record of an ancestor. Use GenealogyBank's Historical Newspaper Archives to research and get to know the people behind the names on your family tree.