Introduction: In this article, Melissa Davenport Berry writes about a young woman's diary describing life in Mary Hopkins' Menlo Park, California, estate, Sherwood Hall. Melissa is a genealogist who has a blog, AnceStory Archives, and a Facebook group, New England Family Genealogy and History.
Mary Hopkins, "America's Richest Widow," purchased the Menlo Park, California, estate "Thurlow Lodge," owned by Milton Slocum Latham, in 1883. She renamed it Sherwood Hall.
Isabella Cass was Mary's guest at Sherwood Hall from December 1884 to April 1885. Isabella kept a diary during her visit, which recorded the day-to-day happenings on the great estate and gives us a glimpse into what life was like inside a Gilded Age mansion.
Isabella was visiting because her family had connections with Mary's family in Great Barrington, Massachusetts. She had attended Miss Kellogg's School (the Rose Cottage Seminary), run by Mary's aunts.
Visiting Sherwood Hall along with Isabella was Mary "May" Kellogg Crittenden, niece of Mary Hopkins. May was the future wife of Timothy Nolan Hopkins, Mary's adopted son (whom she later disinherited in her will). There is a passage in Isabella's diary where she catches Timothy stealing a kiss from May in the billiard room. (13 January 1885)
The grand lifestyle at Sherwood Hall was quite an experience for Isabella. It was one of the most elaborate estates in California, and she was awestruck by the lush gardens and landscape, which she was sure was "Eden.'
She wrote about her "frolics" about the grounds, and how she enjoyed the Moorish temple. She fed Mexican deer and watched the exotic birds. Her daily carriage rides and time in the studio are described in detail. She learned to play billiards and tennis. She spent leisure hours reading, with breaks for luncheons.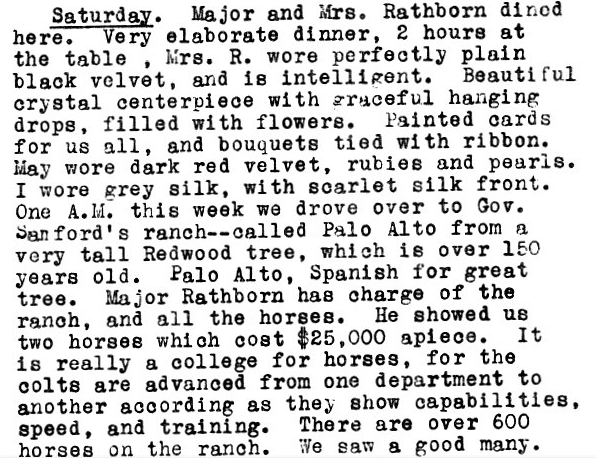 She truly was living the life of the rich and famous. The "very elaborate dinners" were spent "at the table for hours" with top-draw society. Jane and Leland Stanford, Mr. and Mrs. Edward C. Burrage, and James C. Flood were among the distinguished guests. The Palace Hotel and other posh places were part of her social calendar.
Isabella must have made a good impression on Mary, because a news clip in the San Francisco Chronicle reported that Isabella received $25,000 from Mary Hopkins' trust after she died in 1891, administered by her second husband, Edward Francis Searles.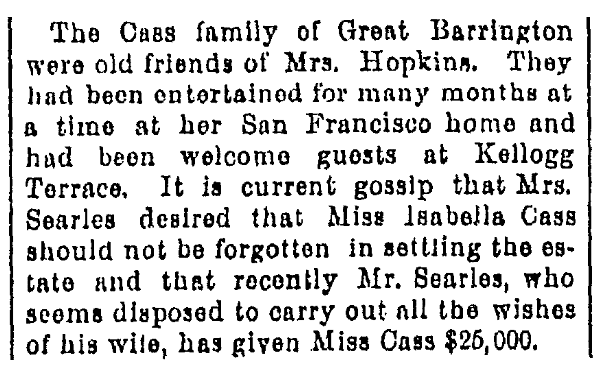 When the estate was sold, most of the furniture and draperies went to auction, a few pieces went to museums, and even the Hollywood movie studios scored a few items. In 1942 the estate buildings were demolished except for the Gatehouse, which is now occupied by the Junior League of Palo Alto-Mid Peninsula, Inc.
There's more to the saga of the estate of Mark Hopkins; coming soon!
Note: Just as an online collection of newspapers, such as GenealogyBank's Historical Newspaper Archives, told the stories of Mark Hopkins' fortune, they can tell you stories about your ancestors that can't be found anywhere else. Come look today and see what you can discover!
Genealogy:
Isabella Cass (1857-1932), daughter of Dr. Jonathan Cass (1825-1886) and Mary Peet (1824-1899). Dr. Cass was an army surgeon, 1861-1867, Fortieth Massachusetts Regiment, and some time chief of staff at Alexandria hospital.
Isabella's sister Kathrine Bills Cass (1859-1951) married lawyer Daniel Brewer Childs (1843-1925), son of Noadiah Moody Childs (1806-1896) and Martha Brewer (1821-1863), Mayflower descendant of John Howland.
Isabella boarded with her sister in 1910 in Manhattan, New York, and in 1930 they were living together in California. (Stanford University. Libraries. Department of Special Collections and University Archives)
Mary Frances Sherwood (1818-1891), daughter of William Sherwood (1786-1871) and Lydia Ann Kellogg (1793-1865), married Mark Hopkins (1813-1878), son of Mark Hopkins (1779-1828) and Anastasia Lukins Kellogg (1783-1834).
Timothy Nolan (1859-1936) was born to Irish immigrants Patrick Nolan (1829-1862) and Catherine Fallon (1834-1903) in Augusta, Maine. (Harold Clarke Durrell, "Memoirs of Deceased Members of the New England Historic Genealogical Society" NEHG Register April 1936)
He married Mary Kellogg Crittenden (1862-1941), daughter of Hiram Crittenden (1814-1883) and Lydia Sherwood (1829-1877). They had one daughter, Lydia Kellogg Hopkins (1887-1965).
Related Articles:
The Saga of the Estate of Mark Hopkins