Introduction: In this article, Melissa Davenport Berry continues the story of the people affected by the huge fortune left by railroad magnate Mark Hopkins, continuing her focus on the mysterious death of Lydia Hopkins. Melissa is a genealogist who has a blog, AnceStory Archives, and a Facebook group, New England Family Genealogy and History.
Note: Melissa is writing a series of articles about the people affected by – and the mad scramble for – the huge fortune left behind by Mark Hopkins when he died without a will or heir in 1878. This is the seventh article in that series; links to the first six installments can be found at the end of this article.
Lydia Kellogg Hopkins was the granddaughter of railroad magnate Mark Hopkins, who left behind a huge fortune when he died nine years before Lydia was born. (Her father, Timothy Nolan Hopkins, was the adopted son of Mark Hopkins' widow Mary.) Lydia used her share of the Hopkins fortune to build her estate "Hidden Acres" in Woodland, California.
Although Lydia made her debut into society on 18 January 1907, being "one of the feted debutantes of the season," and probably had her share of interested suitors, she never married. But she wasn't alone the rest of her life.
In 1940, Helen H. Kincaid showed up at "Hidden Acres." She moved into the guest house on the property with her children. Helen served as a nurse and companion to Lydia, and assisted in the running of the estate's Sherwood Kennel. She remained with Lydia the last 25 years of her life.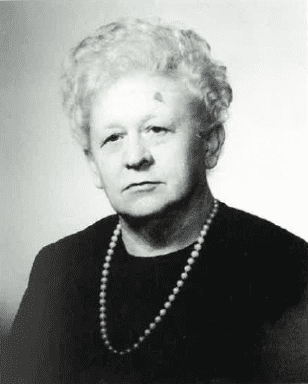 Newspapers report that Lydia spent her last four years in North Carolina, where Helen took her to die. According to a North Carolina death certificate, Lydia died on 8 January 1965 in Washington, Beaufort County, at Guardian Manor Nursing home.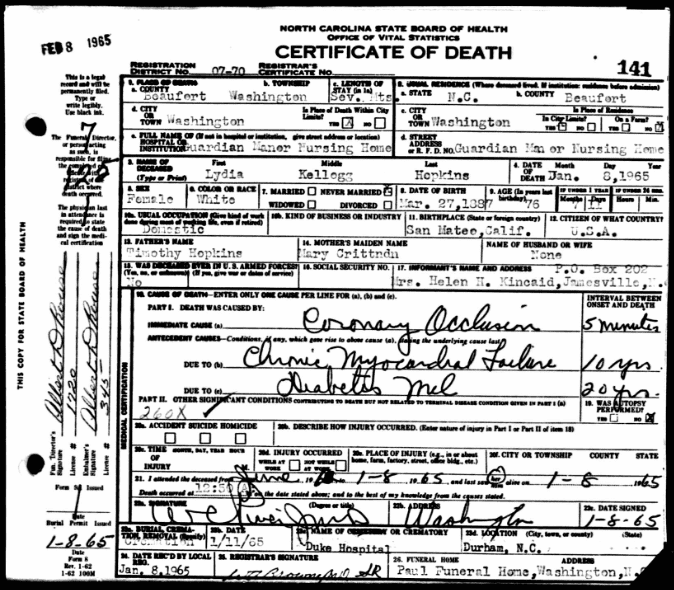 Helen had Lydia's remains cremated. There is no obit, grave, or memorial for Lydia, and the location of her ashes is unknown.
Ten days after the above announcement of Lydia Hopkins' death, the San Francisco Examiner ran this notice. (The paper mistook her death in Washington, N.C., as having taken place in Washington, D.C.)
On 3 February 1965, Helen appeared in San Mateo Superior Court in California to file Lydia's last will and testament. That's when things got complicated.
Helen met opposition in settling Lydia's estate by several claimants who filed in the California court to contest the will. The claimants were the same persons who contested the will of Lydia's grandfather, Mark Hopkins.
In 1972 Helen married Rev. John R. Still of Winston-Salem, North Carolina. The marriage took place in her hometown of Van Wert, Ohio. Rev. Still is directly linked to the same parties who contested both Hopkins' wills.
The claimants who contested the Hopkins' wills were part of an organized group that lured potential heirs to join with them to file in probate court. It was part of a con game that hustled the hopeful heirs to invest their own money, which supposedly would secure them a portion of the estate and Hopkins fortune. The investors were sold stocks, or "contracts," which promised them a hefty return. The contract money was to be used for legal fees, genealogy research, and travel expenses.
The con game was investigated by the Securities and Exchange Commission (SEC), and the contract sellers in question were brought to justice. There will be more on that story in future blog articles.
Helen Kincaid Still was among the persons investigated in this great fraud. She was arrested in Decatur, Georgia, in August of 1973 and extradited to Williamstown, North Carolina. Her husband John posted bail.
In June of 1974 Helen pleaded guilty to securities law violations in Martin County Superior Court, North Carolina. Helen had failed to register as a securities salesman.
According to the following article:
"She was charged in connection with the sale of $190,000 in stock to help inherit a large California railroad fortune to which she said she was entitled… Mrs. Still had based her claim on what she said was the dying wish of Lydia Kellogg Hopkins, the last heir to Pacific railroad tycoon Mark Hopkins."
Helen received a five-year suspended sentence and a $1,000 fine.
Shortly before Helen was arrested, she published The Hopkins Hoax under the name of Kellogg Research, Inc. The book contains genealogy and records on the Hopkins family which came directly from the publications of Lydia's father, Timothy Nolan Hopkins, who was a genealogist.
The book also addresses the "conflicts" Helen faced both legally and professionally to settle Lydia's estate. Helen released the book to defend her position as the rightful heir of the Hopkins' estate, but it did not save her from the SEC, the sheriff, or exposure to the press.
The book is full of contradictions and many claims that Helen asserts are false, but more importantly it maps her direct connection to a calculated con game hatched before she entered the world of "Hidden Acres."
What Helen did not foresee: the research of yours truly! The newspaper articles I found gave several clues which helped sort out this web of lies and deceit. Many records reveal that Helen's relationship with Lydia was cultivated to access her funds.
The "strong connection" and "close-knit family" Helen claimed to have had with Lydia Kellogg Hopkins would not work in her defense with the law, and this story is just heating up! More articles coming…
Note: Just as an online collection of newspapers, such as GenealogyBank's Historical Newspaper Archives, told the stories of Lydia Hopkins' life, they can tell you stories about your ancestors that can't be found anywhere else. Come look today and see what you can discover!
Genealogy:
Helen Harrison (1908-2000), daughter of Frank Edson Harrison (1883-1939) and Nina Pearl Kerr (1883-1957).
Helen married James G. Kincaid (1903-1985), son of Millard Fillmore Kincaid (1860-1950) and Lucinda Martha Martin (1864-1948).
Helen's second marriage was to John Robert Still (1921-1993), son of John Robert Still and Deborah Ann Brame (1877-1928).
After Helen and John divorced, he married Lucy Marie Turner (1930-2017), daughter of Stephen Homer Turner (1894-1977) and Lillian Myra Mize (1906-1960).
Other Articles in This Series: