Introduction: In this article, Melissa Davenport Berry continues the story of the people affected by the huge fortune left by railroad magnate Mark Hopkins, focusing on adopted son Timothy Hopkins' lawsuit contesting Mark's widow Mary's will, which left the estate to her second husband Edward Francis Searles. Melissa is a genealogist who has a blog, AnceStory Archives, and a Facebook group, New England Family Genealogy and History.
Note: Melissa is writing a series of articles about the people affected by – and the mad scramble for – the huge fortune left behind by Mark Hopkins when he died without a will or heir in 1878. This is the tenth article in that series; links to the first nine installments can be found at the end of this article.
As detailed in my last article, when Mary Hopkins Searles, aka "America's richest widow" (widow of railroad magnate Mark Hopkins), died on 25 July 1891, her will named her second husband Edward Francis Searles as sole heir.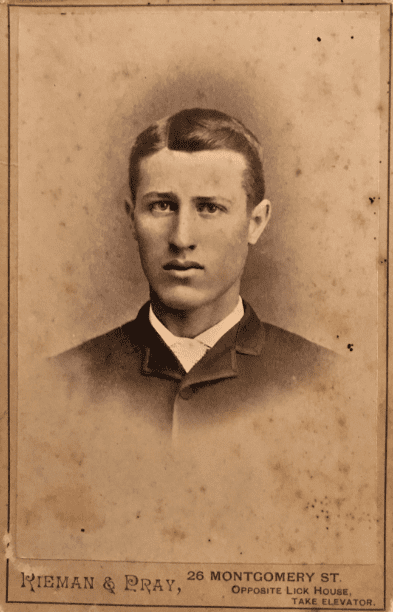 Timothy Nolan Hopkins, the son Mary adopted before she married Edward Searles, was cut out of her will and he was bent on getting a share of her estate. In testimony he provided during a hearing in Salem, Massachusetts, to contest Mary's will, Timothy opened a Pandora's box which exposed Mary's erratic mental condition and her taste for occultism.
Timothy and other family members claimed Mary's judgement could not be trusted due to Edward's manipulation of her. They said that any gifts and deeds made in the "magical circle" with Searles should be declared invalid. They claimed that even her marriage to Searles came from the fake "spirit world."
During the court hearing, Timothy's lawyer Elbridge T. Burley cross-examined Searles on the stand and asserted that he used "undue influence" over Mary by playing the role of her apostle for spiritualism. Burley confronted Searles on how he convinced Mary to seek out fraudulent mediums Henry Slade and Nathan A. Bolles, as well as playing an active role himself in deceiving her. (More on that later.)
Some of the court testimony came from the Crook boys, whose names were not revealed in the press – but with some digging I uncovered their pedigree and their place among the Hopkins family.
According to the Crook boys, Mary became engrossed in the paranormal and often consulted the spirit of their father Dr. John T. Crook, her former personal physician, as well as her first husband Mark. Mary did not query the spirits about small matters, but rather on who should be her next marital partner, and who should get her property. The "spirits" furnished the answers through table tipping and slate writing (a method of written communication from the spirits introduced to Mary by Henry Slade).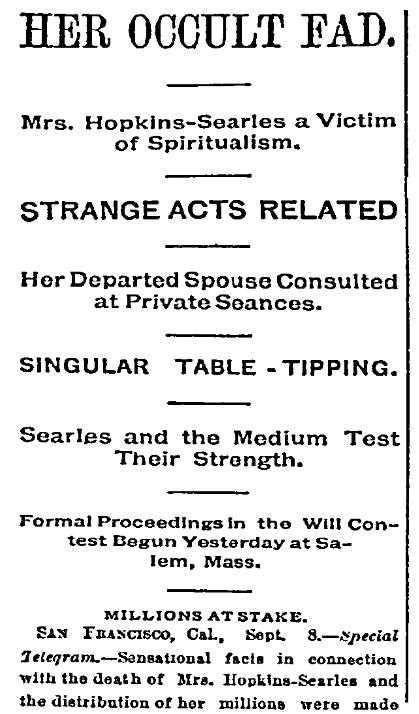 The Crooks recounted a story of a night of conjuring in Mary's drawing room. Mary, Edward Searles, both Crook boys, Timothy Hopkins, and others were seated at the séance table and summoned the spirit of Dr. John T. Crook. Mary asked if the Menlo Park property should go to Timothy now, or later with the entire estate.
One of the Crook boys testified:
 "Searles heard the question, and quick as a dash I saw that he wanted a negative answer. Something told me then that Searles had his eye on the widow's estate, and did not want Tim Hopkins to grow any closer to his mother. I also knew that if Searles won he would have no use for me. The answers always came by the table tipping, and I determined that it should be in favor of Tim. It then became a question of muscle between Searles and myself, but I was too much for him, and though he did his best to hold the table down I tipped it in spite of him. No sooner had the answer been given than he proposed that the séance close for the evening."
Mary gave the Menlo Park estate to Timothy.
The Crooks witnessed a spooks matchmaking session when Searles was acting as the medium and slate scribbler. The "spirit" supposedly interjected and possessed Searles' hand, forcing it to write a message. He blushed and acted as though he were trying to rub off the message, but Mary grabbed the slate. It said: Mr. Searles should marry Mrs. Hopkins!
This article gave the following details:
"Timothy Hopkins has furnished himself with affidavits concerning his foster mother's spiritualistic tendencies, and he will endeavor to convince the Massachusetts courts that Mr. Searles obtained absolute control over the old lady by fraudulent spirit manifestations. It will also be contended that Searles used the same influence to keep him out of his rightful inheritance. Timothy Hopkins will also try to prove that during her last illness Mrs. Hopkins Searles was isolated from her friends and relations, and that Mr. Searles stood guard over her day and night until she died."
The testimony of the Crook boys was an important part of the case Timothy made to the court.
Dr. Crook had served as the Hopkins' personal physician, and his children were close friends with Timothy Hopkins and his wife Mary Kellogg Crittenden Hopkins. The Crook boys resided at the Hopkins' estates Nob Hill, Sherwood Hall, and Kellogg Terrace in Great Barrington, Massachusetts.
The children of Dr. John Taylor Crook and Clara Reilly of San Francisco were Russell, William, John T. Jr., and Alice B. Crook. I believe the two boys the press referred to were Russell and John.
Samuel Russell Gerry Crook attended Sedgwick Institute in Great Barrington, Massachusetts, and afterward married Minnie Simpson. Russell was a nationally known ceramic artist and sculptor, and a protege of Augustus Saint-Gaudens. His work in in the Museum of Fine Arts in Boston.
John Taylor Crook Jr. lived in California and worked on a ranch, then moved to Pennsylvania. He served in the Cuban army with good friend Winchester Dana Osgood, a well-known athlete for Cornell University and the University of Pennsylvania. John died at the Baldwin Hotel in California in 1898.
The press noted that the Crooks' testimony could tip the scales on either side for Judge Rollin E. Harmon, presiding over the court hearing in the Essex County Court house in Salem, Massachusetts. On 24 October 1891 Judge Harmon announced his decision: despite the testimony of Timothy Hopkins, the Crook brothers, and others, Mary's will stands as is. Edward Francis Searles was Mary's sole heir.
More coming about this drama!
Genealogy:
William Tipping Crook (1810-1890), son of Joshua Crook (1779-1849) and Ann Tipping (1787-1870), married Rebecca Norwood (1810-1875), both born in England. Delaware Archives
William married 2nd Elizabeth Cochran (1823-1898), daughter of John Cochran (1792-1843) and Abigail Engle (1798-1839).
William's brother Joseph Crook (1809-1884), of J. & J. Crook, cotton spinners and manufacturers, which was based at Spring Mills and was the second-largest employer in Bolton, England. He served in Parliament and supported workers' rights, women's suffrage, equal electoral constituencies and Irish Home Rule. Crook Genealogy
Children of William T. Crook and Rebecca Norwood:
Rebecca Norwood Crook married Dr Samuel Houston (1843-1912), born in Ireland to Dr. Rev. Thomas Houston (1904-1882) and Catherine Wallace (1811-1886), both of Ireland. No issue.
John Taylor Crook (1834-1879) married Clara Reilley (1847-1875), daughter of John Reilly and Alice Beideman. Alice married 2nd John Conroy. Alice's brother Jacob C. Beideman (1820-1865) was a wealthy real estate broker and landowner in California. (J. C. Beideman legal documents, 1860-1866 Archives, University of California, Berkley Collection BANC MSS 2006/116 v. 1.)
Children of John T. Crook and Clara Reilly:
William Tipping Crook (1867-1914). No issue.
"Samuel" Russell Gerry Crook (1869-1955) married Minnie Simpson (1872-1967), daughter of William G. Simpson and Fanny Waller of England. Children of Russell and Minnie: Kathleen Norwood Crook married Edward Vassal Sherwin; Jacqueline M. Crook married James Ritchie and lived in Brewster, Massachusetts; Constance Sidney Crook never married.
John Taylor Crook (1870-1898). No issue.
Alice Beideman Crook (1871-1909) married George Perkins Baxter (1864-1927), son of Charles Minturn Baxter (1845-1876) and Ellen Louisa Perkins (1850-1900); George's mother married 2nd Colonel David Furgeson. Children of Alice and George: Walter Norwood Baxter; Geoffrey Haslam Baxter; Mary Louise Baxter. Photos of home and family can be viewed at Western Sonoma County Historical Society, 261 South Main St., Sebastopol, CA 95472.
Others:
Mark Hopkins (1813-1878), son of Mark Hopkins (1779-1828) and Anastasia Luken Kellogg (1780-1837), married his first cousin Mary Francis Sherwood (1818-1891), daughter of William Sherwood (1786-1871) and Lydia Ann Kellogg (1793-1865), daughter of Ezra Kellogg (1758-1833) and Mary Whiting (1758-1837).
Mary married 2nd Edward Francis Searles (1841-1920), son of Jesse Gould Searles (1805-1844) and Sarah Littlefield (1809-1896), grandson of James Searles (1773-1857) and Abigail "Abi' Duren (1771-1868). Edward and his wife Mary Francis Sherwood Hopkins Searles (1818-1891) are buried at the Presentation of Mary Cemetery, also known as Our Lady of Sacred Heart Chapel, Searles Chapel.
Mary's adopted son, Timothy Nolan Hopkins (1859-1936), was born to Irish immigrants Patrick Nolan (1829-1862) and Catherine Fallon (1834-1903) in Augusta, Maine. (Harold Clarke Durrell, "Memoirs of Deceased Members of the New England Historic Genealogical Society" NEHG Register April 1936.) He married the niece of Mary and Mark Hopkins, Mary Kellogg Crittenden (1862-1941), daughter of Hiram Crittenden (1814-1883) and Lydia Sherwood (1829-1877). They had one daughter, Lydia Kellogg Hopkins (1887-1965).
Timothy Hopkins was a member of the New England Historic Genealogical Society and produced genealogies; one was a three-volume series, "The Kelloggs in the Old World and the New" and "John Hopkins and Some of His Descendants." His wife Mary was a member of the Daughters of the American Revolution, the Mayflower Society, and the Colonial Dames. (P. 30 "Order of the descendants of colonial governors Prior to 1750: Roll of Members in State of California.")
Other Articles in This Series: