Introduction: In this article, Melissa Davenport Berry continues the story of the people affected by the huge fortune left by railroad magnate Mark Hopkins, focusing on a lawsuit contesting Mark's widow Mary's will, which left the estate to her second husband Edward Francis Searles. Melissa is a genealogist who has a blog, AnceStory Archives, and a Facebook group, New England Family Genealogy and History.
Note: Melissa is writing a series of articles about the people affected by – and the mad scramble for – the huge fortune left behind by Mark Hopkins when he died without a will or heir in 1878. This is the ninth article in that series; links to the first eight installments can be found at the end of this article.
When Mary Hopkins Searles, aka "America's richest widow" (widow of railroad magnate Mark Hopkins), passed on 25 July 1891, her will named her second husband Edward Francis Searles, aka "Lord Searles," as sole heir. With Mary gone Lord Searles was cash flush and held the keys to all her palaces, which were valued in the millions – but he would not be living lavishly without legal battles with the widows' outraged relations.
The suit to break Mary's will was brought before Judge Rollin E. Harmon in Salem, Massachusetts, in the Essex County Court house on 22 September 1891. The North Shore certainly got their share of scandal, as well as the rest of the country! During the hearing, the courtroom was packed. The press concluded it was "one of the most sensational will contests on record."
Timothy Nolan Hopkins, the adopted son of America's richest widow, was the major player in contesting the will – but 21 claimants from the family line joined forces with him. On October 24 Judge Harmon announced his decision: Mary's will stands as is. Edward Francis Searles was Mary's sole heir.
According to press reports, this was only a preliminary skirmish and notice to appeal was immediately filed.
One of the claimants, Annie Crittenden Severance, filed an appeal in November 1891. Also named in news articles was a separate appeal filed by Lyman and Delia Sherwood of Putnam County, New York, first cousins to widow Mary (more on that in a later story). The appeals were filed on the grounds that the testatrix (Mary) was not of proper testamentary capacity when she willed her fortune to her much-younger husband Edward.
Annie was the niece of Mary Hopkins Searles, and her sister Mary Kellogg Crittenden was married to Timothy Hopkins. When the probate hearings started in September 1891, Annie appeared to be on Timothy's side – but then testified on behalf of Searles, figuring this was a better way to get a share of the estate.
Annie's husband Mark Simbley Severance worked for Timothy Hopkins in the Pacific Railroad office.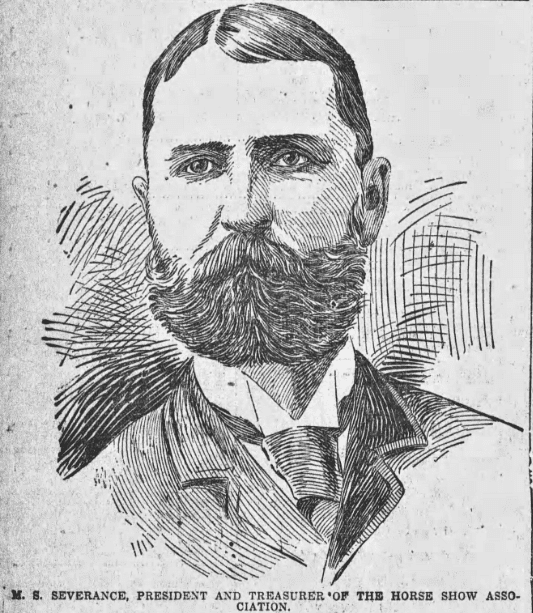 Mark's brother James also worked for Timothy Hopkins, as his private secretary. Annie's mother-in-law, Caroline Seymour Severance, was known as the "Mother of Clubs" and was instrumental in establishing the New England Club for Women in May 1868.
With all these family entanglements, you can imagine the hornets' nest Annie forged by betraying Timothy. According to Virginia Elwood-Akers in her book Caroline Severance, Annie's relations with her mother-in-law slipped dramatically when she testified on behalf of Searles to get her cut. The same sentiments were expressed by the family in personal correspondence; the letters are housed in the Stanford University Archives and Special Collections.
Timothy was already feeling betrayed by having been cut out of his mother's will – and now his sister-in-law was testifying against him in court.
Caroline received a letter from Annie's sister Mary K. Hopkins which related that "Annie's conduct has created great comment among our mutual friends, and it is rather hard Mr. Hopkins [Timothy] should have to battle against my own flesh and blood."
Caroline had other misgivings about her daughter-in-law Annie. She opposed the "capitalist" lifestyle that Annie and her son Mark embraced. Caroline thought the couple's home was too extravagant.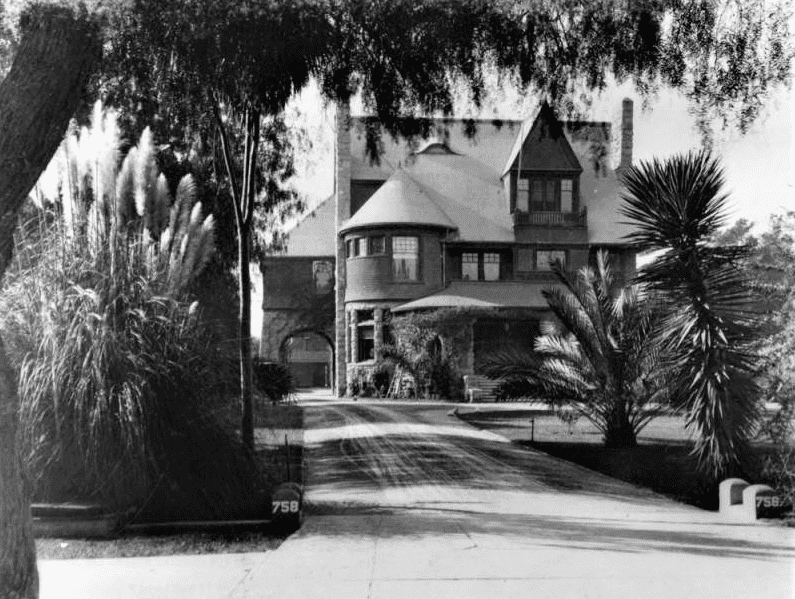 In general, Caroline disliked Annie's influence on Mark, especially in the horse racing enterprises she encouraged. Caroline's devotion to social reform was in complete opposition to Annie's efforts to gratify her taste in fine horseflesh.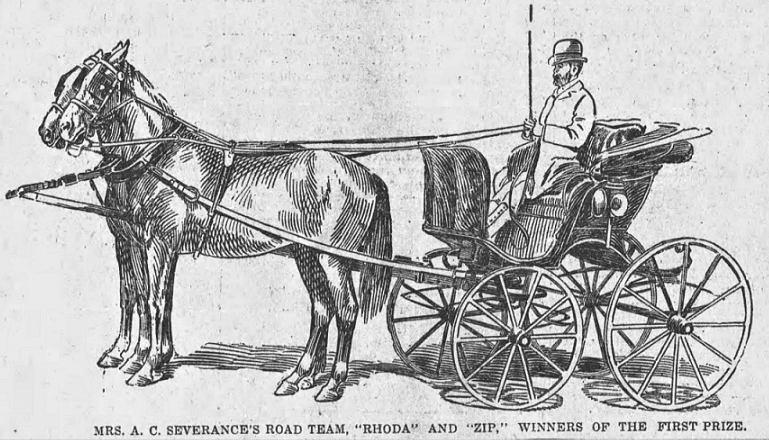 According to an article in the San Francisco Chronicle, Annie was one of the few women in the country to own and breed race horses. She never missed a race. Her gem in the stable was Lady La Belle, who was the two-year-old division champion in the world. Annie's husband Mark was president and treasurer of the Horse Show Association.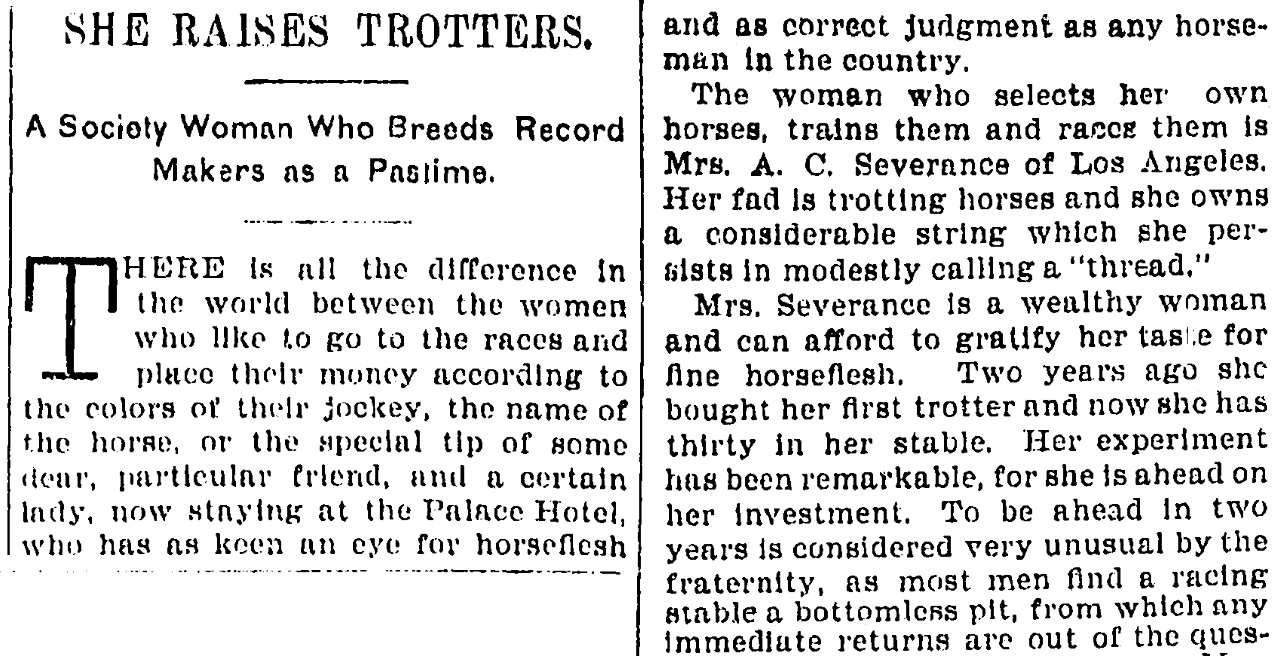 So, for Annie there was no horsing around when it came to winnings – whether it be at the track or in the courtroom! Annie was awarded $250,000 from Mary's estate, but she failed to pay her Boston attorney Herbert L. Harding.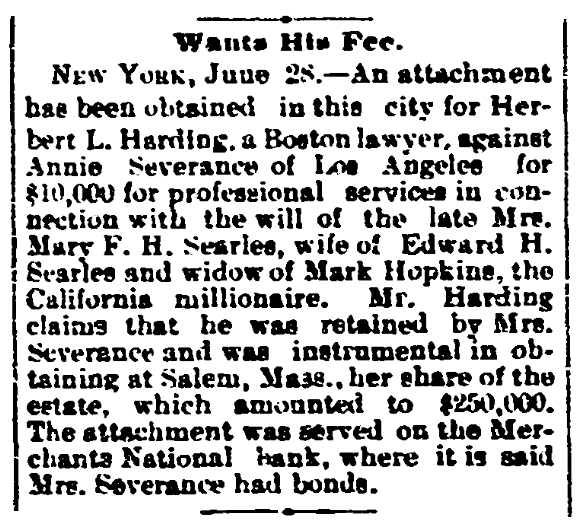 In 1893 Harding sued Annie for $10,000 for legal fees and damages. Harding tried to place liens on one of her properties. (The case can be found in "Civil Procedure Reports: Containing Cases under the Code of Civil Procedure and the General Civil Practice of the State of New York, Volume 25," pages 294-301.)
Hold on to your seat readers: this drama is far from over. Still to come: Timothy's law team provides evidence and witness testimonies from the Crook boys at seances in Mary Hopkins home, implicating Searles as a fraud. Searles is relentlessly hammered in the sweat-producing cross-examination concerning seances, sale of stock, and scorned kin.
Research Sources and Aids:
Heather Wilkinson Rojo has a great resource page on her blog Nutfield Genealogy: Ten Things to Know about Researching a Pilgrim in Your Family Tree.
"The Inside Man: The Life and Times of Mark Hopkins of New York, Michigan, and California, Volume 1," Salvador A. Ramirez, 2007.
Stanford University: Timothy Nolan Hopkins.
Tittle, Diana. "Significant Others: The Defining Domestic Life of Caroline Seymour Severance." California Historical Society, Vol. 88, No. 1, 2010.
Genealogy:
Mark Hopkins (1813-1878), son of Mark Hopkins (1779-1828) and Anastasia Lukins Kellogg (1783-1834), who are first cousins. Mark's siblings: Samuel Frederick Hopkins (1803-1884), Henry Kellogg Hopkins (1807-1846), Moses Hopkins (1817-1892), and Ezra Augustus Hopkins (1821-1865). Mark married first cousin Mary Frances Sherwood (1818-1891), daughter of William Sherwood (1786-1871) and Lydia Ann Kellogg (1793-1865).
Others in the family tree:
Moses Hopkins (1751-1838) and Ann Whiting (1754-1834).
Ezra Augustus Kellogg (1754-1833), son of Abner Kellogg (1716-1754) and Lydia Otis (1717-1807), daughter of Nathaniel Otis (1690-1771) and Hannah Thatcher (1690-1780). Ezra Kellogg married Mary Whiting (1758-1837), daughter of Gamaliel Whiting (1727-1790) and Anna Gillett (1738-1808).
Samuel Hopkins (1721-1803) and Joanna Ingersoll (1726-1793).
Captain Timothy Hopkins (1691-1749) and Mary Judd (1701-1774); whose son Timothy Hopkins (1723-1774) married Jemima Scovill (1723-1775), whose daughter Jemima Hopkins (1757-1835) of Great Barrington, Massachusetts, married Stephen Sibley (1759-1829), whose son Mark Sibley Hopkins (1796-1852) married Maria Green Clarke (1802-1877), appointed temporary guardians of Caroline Maria Seymour (1820-1914), daughter of Orson Seymour (1786-1824) and Caroline Maria Clarke (1798-1850).
John Hopkins (1662-1732) and Hannah Strong (1660-1730).
Stephen Hopkins (1631-1689) and Dorcas Brown (1633-1697).
John Hopkins (1613-1697) and Jane Strong (1615-1679).
Elizabeth Needham, genealogist and Mayflower Society member, confirmed the genealogy for Mayflower line connections which also include:
John Tilley and Joan Hurst Tilley; daughter Elizabeth Tilley married John Howland and daughter Desire Howland married John Gorham.
William Bradford and second wife Alice Southworth Carpenter; son Major William Bradford and wife Alice Richards, daughter Elizabeth Bradford married Charles Whiting, son Gamaliel Whiting and Anna Gillett, daughter Mary Whiting married Ezra Kellogg, daughter Lydia Ann Kellogg married Hiram Crittenden.
Thomas Rogers and Alice Gosford; son John Rogers married Anna Churchman and had son Rev. John Rogers, married to Elizabeth Peabodie/Peabody, daughter Hanna Rogers married Samuel Bradford.
Other direct lines include:
William Whiting, early settler of Hartford, Connecticut; and John Gillette, an early resident of Canaan, Connecticut.
Timothy Nolan (1859-1936) was born to Irish immigrants Patrick Nolan (1829-1862) and Catherine Fallon (1834-1903) in Augusta, Maine. (Harold Clarke Durrell, "Memoirs of Deceased Members of the New England Historic Genealogical Society" NEHG Register April 1936.) He married Mary Kellogg Crittenden (1862-1941), daughter of Hiram Crittenden (1814-1883) and Lydia Sherwood (1829-1877). They had one daughter, Lydia Kellogg Hopkins (1887-1965).
Timothy Hopkins was a member of the New England Historic Genealogical Society and produced genealogies; one was a three-volume series, "The Kelloggs in the Old World and the New" and "John Hopkins and Some of His Descendants." His wife Mary was a member of the Daughters of the American Revolution, the Mayflower Society, and the Colonial Dames.
Severance line:
Theodoric Cordenio Severance (1814-1892), son of Robert Bruce Severance (1786-1830) and Diana Long (1789-1830), married Caroline Maria Seymour (1820-1914), daughter of Orson Seymour (1786-1824) and Caroline Maria Clarke (1798-1850).
Children of Theodoric and Caroline Marie Seymour:
James Seymour (1842-1936), never married.
Julia Long Severance (1844-1915), married Edward Carter Burrage (1841-1927), son of Johnson Carter Burrage and Emeline Brigham.
Mark Sibley Severance (1846-1931), married Annie Crittenden (1859-1918), daughter of Hiram Crittenden (1814-1883) and Lydia Sherwood (1829-1877). Children: Harriet Crittenden Severance (1884-1960), married John Randall Munn (1844-1966), son of John Lewis Munn (1840-1914) and Elizabeth Philena Randall (1840-1929); Marjorie Severance (1887-1958), married Walter Scott McPherson (1884-1930).
Pierre Clarke Severance (1849-1890), married Isabella Morgan Rotch (1851-1921), daughter of William James Rotch (1819-1893) and Emily Morgan (1821-1861); Isabella was the Great Granddaughter of Quaker merchant William Rotch and Elizabeth Rodman. (See Second Boston Tea Party 1956.)
Other Articles in This Series: