Introduction: In this article, Melissa Davenport Berry continues her series on Mayflower descendants, focusing on the lineage of historian and author Harvey Hunter Pratt. Melissa is a genealogist who has a blog, AnceStory Archives, and a Facebook group, New England Family Genealogy and History.
Today I continue with my series "Mayflower Descendants: Who's Who" with a focus on the lineage of prominent lawyer, politician, historian, and author Harvey Hunter Pratt (1860-1924), a descendant of Mayflower passengers John Tilley and wife Joan Hurst, John Howland and wife Elizabeth Tilley, and Richard Warren.
Lineage:
Harvey H. Pratt
Henry Jones Pratt and 2nd wife Maria Jones Hunter (1st wife Mary Noyes Brown)
Martha Pulling and Seth Pratt
Sarah Pulling and Isaac Reed
Sarah Thaxter and John Pulling (married 1st Annis Lee)
Abigail Smith and Samuel Thaxter
Bethiah Chipman and Samuel Smith
John Chipman and Mary Skiffe (daughter of Stephen Skiffe and Lydia Snow; granddaughter of Anthony Snow and Abigail Warren, daughter of Richard Warren)
Hope Howland and John Chipman
Elizabeth Tilley and John Howland
John Tilley and Joan (nee Hurst) Rogers (widow of Thomas Rogers in England)
In Part 2 of this story, I will cover Pratt's historical publications and huge contribution to Pilgrim history, which includes some great scandal tidbits.
But first I cover a few of his ancestor backgrounds as found in GenealogyBank's Historical Newspaper Archives.
I begin with Pratt's Pilgrim ancestor John Howland, who was a big feature during the Thanksgiving season in 2015 when he was the topic of a new book. Here is a review from the Abilene Reporter-News.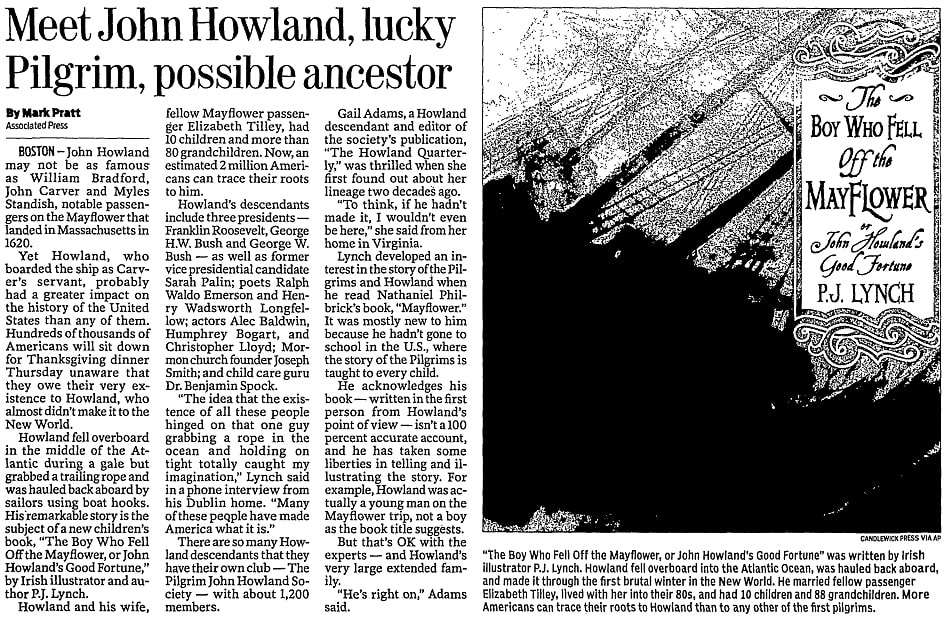 This article reported:
John Howland may not be as famous as William Bradford, John Carver, and Myles Standish, notable passengers on the Mayflower that landed in Massachusetts in 1620.

Yet Howland, who boarded the ship as Carver's servant, probably had a greater impact on the history of the United States than any of them. Hundreds of thousands of Americans will sit down for Thanksgiving dinner Thursday unaware that they owe their very existence to Howland, who almost didn't make it to the New World.

Howland fell overboard in the middle of the Atlantic during a gale but grabbed a trailing rope and was hauled back aboard by sailors using boat hooks. His remarkable story is the subject of a new children's book, "The Boy Who Fell off the Mayflower, or John Howland's Good Fortune" by Irish illustrator P. J. Lynch.

Howland and his wife, fellow Mayflower passenger Elizabeth Tilley, had 10 children and more than 8o grandchildren. Now, an estimated 2 million Americans can trace their roots to him.

Howland's descendants include three presidents – Franklin Roosevelt, George H. W. Bush, and George W. Bush – as well as former vice-presidential candidate Sarah Palin; poets Ralph Waldo Emerson and Henry Wadsworth Longfellow; actors Alec Baldwin, Humphrey Bogart, and Christopher Lloyd; Mormon church founder Joseph Smith; and child care guru Dr. Benjamin Spock [and Mark Hopkins, co-founder of the Central Pacific R. R.; Sydney Biddle Barrows, infamous Mayflower Madam; and actress Glen Close. You can read more at Famous Kin.]

"The idea that the existence of all these people hinged on that one guy grabbing a rope in the ocean and holding on tight totally caught my imagination," Lynch said in a phone interview from his Dublin home. "Many of these people have made America what it is."

There are so many Howland descendants that they have their own club – The Pilgrim John Howland Society – with about 1,200 members [and more today].

Gail Adams, a Howland descendant and editor of the society's publication, "The Howland Quarterly," was thrilled when she first found out about her lineage two decades ago.

"To think, if he hadn't made it, I wouldn't even be here," she said from her home in Virginia.

Lynch developed an interest in the story of the Pilgrims and Howland when he read Nathaniel Philbrick's book, "Mayflower." It was mostly new to him because he hadn't gone to school in the U.S., where the story of the Pilgrims is taught to every child.

He acknowledges his book – written in the first person from Howland's point of view – isn't a 100 percent accurate account, and he has taken some liberties in telling and illustrating the story. For example, Howland was actually a young man on the Mayflower trip, not a boy as the book title suggests.

But that's OK with the experts – and Howland's very large extended family.

"He's right on," Adams said.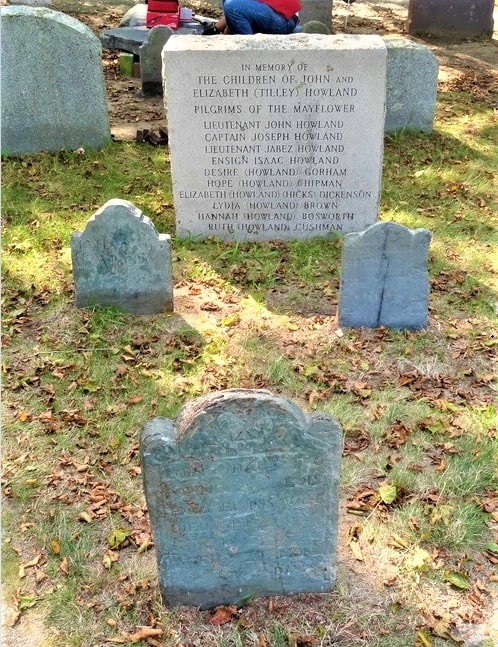 The historical marker in the Howland family burial plot was erected by the Pilgrim John Howland Society. It reads:
In Memory of the Children of John Howland and Elizabeth (Tilley) Howland
Pilgrims of the Mayflower
Lieutenant John Howland
Captain Joseph Howland
Lieutenant Jabez Howland
Ensign Isaac Howland
Desire (Howland) Gorham
Hope (Howland) Chipman
Elizabeth (Howland) (Hicks) Dickenson
Lydia (Howland) Brown
Hannah (Howland) Bosworth
Ruth (Howland) Cushman
An account of Howland's experience is found in William Bradford's journal. Bradford believed "it pleased God" that Howland was spared, "and though he was something ill with it, yet he lived many years after and became a profitable member both in church and commonwealth."
Another ancestor worthy of mention in the family tree is Pratt's great-great-grandfather, Captain John Pulling, who (with the help of Robert Newman) hung the light for Paul Revere in the belfry of the Old North Church at the time Revere took his memorable ride in April of 1775.
According to an article published in the Portsmouth Journal, Capt. Pulling was a prominent merchant, warden and vestryman of the Old North Church in Boston, Massachusetts. His contribution to Revere's ride was of great significance and gravely dangerous. Here is the skinny on how the events unfolded that night.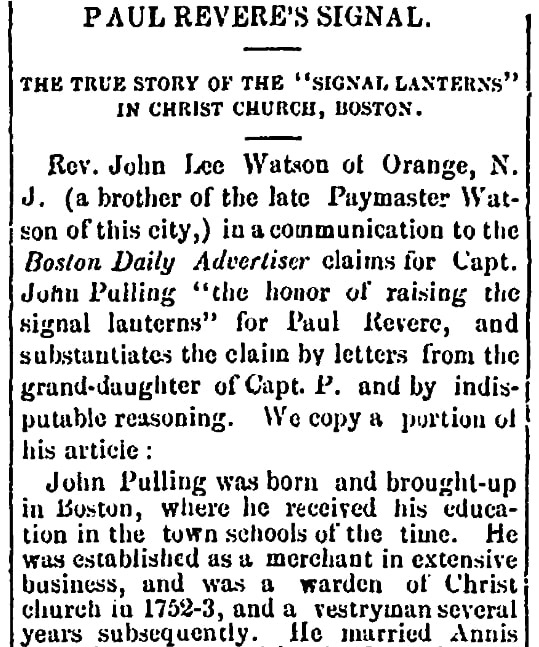 This article reported:
At ten o'clock Paul Revere was sent for by Dr. Warren, who informed him of the intended march of the British to Lexington and Concord, and begged him to proceed immediately to Lexington and acquaint Hancock and Adams of the movement. He left Dr. Warren's residence in Hanover Street, and then called upon a friend – his most intimate friend, John Pulling – and desired him to make the signals. This, of course, was the most crucial and hazardous part of the whole enterprise. It was full of difficulty and danger, and required of anyone who should undertake it the union of discretion and judgment, with a degree of courage and firmness which could contemplate certain death as the only alternative of success. Major Pitcairn's regiment was drawn up nearly in front of the church, and not only was there the risk of the light being observed in that quarter, but also, as Pulling said, "he was afraid that some old woman would see the light and scream fire."
You can read more from Cohasset Central Cemetery Preservation "Exiled in Cohasset: The Lantern Hanger's Story."
There is a historical marker in Boston to commemorate Pulling.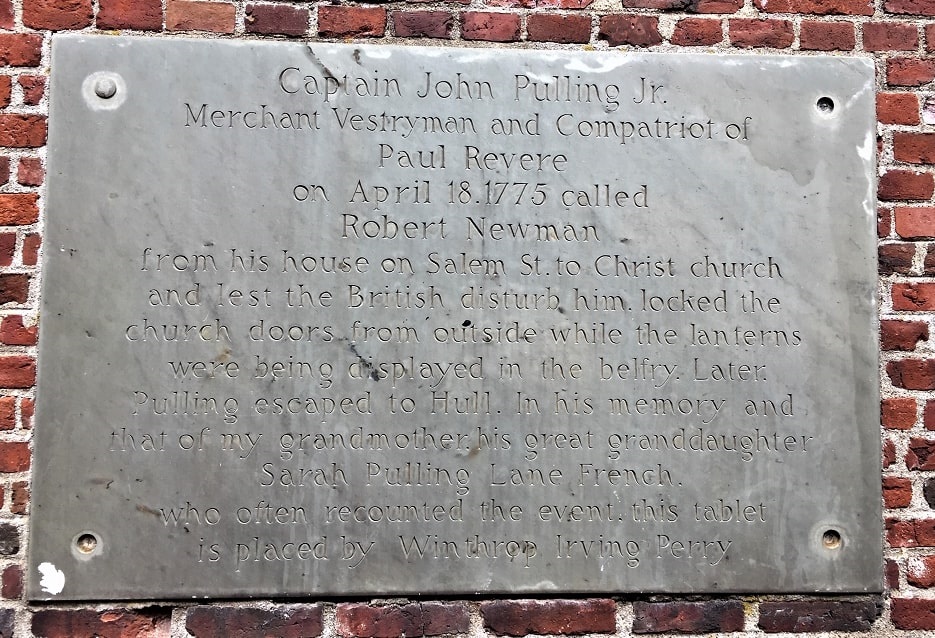 This marker reads:
Captain John Pulling Jr.
Merchant Vestryman and Compatriot of
Paul Revere
on April 18, 1775 called
Robert Newman
from his house on Salem St. to Christ church and, lest the British disturb him, locked the church doors from outside while the lanterns were being displayed in the belfry. Later, Pulling escaped to Hull. In his memory and that of my grandmother, his great granddaughter Sarah Pulling Lane French, who often recounted the event, this tablet is placed by Winthrop Irving Perry.
To be continued…
Explore over 330 years of newspapers and historical records in GenealogyBank. Discover your family story! Start a 7-Day Free Trial.
Note on the header image: Harvey Hunter Pratt (1860-1924), son of Henry Jones Pratt and his 2nd wife Maria Jones Hunter. From "Massachusetts State Representatives Officials and Employees — Pictorial Works." Courtesy of the Massachusetts State Library.
Recent Articles in This Series: