Introduction: In this article, Melissa Davenport Berry continues her series on Mayflower descendants, focusing on philanthropist Margaret Olivia Slocum Sage. Melissa is a genealogist who has a blog, AnceStory Archives, and a Facebook group, New England Family Genealogy and History.
Today I continue with my series "Mayflower Descendants: Who's Who" with a focus on Margaret Olivia Slocum Sage (1828-1918), a descendant of Mayflower passengers George Soule, Edward Doty, and Miles Standish.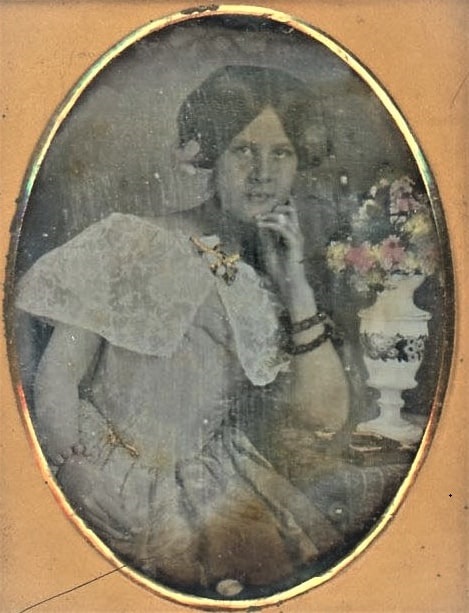 I came across this Mayflower scion in a newspaper clip dated 1903 in the Worcester Daily Spy.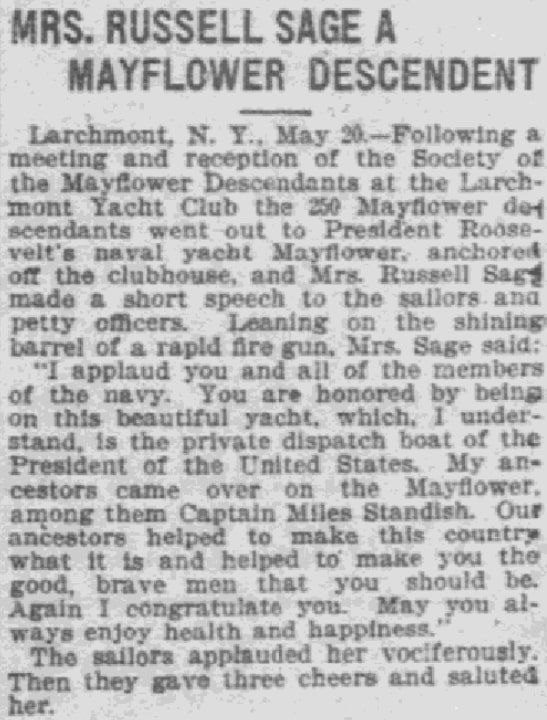 This article reported:
Following a meeting and reception of the Society of the Mayflower Descendants at the Larchmont Yacht Club, the 250 Mayflower descendants went out to President Roosevelt's naval yacht Mayflower, anchored off the clubhouse, and Mrs. Russell Sage made a short speech to the sailors and petty officers. Leaning on the shining barrel of a rapid fire gun, Mrs. Sage said:

"I applaud you and all of the members of the navy. You are honored by being on this beautiful yacht, which, I understand, is the private dispatch boat of the President of the Unites States. My ancestors came over on the Mayflower, among them Captain Miles Standish. Our ancestors helped to make this country what it is and helped to make you the good, brave men that you should be. Again I congratulate you. May you always enjoy health and happiness."

The sailors applauded her vociferously. Then they gave three cheers and saluted her.
A 1906 newspaper clip from the Watertown Daily Times reveals more on Margaret and provides her marriage date to wealthy tycoon Russell Risley Sage, son of Elisha Sage and Prudence Risley.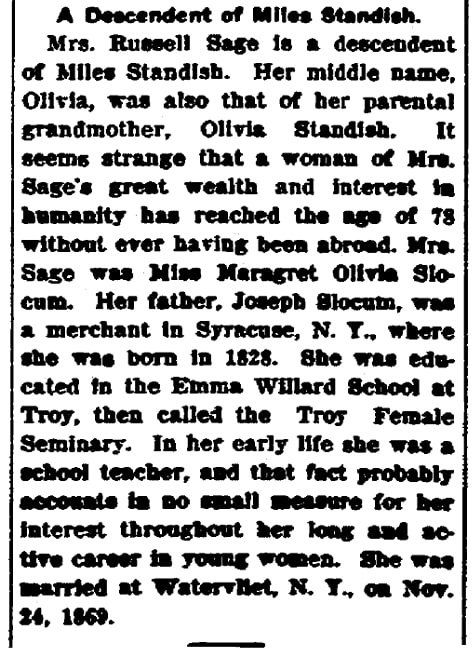 This article reported:
Mrs. Russell Sage is a descendant of Miles Standish. Her middle name, Olivia, was also that of her paternal [great] grandmother, Olivia Standish [wife of Stockbridge Josselyn]. It seems strange that a woman of Mrs. Sage's great wealth and interest in humanity has reached the age of 78 without ever having been abroad. Mrs. Sage was Miss Margaret Olivia Slocum. Her father, Joseph Slocum, was a merchant in Syracuse, N. Y., where she was born in 1828. She was educated in the Emma Willard School at Troy, then called the Troy Female Seminary. In her early life she was a school teacher, and that fact probably accounts in no small measure for her interest throughout her long and active career in young women. She was married at Watervliet, N. Y., on Nov. 24, 1869.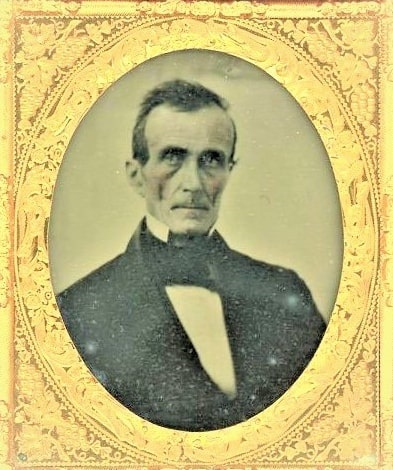 Lineage:
Miles/Myles Standish and Barbara (unknown)
Alexander Standish and Desire Doty, daughter of Edward Doty and Faith Clarke
Thomas Standish and Mary Carver (William, John, Robert – founder of Marshfield, MA)
David Porter Standish and Hannah Standish Magoun, daughter of David Magoun and Rachel Soule (Aaron, John, George)
Olivia Standish and Stockbridge Josselyn
Olivia Josselyn and William Brown Slocum
Joseph Slocum and Margaret Pierson Jermain
Margaret Olivia Slocum, second wife of Russell Risley Sage, a descendant of Richard Montague, one of the founders of Hadley, MA.; and brother of Jamestown's Robert Montague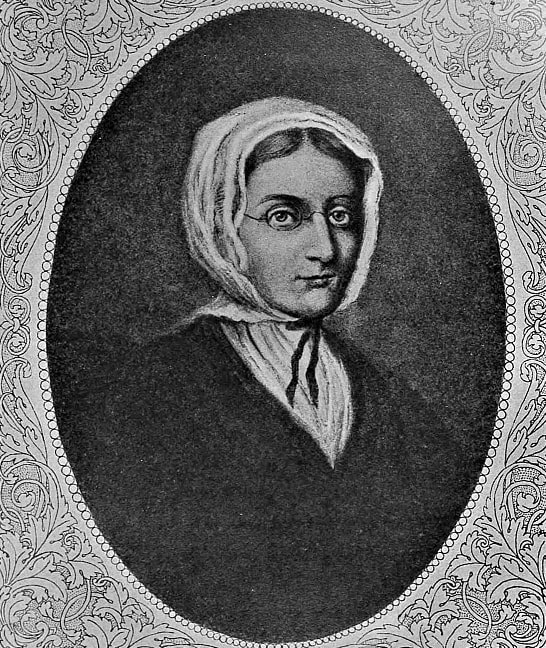 One of Margaret's Pilgrim ancestors, Edward Doty, had a rep for being hot tempered. The Hampshire Gazette reported a duel in Plymouth on 18 June 1621 that Governor William Bradford recorded.
Bradford wrote:
The second offense is the first duel fought in New England, upon a challenge at single combat with sword and dagger, between Edward Doty and Edward Leister, servants of Mr. [Steven] Hopkins. Both being wounded, the one in the hand, the other in the thigh, they are adjudged by the whole company to have their head and feet tied together, and so to lie for twenty-four hours without meat or drink, which is begun to be inflicted, but within an hour, because of their great pains, at their own and their master's humble request, upon promise of better carriage, they are released by the Governor.
When Margaret's husband died in 1906 the Sage heirs tried to contest the will. It was a small scandal, but Margaret won the many millions.
What became a bigger scandal was how she spent the fortune and who benefited from her generosity.
The San Francisco Call Bulletin in 1909 featured photos of Margaret with a headline "Giving Away Russell Sage's Money – How the Widow of the Financier Has Disposed of $20,000,000 in Three Years and Has Only Just Begun."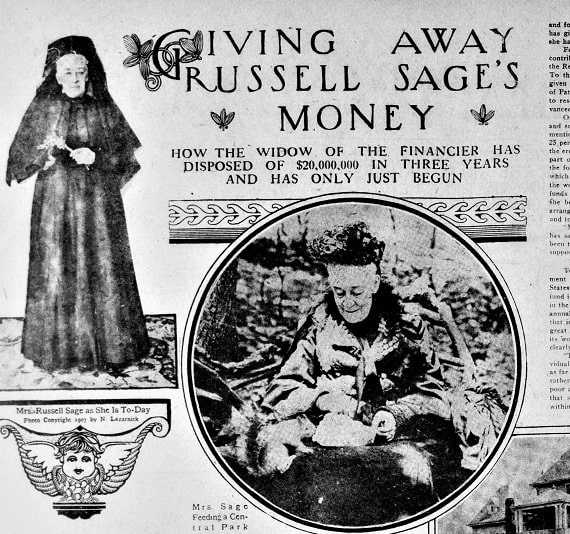 That story is up next, and you will not want to miss it!
Note: Just as an online collection of newspapers, such as GenealogyBank's Historical Newspaper Archives, helped tell the stories of Mayflower descendant Margaret Olivia Slocum Sage, they can tell you stories about your ancestors that can't be found anywhere else. Come look today and see what you can discover!
Note on the header image: a photo of Margaret Olivia Slocum Sage (Mrs. Russell Sage) (1828-1918), American philanthropist, 2 April 1910. Credit: Library of Congress, Prints and Photographs Division.
Recent Articles in This Series: