Introduction: In this article, Melissa Davenport Berry continues her series on Mayflower descendants, focusing on philanthropist Ada Waterman Small Moore. Melissa is a genealogist who has a blog, AnceStory Archives, and a Facebook group, New England Family Genealogy and History.
Today I continue with my series "Mayflower Descendants: Who's Who" with a focus on the lineage of philanthropist Ada Waterman Small Moore (1858-1954), a descendant of Mayflower passengers Robert Cushman, Isaac Allerton, and Richard Warren.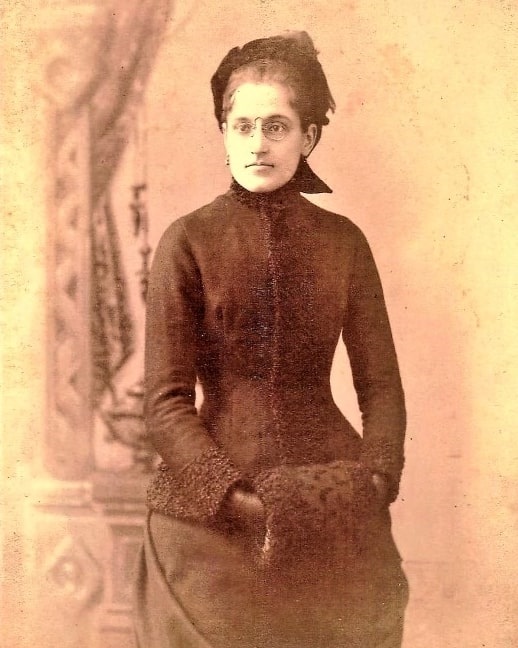 Ada was a member of many lineage societies including the Massachusetts Society of Mayflower Descendants, Daughters of the American Revolution (DAR), and Society of Colonial Dames.
Her family tree includes allied lines of Edward Starbuck, Mary Dyer, Robert Stetson, John Poore, William Sawyer, Thomas Philbrook, and John Moulton.
Lineage:
Robert Cushman and Sara Reder
Thomas Cushman and Mary Allerton, daughter of Isaac Allerton and Mary Norris
Isaac Cushman and Rebekah Harlow, daughter of William Harlow and Rebecca Bartlett; granddaughter of Robert Bartlett and Mary Warren; great granddaughter of Richard Warren
Rebecca Cushman and Jacob Mitchell, son of Jacob Mitchell and Susannah Pope
Seth Mitchell and Deborah Bassett Andrews, daughter of Stephen Andrews and Bethia Stetson
Sarah Mitchell and Edward Small, son of John Small and Sarah Sawyer
Edward Small and Rebecca Pratt, daughter of David Pratt and Rebecca Chandler
Edward Alonzo Small and Mary Caroline Roberts, daughter of Benjamin Roberts and Clarissa Mitchell
Adelia "Ada" Waterman Small married William H. Moore, son of Nathaniel Ford Moore and Rachel Arvilla Beckwith. Note: Ada's sister Lora Josephine Small married James Hobart Moore, brother of William. You can read about James on the GenealogyBank Blog: A Reversal of Fortune Made Coachman a Millionaire.
There are three volumes of Descendants of Edward Small of New England, and the Allied Families, with Tracings of English Ancestry, which detail the Mayflower lines and allied families.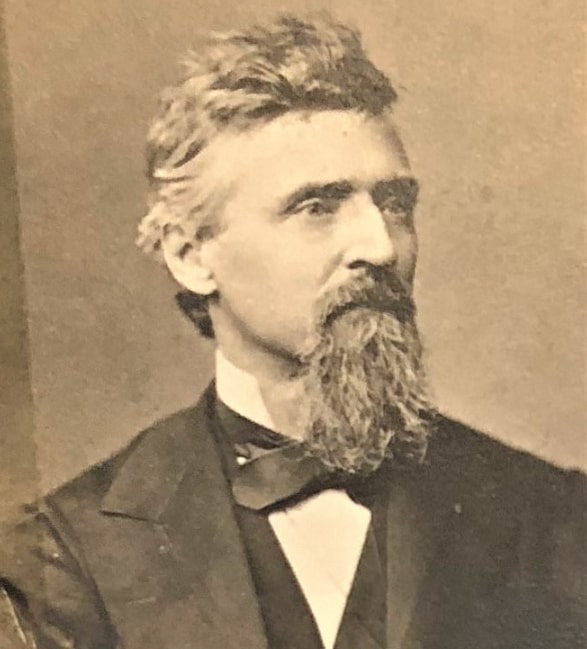 I found an obituary for Ada's father Edward Alonzo Small (1829-1882) in the Daily Inter Ocean.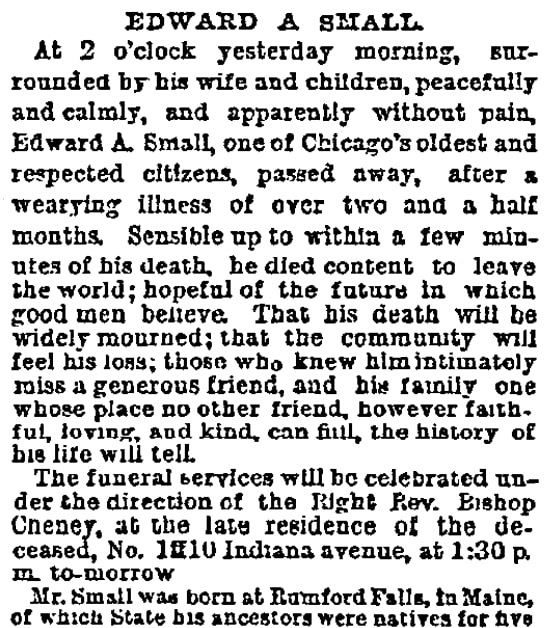 This article reported:
…Edward A. Small, one of Chicago's oldest and respected citizens, passed away, after a wearying illness of over two and half months.

…Mr. Small was born at Rumford Falls, in Maine, of which state his ancestors were natives for five generations, and was fitted for college at Yarmouth Academy, and graduated there at the age of 16 years. He had a store in Portland, Me., for a few years, and married Mary C. Roberts, of that city. From Portland he went to Boston to the store of Isaac Fenno & Co. He removed to Galena, Ill., at the age of 23, and was in mercantile business there, until at the age of 29 he was admitted to the bar.

…Practicing in Galena until 1869, he came to Chicago, and was associated with the firm of Jewett, Jackson & Small, and from the time he first came here enjoyed a large and constantly increasing practice.

…Mr. Small leaves a widow and five children.
Five days after he died, Edward Small's associates of the Chicago bar held a memoriam meeting in his honor.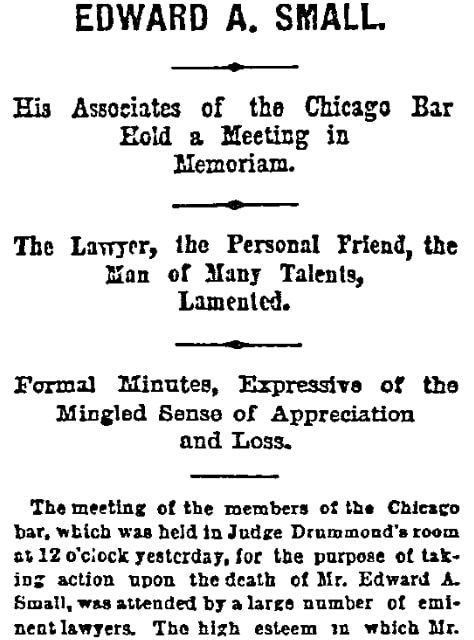 Many fine tributes were paid to Small at this meeting, including a narrative from his son-in-law William H. Moore, who partnered with Edward in his law firm (which became Small & Moore) before he married Ada in 1878:
Nine and one-half years ago I came to Chicago and met Mr. Small as he was going to the Supreme Court. He requested me to call at his office, which I did, and we concluded arrangements by which I entered his office. He suggested a salary which was larger than I hoped for, and in three or four months suggested an increase of salary, and so on repeatedly, until finally he offered me an interest in his business. One year ago he said to me: "Take my business, push it, extend it, and profit by it. It has been worked up honestly, and I wish it to be honestly maintained."

In his private diary I find entries which show how highly he esteemed his coworkers, as while abroad he kept them constantly in his mind, and made a note of the death of each one as it occurred. He also made memoranda from which it is seen that he realized that his life was nearly ended. He was an indefatigable worker, and although he took his hat and coat and left his office, he never left his work.
Ada's husband did prosper – beyond her father's dreams. They would live a gilded life and always used their wealth and status for the benefit of others.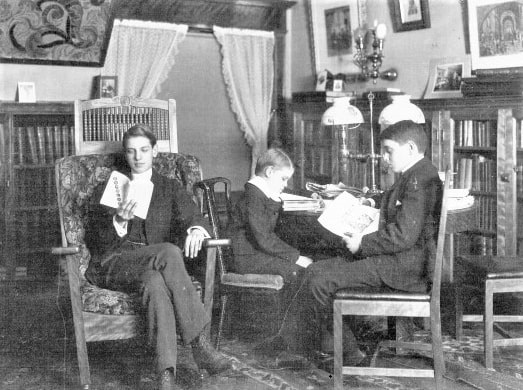 Children born to Ada and William Moore:
Hobart Moore married Ruth Winthrop Emmons, daughter of John Francis "Frank" Emmons and Mary Winthrop Cook (Mayflower lines)
Edward Small Moore married Jean Rainey McGinley, daughter of John Rainey McGinley and Sarah Jane Atterbury
Paul Moore married Fanny Weber Hanna, daughter of Leonard Colton Hanna and Fanny Wilson Mann
To be continued…
Note: Just as an online collection of newspapers, such as GenealogyBank's Historical Newspaper Archives, helped tell the stories of Mayflower descendants Edward Alonzo Small and Ada Waterman Small Moore, they can tell you stories about your ancestors that can't be found anywhere else. Come look today and see what you can discover!
Note on the header image: portrait of Adelia "Ada" Waterman Small Moore. Courtesy of Alex Dearborn of Kittery Point, Maine.
Recent Articles in This Series: