Introduction: In this article, Melissa Davenport Berry continues her series on Mayflower descendants, focusing on Charles Francis Adams, 6th great grandson of John Alden and Priscilla Mullins. Melissa is a genealogist who has a blog, AnceStory Archives, and a Facebook group, New England Family Genealogy and History.
Today I continue with my series "Mayflower Descendants: Who's Who" with a focus on the lineage of Charles Francis Adams, former member of the Massachusetts Society of Mayflower Descendants and 6th great grandson of John Alden and Priscilla Mullins. I also include a gal cousin from Quincy, Massachusetts.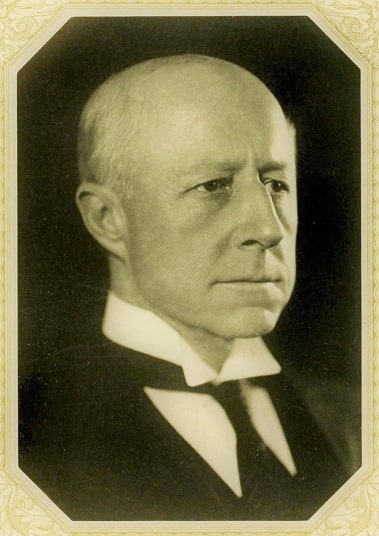 Lineage:
Charles Francis Adams (1866-1954)
John Quincy Adams and Francis Cadwalader Crowninshield
Charles Francis Adams and Abigail Brown Brooks, daughter of Peter Chardon Brooks and Ann Gorham
John Quincy Adams and Louisa Catherine Johnson
John Adams and Abigail Quincy Smith
John Adams and Susannah Boylston
Joseph Adams and Hannah Bass; daughter of John Bass and Ruth Alden; granddaughter of John Alden and Pricilla Mullins
Captain John Adams and Abigail Baxter
Henry Adams and Edith Squire
I found a front-page obituary for Charles in the Patriot Ledger describing his many accomplishments, which include mayor of Quincy, secretary of the Navy, and treasurer of Harvard College.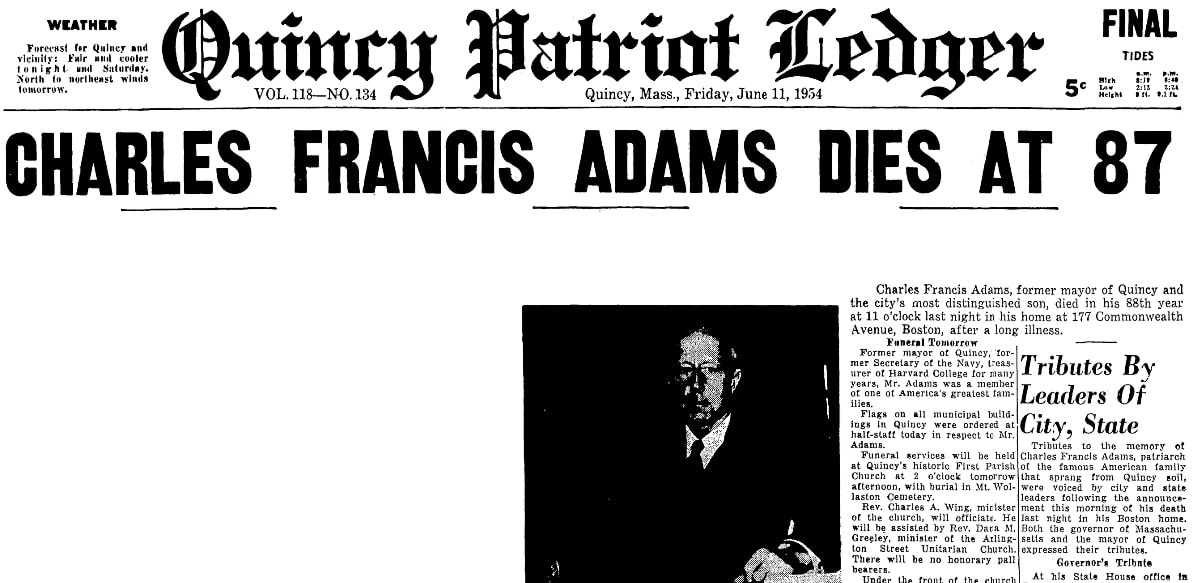 This obituary reported:
As a member of one of the greatest American families, Adams was the great grandson of John Quincy Adams, the sixth president, and a gr. great grandson of John Adams, the second president. He, like his presidential ancestors, was a native of Quincy, Massachusetts.
His father John Quincy Adams was town moderator of Quincy and a member of the Quincy School Committee. His grandfather Charles Francis Adams played a great role in American history as minister to England under Abraham Lincoln and was largely instrumental in keeping that country from openly intervening in the Civil War.
Charles was an outstanding American businessman. He first won fame in 1920 when he skippered the American sloop Resolute to victory against Sir Thomas Lipton Shamrock in the America's Cup race.
"He was probably the world's Number One amateur helmsman during the first quarter of the century, and he continued active racing until he was well into his eighties."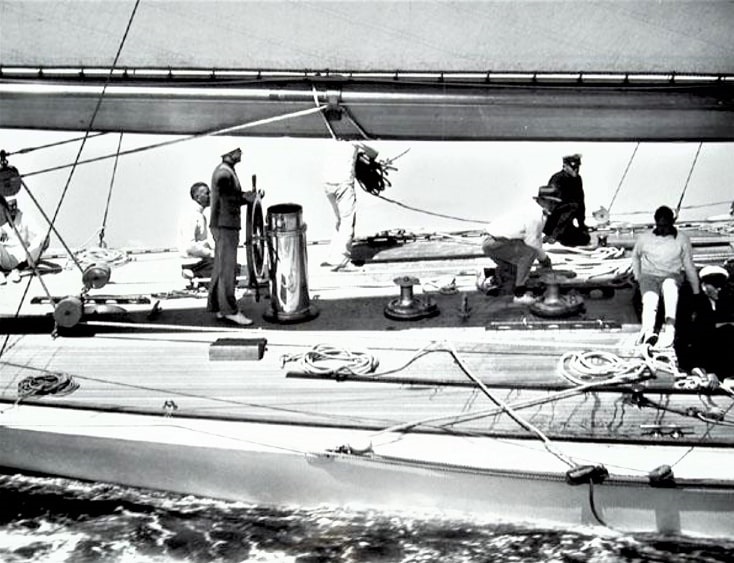 In 1899 Charles married Francis Lovering, daughter of William Lovering and Mary Loring Swasey. They had one daughter, Catherine Frances Lovering Adams, who married Henry Sturgis Morgan, son of J. P. Morgan; and a son, Charles Francis Adams IV, president of Raytheon, who married Mary Stockton and 2nd Beatrice Dabney Penati.
"Charles Francis Adams had been for many years the outstanding living member of what has often been called America's greatest family. The Adamses since Colonial times have given patriots, statesmen, ambassadors, business men, lawyers, soldiers, authors, and Presidents to America."
The Bass line connects Adams to John Alden, and it is important to note that this Pilgrim cooper was more than a romantic subject for Longfellow's poem. Alden was a true civic leader, and the proof is in the pudding when it comes to his Adams scions.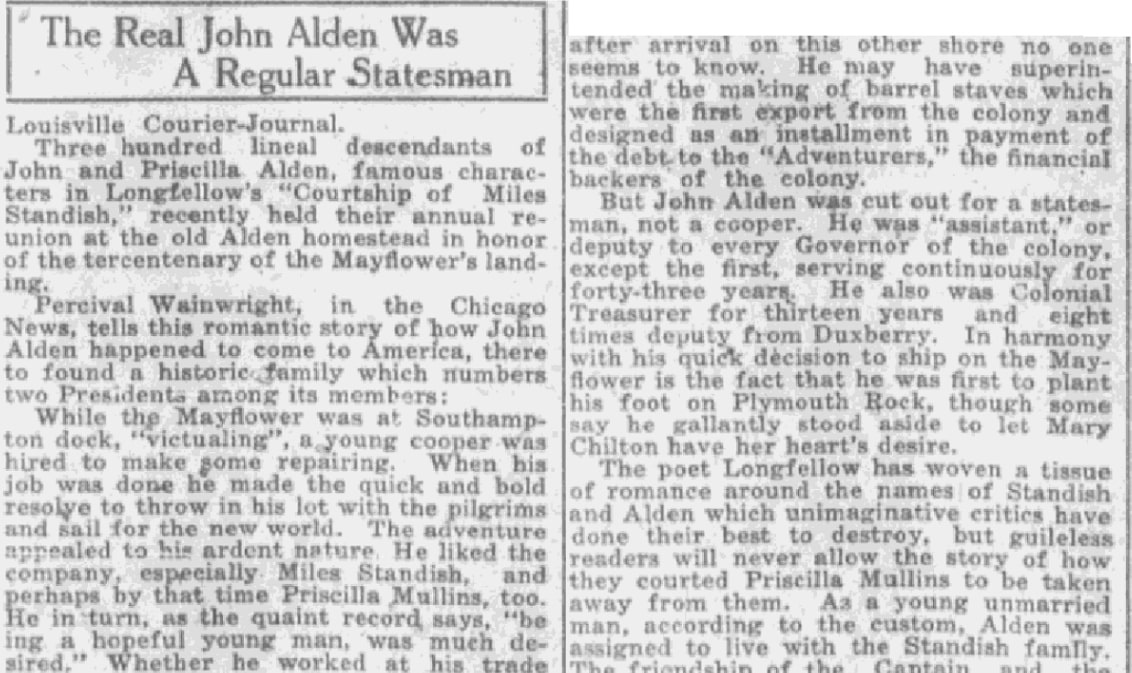 According to this article:
"But John Alden was cut out for a statesman, not a cooper. He was 'assistant' or deputy to every Governor of the Colony, except the first, serving continuously for forty-three years. He was also Colonial Treasurer for thirteen years and eight times deputy from Duxberry."
In 1925 Quincy, Massachusetts, was hosting a Tercentenary celebration and questionnaires were distributed to "Quincyites" – townspeople who descended from the town's original settlers.
The results showed many to be descended from John Alden.
The Patriot Ledger published the lineage of one lady, a cousin to Charles Francis Adams. I made a few corrections and additions.
Henrietta Bowker (Spear) Pratt traces her descent from John Alden, Henry Adams, James Penniman, George Spear and many of the other early settlers of Braintree and Quincy.
John Alden married Priscilla Mullins. Their daughter Ruth Alden married John Bass, son of Deacon Samuel Bass and Ann (Saville) Bass.
Their daughter Mary Bass married Christopher Webb, son of Christopher and Mary (Scott) Webb.
Their daughter Sarah Webb married Samuel Arnold, who was descended from Joseph Arnold and Rebecca Curtis.
Their daughter Mary Arnold married John Spear, son of Samuel and Elizabeth (Daniels) Spear, who was the son of George and Mary (Heath) Spear.
Their son Seth Spear married Judith Adams, daughter of Deacon John and Sarah (Swift) Adams of Milton, Massachusetts, who was the son of Edward and Ruth (Rachel) Adams, who was the son of John and Deborah (Partridge) Adams of Medfield, Massachusetts.
Their son Elijah Spear married Susannah Baxter, who descended from Gregory Baxter and Margaret Paddy.
Their son Seth Spear married Elizabeth Bowker, daughter of Elisha Bowker and Sarah (Spear) Bowker – a second cousin of Elijah Spear.
Their daughter Henrietta Bowker Spear married Judge Ezra Granville Pratt, son of Ezra Pratt and Eveline Lincoln Vining.
The couple had no children, but Henrietta's siblings carried on the generations.
Other notables in this Adams line include David Sears, Benjamin Williams Crowninshield, John Peabody, Joshua Johnson, John Winthrop, Thomas Dudley, John Cotton, Peter Woodbury, and Richard Manning.
Stay tuned for more Mayflower!
Note: Just as an online collection of newspapers, such as GenealogyBank's Historical Newspaper Archives, helped tell the stories of Winslow Brewster Standish, they can tell you stories about your ancestors that can't be found anywhere else. Come look today and see what you can discover!
Note on the header image: a photo of Charles Francis Adams (1807-1886) and his wife Abigail Brown Brooks (1808–1889). The couple are sitting on the porch of their home "Peacefield" in Quincy, Massachusetts. Credit: Wikimedia Commons.
Recent Articles in This Series: