Introduction: In this article, Gena Philibert-Ortega writes about information about your ancestor that can be found in newspaper funeral invitations. Gena is a genealogist and author of the book "From the Family Kitchen."
When we think of newspaper death notices, obituaries automatically come to mind. Obituaries are genealogically rich articles that provide details about the person's life and death such as name, birth and death dates, family relationships and more. However, there are other types of newspaper death notices depending on where and what era your ancestor lived in. One of these types are newspaper funeral invitations.
Printed Funeral Invitations
Before we explore newspaper funeral invitations, let's first discuss printed funeral invitations.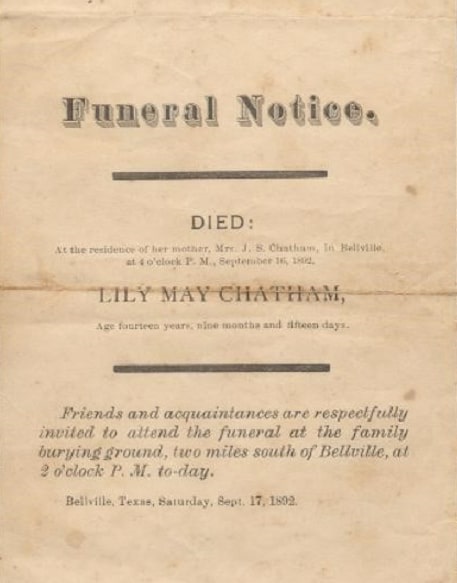 According to the book The Corpse: A History:
"In nineteenth-century England, memorial gloves and rings were distributed as invitations to the funeral. In the United States, funeral invitations were delivered by an inviter dispatched to friends and neighbors." (1)
These printed invitations included the name of the deceased, and the place and time of the funeral. The actual look of the invitations differed, with some being a simple invitation with a black border while others included more decorative elements.
The 1889 publication, Handbook of Official and Social Etiquette and Public Ceremonials at Washington by Deb. Randolph Keim, provides us more information about what funeral invitations were to say and how they were printed. (2) While this book was written for government occasions, other etiquette books of the time period include similar instruction.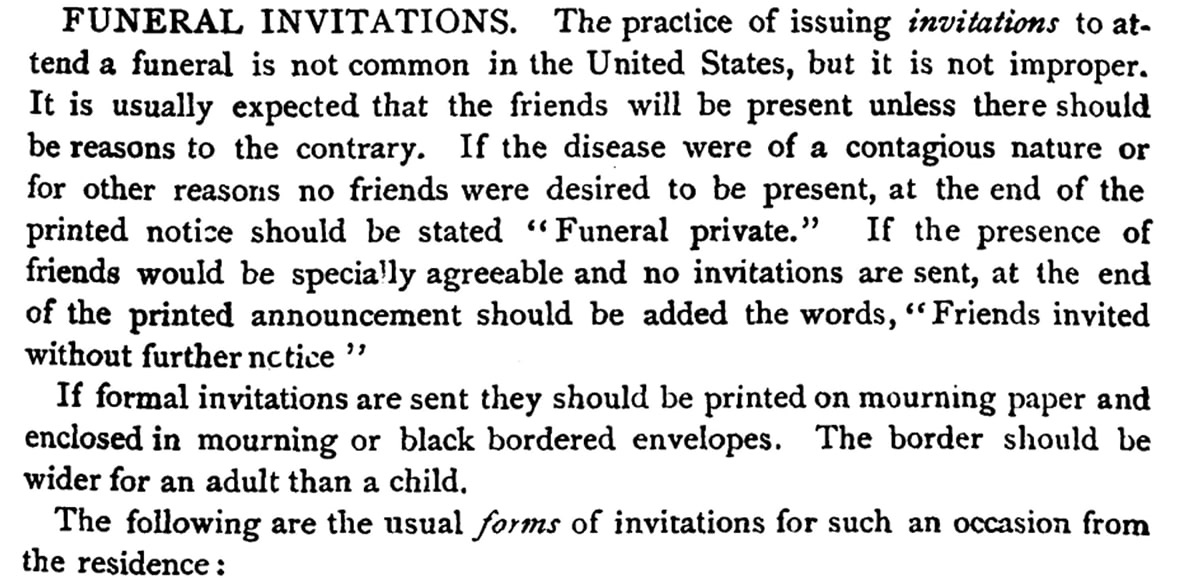 Newspaper Funeral Invitations
There were also funeral invitations that appeared in the newspaper.
"It is customary in large cities to give notice of death and announce the time of funeral service through the newspapers, but for fear it may not reach all in time, invitations are sent to personal and family friends." (3)
Unlike the ephemeral funeral invitations that were handed out to family and friends and may have been discarded after, newspaper funeral invitations can be searched or browsed online. They are searchable by conducting a name search in GenealogyBank's Historical Newspaper Archives.
The earliest funeral invitation I found in GenealogyBank's newspapers was printed in 1806 in the New York paper American Citizen. It invites the community to the funeral for sea captain John Anderson.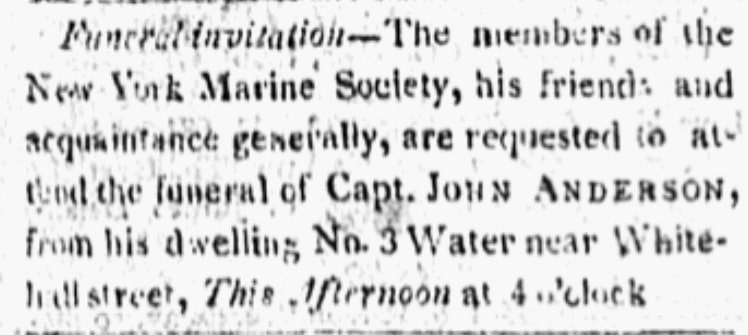 Funeral invitations might appear in columns with obituaries or other events, even marriages, such as this Savannah, Georgia, example which appears on the newspaper's page 2 with a variety of other notices. Unlike an obituary that may appear any time after death, funeral invitations are often for that day.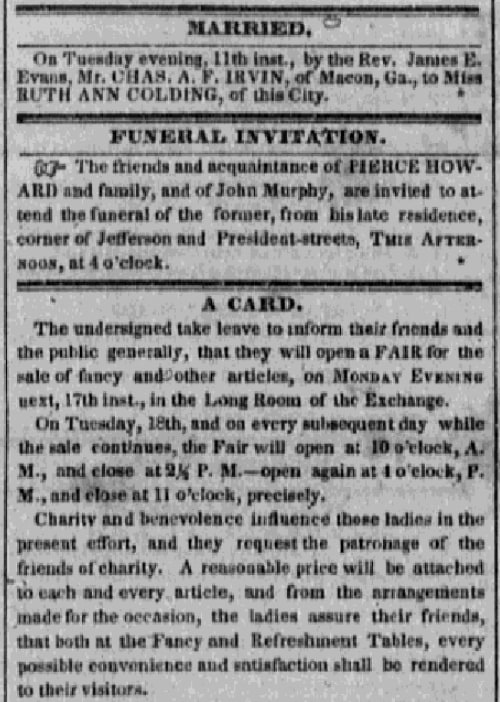 Funeral invitations don't provide as much information as most obituaries, but they do provide something that genealogists need: proof that a death has occurred. But that should just be one step in your research. The funeral invitation is a clue to help you continue your search for death information that can be found in death certificates, cemetery records, and obituaries. These newspaper funeral invitations include only a few basic pieces of information: the name of the deceased, the address of the funeral, and maybe the cemetery where burial was to occur. All of that is extremely useful to know, but there is more information to be found.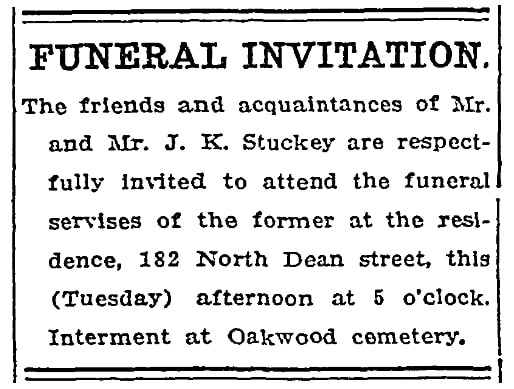 As you peruse these funeral notices, pay attention to the newspaper's advertising policies. This may explain why a funeral invitation does not appear when a death notice does. In this 1848 entry from the Cincinnati Commercial Tribune, it explains that death notices are free unless they are accompanied by a funeral invitation or obituary.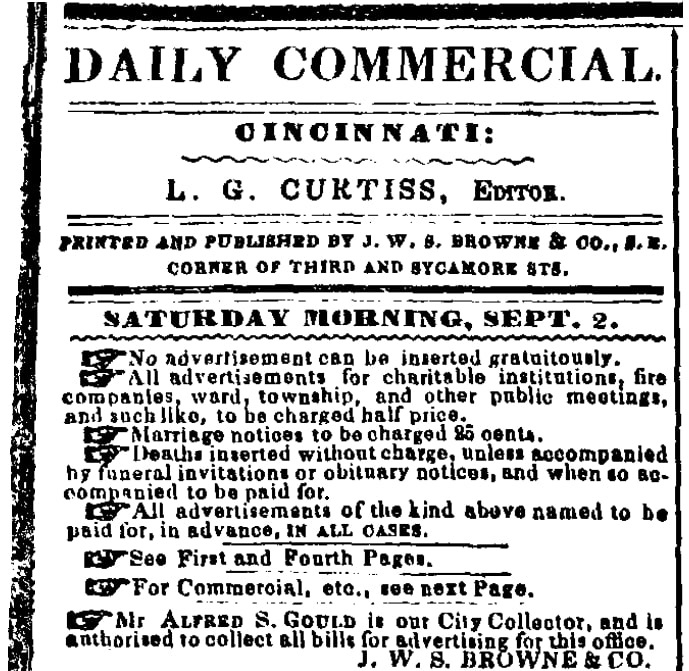 Based on my search of funeral invitations in GenealogyBank's Historical Newspaper Archives, they begin in the early 1800s and virtually disappear about 1920. They also seem to be more prevalent in some states than others depending on the time period. Once again, take some time to read your ancestor's hometown newspaper to learn what they did and did not typically print.
Genealogy Search Tips
When searching for an obituary, do not use the word "obituary" in your search. If you do use the word "obituary," conduct other searches without that keyword. In some cases, a death announcement may not be found under the heading Obituary or Obituaries.
When you use newspapers to research for your ancestors, make sure to spend some time taking a look at your ancestor's local newspaper. Notice what types of death articles they print. Also take the time to see what types of death notices the newspaper charges for. This could explain the absence of a notice.
Note on the header image: a photo of the Common Burying Ground and Island Cemetery in Newport, Rhode Island. Credit: Matt H. Wade.; Wikimedia Commons.
________________
(1) Quigley, Christine. The Corpse: A History. United Kingdom, McFarland, 1996, page 69.
(2) Keim, Deb. Randolph. Handbook of Official and Social Etiquette and Public Ceremonials at Washington. Available on Google Books  https://www.google.com/books/edition/Hand_book_of_Official_and_Social_Etiquet/KLy_5i04my8C?hl=en&gbpv=0.
(3) Hanson, John Wesley. Etiquette and Bicycling, for 1896. United States, American publishing house, 1896, page 279. Available on Google Books  https://www.google.com/books/edition/Etiquette_and_Bicycling_for_1896/2EIKAQAAMAAJ?hl=en&gbpv=0.