Introduction: In this article, Gena Philibert-Ortega shows how to narrow your searches and sort your search results to make your ancestor searches more efficient. Gena is a genealogist and author of the book "From the Family Kitchen."
You've entered your search terms into your genealogy website's search engine. Now you have pages of records to look through, especially historical newspapers. That's great for your research – but now what do you do?
Just looking through your results might not be the best next step. Depending on how many results you have or the popularity of the name or keyword you're searching, you may have relevant results hiding on page 6 – it will take you a while to find that record. What should you do instead?
Narrow your search and sort those results.
Narrow Your Search
There are several ways to narrow your search on GenealogyBank. For example, using the Advanced Search allows you to include (or exclude) words, add dates or year ranges, and specify a location or newspaper title.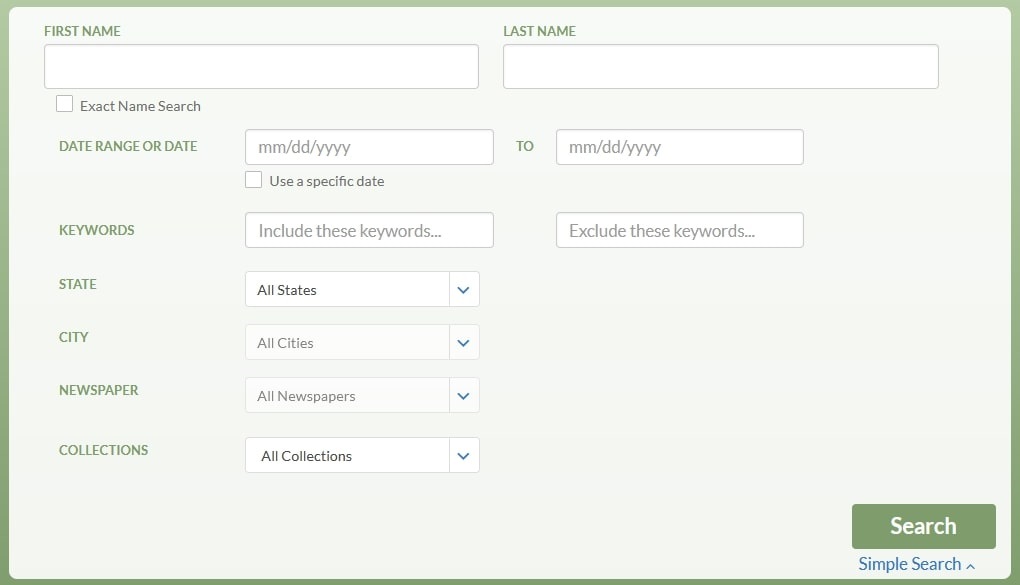 Sort Your Results
There's another tool you can use that will impact how you view your results: don't forget about the option to Sort your results.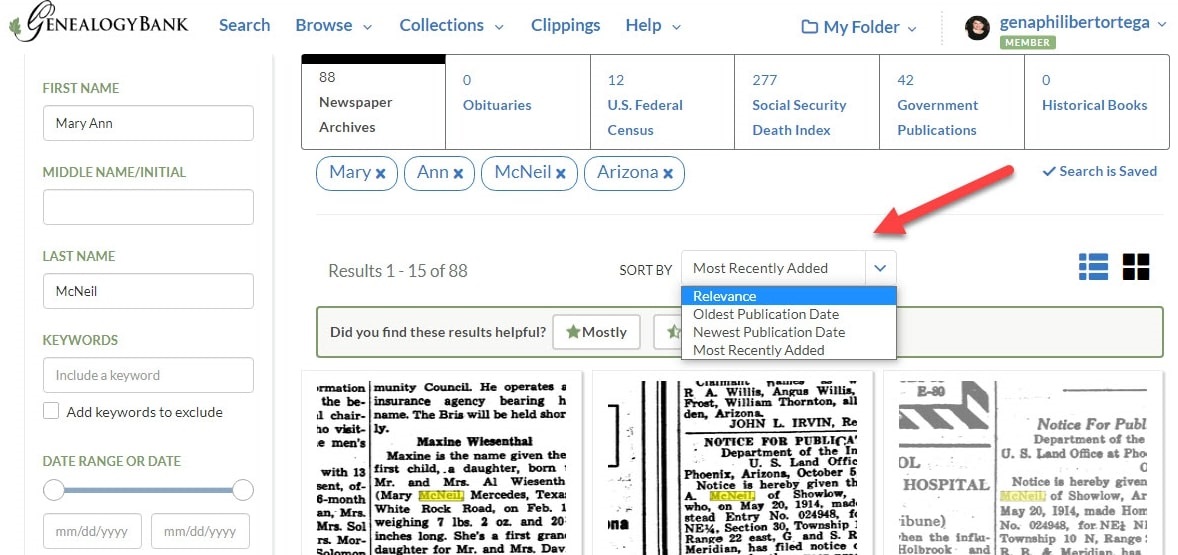 Sorting results is exactly what you might imagine. It's a way to take your results list and sort it in ways that are most relevant to you. Sorting your results determines which results you see first. This is crucial the more pages of results you have.
The default sort option for GenealogyBank's Historical Newspaper Archives is by Relevance. The Relevance option shows the best matches first. But Relevance may not be the way you want to sort results, depending on your research question.
What are the Sort options you have? You can sort results by:
Relevance
Oldest Publication Date
Newest Publication Date
Most Recently Added
Each of the sort options is useful for various circumstances. For example:
As mentioned above, use Relevance when you want the GenealogyBank search engine to sort results by those that most closely match your search parameters.
Use Most Recently Added when you are conducting a search that you have conducted previously. This way your results are sorted by those that have been recently added to the website, which might be the ones you haven't seen yet.
That leaves us with the sort parameters Oldest and Newest Publication Date. I find these two options vital when I'm faced with:
Searching a person with a name shared with a relative or a common name. For example, if the relative with the same name is younger, I would choose Oldest Publication Date to find my older same-named relative.
Looking for an obituary, I will choose Newest Publication Date and try to trace the person back in time starting with the end of their life.
If I'm searching on the history of an event, activity, or place, I start with the Oldest Publication Date to see the first mention of what I'm researching. When I've written blog articles about when a specific recipe was first used, I have done that with the help of sorting my results by Oldest Publication Date.
Think about your research project. When your results are numerous, how could you sort those results to find what you are looking for? Once you look at the results by Relevance, why not sort by a different option to see if that helps you find results that were beyond the first few pages.
Sorting: An Example
Let me show you how using the Sort feature can change the way your results are shown. In this example I have searched for Mary Ann McNeil. I've also narrowed my search to Arizona. This has resulted in 49 results over four pages.
Sorting by Relevance
If I look at my matches in the default Relevance, this is what I see.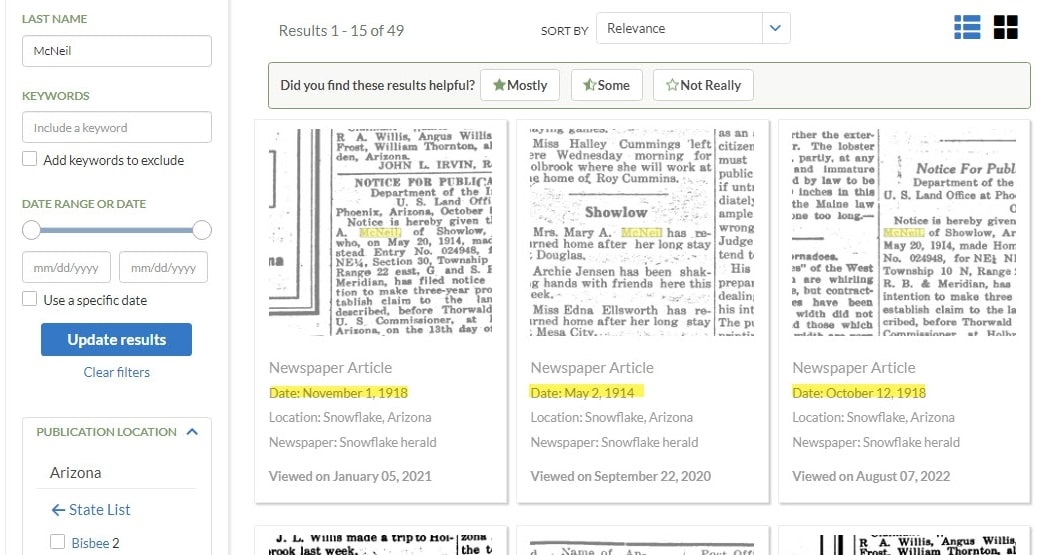 There are a few things to note here. The results are not in date order – they are sorted by relevance. In this example, these results are all for my Mary Ann McNeil. (I have highlighted the dates in this example to show that the dates are not in order.) So, the Relevance option was a good choice in this case. To be clear, that doesn't mean that all relevant results are for the specific ancestor you are researching. These are the results that best match the search terms, but that doesn't take into consideration factors like someone else with the same name.
Sorting by Oldest Publication Date
Now, let's sort these results by Oldest Publication Date. This should help me follow Mary Ann's life by starting with the earliest newspaper mention of her and then reading forward in time.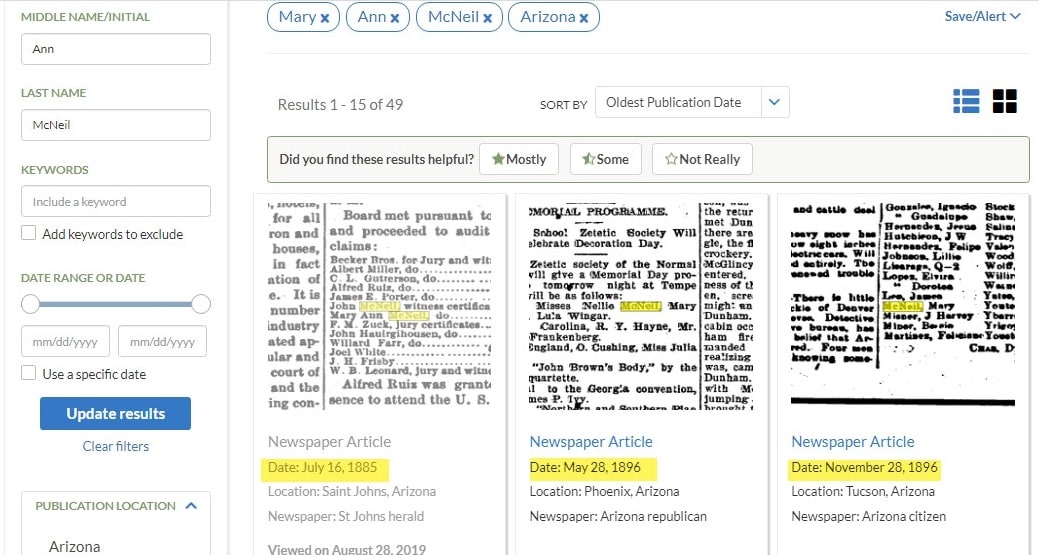 This sort wasn't all that helpful, since only one of the returns on the first page of results was "my" Mary Ann McNeil.
I could re-run this search using a year range or specify a city and/or a newspaper title to help find matching results.
Sorting by Newest Publication Date
Let's sort by Newest Publication Date, which will also provide a chronological result listing – but starting with the most recent date and going backward in time. In this case (since I'm researching a person), if I find that the most recent publication appeared long after her death, I may want to add a date range and then sort again by Newest Publication Date. That way I don't have too many irrelevant results to look through.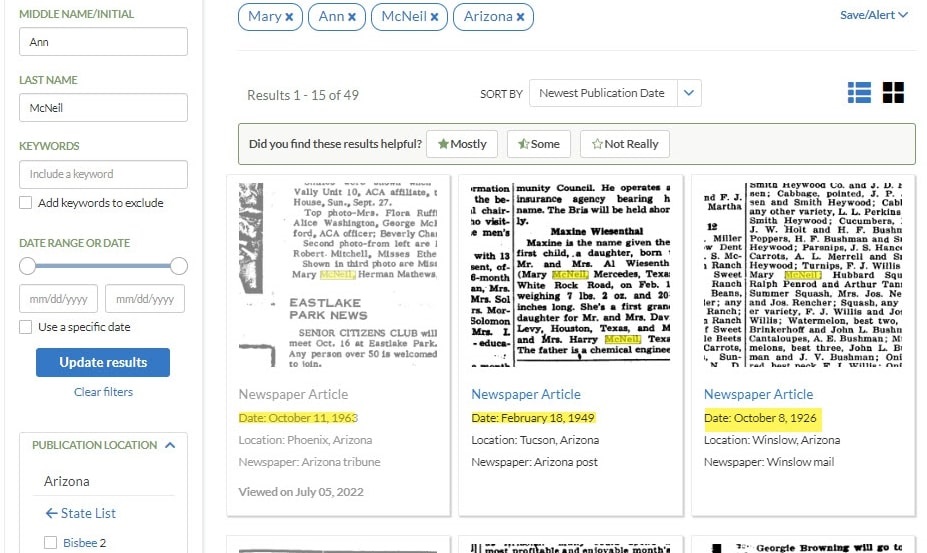 Sorting by Most Recently Added
Lastly, let me show you the results sorted as Most Recently Added. Obviously, the success of this sorting option depends on whether new newspapers that match my search parameters have been added to GenealogyBank's Historical Newspaper Archives since my last search. Otherwise, I may be looking at results I've already seen. But I should still check just in case, because GenealogyBank adds new newspaper titles and more content from existing titles to its collection every month.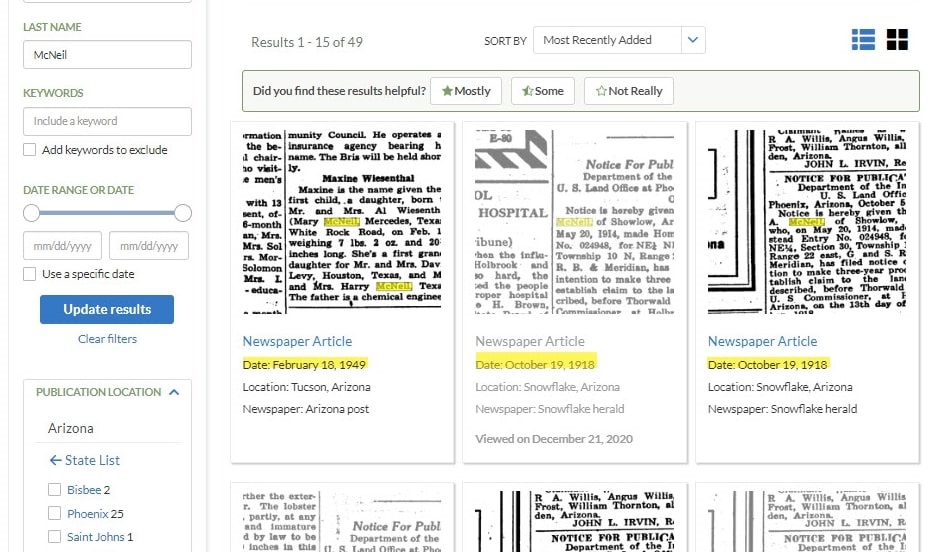 In this case it looks as if I have seen all these results before (notice the results for "my" Mary Ann McNeil are grey and state the date when I first read them "Viewed on").
But, as I mentioned in one of my previous blog articles (See: 3 Newspaper Search Mistakes We All Make: #1 Not Checking Back), it's important to keep checking back to see what new newspaper titles and content have been added.
Are You Sorting?
It is easy to conduct a search by just entering your ancestor's name and reading pages and pages of search results, even though many of the returns may not be the ancestor you're looking for. But to be more efficient, don't overlook the narrowing and sorting tools GenealogyBank provides. In order to make the most of your search, take some time to craft your results list so that it provides you the information you want in the way you need it.