Introduction: In this article, Melissa Davenport Berry continues her series on Mayflower descendants, focusing on Pilgrim descendants who made their way to Michigan. Melissa is a genealogist who has a blog, AnceStory Archives, and a Facebook group, New England Family Genealogy and History.
Today I continue with my series "Mayflower Descendants: Who's Who" with a focus on the lineage of Detroit, Michigan, residents who traced their lines back to Plymouth Colony Pilgrims.
In November of 1956 several scions of the Pilgrims attended a Compact Day celebration dinner to honor the 41 men on board the Mayflower who signed the compact on 11 November 1620. The Michigan Society of Mayflower Descendants hosted the event, and the Detroit Times reported on the attendee's lineage and history.
This article reported that:
"Walter Glenn Scott of Webb Avenue, governor of the Society of Mayflower Descendants in the state of Michigan, says there are more than 600 direct descendants of that hardy group on the membership rolls to date, and a potential of several hundred more.

"…In 1835, after the opening of the Erie Canal, many New England and New York families traveled westward to make their home in Michigan, so a ripe membership roster was waiting when the Michigan chapter organized in 1901."
The article said that the Society of Mayflower Descendants was formed to:
"Perpetuate to a remote posterity the memory of our Pilgrim Fathers… to maintain and defend the civil and religious liberty as set forth in the Compact of the Mayflower… to cherish and maintain the ideals and institutions of American freedom, and to oppose any theories or actions that threaten their community."
The speaker for the Society's annual dinner celebrating Compact Day was Detroit Superintendent of Schools Dr. Samuel M. Brownell, a Mayflower descendant himself through passengers William Brewster, Richard Warren, John Howland, John Tilley, John and Priscilla Alden, and William Mullins.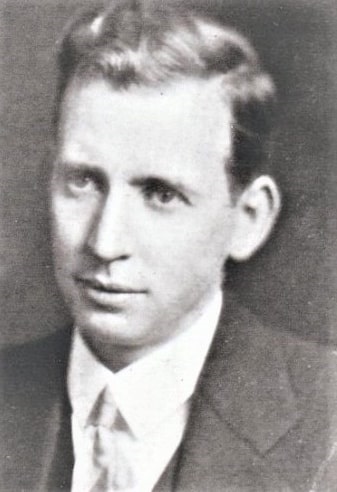 The Society's governor, Walter Glenn Scott (1886-1964), born to Charles Benjamin Scott and Mary Lord Arzelma Holdridge, descends from Mayflower passengers Francis Cooke, Edward Doty, and Stephen Hopkins.
The article further reported that the likelihood of having a Mayflower ancestor is more probable than many people understand:
"When you figure that each individual, tracing back to the tenth generation, has 1,012 grandparents, and by the twelfth generation, the number reaches 4,096, possibilities increase that one of those grandparents may have been among the Mayflower band."
Former governor of the Society, Mrs. William Harmon DeGraff (1887-1960), born Lucile Doughy to William Lancey Doughty and Charlotte Wilbor, is a tenth-generation descendant of Degory Priest.
Mrs. DeGraff was a member of the Michigan Daughters of the American Revolution (DAR) Piety Hill Chapter. I found a feature photo of her in the Flint Journal attending the 60th annual state conference of the DAR. That year she was the national vice-chairman of the resolutions committee for the conference.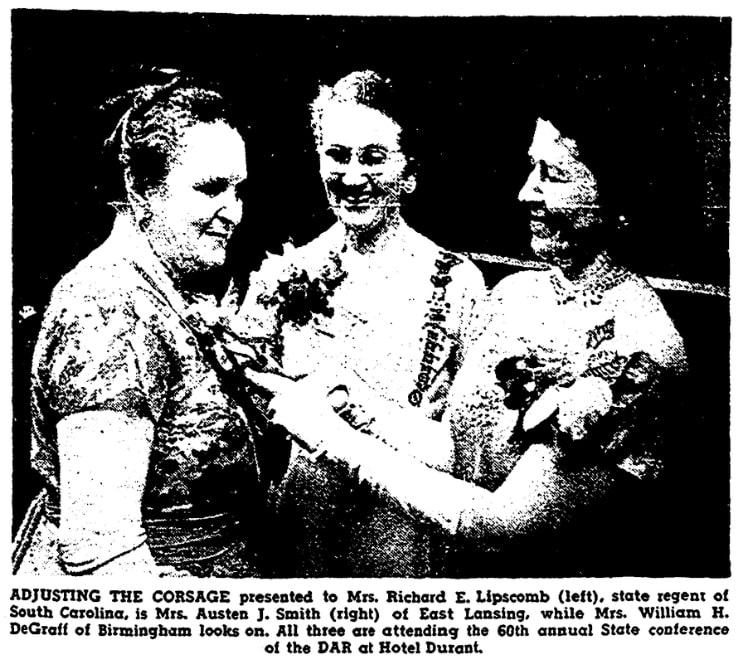 The above Detroit Times article about the Michigan Society of Mayflower Descendants also wrote about former recording secretary Mrs. Charles Horton Metcalf (1864-1961), born Martha "Mattie" Kitchell Woodbridge to Dudley Backus Woodbridge and Martha Jane Lee, and a direct descendant of Governor William Bradford.
Mrs. Metcalf, age 92, was noted in the article as the oldest members of the Society, and described how she traced her ancestors for membership in the Society:
"Mrs. Metcalf began delving into family records when she discovered her own marriage wasn't recorded. The state didn't require it in those days and it took a bit of searching to unearth it in church books."
She was also a member of the DAR Louisa St. Claire Chapter in Detroit. I found a photo of Mrs. Metcalf in the Detroit Times from 1924. She is featured as a representative of the many patriotic societies working to make the Defense Day program.
The caption for this photo said:
"Here are some of the members of the women's patriotic societies who are working to make the Defense Day programme, to be presented in the auditorium of the Board of Commerce, Friday, at 8 p.m., a success. Mrs. Charles Horton Metcalf is in charge of special arrangements. She represents the Founders and Patriots, Historical Memorials, and Colonial Governors. Mrs. Mary Ladue represents the D. A. R., Colonial Dames, and Founders and Patriots. Mrs. C. J. Chandler is in charge of decorations."
Mrs. Metcalf's daughter, Mrs. Louis M. Edgar (1891-1968), born Marjorie Woodbridge Metcalf, wife of Louis Malcom Edgar, was also an active member of the Society of Mayflower Descendants.
The treasurer of the society, Mrs. Paul T. Wentick (1898-1972), born Anna Rosiland Andreas, traces her line back to Thomas Rogers and Francis Cooke.
I found another Mayflower line in her tree: the infamous Billington clan. (See: Mayflower's Billington Brothers: America's 1st Juvenile Delinquents?)
Here is the connection:
Francis Billington and Christian Penn
Isaac Billington and Hannah Glass
Lydia Billington and John Washburn
Jessie Washburn and Silence Washburn, daughter of Josiah Washburn and Sarah Richmond
Thankful Washburn and John Andreas
John Andreas and Nancy Ann Miller
John Andreas and Sarah Sheretts
William Andreas and Mary Ann Wallick
Benjamin Franklin Andreas and Ella Finzer
Anna Andreas Wentick
Stay tuned for more Michigan Mayflower!
Note: Just as an online collection of newspapers, such as GenealogyBank's Historical Newspaper Archives, helped tell the stories of Michigan descendants of the Pilgrims, they can tell you stories about your ancestors that can't be found anywhere else. Come look today and see what you can discover!
Note on the header image: a photo of Mrs. Charles Horton Metcalf (1864-1961). Courtesy of the Boulder Historical Society/Museum of Boulder, Colorado, from the Charles H. Jones Studio Collection.
Recent Articles in This Series: