Introduction: In this article, Melissa Davenport Berry continues her series on Mayflower descendants, focusing on Rhode Island's former educator and preservationist Franklin R. Cushman. Melissa is a genealogist who has a blog, AnceStory Archives, and a Facebook group, New England Family Genealogy and History.
Today I continue with my series "Mayflower Descendants: Who's Who" with a focus on the lineage of Rhode Island's former educator and preservationist Franklin R. Cushman (1870-1952), a direct descendant of Mayflower passengers Robert Cushman, Isaac Allerton, John Howland, and Elizabeth Tilley. The genealogy includes Roger Williams, Mary Dyer, and other prominent pioneer lines.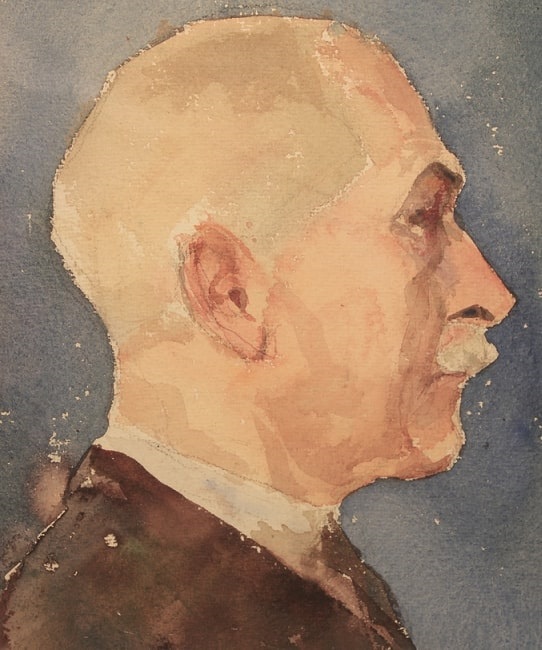 Lineage:
Robert Cushman and Susan Reader
Thomas Cushman and Mary Allerton, daughter of Isaac Allerton and Mary Norris
Thomas Cushman and Ruth Howland, daughter of John Howland and Elizabeth Tilley
Robert Cushman and Persis Lewis
Thomas Cushman and Alice Hayward
Allerton Cushman and Harmony Allen
Minerve Cushman and Priscilla Collins, a descendant of Elder John Strong
David Allerton Cushman and Julia Maria Curtis
William Allerton Cushman and Mary Elizabeth Harris, direct descendant of: William Harris, one of the original settlers of Providence, Rhode Island; Roger Williams; and Mary Dyer.
Franklin R. Cushman
In addition to their son Franklin, other children born to William Allerton Cushman and Mary Elizabeth Harris:
James Harris Cushman married Florence Barton Pierce
Benn Allerton Cushman married Winifred Sophia Potter
May Hazel Cushman married Bartolomeo Gregorio Corona
Charles Curtis Cushman married Alice Orella Kimball
Emely Williams Cushman – no marriage
Julia D. Cushman – no marriage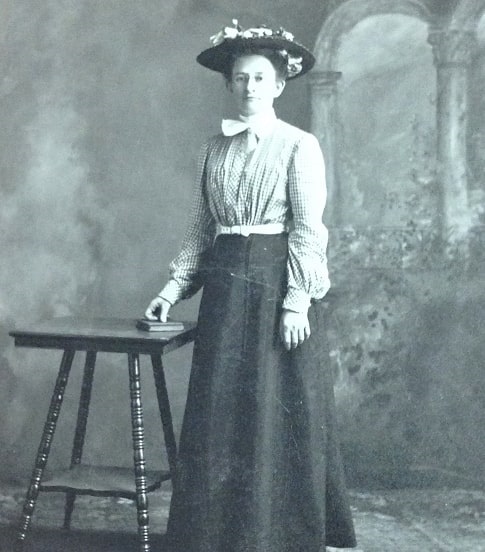 I found Franklin's obituary in the Providence Journal.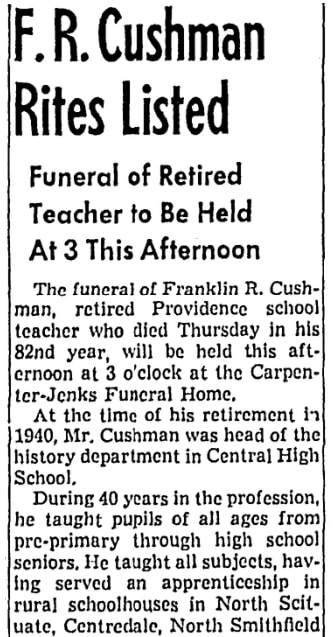 His obituary reported:
The funeral of Franklin R. Cushman, retired Providence school teacher who died Thursday in his 82nd year, will be held this afternoon at 3 o'clock at the Carpenter-Jenks Funeral Home.

At the time of his retirement in 1940, Mr. Cushman was head of the history department in Central High School.

During his 40 years in the profession, he taught pupils of all ages from pre-primary through high school seniors. He taught all subjects, having served an apprenticeship in rural schoolhouses in North Scituate, Centredale, North Smithfield, and Norwood. As a critic teacher for many years, he taught young teachers how to teach.

His principal interest, however, was in history. He was particularly empathetic about the Declaration of Independence and the Constitution, grounding his pupils in these documents so thoroughly that they would never misquote them.

During his tenure as history teacher here, the entire curriculum was enlarged and changed to include ancient, medieval, and modern history, as well as that of America and England.

Mr. Cushman's family had its share in the history of the city. His great grandfather lived where the Industrial Trust Company now stands. He built a country house on what is now George Street and served as steward of Brown University.

Some fine old Canton china which was used by students as they ate in Commons in the steward's house is housed in Mr. Cushman's home at 19 Bellevue Avenue, together with some rare old family Lowestoft.

The former schoolteacher for many years went to the Rhode Island School of Design on Saturday mornings to work in watercolor, oil, and pencil. Art work, gardening, and chair caning occupied his time during his retirement.

He was born in Providence, Aug. 28, 1870, son of the late William A. and Mary E. (Harris) Cushman. After early education in various public schools and one year at the old Normal School, Mr. Cushman went to Rutgers College in New Brunswick, N. J. He received his master's degree from Brown. He taught at Technical High School before going to Central.

Mr. Cushman was a member of Mt. Vernon Lodge, Province Chapter Council, and St. John's Commandery, all Masonic orders.
The same year Mr. Cushman passed, his private collection of family textiles and clothing was gifted to the University of Rhode Island. The announcement was published in the Providence Journal via Professor Mary C. Whitlock, head of the department of textiles and clothing.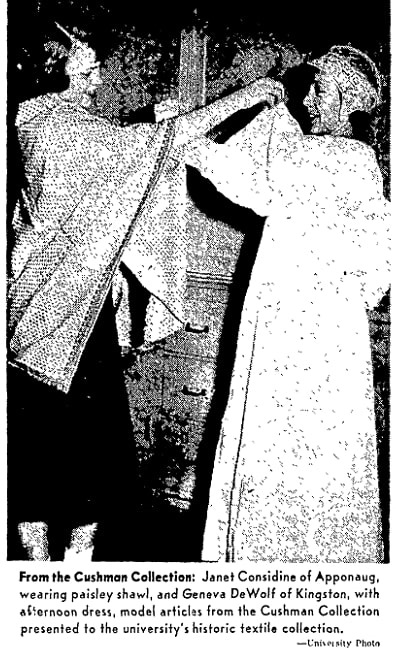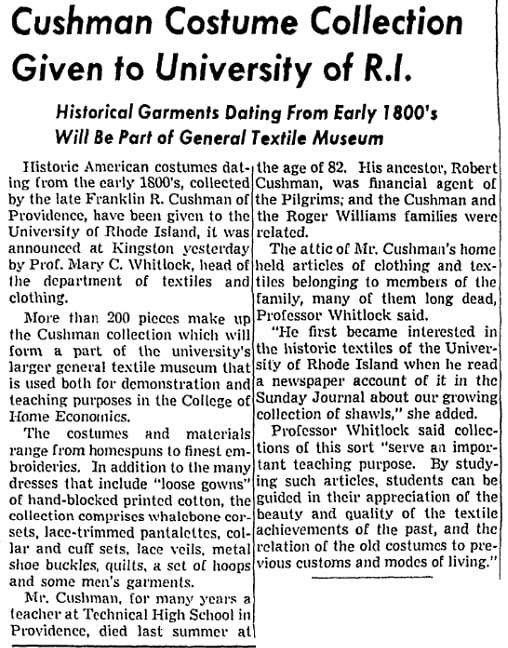 According to this article, Mr. Cushman donated over 200 pieces which came from the trunks of his ancestors dating back to 1800, including costumes with materials ranging from homespun to finest embroideries. In addition to many dresses, the collection includes whalebone corsets, lace-trim pantalettes, collar and cuff sets, lace veils, quilts, a set of hoops and some men's garments.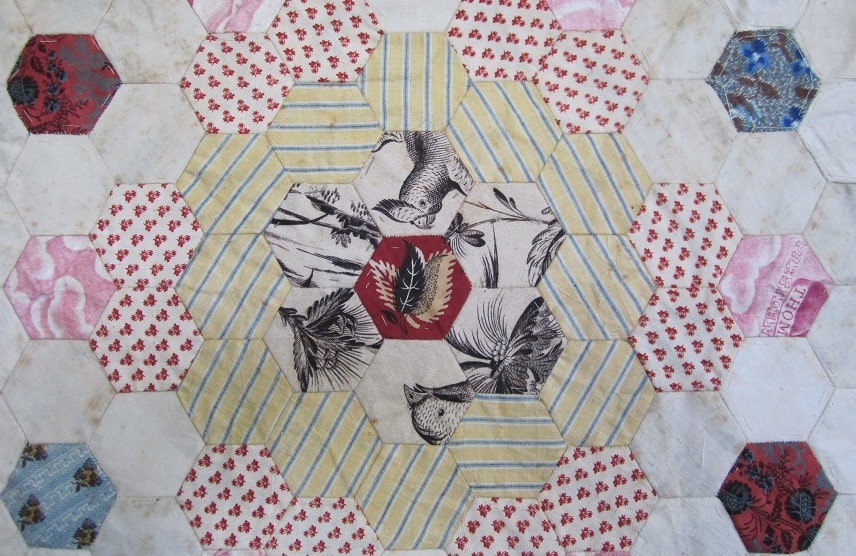 In the collection is a quilt started by his great Aunt Susan Williams Crouch, daughter of Jason Williams and Sarah Rose, and wife of Hasell Crouch. Mr. Cushman worked to complete more of the design.
You can view the Cushman Collection at the University of Rhode Island site Franklin Cushman Collection
In addition to the historic American costumes, the collection has photos of the family and their homes.
This article also reported Franklin's lineage:
"His ancestor, Robert Cushman, was financial agent of the Pilgrims, and the Cushman and the Roger Williams families were related."
Stay tuned for more Mayflower!
Note: Just as an online collection of newspapers, such as GenealogyBank's Historical Newspaper Archives, helped tell the stories of Mayflower descendant Franklin Cushman, they can tell you stories about your ancestors that can't be found anywhere else. Come look today and see what you can discover!
Note on the header image: portrait of Franklin R. Cushman, taken at a studio in 1900 located in the Shepard & Company department store, originally at the corner of Clemence and Westminster Streets in Providence, Rhode Island. Courtesy of the University of Rhode Island.
Recent Articles in This Series: