Introduction: In this article, Melissa Davenport Berry continues her series on Mayflower descendants, again focusing on philanthropist Margaret Olivia Slocum Sage. Melissa is a genealogist who has a blog, AnceStory Archives, and a Facebook group, New England Family Genealogy and History.
Today I continue with my series "Mayflower Descendants: Who's Who" and again cover the philanthropist Margaret Olivia Slocum Sage (1828-1918), a descendant of Mayflower passengers George Soule, Edward Doty, and Miles Standish.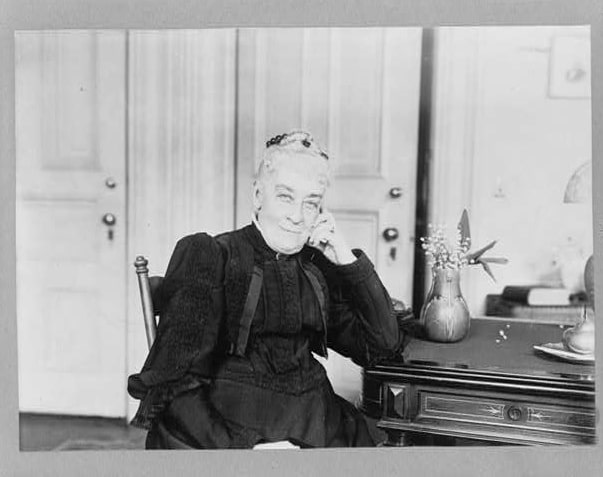 While Mrs. Sage was married to Russell Sage, aka "the miser of Wall Street," she lived sparsely – but all that changed when he died in 1906 leaving a vast fortune estimated to be $70 million (more than $2 billion in today's dollars).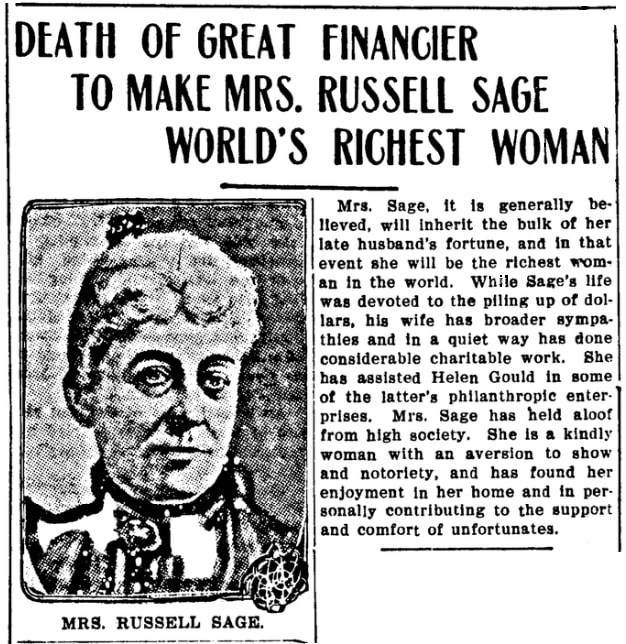 Her goal was to give to humanity, and baby did she ever. The most recognized was the Russell Sage Foundation, and she doled out to universities, churches, civic organizations, and science labs to cure diseases.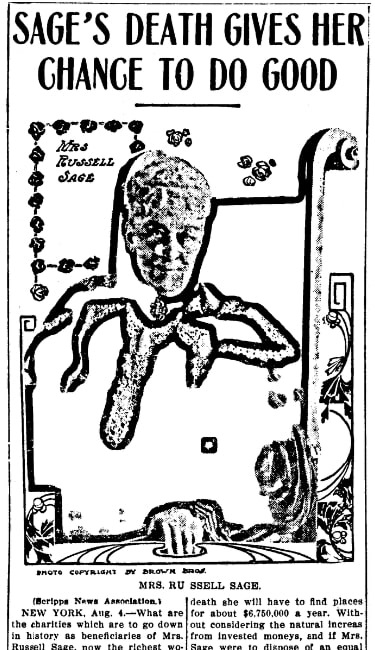 This article reported:
It is probable that no woman in the history of the world has at the age of 76 undertaken such a colossal task as that which now confronts the widow of Russell Sage. If she lives to be as old as her husband was and succeeds in disposing of the vast fortune before her death she will have to find places for about $6,750,000 a year. Without considering the natural increase from invested moneys, and if Mrs. Sage were to dispose of an equal amount each day in the week for 12 years, she would be giving away every 24 hours $18,500.
She endowed many programs for women, including founding Russell Sage College in 1916 (which is now co-educational).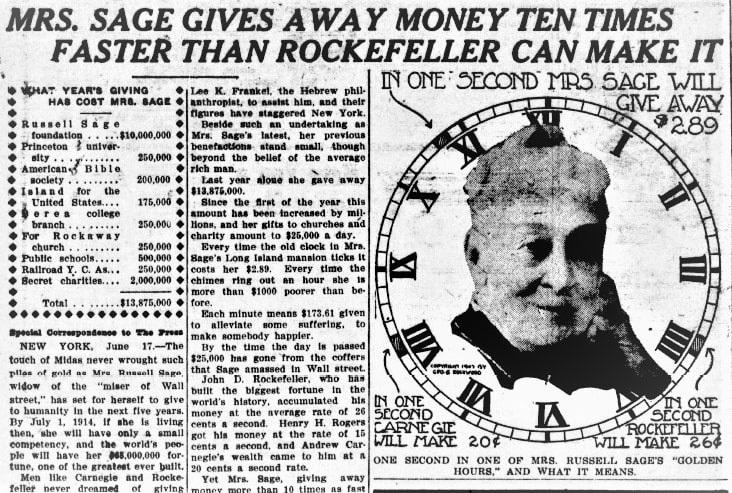 However, there was another side to her generosity that may have gone overlooked. This would be the little gestures like buying a home for a railway worker who had a crippled wife.
As columnist Cholly Knickerbocker said of the generous dowager:
"Alas, the 'spenders' are remembered, and the 'givers' are forgotten."
I am not sure what her Pilgrim ancestors would think, but I imagine they would have applauded "Lady Bountiful" for her spirit of charity.
In 1908 Mrs. Sage bought up the town's ice cream supply for all the children at Sag Harbor.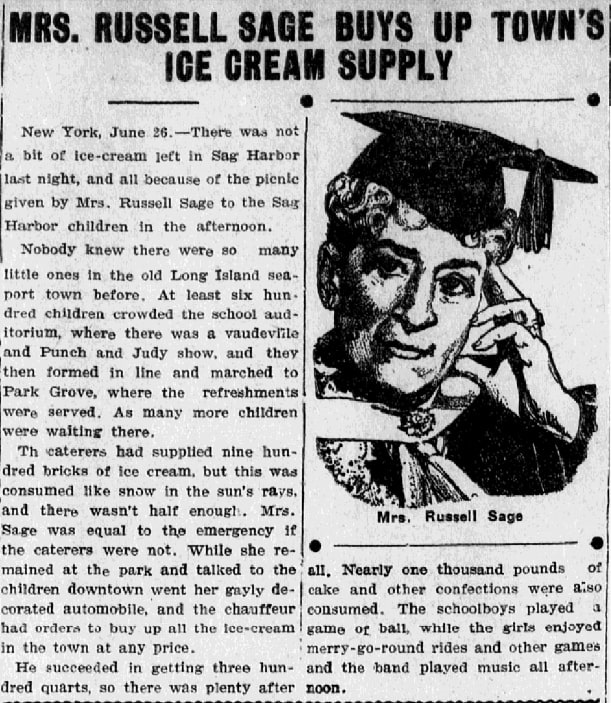 This article reported:
Nobody knew there were so many little ones in the old Long Island seaport town [Sag Harbor] before. At least six hundred children crowded the school auditorium, where there was a vaudeville and Punch and Judy show, and they then formed in line and marched to Park Grove, where the refreshments were served. As many more children were waiting there.

The caterers had supplied nine hundred bricks of ice cream, but this was consumed like snow in the sun's rays, and there wasn't half enough. Mrs. Sage was equal to the emergency if the caterers were not. While she remained at the park and talked to the children, downtown went her gayly decorated automobile, and the chauffeur had orders to buy up all the ice cream in the town at any price.

He succeeded in getting three hundred quarts, so there was plenty after all. Nearly one thousand pounds of cake and other confections were also consumed.
It was not just the kiddies who got sweet regards. At Christmas time Mrs. Sage played Santa Claus for the hard-working men in town.
Here is one example from 1912.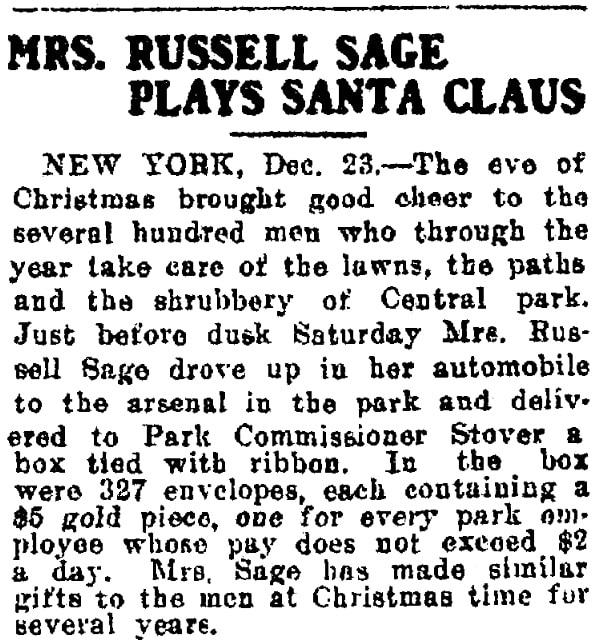 I would assume Mrs. Sage wanted the park fellows to be inspired to maintain all the green she gifted to Central Park – like the $60,000 Rhododendron beds she presented in 1909.
In 1907 Mrs. Sage made headlines for settling an old debt overlooked by her father. Her payoff was extraordinary. An heir of her father's business partner had brought this to her attention, so Mrs. Sage made good on it with a hefty interest payment.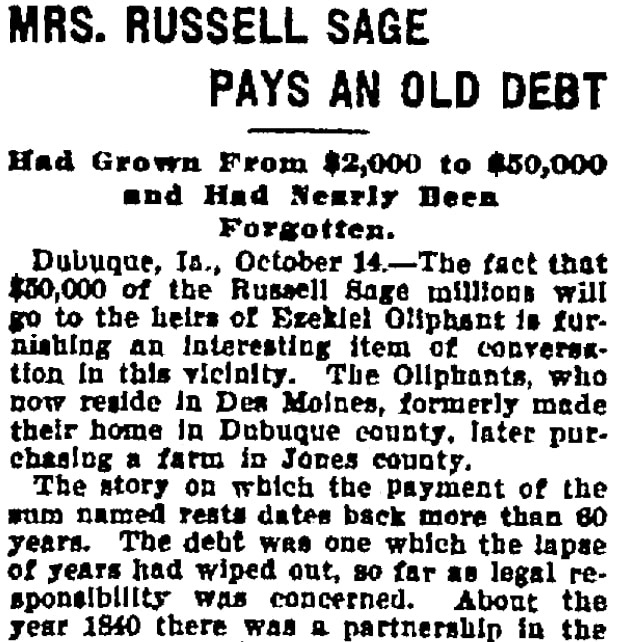 This article reported:
The fact that $50,000 [today $1,645,394] of the Russell Sage millions will go to the heirs of Ezekiel Oliphant is furnishing an interesting item of conversation in this vicinity.

…About the year 1840 there was a partnership in the salt business between Joseph Slocum and Oliphant at Syracuse, N.Y. The business did not prosper, and in settling up the affairs of the concern $2,000 belonging to Oliphant was applied on the accounts.

Slocum remained in New York state and Oliphant with his family came West. The eldest daughter of Mr. Slocum became the wife of Russell Sage, of New York. The families lost track of each other and the old debt of Joseph Slocum remained unpaid. The matter recently was presented to Mrs. Sage's attention, and she ordered the debt, grown through interest from $2,000 to $50,000, discharged.
According to sources, the monies were divided by his four children Moses, Mary, Margaret, and Libby – all schoolteachers. I am sure that kind of loot changed their lives.
A similar gesture made by Mrs. Sage was mentioned in the newspapers in 1913. She tracked down Rebecca Latimer Felton, wife of Senator Willian H. Felton of Georgia, whose family had aided her father back in the day. She sent a check for S2,000 and Mr. Felton used the funds to build a home for mountain girls in Georgia.
For the bird world Mrs. Sage was a blessing.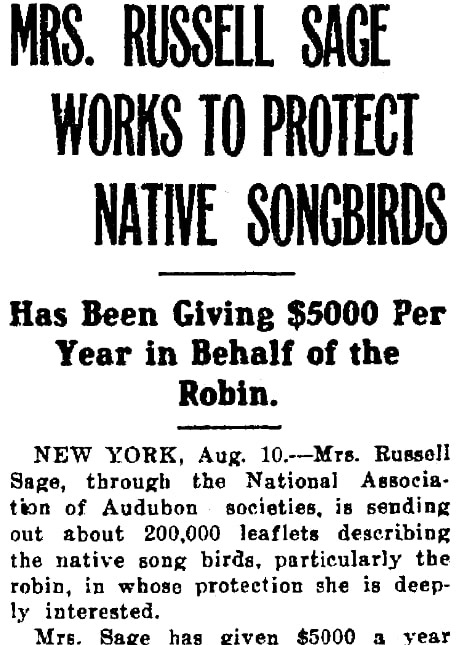 This article reported:
Mrs. Russell Sage, through the National Association of Audubon Societies, is sending out about 200,000 leaflets describing the native song birds, particularly the robin, in whose protection she is deeply interested.

Mrs. Sage has given $5,000 a year for three years for arousing interest in the protection of the robin. Up to last season robins could be bought in the markets of southern cities at from 5 to 10 cents a dozen, and even now many are being slaughtered. While laws have been passed to protect them, there are still seven states where there is an open hunting season.

As a result of Mrs. Sage's crusade, 553 junior classes were formed last winter in fifteen states, with a membership of 15,000.
Stay tuned for more about Mayflower descendants!
Note: Just as an online collection of newspapers, such as GenealogyBank's Historical Newspaper Archives, helped tell the stories of Mayflower descendant Margaret Olivia Slocum Sage, they can tell you stories about your ancestors that can't be found anywhere else. Come look today and see what you can discover!
Note on the header image: a portrait of Margaret Olivia Slocum Sage by John Colin Forbes. Credit: Risley Hall, Cornell University; Wikimedia Commons.
Recent Articles in This Series: