Introduction: In this article, Melissa Davenport Berry continues her series on Mayflower descendants, focusing on General Leonard Wood. Melissa is a genealogist who has a blog, AnceStory Archives, and a Facebook group, New England Family Genealogy and History.
"Leonard Wood is so deeply born an American he cannot be anything else; his ancestors came over in the Mayflower. He is a Roosevelt-American and nationalist. He has seen 25 years of unbroken service for his country. He is recognized as the greatest peacemaker of American history."

–Montaville Flowers, civic leader, public speaker, and politician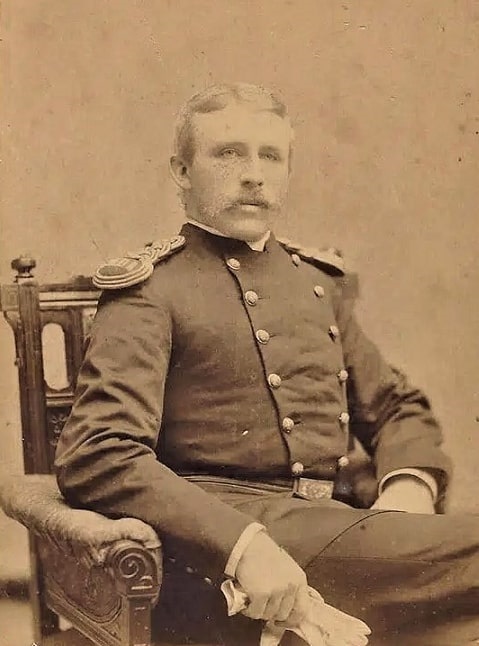 Today I continue with my series "Mayflower Descendants: Who's Who" with a focus on the lineage of Brigadier General Leonard Wood (1860-1927), a descendent of Mayflower passengers Edward Fuller, Stephen Hopkins, Richard Warren, William White, Susanna Jackson, Elizabeth Fisher, and Francis Cooke.
Lineage and double line for Leonard Wood to Francis Cooke:
Francis Cooke and Hester Mahieu
John Tomson and Mary Cooke
Thomas Tomson and Mary Morton, daughter of John Morton and Mary Ring; granddaughter of Andrew Ring and Deborah Hopkins; great granddaughter of Stephen Hopkins and Elizabeth Fisher
Reuben Tomson and Mary Thomson, daughter of John Tomson and Abigail Wadsworth; granddaughter of John Tomson and Mary Cooke; great granddaughter of Francis Cooke and Hester Mahiue
Deborah Tomson and Micah Reed
Noah Reed and Susanna White (direct line to William White and Susanna Jackson)
Malvina Fitzallen Reed and Leonard Wood
Charles Jewett Wood and Caroline Elizabeth Hager (direct line to Richard Warren)
Leonard Wood married Louise Adriana Condit Smith (direct line to Edward Fuller). Issue: Captain Leonard Wood Jr.; Osborne Cutler Wood; and Louise Barbara Wood.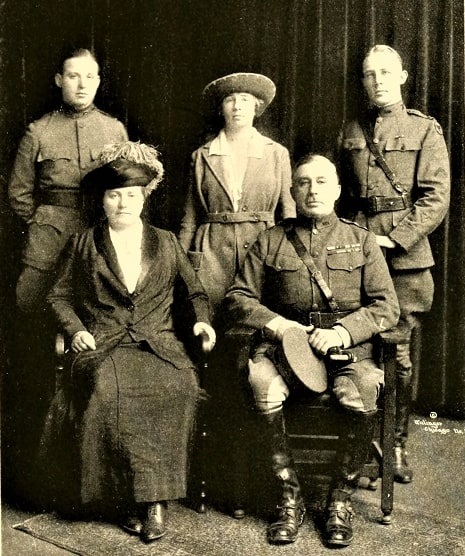 Leonard Wood was the Governor General of the Mayflower Society from 1915 to 1921. He was featured in the Fort Wayne News and Sentinel in 1919, when the society was preparing for the nationwide celebration in honor of the tercentenary anniversary of the landing of the Pilgrims at Plymouth Rock in 1620.
Here is an enlargement of the picture of General Wood.
The photo caption read:
Plymouth Harbor, Mass., where the intrepid band of Pilgrims landed in 1620. Painting of [the] Mayflower in Plymouth Harbor; the famous Plymouth Rock where the Pilgrims landed; and Maj. Gen. Leonard Wood, governor general of the National Society of Mayflower Descendants, who is leading [the] movement to celebrate [the] tercentenary of [the] Pilgrims' landing next year.
In 1922 Wood was mentioned in the Salt Lake Telegram for his lead role in forming the Mayflower Society into a corporation.
This article reported:
A petition bearing the signature of many distinguished men, headed by Major General Leonard Wood, has been filed with the [Massachusetts] legislature, asking sanction for the organization of a corporation to be known as the General Society of Mayflower Descendants. The petition sets forth the intention to make the corporation a sort of mother society for organizations of Mayflower descendants now in existence in various states.

The organization purposes, the petition says, "to perpetuate to a remote posterity the memory of the Pilgrim fathers and to maintain and defend the principles of civil and religious liberty as set forth in the compact of the Mayflower."

Among the signers are Chief Justice [William Howard] Taft and Senator [Henry Cabot] Lodge.
I found the petition detailed in the "Proceeding of the General Society of Mayflower Descendants, Tenth General Congress, Plymouth, Mass., September 2-3, 1924," pages 82-85.
Other Mayflower Society members who signed: Richard Henry Greene, Asa P. French, Robert M. Boyd Jr., William Bradford H. Dowse, Howland Davis, George Ernest Bowman, Addison P. Munroe, Myles Standish, Marcus Morton, Paul Revere Frothingham, Charles Allerton Coolidge, and John Packwood Tilden.
Like his gr. great grandfather, American Revolutionary War soldier Brigadier General John Nixon, Wood had his own distinguished military career, which included a Medal of Honor.
Among his posts: Chief of Staff of the United States Army under William Howard Taft; Military Governor of Cuba; Governor-General of the Philippines; Commander of the "Rough Riders" (nickname for the 1st United States Volunteer Cavalry that served in the Spanish-American War) with close friend Theodore Roosevelt.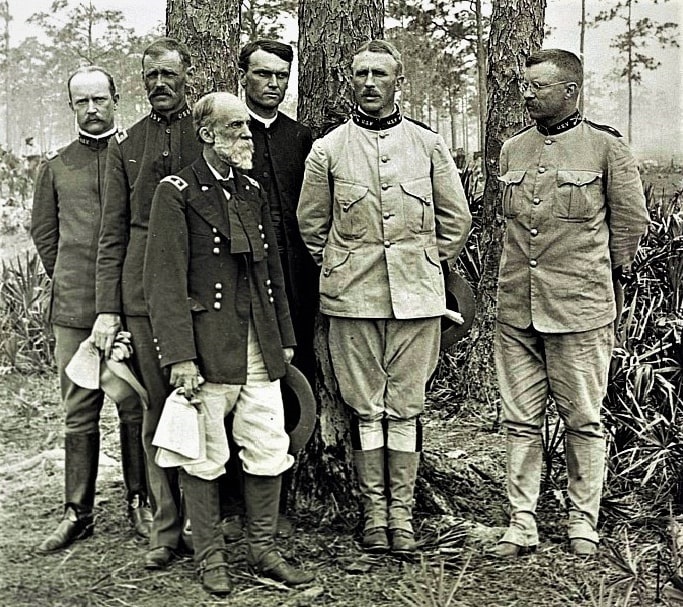 His civic duty was unparalleled. He improved sanitary conditions and medical care in the United States as well as outside the country. He was the personal physician to President McKinley and his wife.
In 1920 Wood was a candidate for president, and the Columbus Evening Dispatch referenced his potent pedigree that contributed to his character and sense of duty. The article outlined his vast career and his early beginnings as a medical doctor in Boston, Mass., which I will cover more in a later story.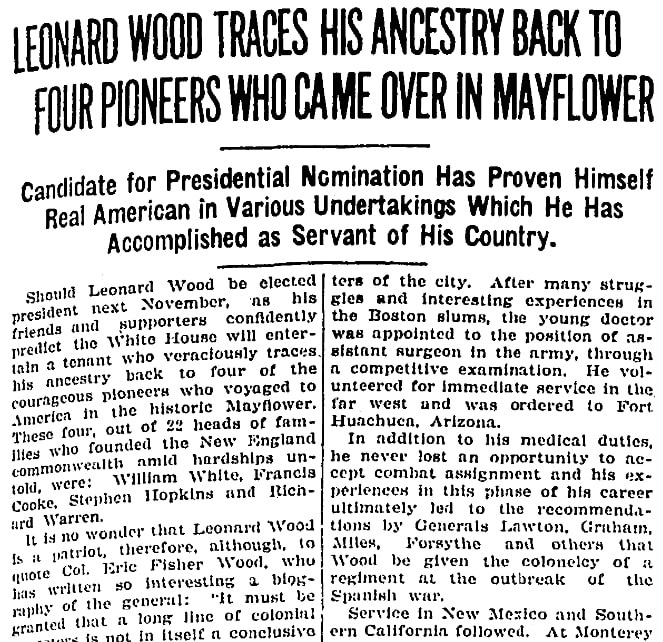 Here are a few snippets from the article that mention his lineage:
Should Leonard Wood be elected president next November, as his friends and supporters confidently predict, the White House will entertain a tenant who veraciously traces his ancestry back to four of the courageous pioneers who voyaged to America in the historic Mayflower. These four, out of 22 heads of families who founded the New England commonwealth amid hardships untold, were: William White, Francis Cooke, Stephen Hopkins, and Richard Warren.

"…In Wood's pedigree," [according to his biographer, Eric Fisher Wood "Leonard Wood, Conservator of Americanism; A Biography] "we discover an unprecedented record, for among his hundreds of known ancestors not one is found who cannot surpass the severest test of Americanism. From earliest times his forbears have striven for that ideal condition where love of personal liberty is happily balanced by respect for constitutional law."

In the New England which his ancestors had helped to found, Leonard Wood was born on Oct. 9, 1860, at Winchester, N.H. His parents were Charles Jewett Wood, born at Leicester, Mass., and Caroline Hager, born at Weston, Mass.
Wood has ancestorial lines that were part of the Jamestown Virginia Company. In addition, he has Newbury, Massachusetts, first settlers and Quaker ties: Tristram and Dionis Coffin; Nathaniel Clarke; Edward Phelps and Elizabeth Adams, daughter of Robert Adams; Edmond Greenleaf; Henry Short; Edward Woodman; John Kent; and Peter Toppan. He also has ties to the early families of Andover, Massachusetts, including: Abbott; Ballard; and Farnham; as well as Salisbury settlers Orlando Bagley and Sarah Colby, daughter of Anthony Colby. Additionally, he has ties to the early Connecticut lines of Foote, Bliss, and Gaylord.
To be continued in my Jamestown "Who's Who" series.
Thanks to Elizabeth Needham of Mayflower Pilgrim Descendants for the Wood family tree genealogy and Mayflower Fuller Descendants
Note: Just as an online collection of newspapers, such as GenealogyBank's Historical Newspaper Archives, helped tell the stories of Mayflower descendant Leonard Wood, they can tell you stories about your ancestors that can't be found anywhere else. Come look today and see what you can discover!
Explore over 330 years of newspapers and historical records. Discover your family story. Start a 7-Day Free Trial.
Note on the header image: General Leonard Wood in 1916. Credit: "Leonard Wood, Administrator, Soldier, and Citizen" by William Herbert Hobbs and Henry A. Wise Wood (Henry Alexander Wise), 1920; Internet Archive.
Recent Articles in This Series: