Introduction: In this article, Melissa Davenport Berry continues her series on Mayflower descendants, debunking old theories of Sir Winston Churchill's Mayflower connections – but then describing new research that shows the British Prime Minister did indeed have Mayflower lineage. Melissa is a genealogist who has a blog, AnceStory Archives, and a Facebook group, New England Family Genealogy and History.
Today I continue with my series "Mayflower Descendants: Who's Who" with a focus on the lineage of stateman, author, and Prime Minister of the United Kingdom Sir Winston Leonard Spencer Churchill (1874-1965). Churchill was the son of Lord Randolph Spencer Churchill and American-born heiress Jennie Jerome.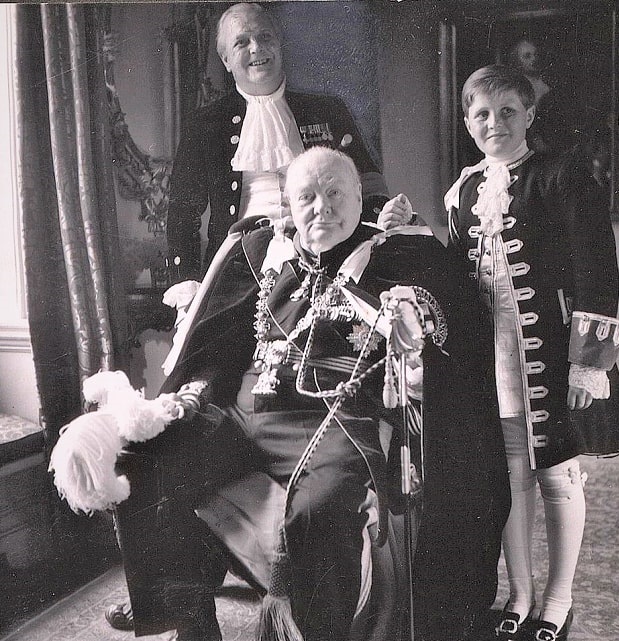 First, there has been much confusion and misinformation surrounding Churchill's lineage and his links to Mayflower passengers.
In my searches in GenealogyBank's Historical Newspaper Archives, I found dozens of articles making claims that Churchill had Mayflower passengers in his direct line, but the genealogy is incorrect.
Unfortunately, the claims are still being circulated today.
Churchill's grandson, Winston Spencer Churchill, visited Plimoth Plantation in 1999 and told the Patriot Ledger newspaper that he had three Mayflower passengers through his American blood lines.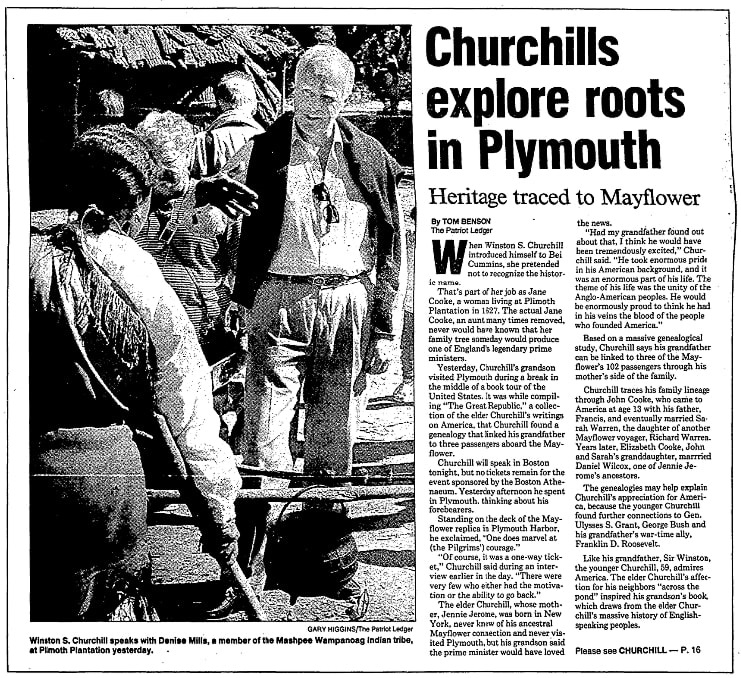 I will not regurgitate the claims but will clarify that the Cooke line references made by Churchill's grandson are not from the same family as Francis Cooke, Mayflower passenger, whose child married passenger Richard Warren's offshoot.
I do want to note Churchill's grandson's statement on his grandfather's sentiments toward his American ancestry, as reported in this article:
"Had my grandfather found out about that [Mayflower ties], I think he would have been tremendously excited," Churchill said. "He took enormous pride in his American background, and it was an enormous part of his life. The theme of his life was the unity of Anglo-American peoples. He would be enormously proud to think he had in his veins the blood of the people who founded America."
While Churchill's grandson confused the Cooke lines, his grandfather did not.
According to the Omaha World Herald, when Churchill was visiting the states in 1946 the Missouri Society of Mayflower Descendants wanted to present him with an honorary membership when he came to Fulton.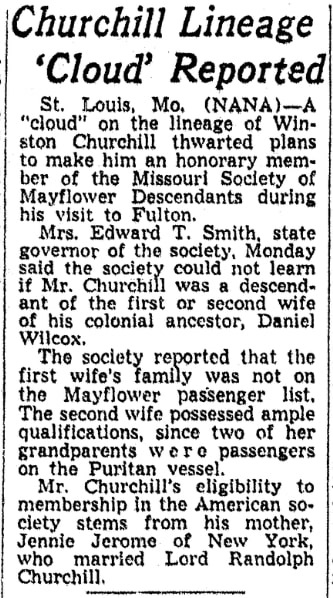 This article reported:
Mrs. Edward T. Smith, state governor of the society, Monday said the society could not learn if Mr. Churchill was a descendant of the first or second wife of his colonial ancestor, Daniel Wilcox.

The society reported that the first wife's family was not on the Mayflower passenger list. The second wife possessed ample qualifications, since two of her grandparents were passengers on the Puritan vessel.
Again, I will not retell the society's report to the press on the purported brick wall as this Cooke line is not connected to the Mayflower.
Among Churchill's direct ancestors is Quaker Arthur Howland, brother of Mayflower passenger John Howland – a close link, but it does not qualify for membership to the Mayflower Society.
However, there is a new discovery in the family tree, which was brought forth by Christopher C. Child, Senior Genealogist, and editor of the Mayflower Descendant at the New England Historical and Genealogical Society in Boston.
Through Y-DNA testing, a Mary Sprague Langsdorf – who shares the same lineage as Churchill – was admitted into the Mayflower Society just a few years ago under the passenger Edward Fuller. You can read the report and full skinny at Churchill's Mayflower Lines.
What was discovered? Ruth Bassett (Churchill's 8th great grandmother) had been charged with "fornication before marriage" on 6 June 1655. Bassett, married to John Sprague, gave birth to a son John Sprague Jr. (Churchill's 7th great grandfather), and his arrival date indicated the couple – or, at least, Ruth herself – had been messing around before the nuptials.
Although Bassett never named another father, the DNA reveals matches to the Mayflower Fuller line.
Here is a family tree chart showing the Churchill Mayflower line, from Christopher C. Child's research and "Vita Brevis" article Churchill's Mayflower line . Also see updates made by Child on Vita Brevis.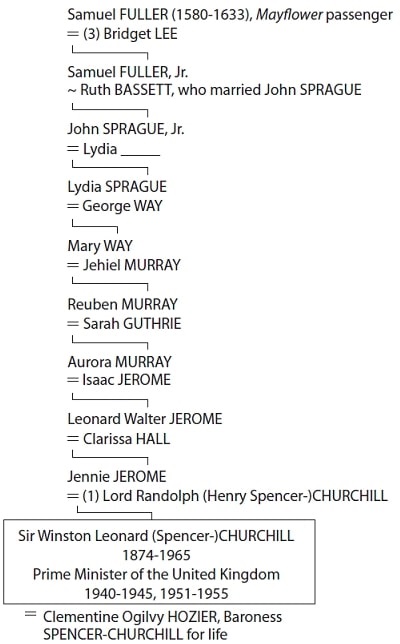 So, it appears Churchill does have a Mayflower passenger in his line, and there are scores of scions who would be eligible to apply for membership to the Mayflower Society.
On that note, here are some New England families in Churchill's lineage that are worth mentioning as well.
Churchill was a 7th generational descendant of Lawrence and Cassandra Southwick of Salem, Massachusetts, who were among the Quaker sect who endured severe persecution for their Quaker faith.
Churchill also has a witch in his line: Mary (nee Royce) Staples of Connecticut, his 6th great grandmother.
The Daily Advocate has the skinny in an article "Witch Hunts Once Commonplace in Connecticut."
According to this newspaper article, a witch hunt was on in Stratford in the early 1650s and Staples was among the women who accused Goody Knapp of witchery.
Knapp was found guilty via an examination committee who discovered suckling marks on Knapp left by nursing demon spirits. Knapp was hanged at the gallows near Black Rock in Fairfield.
It was not that long after that Staples found herself accused of consorting with Satan. She was fingered by one of the big boys of the town: Connecticut Colony co-founder Roger Ludlow. Here is what the paper reported:
Ludlow was among the richest and most influential men in the colony and served as the state's first lieutenant governor. In 1650, Ludlow drafted a body of the first Colonial American laws at the request of the state General Court in response to citizens' complaints of the capriciousness of magistrates.

The case against Staples was based on a gallows confession Ludlow said he heard the condemned Knapp tell against the accused.

Staples' husband [Thomas] responded to the charges by suing Ludlow for slandering his wife. Despite Ludlow's influence, the court ruled against him and issued a fine of 10 pounds for defaming Staples and 5 pounds in court costs.

In late 1654, Ludlow tried to revive the case against Staples in the Hartford court and was fined 10 pounds for defamation.

…Though the charges against Staples were dropped, the stigma of being accused followed her the rest of her life. In 1692, she was among the six women accused with Elizabeth Clason.
An article, "The Particular Trials of Mary Staples," published in the Easton Courier and written by Elizabeth Boyce, sheds more light on Staples' court battles. Also, in the latter case, Staples' daughter Mary, wife of Josiah Harvey, and granddaughter Hannah are accused with her.
According to Boyce, Staples and her kin were among the women accused of bewitching livestock and making children ill. Boyce also noted:
Testifying against the Staples women were John Nash, who claimed Mary was a "light woman" able to levitate at will, and Hester Grumman, who stated that Mary appeared at the foot of her bed at midnight dancing.
In all, the evidence was spectral and the results for all the accused Staples women were acquittals, discharges, and pardons. The court also ordered that no evil should be spoken of them again.
Explore over 330 years of newspapers and historical records in GenealogyBank. Discover your family story! Start a 7-Day Free Trial.
Note on the header image: portraits of Leonard Walter Jerome and Clarissa Hall, parents of Jennie Jerome and grandparents to Sir Winston Churchill. Credit: Wikimedia Commons.
Recent Articles in This Series: