Introduction: In this article, Melissa Davenport Berry continues the story of the people affected by the huge fortune left by railroad magnate Mark Hopkins, focusing here on some of the philanthropic work of his widow Mary. Melissa is a genealogist who has a blog, AnceStory Archives, and a Facebook group, New England Family Genealogy and History.
Note: Melissa is writing a series of articles about the people affected by – and the mad scramble for – the huge fortune left behind by Mark Hopkins when he died without a will or heir in 1878. This is the eighth article in that series; links to the first seven installments can be found at the end of this article.
When railroad magnate Mark Hopkins died in 1878, his wife Mary Sherwood Hopkins received a huge fortune from his estate. Mary was dubbed "America's Richest Widow" and her philanthropy was just as grand as her majestic dwellings.
Within a few years of her husband's death, Mary returned to Great Barrington, Massachusetts, to build her palatial estate Kellogg Terrace – now called Searles Castle, named after her second husband Edward Francis Searles.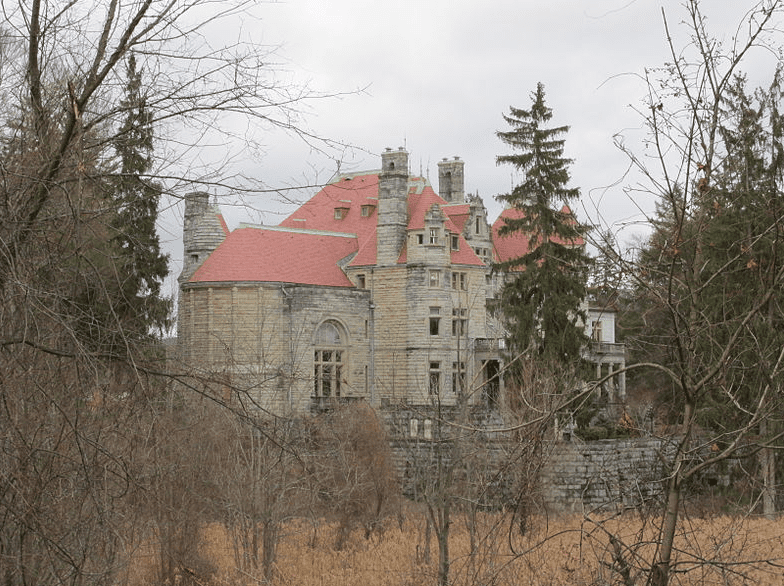 Mary inherited the property which Kellogg Terrace was built on from her aunts, who had operated the Rose Cottage Seminary school for girls in Great Barrington (where Mary had been educated).
Mary and her late husband Mark Hopkins had strong ancestral ties to Great Barrington, going back generations. The couple were cousins and shared a tremendous bloodline. The Hopkins family tree is a "vivid example of cousin-marrying" (P. 63, Ramirez), and Mark and Mary inherited the pioneer energy which ran through the veins of their forefathers, traced all the way back to Governor William Bradford and allied Mayflower lines.
Mary occupied the spotlight and the press loved to cover her posh lifestyle at Kellogg Terrace. It made front page news when she was spotted in her Russian sleigh alongside her second husband "Lord" Searles, clothed in regal robes trimmed in fur and draped in jewels.
Fine draperies and furnishings were not all that Mary invested in at Great Barrington. She dropped huge amounts of cash to preserve the history of the old village.
She inherited a love of literature and fine art from her father William Sherwood, a former headmaster of Great Barrington Academy. She endowed many charities and institutions and became a patron of art, theology, science, and literature "in the spirit of a feminine Maecenas," as this article called her (despite getting their surname wrong – it was Searles, not Searle). [Note: Gaius Maecenas, who died in 8 B.C., was an advisor to Roman Emperor Augustus and was a patron of literature and art.]
She financed the building of the First Congregational Church, more formally called the Society of the Congregational Church of Great Barrington, located at 251 Main Street in Great Barrington, Massachusetts.
As this next article reports:
"…the Congregationalists of Great Barrington will have a church property of over $200,000, free from debt, through the benevolence of this good lady. It might be mentioned, too, that the estate, inventoried in 1879 at $22,000,000, has increased in value to fully $50,000,000, and the Berkshire girl may be ranked among the richest women of the United States."
In addition to the church, Mary funded the "Hopkins Memorial Manse," and an elaborate barn built in honor of an ancestral relative: Mark Hopkins' grandfather, Rev. Samuel Hopkins, known as "the father of New England theology," pastor for 25 years in Great Barrington from 1744-69. The house was designed by Peabody and Stearns of Boston and completed in 1884. The structure was made with limestone from the neighboring quarries.
According to The Book of Berkshire: Describing and Illustrating Its Hills and Homes, written by Clark W. Bryan, "the parsonage, its furniture, and the barn cost about $100,000 and a most luxurious home, all a gift of Mrs. Mark Hopkins." (P. 85)
In addition, Mary's brother-in-law Moses Hopkins, living in San Francisco, California, pitched in $5,000.
Mary also forked out another $10,000 for restorations to the family burial plot. Mary's cousin Deacon Francis Whiting and her Aunt Ms. Kellogg had given a two-acre stretch of land to extend the cemetery a few years before. Francis was a deacon of the church, and her Aunt Kellogg ran the seminary school in town.
Many ancestors who made their mark are resting there. Among them are: Lt. Gamaliel Whiting (1727-90) who served in the Revolutionary War, and his wife Anna Gillett; Mary's aunts Nancy, Mary and Sarah Kellogg and their parents; Revolutionary War soldier Ezra Kellogg and Mary Whiting; Deacon Francis Whiting and his wife Harriet Curtis.
Mary's adopted son Timothy Nolan Hopkins, treasurer of the Central Pacific Railroad Company, also presented a generous gift to the church. He had a fond connection to Great Barrington from his early years as a student at the Sedgwick Academy and studied under Deacon E. J. Van Lennep. He fronted $35,000 for the magnificent organ which is still enjoyed by church goers today.
The organ was made by the Roosevelt Manufacturing Company of New York and the case designed by George A. Audsley of London. It was the largest in the country and "in mechanical construction excels every other organ in Europe and America." The organ has 3,954 pipes, 60 speaking stops and 34 mechanical accessories of various kinds, and features 83 front pipes each decorated with $250 worth of gold leaf. (P. 85, Clark W. Bryan)
The organ was powered by a water supply line from Kellogg Terrace. Mary and her husband Edward Searles established the Mansfield Lake Aqueduct Company and built a water line from Lake Mansfield to the Kellogg Terrace property. The water supply line provided fire protection and powered the many luxury accessories at Kellogg Terrace, which included an elevator and elaborate outdoor fountain.
On 21 September 1883 Rev. Mark Hopkins made a special appearance for the opening of the church. There were over 1,000 in attendance, and the services of that day were hallowed by the influences of the past pastors and the founder, Rev. Samuel Hopkins.
I found a report in the newspaper that "friction" set in between Mary Searles and the church due to the lack of funds to support an organist. According to the press, locals in the town expected that an endowment fund would be gifted for the church – a dispute that ended with Mary's withdrawal from the church. As this next article reports:
"The parish expected Mrs. Searles would do something, and as a result there was friction, ending in Mrs. Searles' withdrawal from the organization entirely. She was afterward confirmed and attended the Episcopal church."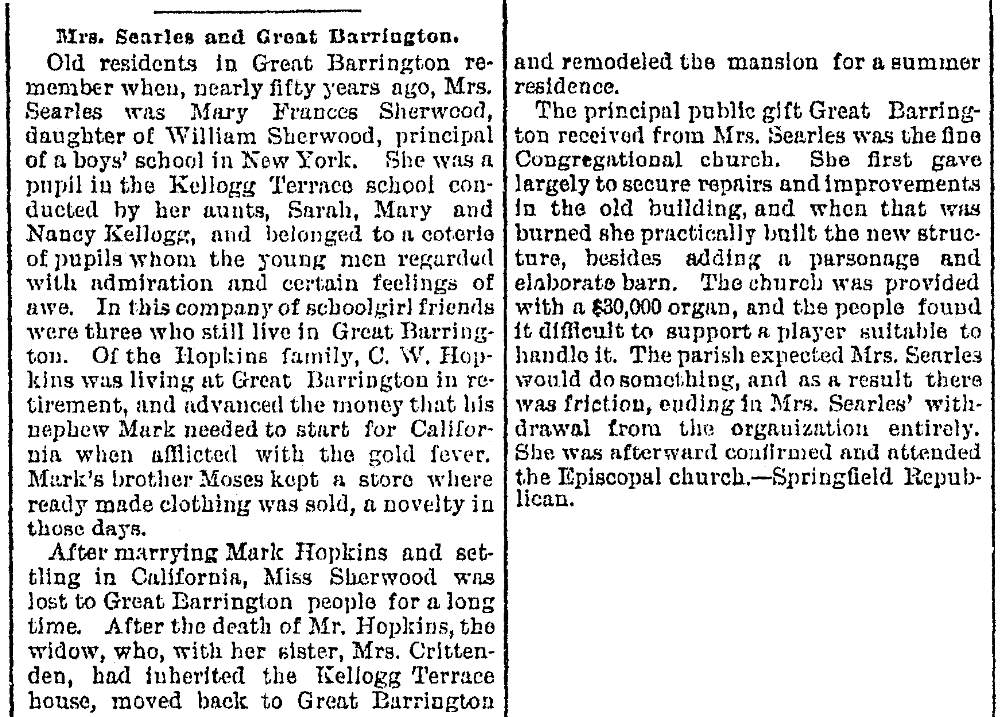 There was also speculation that "Lord Searles" steered Mary toward occultism and he became her main "medium." In a séance Mary asked the spirits "Who shall I leave my fortune to?" and the sprits response was "To the Lord."
The huge estate of Mark Hopkins blessed the borders of the East and West Coast of America and paid great homage to his ancestors. Stay tuned for more!
Note: Just as an online collection of newspapers, such as GenealogyBank's Historical Newspaper Archives, told the stories of Mary Sherwood Hopkins Searles' life, they can tell you stories about your ancestors that can't be found anywhere else. Come look today and see what you can discover!
Genealogy:
Moses Tudway Hopkins (1817-1892), son of Mark Hopkins (1779-1828) and Anastasia Luken Kellogg (1780-1837), married Emily Jane Benedict (1841-1925), daughter of Seth Williston Benedict (1803-1869) and his fist cousin Fanny Roe Benedict (1798-1854). Moses went to California with his brother Mark (who became the railroad tycoon).
Mark Hopkins (1813-1878), son of Mark Hopkins (1779-1828) and Anastasia Luken Kellogg (1780-1837), married his cousin Mary Frances Sherwood (1818-1891), daughter of William Sherwood (1786-1871) and Lydia Ann Kellogg (1793-1865), daughter of Ezra Kellogg (1758-1833) and Mary Whiting (1758-1837).
After her first husband Mark's death, Mary married Edward Francis Searles (1841-1920), son of Jesse Gould Searles (1805-1844) and Sarah Littlefield (1809-1896), grandson of James Searles (1773-1857) and Abigail "Abi' Duren (1771-1868). Edward and his wife Mary Frances Sherwood Hopkins Searles are buried at the Presentation of Mary Cemetery, also known as Our Lady of Sacred Heart Chapel, Searles Chapel.
Mary's adopted son, Timothy Nolan Hopkins (1859-1936), was born to Irish immigrants Patrick Nolan (1829-1862) and Catherine Fallon (1834-1903) in Augusta, Maine. (Harold Clarke Durrell, "Memoirs of Deceased Members of the New England Historic Genealogical Society" NEHG Register April 1936.) He married Mary Kellogg Crittenden (1862-1941), daughter of Hiram Crittenden (1814-1883) and Lydia Sherwood (1829-1877). They had one daughter, Lydia Kellogg Hopkins (1887-1965).
Timothy Hopkins was a member of the New England Historic Genealogical Society and produced genealogies, including The Kelloggs in the Old World and the New and John Hopkins and Some of His Descendants. His wife Mary was a member of the Daughters of the American Revolution, the Mayflower Society, and the Colonial Dames. (P. 30 "Order of the descendants of colonial governors Prior to 1750: Roll of Members in State of California.")
Mark Hopkins (1802-1887), son of Captain Archibald Hopkins (1766-1839) and Mary Curtis (1772-1868), married Mary Hubble (1813-1897), daughter of Lyman Hubble (1768-1859) and Louisa Rossiter (1788-1857), grandson of Colonel Mark Hopkins (1739-1776) and Electa Sergeant (1740-1798), daughter of Rev. John Sergeant (1710-1749) and Abigail Williams (1721-1791), daughter of Ephraim Williams (1691-1754) and his second wife Abigail Jones, daughter of Josiah Jones Jr. (1670-1734) and Abigail Barnes (1671-1749) of Watertown, Massachusetts. Abigail Williams married John Dwight.
Colonel Mark Hopkins, son of Timothy Hopkins (1691-1748) and Mary Judd (1701-1744), first lawyer to settle in Great Barrington, Massachusetts, and a soldier in the Revolutionary War. His brother was Rev. Samuel Hopkins (1721-1803), married to Joanna Ingersoll (1726-1793).
John Hopkins (1662-1732) and Hannah Strong (1660-1730).
Stephen Hopkins (1631-1689) and Dorcas Brown (1633-1697).
John Hopkins (1613-1697) and Jane Strong (1615-1679).
Deacon Francis Whiting (1808-1896), son of John Whiting (1770-1846) and Hannah Kellogg (1773-1823), married Harriet Curtis (1818-1903), daughter of Daniel Smith Curtis (d. 1874) and Olive Warner (1795-1857), daughter of Daniel Warner (1762-1828) and Olive Douglas (1768-1847).
Gamaliel Whiting (1727-1790) and Anna Gillett (1738-1808), daughter of John Gillette (1702-1764), an early president of Canaan, Connecticut. Gamaliel served in Captain William King's Company and John Fellow's Mass Regiment during the Revolutionary War. He was the son of Lt. Charles Whiting and Elizabeth Bradford, great-great granddaughter of Governor William Bradford – the children of Charles Whiting and Elizabeth Bradford – the blood lines of the Bradfords, Aldens, Rogers, Mullins, Whitings, Pynchons and Allyns were united. Elizabeth Needham, genealogist and Mayflower Society member, confirmed the genealogy for Mayflower line connections which include: John Tilley and Joan Hurst Tilley; daughter Elizabeth Tilley married John Howland and daughter Desire Howland married John Gorham. William Bradford and second wife Alice Southworth Carpenter; son Major William Bradford and wife Alice Richards. Thomas Rogers and Alice Gosford; son John Rogers married Anna Churchman and had son Rev. John Rogers, married to Elizabeth Peabodie. Other direct lines include William Whiting, early settler of Hartford, Connecticut, and John Gillette, an early resident of Canaan, Connecticut.
Research Sources and Aids:
Heather Wilkinson Rojo has a great resource page on her blog Nutfield Genealogy: Ten Things to Know About Researching a Pilgrim in Your Family Tree.
"The Inside Man: The Life and Times of Mark Hopkins of New York, Michigan, and California, Volume 1," Salvador A. Ramirez, 2007.
"A Millionaire's Memorial. The Church and Parsonage Built by the Hopkins Family" in the Kalamazoo Gazette (Kalamazoo, Michigan), 2 November 1883, page 1.
William Tague: "Berkshire, two hundred years in pictures, 1761-1961." 1961, All Rights Reserved.
Timothy Hopkins: John Hopkins of Cambridge, Massachusetts, 1634, and Some of His Descendants, Stanford Univ. Press, Stanford, California, 1932.
Stanford University: Timothy Nolan Hopkins.
Other Articles in This Series: