Introduction: In this article, Melissa Davenport Berry gives the fourth part in her series on Mayflower descendants that focuses on Katie Crocker and her family line. Melissa is a genealogist who has a blog, AnceStory Archives, and a Facebook group, New England Family Genealogy and History.
Today I continue with my series "Mayflower Descendants: Who's Who," again focusing on the lineage of the Crocker family who married into several Mayflower lines.
To recap: My last three articles covered my research for my client Katie Crocker, daughter of James and Debra Sue (Pemberton) Crocker of Barnstable, Massachusetts.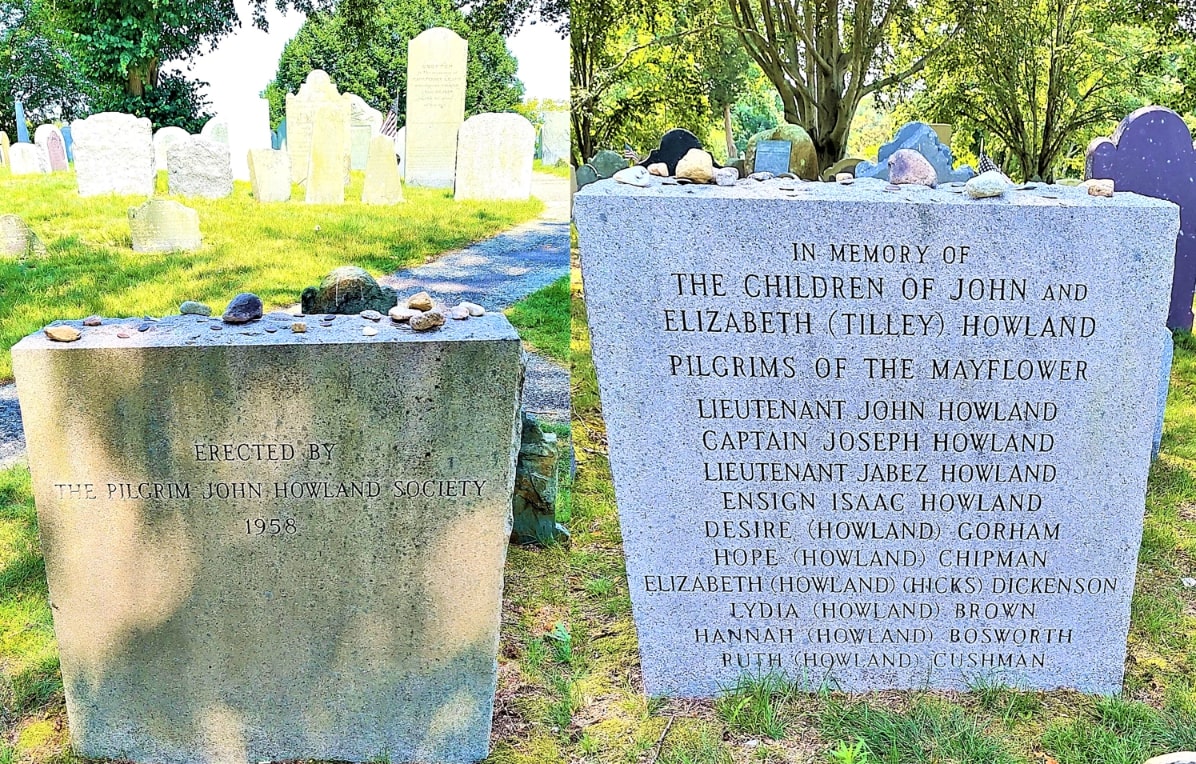 I have found yet another connection Katie has to Mayflower passengers John Howland and Elizabeth Tilley, through their daughter Desire Howland (who married John Gorham).
An article entitled, "Lost Colony of Mayflower Descendants: How an Entire Community of 'First Americans' Grew Up in a Village in Southern New Jersey, and for Two Centuries Their Illustrious Ancestry Was Unknown to Them," written by Lawrence H. Eldredge and published in the Springfield Republican in 1926, offers some great information.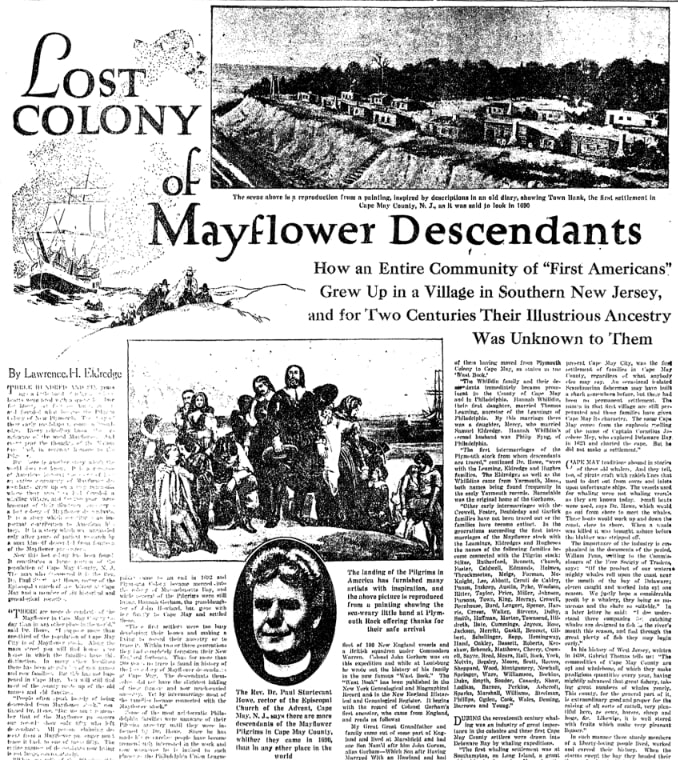 This article tells about Rev. Dr. Paul Sturtevant Howe, also a descendant of Desire and John, who researched this Mayflower line and found a Yarmouth strain who settled in Cape May, New Jersey. For years he studied Plymouth history and its laws. While sleuthing, Rev. Howe came across a big find: Colonel John Gorham's "Wast Book."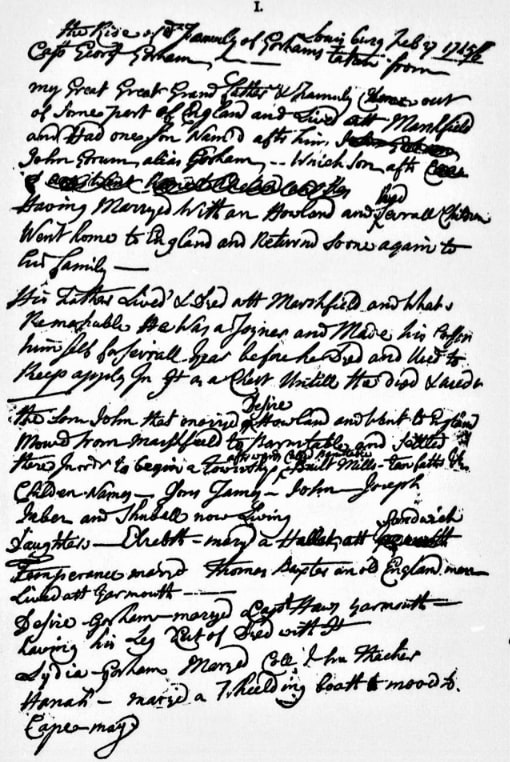 Here is the skinny from this news article:
In 1745 the French fortress at Louisburg, on Cape Breton Island, was overthrown by a force of 3600 men under Colonel William Pepperell and a fleet of 100 New England vessels and a British squadron under Commodore Warren. Colonel John Gorham was on this expedition and while at Louisburg he wrote out the history of his family in the now famous "Wast[e] Book" [a "waist book" was carried in the pocket of one's waist, or waistcoat]. Gorham's "Wast Book" has been published in the New York Genealogical and Biographical Record and in the New England Historical and Genealogical Register. It begins with the record of Colonel Gorham's first ancestor, who came from England, and reads as follows:

"My Great Great Grandfather and family came out of some part of England and lived at Marshfield [Massachusetts] and had one son named after him, John Gorum – alias Gorham – which son, after having married with a Howland and had several children, went home to England and returned soon again to his family.

"His father lived & died at Marshfield and what's remarkable: he was a joiner and made his coffin himself for several years before he died and used to keep apples in it as a chest until he died & used it."

This part of the record also mentions that the Howland was Desire Howland, who was the daughter of John Howland [and Elizabeth Tilley]. It closes with the list of the children of the John Gorham named in the record [including four sons: James, John, Joseph, and Shubael; and daughters: Elizabeth (married a Hallet from Sandwich), Lydia (married John Thatcher), Temperence (married 1st Edward Sturgis and 2nd Thomas Baxter), and Desire (married Capt. John Hawes, Katie's 11th great grandfather)] and the last line reads: "Hannah married a Wheelding [John Whilldin]. Both moved to Cape May [this is the family line that connects Rev. Howe].
Katie descends from Hannah and John's daughter Elizabeth, who married Joseph Hallett, and their daughter Elizabeth, who married James Cobb Jr. Below is the lineage going forward with their son Stephen.
The date of Elizabeth's marriage to Joseph Hallett has not been found but, on 5 March 1666/7, Joseph and his wife Elizabeth were fined £10 by the Plymouth Court "for committing carnal copulation before marriage or contract." Source: John Howland of the Mayflower Vol. 1, Elizabeth Pearson White, 1990, p. 16.
I will note that the Mayflower Society has not yet received enough proof, due to lack of documented records, to accept this line.
Stephen Cobb married Abigail Hinds/Hines
Abigail Cobb married Nathaniel Fish
Chipman Fish married Elizabeth "Betsey" Howland
Abigail Fish married Nathaniel K. Jones
Susan Augusta Jones married Zenas Crocker
Zenas Crocker married Annie Jean McLean
Lauchlan MacLean Crocker Sr. married Wilhelmina Mary Sherman
Merle Macdonald Crocker married Jean Hazelton
James Crocker married Debra Sue Pemberton
Katie Crocker
Here are a few more clues mentioned in the "Wast Book."
The "Bourne Papers" found in Barnstable, Massachusetts, were given to the Harvard College Library by Judge Joseph M. Day of Barnstable.
Among these papers there are many letters written by Major General Joseph Gorham to Melatiah Bourne, who was his cousin.
Melatiah Bourne, son of Silas and Mary (Allen) Bourne, is Katie's 8th great grandfather who married Desire Chipman, daughter of John Chipman and Hope Howland, sister of Desire Howland.
It may be worthwhile to read these letters, digitized on the site, for any family links and history.
As noted earlier, John Gorham was a joiner, and experts in the antiques world believe he may have been the man who crafted two famous cradles that are still around.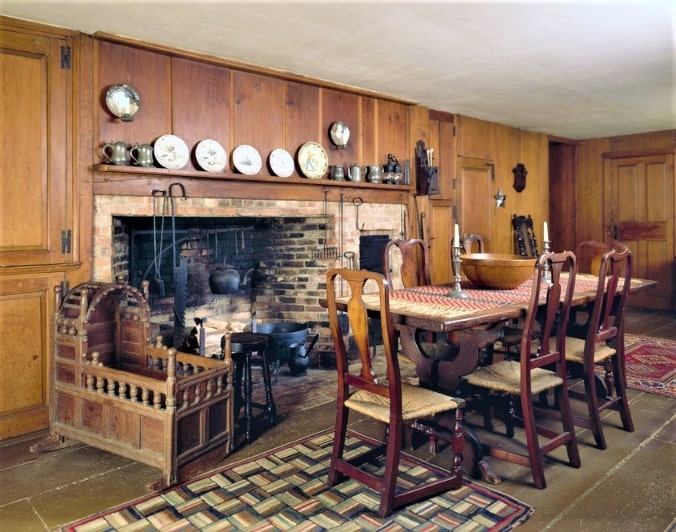 Along with the Thatcher cradle shown above, John Gorham is also credited with crafting the Hinckley family cradle, which will be in the next article in this series.
Brock Jobe references Gorham in New England Furniture, the Colonial Era: Selections from the Society for the Preservation of New England Antiquities.
Brock asserts Gorham made the Thatcher cradle and he "lived at the border of the two towns and had close connections with John Thatcher. He too was in the militia and his daughter Lydia Gorham became Thatcher's second wife." (p. 436) Read more: Americana-Archives.
Desire Thatcher, daughter of John and Lydia Thatcher, married Capt. Josiah Crocker, son of Josiah Crocker and Meletiah Hinckley (Katie's 8th great grandparents). Meletiah was the daughter of Plymouth Governor Thomas Hinkley.
John Thatcher had 21 children. His first wife was Rebecca Winslow, daughter of Josiah Winslow and Margaret Bourne (Katie's 10th great grandparents).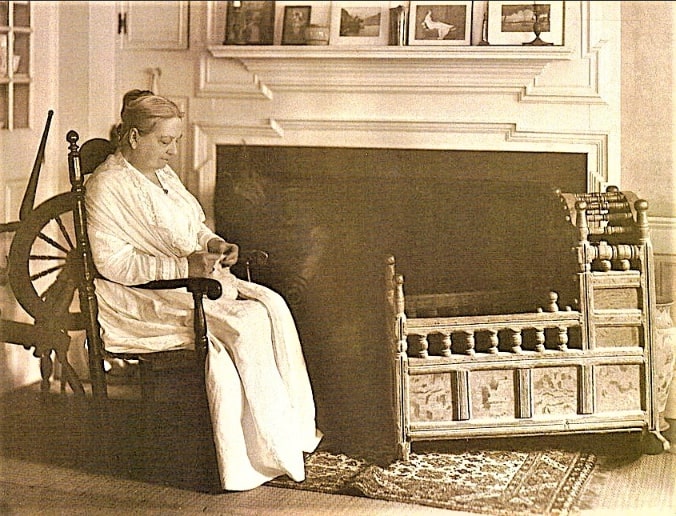 Stay tuned…
Explore over 330 years of newspapers and historical records in GenealogyBank. Discover your family story! Start a 7-Day Free Trial
Note on the header image: "Mayflower in Plymouth Harbor," by William Halsall, 1882. Credit: Wikimedia Commons.
Related Articles: