Introduction: In this article, Melissa Davenport Berry gives the third part in her series on Mayflower descendants that focuses on Katie Crocker and her family line. Melissa is a genealogist who has a blog, AnceStory Archives, and a Facebook group, New England Family Genealogy and History.
Today I continue with my series "Mayflower Descendants: Who's Who," focusing on the lineage of the Crocker family who married into several Mayflower lines.
To recap: My last two articles covered my research for my client Katie Crocker, daughter of James and Debra Sue (Pemberton) Crocker of Barnstable, Massachusetts.
In my last story I covered Katie's line going back to her 9th great grandfather Thomas Hinckley, who was the sixth and last royal governor of Plymouth Colony.  His daughter Meletiah Hinckley married Josiah Crocker, the son of Deacon William Crocker, the progenitor of the Crocker line in Cape Cod.
In this photo, we see three Crocker descendants (from left to right): Katie's great grandfather Sheriff Lauchlan M. Crocker; his daughter Miss Doris Virginia Crocker; and Alfred Crocker (son of Alfred Crocker Sr. and Mary Ann Davis, and husband of Katherine Weller Hazleton).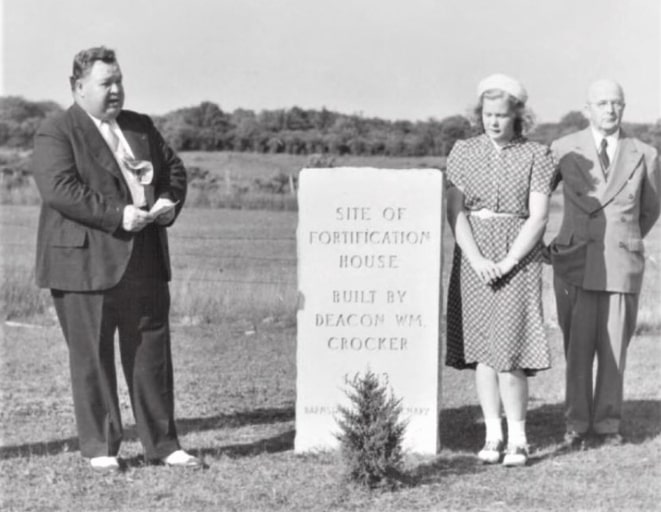 The inscription on the tablet reads:
Site of
Fortification
House
Built By
Deacon Wm.
Crocker
1643
Barnstable Tercentenary 1939
Deacon Crocker was a prominent man: besides being the deacon of the Barnstable church, he served as constable, selectman, and deputy to the Colony Court.
He was one of the wealthiest men in the town. He married 1st Alice Foster Hoyt and 2nd Patricia Cobb, widow of Robert Parker.
Katie also descends from Governor Hinckley's sister Susannah Hinckley, who married the Rev. John Smith. Here is a photo of their house, which they built in 1675 and where they raised their 13 children. Several generations of Smith descendants occupied the home until 1857, when Abraham Hoxie, a whaling captain, purchased the property.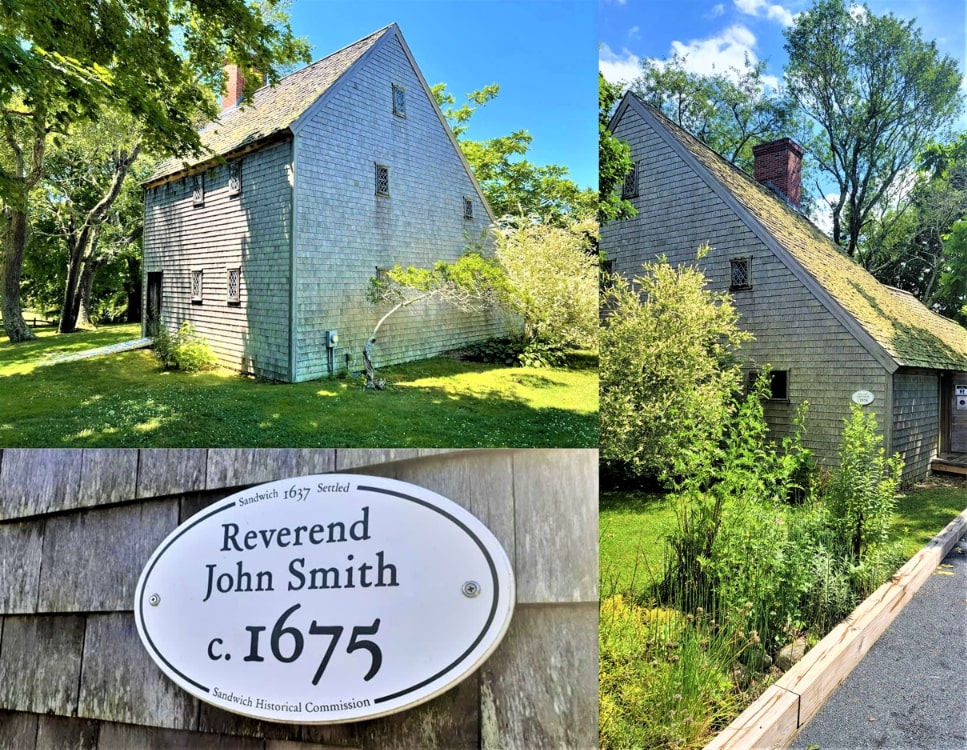 Rev. Smith served as pastor of the Separatist First Church of Sandwich. He also served as a representative to the legislature and recommended tolerance of the Quakers, a religious minority in the area.
Rev. Smith and Susannah had a son Thomas, who in turn had a daughter Rebecca Smith who married Benjamin Fessenden.
Benjamin and Rebecca had a daughter Lucy, who married Gideon Hawley Jr. (the son of Hannah Bennett and Gideon Hawley Sr.). Gideon Hawley Sr. was the great grandson of Connecticut governor Thomas Wells.
You can read the missionary journals and letters of Gideon Hawley Jr. online at Congregational Library & Archives.
Gideon Jr. and Lucy had a daughter Rebecca, who married Crocker Samson/Sampson, the son of Cornelius Samson and Desire Crocker and a descendant of Mayflower passengers Henry Sampson, John Howland, Elizabeth Tilley, and Edward Winslow.
The Crocker family kept a few taverns. The first to do so was John Crocker, brother of the above Deacon William. But it was the tavern operated by the deacon's grandson Cornelius Crocker and his descendants which is still around – and if its walls could talk, the tales it could tell!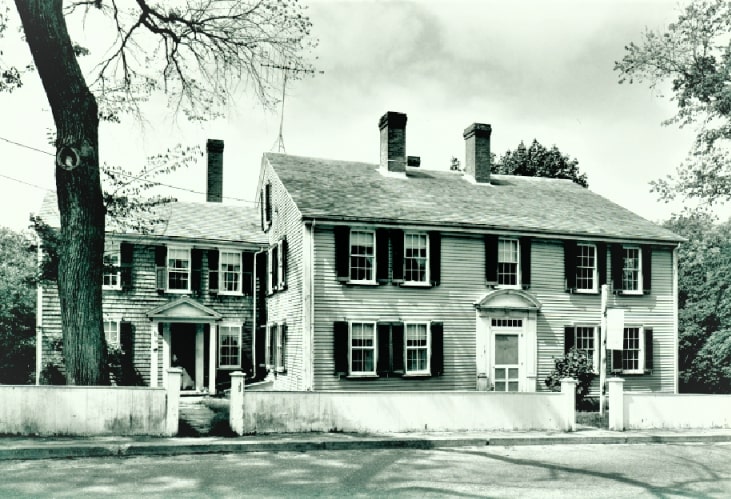 Luckly, there are some colorful accounts of the drama that went down at the watering hole, both in newspapers and town annuals.
Before I begin with entertaining stories, here is some genealogy:
Cornelius Crocker was the son of Sarah Parker and Samuel Crocker.
His wife Lydia Jenkins was the daughter of Joseph Jenkins and Lydia Howland, the granddaughter of Joseph Howland and Elizabeth Southworth, and the great granddaughter of Mayflower passengers John Howland and Elizabeth Tilley.
Lydia Howland was also the sister of Katie's 8th great grandmother Mercy Howland, who married Joseph Hamlin, a son of Mehitable Jenkins, sister of the above Joseph Jenkins.
In 1976 the Boston Herald featured an article on the old Crocker Tavern when it was sold for $70,000.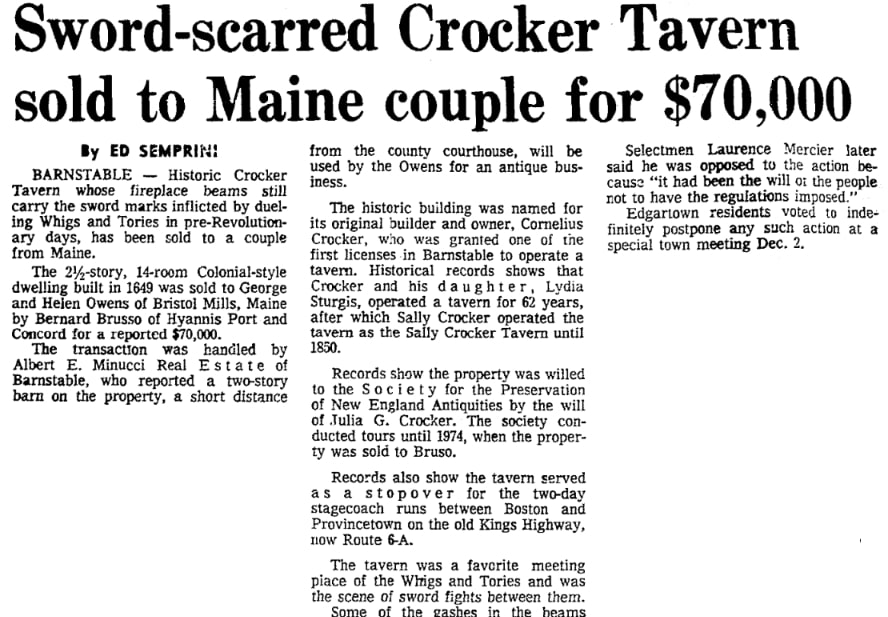 According to the news clip, the property had been willed to the Society for the Preservation of New England Antiquities (now Historic New England) by Julia Crocker, wife of David Crocker. The society kept the home until 1974 then sold it to a private owner, Bernard Brusso, who put it on the market two years later.
The historic building was originally built and owned by Cornelius Crocker, who operated the tavern with his daughter Lydia, the wife of Captain Samuel Sturgis, for 62 years.
Sally Sturgis, a daughter of Samuel and Lydia, married Daniel Crocker (son of Daniel Crocker and Phebe Winslow, and kin to Katie), took it over, and it became known as the Sally Crocker Tavern.
The tavern served as a stopover for the stagecoach runs, but its notoriety came with the pre-Revolutionary days when the village of Barnstable's residents were split between two parties: the Whigs and the Tories.
This article reported:
Historic Crocker Tavern, whose fireplace beams still carry the sword marks inflicted by dueling Whigs and Tories in pre-Revolutionary days, has been sold to a couple from Maine.
Some speculate the marks came from a duel between James Otis and Samuel Crocker.
This takes us to our next story, from the Springfield Union published in 1987, citing a Crocker Tavern drama. I am adding a few more tidbits in.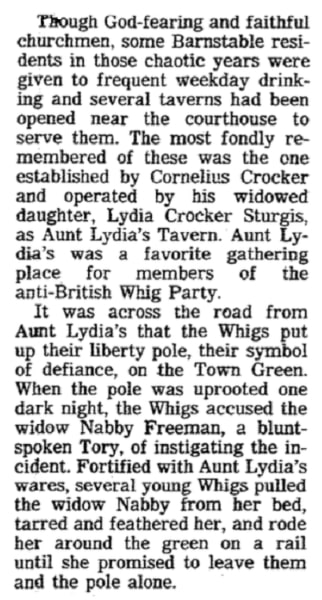 According to this article, in 1776 the establishment was fondly known as "Aunt Lydia's Tavern" and a favorite place for the anti-British Whig party. Here is the skinny:
It was across the road from Aunt Lydia's that the Whigs put up their liberty pole, their symbol of defiance, on the Town Green. When the pole was uprooted one dark night, the Whigs accused widow Nabby Freeman [Abigail Davis, daughter of Thomas Davis, wife of David Freeman, the son of Isaac Freeman and Bethiah Sturgis], a blunt-spoken Tory, of instigating the incident. Fortified with Aunt Lydia's wares, several young Whigs pulled the widow Nabby from her bed, tarred and feathered her, and rode her around the green on a rail until she promised to leave them and the pole alone.
It was also rumored that Nabby's store had British tea in stock which she refused to relinquish.
To be continued…
Explore over 330 years of newspapers and historical records in GenealogyBank. Discover your family story! Start a 7-Day Free Trial
Note on the header image: "Mayflower in Plymouth Harbor," by William Halsall, 1882. Credit: Wikimedia Commons.
Related Articles: