Introduction: In this article, Melissa Davenport Berry continues her series on Mayflower descendants, focusing on Katie Crocker and her family line. Melissa is a genealogist who has a blog, AnceStory Archives, and a Facebook group, New England Family Genealogy and History.
Today I continue with my series "Mayflower Descendants: Who's Who," focusing on the descendants of Mayflower passengers Stephen Hopkins, Henry Samson, Elizabeth Tilley, Francis Cook, Esther/Hester Mahieu, John Howland, and Edward Winslow.
Over the past few months, I have been researching the familial lines for my client Katie Crocker, daughter of James and Debra Sue (Pemberton) Crocker of Barnstable, Massachusetts. Katie's Mayflower connection comes through her paternal line. GenealogyBank's Historical Newspaper Archives were a huge help with the probe into Katie's lineage.
Katie has a double Hopkins line via Constance Hopkins (who married Nicholas Snow) and Damaris Hopkins (who married Francis Cook). Also, Katie has a double Howland line through Crocker cousins' intermarriage (see genealogy).
The Crocker surname is well known in Cape Cod and most of Katie's family have resided there for generations.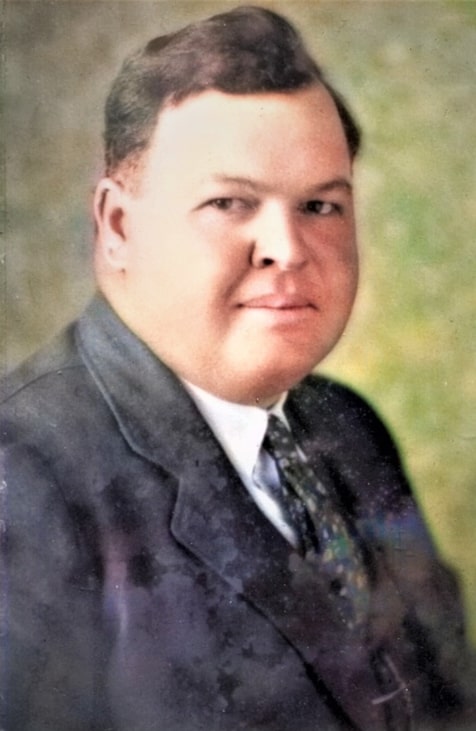 I found an obituary for Katie's great-grandfather Lauchlan MacLean Crocker Sr. (1893-1947), son of Zenas Crocker and Annie Jean McLean, born at Marstons Mills, Massachusetts.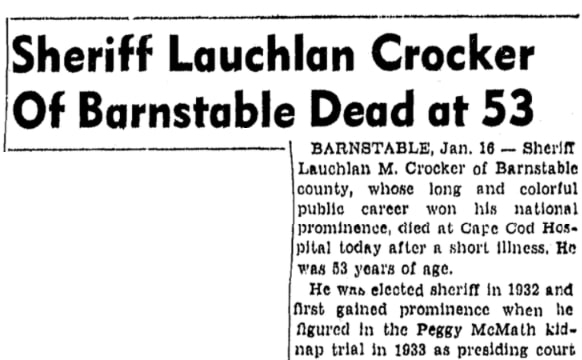 His obituary reported:
Sheriff Lauchlan M. Crocker of Barnstable County, whose long and colorful public career won him national prominence, died at Cape Cod Hospital today after a short illness. He was 53 years of age.

He was elected sheriff in 1932 and first gained prominence when he figured in the Peggy McMath kidnap trial in 1933 as presiding court officer. He has held the office continuously ever since.

…He was instrumental in establishing the Barnstable county house of correction and in building a new jail in 1934, which has been called one of the best of its size in the country. In addition to his duties as sheriff he served as master of the house of correction and jail master of the county.

…Previous to his election as sheriff he held many town and county offices, and was highway surveyor of the town of Barnstable for many years. He was born in Marstons Mills, Cape Cod.

Known as "Locky" to Cape Cod residents and visitors, Sheriff Crocker was a veteran of World War I. He was as well versed in agriculture as in matters concerning the county jail. Under his supervision inmates of the county house of correction each year grew enough produce to supply the county sanitarium, Hyannis State Teachers College, the Barnstable county health camp, the Barnstable high and village schools, and the jail itself.
Lauchlan married Wilhelmina Mary Sherman, daughter of James Horace Sherman and Dora C. Heise. The Marston Mills Historical Society photograph collection is featured on the Digital Commonwealth website and has several Crocker family photos.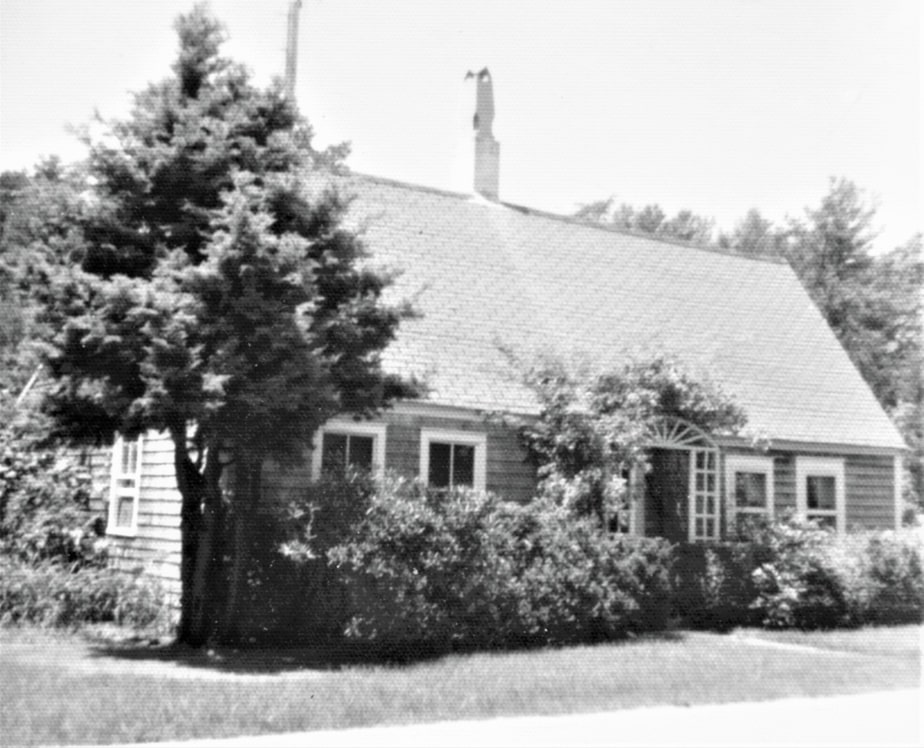 One of his four sons, Captain Sherman (Neil) Crocker, was shot down over Germany in 1945.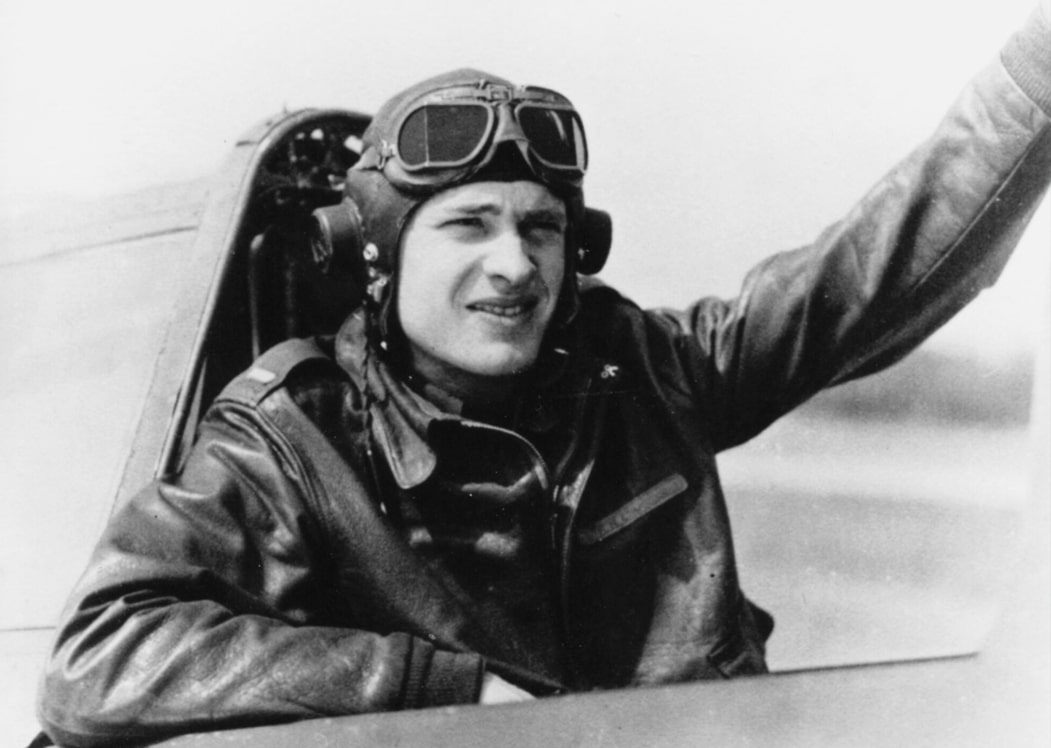 Besides Sherman Crocker, Sheriff Crocker was father to three more sons: Laughlan MacLean Crocker Jr. (married Jean Lawton Sheraton); James Hawley Crocker (married Agnes Mary Shields); and Merle MacDonald "Col. Buzz" Crocker, Katie's grandfather (married Jean Hazelton, a descendant of Stephen Hopkins).
Sheriff Crocker also had two daughters: Doris Crocker Easter (married Charles Metivier Easter); and Anne Wilma Crocker (married 1st Wayne Dee Hayes and 2nd Dale B. Weaver).
One interesting find about Katie's great-great-great grandfather Zenas Crocker (1831-1898) was a stint in California when he followed the great Gold Rush. According to sources, he left for the gold fields in 1852 and stayed for seven years.
I found this 1856 advertisement in the Sacramento Daily Union. Zenas Crocker & Co. was offering a $100 reward for two stolen horses and the thief.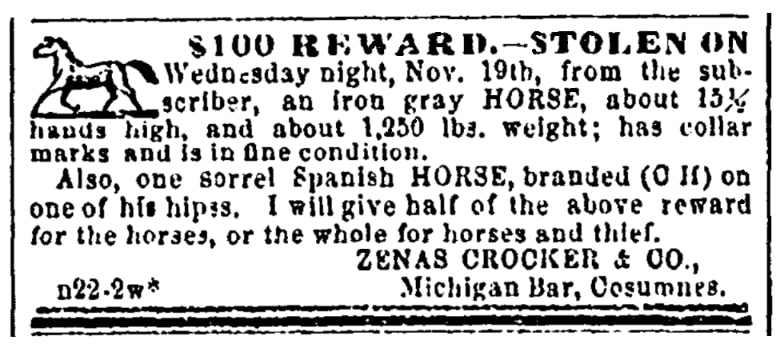 After Zenas returned from California he became involved in the cranberry business.
Zenas was born to Zenas Crocker and Rebecca Holly Sampson/Samson, a descendant of Mayflower passengers Henry Samson, Francis Cook, Stephen Hopkins, John Howland, and Elizabeth Tilley.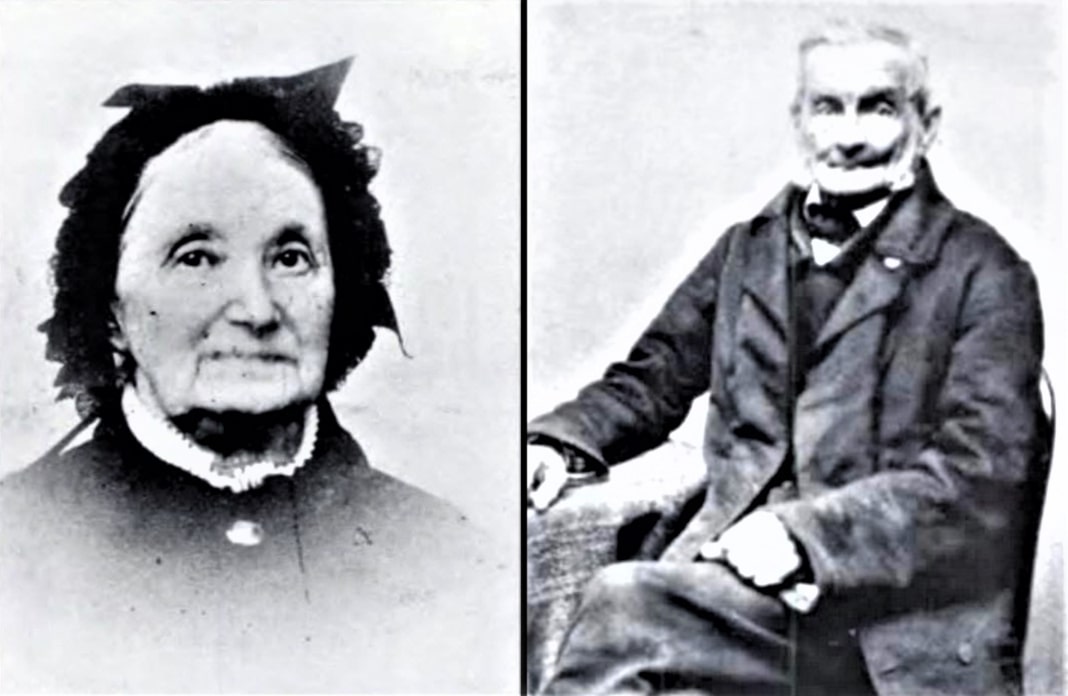 After his time looking for gold in California, Zenas married Susan Augusta Jones, daughter of Nathaniel Jones and Abigail Fish and a descendant of Mayflower passengers John Howland and Elizabeth Tilley.
The couple's marriage announcement was published in the Daily Evening Standard on 24 July 1861.

Zenas and Susan's son, also named Zenas, died in 1963 at age 99. According to the obit published in the Boston American, before he passed away Zenas was "honored by Barnstable's selectmen by bestowal of a cane signifying he was the town's oldest resident."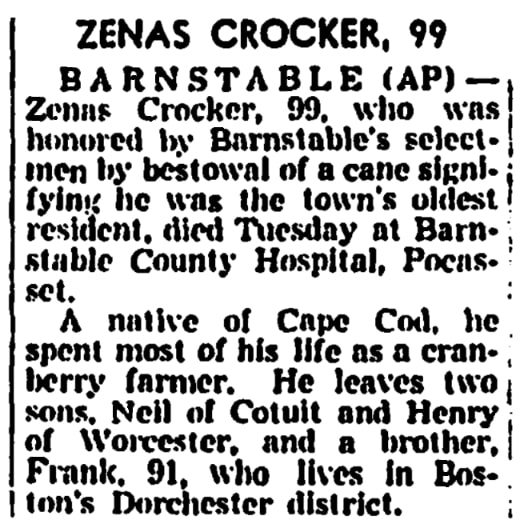 Zenas Crocker was the father of Sheriff Lauchlan and the following: Susie M. Crocker (married Willard Edson Nickerson); Neil Lowell Crocker (married Hazel Wilds); and Zenas Crocker (married Merle Byron MacDonald).
To be continued…
Explore over 330 years of newspapers and historical records in GenealogyBank. Discover your family story! Start a 7-Day Free Trial
Note on the header image: "Mayflower in Plymouth Harbor," by William Halsall, 1882. Credit: Wikimedia Commons.