Introduction: In this article, Gena Philibert-Ortega searches old newspapers for recipes for a treat she discovered in Pennsylvania: shoofly pie. Gena is a genealogist and author of the book "From the Family Kitchen."
During this month, I traveled to Pennsylvania to teach at a genealogical institute. I had never been to Pennsylvania, so aside from the excitement of exploring a new-to-me state, I wanted to try some regional foods not available on the West Coast. Number one on my list of foods to try? Shoofly pie.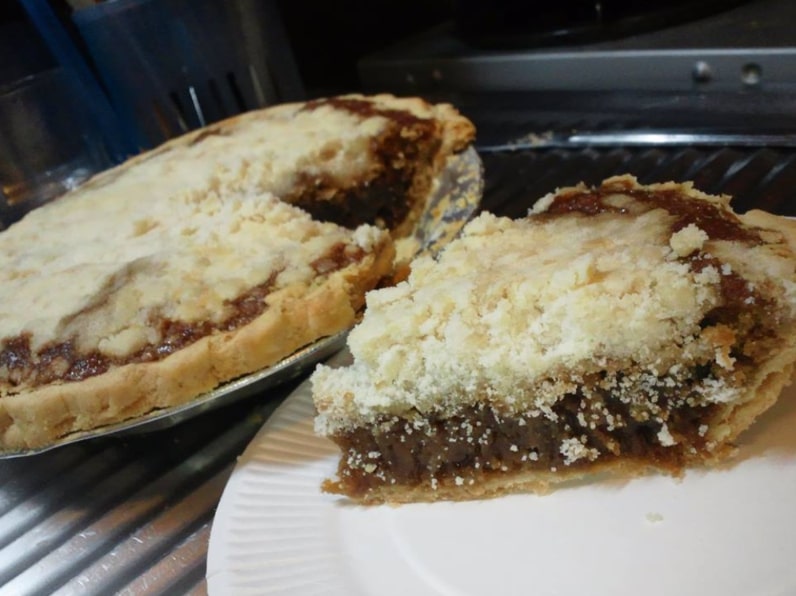 Shoofly Pie: A Short History
What is shoofly pie? Simply described, it's a molasses-based pie. Molasses is historically an important ingredient in the United States as a sweetener. Today it's not used as much, and depending on where you live, it might be something you rarely if ever see except as an ingredient in a holiday gingerbread. (1)
According to a history of the pie on the Gastro Obscura website, its origins can be found in an 1876 cake called "Centennial Cake." The ingredients were used by Amish women to make a pie that was served in one of two ways.
Using the same set of ingredients, these women developed two styles of shoofly pie: wet-bottom and dry-bottom. Amish women made the wet-bottom version by filling a pie shell with sweet molasses, which soaks into the crust and creates a molten, "wet" bottom layer upon baking. The result is a bit like sticky toffee pudding. In a dry-bottom shoofly pie, the baker alternates layering brown sugar crumb with molasses filling. The equally distributed ratio of wet and dry bakes into something like a pie-crusted coffee cake. Both versions are finished with buttery, brown sugar crumbs. (2)
While shoofly pie is uniquely a Pennsylvania Dutch creation, there are other molasses pies found in the U.S. Rossi Anastopoulo wrote in her book Sweet Land of Liberty: A History of America in 11 Pies: "Many nineteenth-century Southern cookbooks included recipes for pure molasses pie that reflected its particular popularity in the region…" (3)
Shoofly Pie Recipes
If you're not near Pennsylvania and want to try shoofly pie, you can find a number of recipes in GenealogyBank's Historical Newspaper Archives.
As mentioned before, the main ingredient in shoofly pie is molasses. This 1906 recipe is fairly simple and shows the few ingredients needed to make the pie, but like many early recipes it's lacking directions for exactly how to cook it.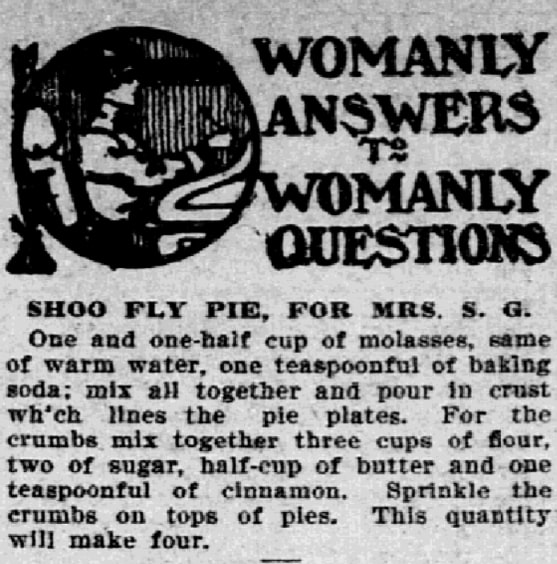 Another characteristic of shoofly pie is the crumb topping – but it can be omitted, as this 1908 recipe indicates.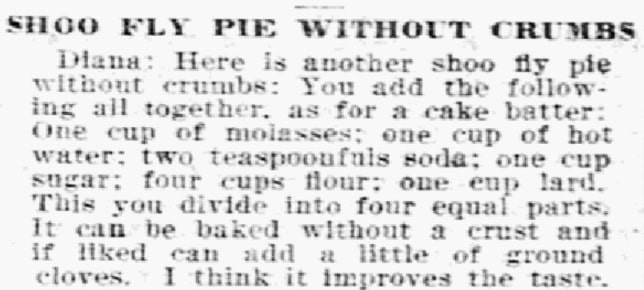 As mentioned, shoofly pie is a Pennsylvania Dutch creation – but that doesn't stop recipe writers from putting their own spin on the pie. This "California" recipe printed in a Dallas, Texas, newspaper includes dates as an ingredient. Why are dates called "Californian?" Dates are grown in the Southern California desert and can be purchased whole or in various forms (including date sugar) from growers in that area.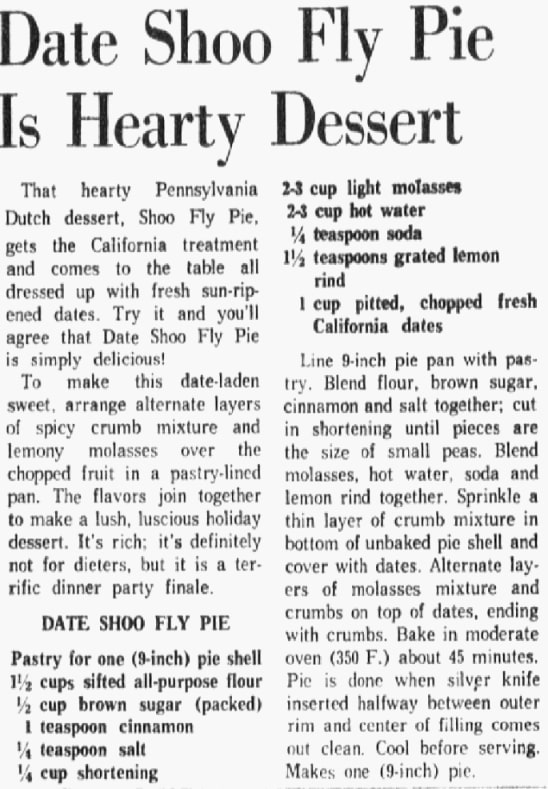 This writer in the Plain Dealer admits that she had heard a song about the pie but didn't realize it really existed. She states that there are two kinds of shoofly pie, one that is "dry" and one that has a "damp zone."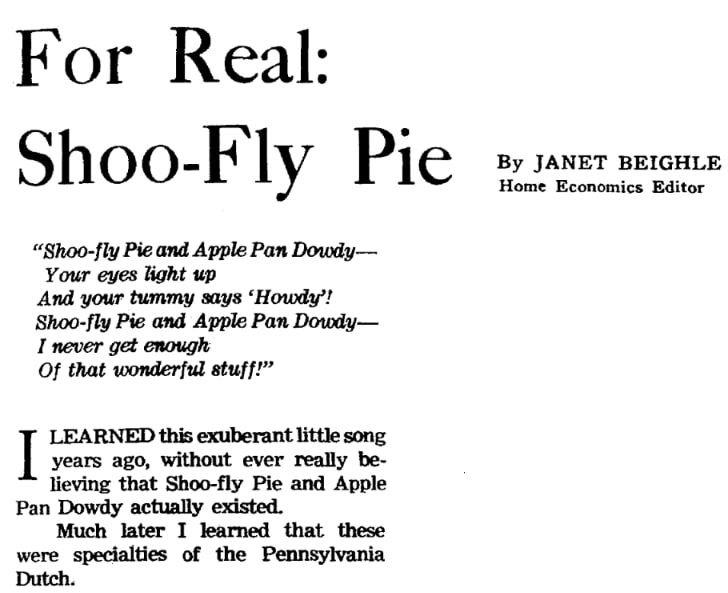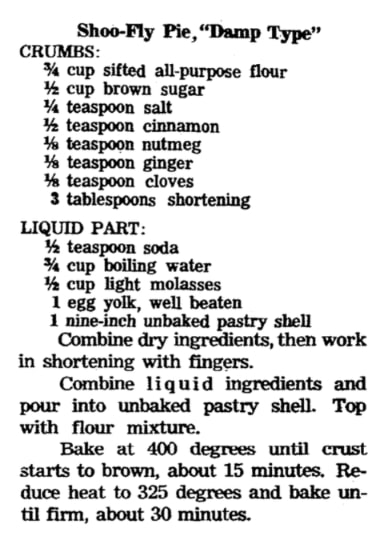 Genealogy tip: In some cases, such as with some recipes, the keyword you are searching may be area or region specific. The earliest mentions of this recipe are in Pennsylvania newspapers. It's not until much later that I started seeing shoofly pie recipes in other state newspapers.
As I continued looking for pie recipes, I did find another food column that included not only dry and damp recipes but also a cake-type recipe. Over time, shoofly pie recipes found in newspapers were diverse and not limited to one version.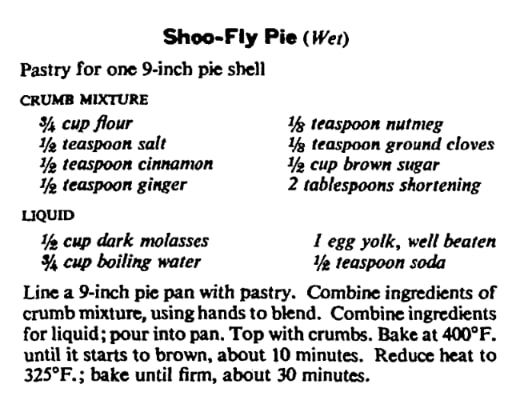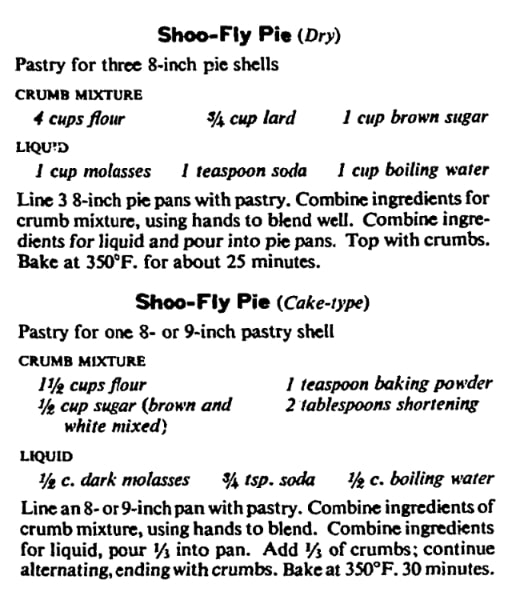 Have You Tried Shoofly Pie?
One of the warnings I've read about shoofly pie is that it's really sweet (and that sweetness is occasionally credited as the origin of its rather unusual name – so sweet that it attracts flies, and you have to shoo them away – but several alternative explanations also exist), so I was surprised that I didn't find it extremely sweet compared to other fruit-based pies.
Have you tried shoofly pie? Do you or a family member make it? I'd love to hear about your recipes in the comments below.
Explore over 330 years of newspapers and historical records in GenealogyBank. Discover your family story! Start a 7-Day Free Trial
Note on the header image: slice of shoofly pie with ice cream. Credit: Good N Plenty; Wikimedia Commons.
__________________
(1) Anastopoulo, Rossi. "Sweet Land of Liberty. A History of American in 11 Pies." New York: Abrams Press, 2022, p. 63.
(2) "Shoofly Pie," Gastro Obscura (https://www.atlasobscura.com/foods/shoofly-pie-amish: accessed 21 July 2023).
(3) Anastopoulo, Rossi. "Sweet Land of Liberty. A History of American in 11 Pies." New York: Abrams Press, 2022, p. 65.