Introduction: In this article – spurred by the success of the new "Barbie" movie – Gena Philibert-Ortega reminisces about homemade Barbie clothes she and her friends enjoyed. Gena is a genealogist and author of the book "From the Family Kitchen."
The recent release of the movie Barbie has been the cause of nostalgia for many women. Barbie the doll was created by Ruth Handler and named after her daughter Barbara in 1959. The first Barbie had one outfit, a black and white striped swimsuit – but in the years since, it is estimated that 100 million yards of fabric has been used by Mattel to make Barbie clothes. (1)
Not every girl with a Barbie was able to buy a full wardrobe of clothes. For some of us, Barbie clothes were something a mom, aunt, sister, grandmother, or neighbor made. In some cases, sewing doll clothes was the first project that a young girl conquered.
Homemade Barbie clothes could be sewn, knitted, or crocheted. These outfits spanned the practical, such as undergarments and pajamas, to evening wear. One genealogy friend told me that her Barbie had a real fur coat made from the scraps of a coat made for her grandmother. Barbie clothes allowed women to be creative, whether it was just choosing yarn and fabric or creating their own fashions sans a pattern.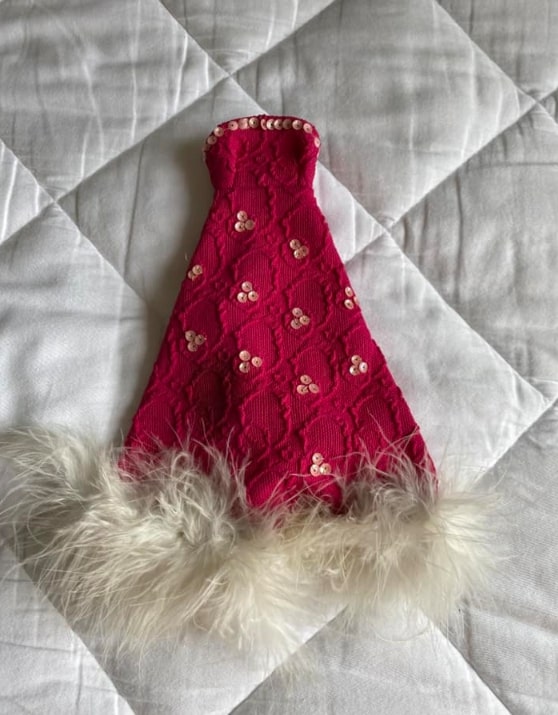 Barbie Patterns
One place to find sewing patterns for Barbie was the newspaper. Readers could acquire a pattern by writing to an address and sending a few coins, sometimes to the newspaper itself and other times a third party, to receive the advertised sewing pattern.
This 1965 pattern advertised in the Oregon Journal exclaimed "Delight a Grandchild – Crochet Doll Clothes." The pattern included an evening gown, 3-piece suit, swimsuit, slacks, Bermudas, and a jacket. I have a similar evening gown dress that my paternal grandmother crocheted for me. My two gowns are on wire hangers that are padded with yarn.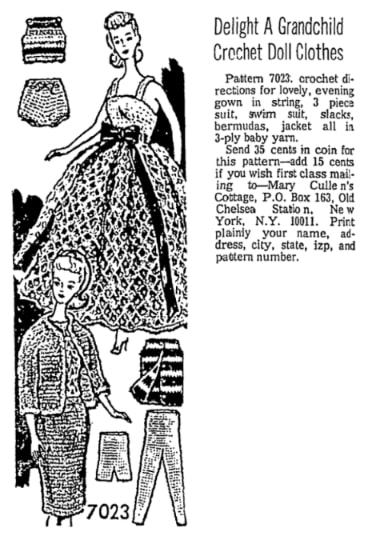 Two years later, the Oregon Journal ran another ad for a doll clothes pattern that included a gown, slacks, top, coat, hat, skirt, sweater and Bermudas.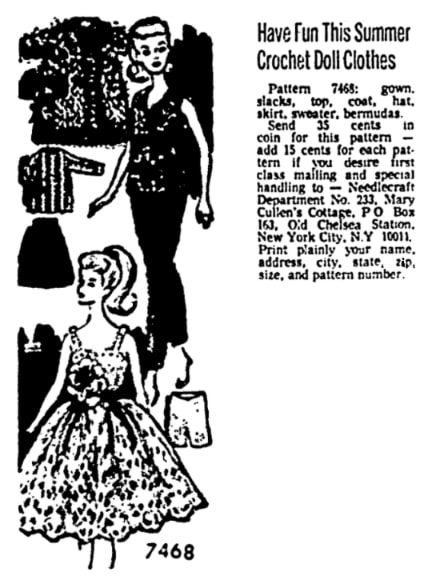 Like most doll patterns, this next example does not use the trademarked name "Barbie," but the illustration makes it clear that Barbie was the intended doll. Note also the description: "For teen model doll, size 11½" – the Barbie doll in 1972 was exactly 11½ inches.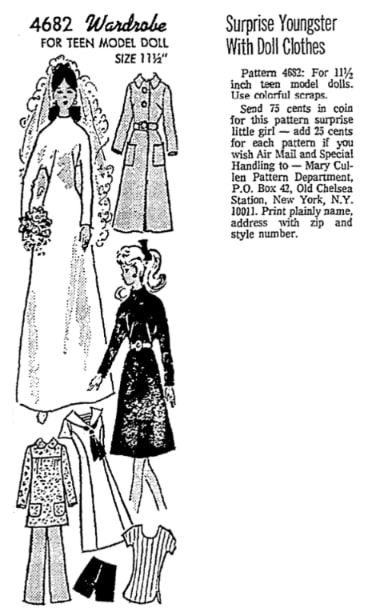 Aside from finding patterns in the newspaper, you could go to your local fabric store and buy patterns. After perusing a large pattern book, you would choose the pattern number that you were interested in.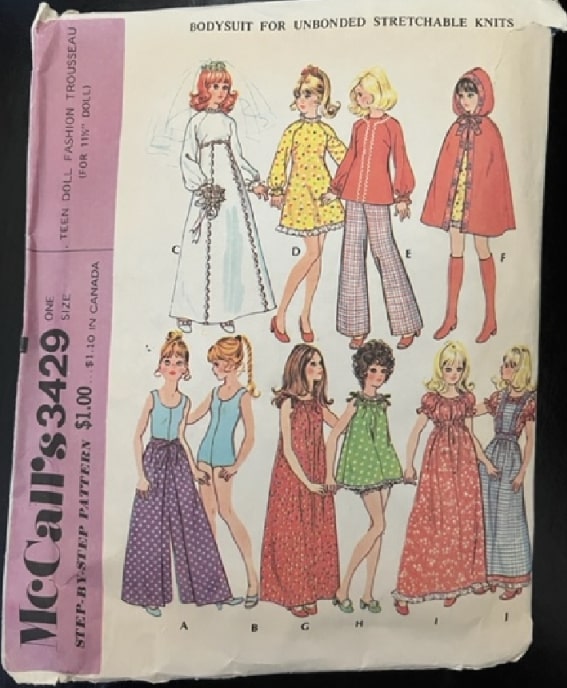 This 1972 McCall's pattern #3429 was purchased by my mom and included 10 outfits for a "teen doll fashion trousseau" – the package specified that these outfits were for a doll that is 11½ inches. Included in this homemade trousseau was a wrap-around pant skirt, body suit, wedding gown and veil, dress, top and pants, cape and hood, dress, top and panties, long dress, and pinafore.
As I look over the clothes my mom made for me from this pattern, I recognize fabric that was used for other projects (including clothes she sewed for me). When I asked my mom what she remembered about making these doll clothes she remarked that the size of the garment made it difficult because you had to be careful as you turned the seams inside out, a comment I heard from others who made these tiny fashions.
Barbie Memories
I asked my Facebook friends about their homemade Barbie clothes. Many shared memories of receiving clothes and other accessories handcrafted by women in their lives. This question brough back fond memories for some and even a few regrets from those who didn't appreciate the homemade and instead wished for the store-bought clothes. I read stories of creative moms and grandmas who made matching outfits for the doll and her owner. Some remarked that they also received handcrafted furniture for Barbie homes. Some of my friends were too old for Barbie but their moms made clothes for other dolls, or they were the mom who sewed doll clothes. In some cases, learning to sew began with creating a doll wardrobe.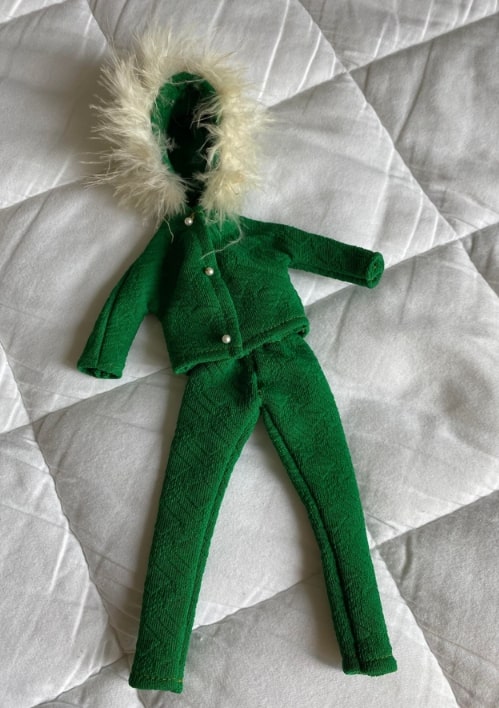 Archiving Barbie Clothes
Are you like me and still have homemade Barbie clothes? I asked Melissa Barker, also known as the Archive Lady and archivist for the Houston County Tennessee Archives & Museum, to provide a few tips for how to store these items:
For clothes patterns: Unfold and flatten the pattern pieces. Once they are unfolded, the pieces can be placed in archival sleeves or archival file folders. Store in a filing cabinet or in an archival box. What's important is that you get the pattern out of the envelope and flatten it. Be sure to keep the pattern envelope and instructions together.
For Barbie clothes: Use archival tissue paper and an archival box. Line the box with tissue paper and lay the clothes in the box on the tissue paper. Place more tissue paper on top of the clothes. It is important that the clothes in the box don't move around. Be sure to use the correct size box – one that is not too big. Store the boxed clothes on a flat shelf and lay the box flat. You can also store Barbie's accessories in the same box with the same tissue paper.
If you have Barbie clothes or accessories that are made of any kind of animal products such as leather or fur, you will need to use unbuffered archival tissue paper. The buffered tissue paper has an alkaline substance that is added to the paper for protection, and that alkaline substance can damage animal products. So, use unbuffered archival tissue paper as it does not have that alkaline substance. (2)
What Did Your Doll Wear?
Family history concentrates on asking questions about those who lived before us, but don't forget to document your own experiences. Writing about your toys, including dolls, is one way to share your childhood with your descendants. Answer questions like:
What was your favorite doll? Why was it your favorite?
What accessories did you own?
Did you or a family member create a wardrobe?
Answering these questions can lead to others and provide a way to walk down memory lane.
Explore over 330 years of newspapers and historical records in GenealogyBank. Discover your family story! Start a 7-Day Free Trial
Note on the header image: Barbie in a flower dress made by the author's mother and grandmother. Credit: Gena Philibert-Ortega.
________________________________
(1) "20 Things You Probably Didn't Know about Barbie," Reader's Digest (https://www.rd.com/article/barbie-facts/: accessed 26 July 2023).
(2) To learn more about the difference between buffered and unbuffered archival tissue paper, see Melissa's article, https://agenealogistinthearchives.blogspot.com/2020/05/buffered-vs-unbuffered-archival-tissue.html