Introduction: In this article, Melissa Davenport Berry continues her series on Mayflower descendants, focusing on Plymouth Colony Governor Edward Winslow and his family. Melissa is a genealogist who has a blog, AnceStory Archives, and a Facebook group, New England Family Genealogy and History.
Today I continue with my series "Mayflower Descendants: Who's Who" with some background on Mayflower passenger Edward Winslow and his descendants. Edward Winslow was a powerful force among the Pilgrims, serving in political positions as well as being an ambassador for Plymouth Colony.
A prolific writer of many pamphlets, Winslow left a record of Plymouth's early history including the first Thanksgiving.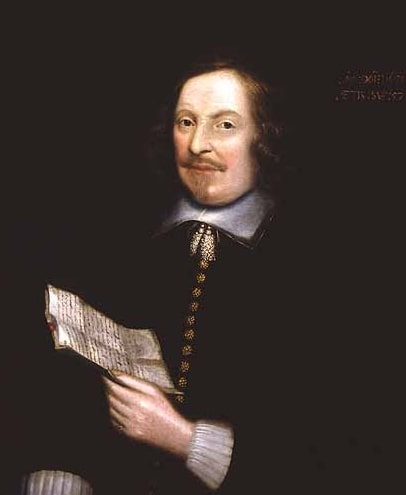 My last story covered the Loyalist branch of Winslow's family, who moved to Canada after the American Revolution. See: Mayflower Descendants: Who's Who, Part 32 (part 1).
Here is clip on Winslow published in the St. Albans Messenger.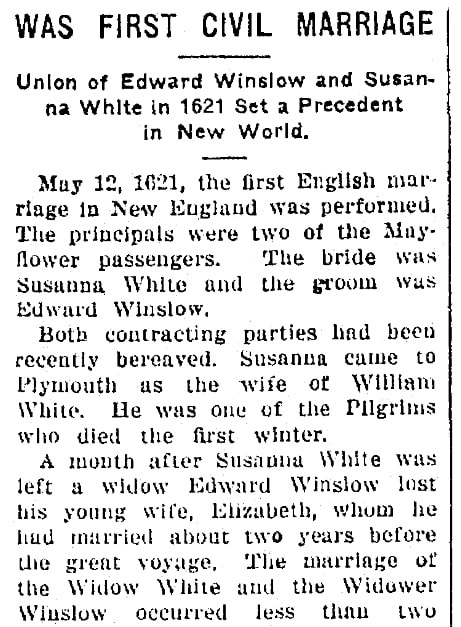 This article reported:
May 12, 1621, the first English marriage in New England was performed. The principals were two of the Mayflower passengers. The bride was Susanna White and the groom was Edward Winslow.

Both contracting parties had been recently bereaved. Susanna came to Plymouth as the wife of William White. He was one of the Pilgrims who died the first winter.

A month after Susanna White was left a widow Edward Winslow lost his young wife, Elizabeth, whom he had married about two years before the great voyage. The marriage of the Widow White and the Widower Winslow occurred less than two months after [William] White's death.

It was probably the first civil marriage in the New World, says the New York Herald. Governor Bradford was in favor of the civil marriage. It was thought, he wrote in his history, "most requisite to be performed by the magistrate, as being a civil thing, upon which many questions about inheritances do depend, with other things most proper to their cognizance, and most consonant to the Scriptures, Ruth 4, and nowhere found in the Gospel to be laid on the ministers as a part of their office."

The matter of civil marriages played a painful part in Winslow's life 15 years later, when, as governor of the colony, he went to England to plead Plymouth's cause. [Basically, the Pilgrims thought marriage should be handled by civil magistrates and not the church.] For preaching and for performing civil marriages he [Winslow] was kept in [Fleet] prison four months, he having stoutly maintained, against the archbishop of Canterbury, that he found nowhere in the Word of God that "marriage was tyed to ministrie."

One of Edward and Susanna Winslow's children, Josiah Winslow, became almost as famous as his father, being elected governor of Plymouth colony a few years after his father's death.
Josiah married Penelope Pelham. The couple's portraits are housed at Pilgrim Hall Museum.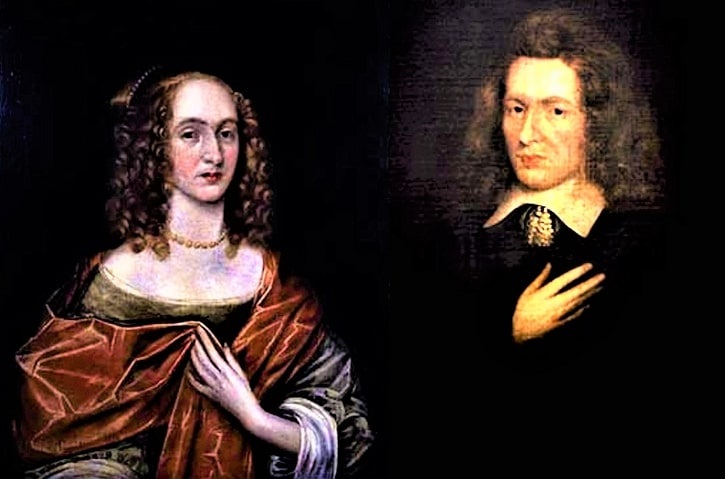 Although Edward and Susanna Winslow had five children, only two survived into adulthood. Besides Josiah, a daughter, Elizabeth Winslow, married 1st Robert Brooks and 2nd Captain George Curwin of Salem, Massachusetts.
Curwin and Elizabeth had two daughters: Penelope Curwin married Josiah Walcott; and Susanna Curwin married Edward Lyde.
Additionally, Edward Winslow raised two sons born to Susanna and her first husband William:
Resolved White, who married 1st Judith Vassall and 2nd Abigail Lord, a widow, of Salem, Massachusetts; and Peregrine White, who was the first baby boy born on the Mayflower while docked in Plymouth Harbor. His name in Latin means "Pilgrim."
At age 16, Peregrine joined the militia and rose to the rank of captain. He also served as a selectman and helped survey unchartered land to the west.
He married Sarah Bassett, although they apparently engaged in early lovemaking and were charged with fornication upon the arrival of their first son Daniel White – his birth was all the evidence the church authorities needed.
In 1921 the Elbert County Tribune published an article, "New Pilgrim Treasures," which highlighted the rare remnants that remain from the Mayflower passengers.
Among them is a copy of "Mourt's Relation," the only account of the Mayflower voyage, believed to be written by Edward Winslow and Gov. William Bradford.
Also noted is the portrait of Winslow. This article reported:
The portrait of Edward Winslow is the only authentic likeness of any of the Mayflower Pilgrims. It was painted in 1651. It has been several times engraved, the original, once owned by Isaac Winslow, is now deposited in the gallery of the Pilgrim Society at Plymouth. Today you can view it at Pilgrim Hall Museum.
According to Mayflower historian Caleb Johnson, in the portrait Winslow is holding a letter which reads "your loving wife, Susanna."
In 1821 a Winslow descendant, Elkanah Watson, Esq., attended a jubilee at the Mansion House of Nathaniel S. Skinner in Albany, New York, to commemorate the anniversary of the landing of the Pilgrims at Plymouth.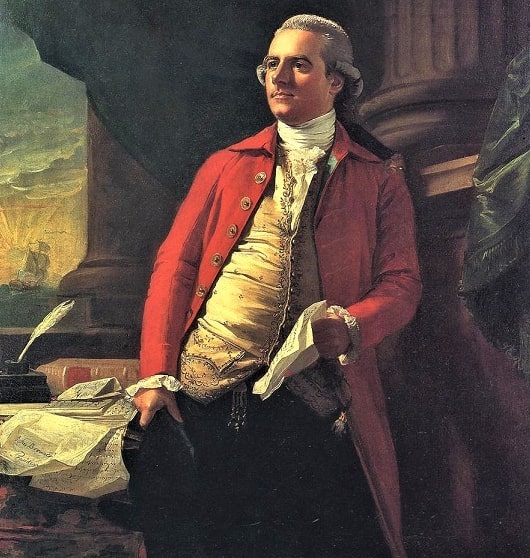 According to the New Bedford Mercury, Mr. Watson presented two relics: a wedding slipper of Governor Winslow's wife; and a piece of his sea chest.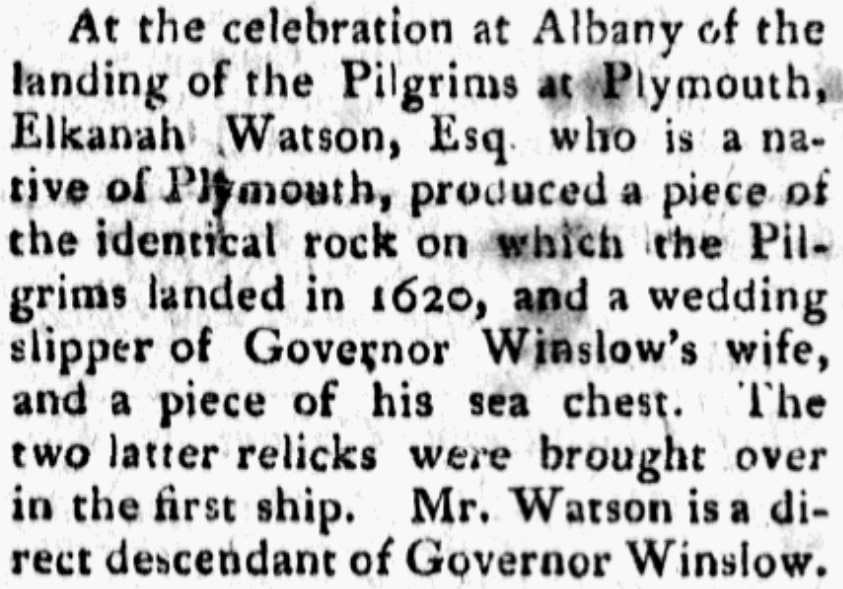 The wedding slipper, believed to have been worn by Penelope Pelham at her wedding to Josiah Winslow in 1651, is now at Pilgrim Hall Museum.
The wedding slipper and the chest are documented in John Lee Watson's book Memoirs of the Marstons of Salem: With a Brief Genealogy of Some of Their Descendants, on page 30.
Stay tuned for more…
Explore over 330 years of newspapers and historical records in GenealogyBank. Discover your family story! Start a 7-Day Free Trial
Note on the header image: Penelope Pelham Winslow's embroidered silk shoe, thought to have been worn by Penelope Pelham at her wedding to Josiah Winslow in 1651. Courtesy of Pilgrim Hall Museum 
Related Article: