Introduction: In this article, Melissa Davenport Berry continues her series on Mayflower descendants, again focusing on Katie Crocker and her family line. Melissa is a genealogist who has a blog, AnceStory Archives, and a Facebook group, New England Family Genealogy and History.
Today I continue with my series "Mayflower Descendants: Who's Who," focusing on the descendants of Mayflower passengers Stephen Hopkins, Henry Samson, Elizabeth Tilley, Francis Cook, Esther/Hester Mahieu, John Howland, and Edward Winslow.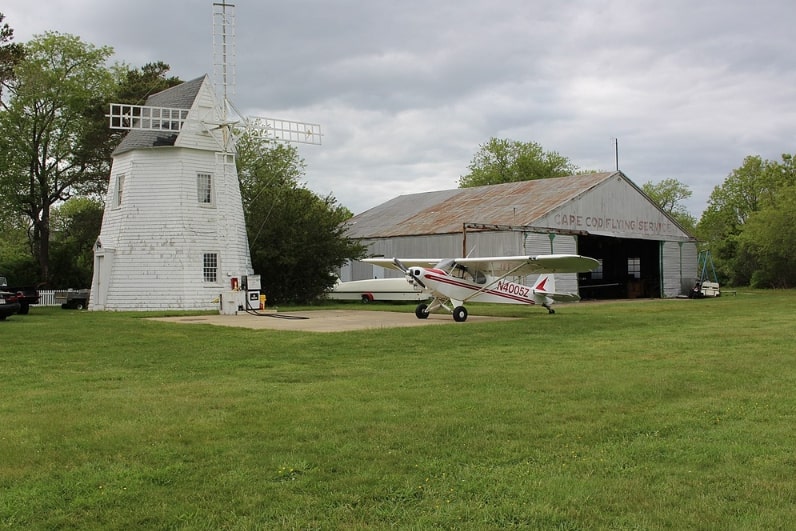 To recap: My last story covered my research for my client Katie Crocker, daughter of James and Debra Sue (Pemberton) Crocker of Barnstable, Massachusetts. The Crocker's were a prominent family in Cape Cod and married into some of the oldest families of Plymouth (see genealogy).
Katie's 9th great grandfather Thomas Hinckley was the sixth and last royal governor of Plymouth Colony. The Society of Colonial Dames organized a chapter under Gov. Hinkley's name in Texas.
A historical marker shows the location of Gov. Hinckley's homestead settlement. It is located on Main St. (Massachusetts Route 6A) west of Crocker Lane in Barnstable, Massachusetts.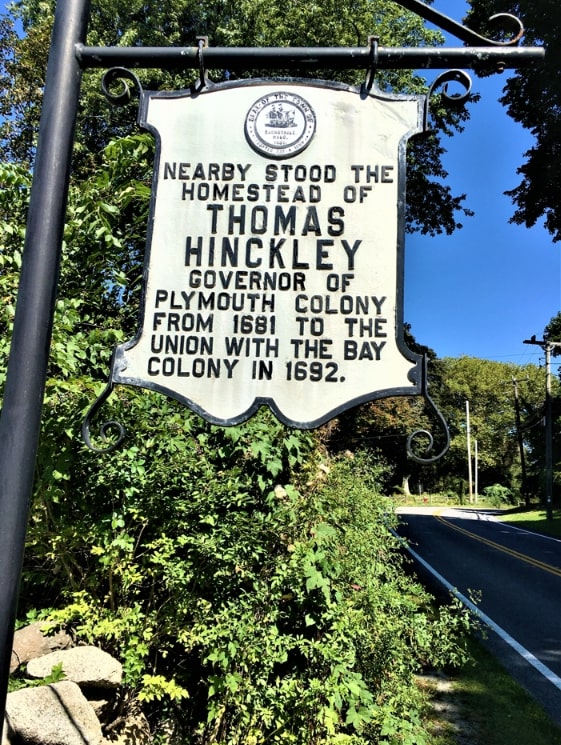 In the following family lines, you can see the connections to Mayflower passengers.
Gov. Hinckley's daughter Meletiah Hinckley married Josiah Crocker, the son of Deacon William Crocker.
Ebenezer Crocker, the son of Josiah and Meletiah, married Hannah Hall, the daughter of Deacon Joseph Hall and Hannah Miller. Hannah was the daughter of John Miller and Margaret Winslow; Margaret was the daughter of Josiah Winslow and Margaret Bourne; Josiah was the brother of Mayflower passenger Edward Winslow.
Katie has a double Winslow line through the offspring of John Miller and Margaret Winslow. Another daughter, Lydia Miller, married Jacob Cook/Cooke, the grandson of Mayflower passengers Francis Cooke and Stephen Hopkins.
Rebecca Cook, a daughter born to Jacob Cook and Lydia Miller, married Benjamin Samson/Sampson, the grandson of Mayflower passenger Henry Sampson.
Cornelius Sampson, a son born to Benjamin and Rebecca Sampson, married Desire Crocker, the daughter of Benjamin Crocker and Priscilla Hall, who was the daughter of Deacon Joseph Hall and Hannah Miller.
Deacon Joseph Hall was born to Deacon John Hall and Priscilla Bearse; she was purportedly born to Mary "Little Dove" Hyanno, an Indian princess of the Wampanoag Tribe.
Benjamin Crocker, who married Priscilla Hall, was the son of Joseph Crocker and Anne Howland, the granddaughter of Mayflower passengers John Howland and Elizabeth Tilley.
Rebecca Sampson, the granddaughter of Cornelius and Desire (Crocker) Samson, married back into the Crocker line. In 1819 Rebecca married Zenas Crocker, the son of Zenas Crocker and Hannah Bourne.
What is now the Cahoon Museum of American Art, located at 4676 Falmouth Road in Cotuit, Massachusetts, is part of a structure originally built by Zenas Crocker.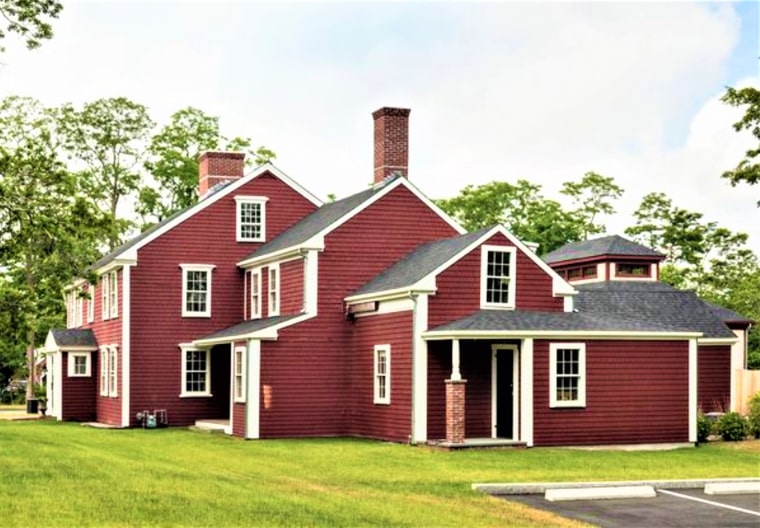 Here is a very early photo of the family of Zenas Crocker and Rebecca Sampson, c. 1845. According to historian James Warren Gould, Zenas inherited this homestead from his grandparents Ebenezer Crocker and Zerviah Winslow.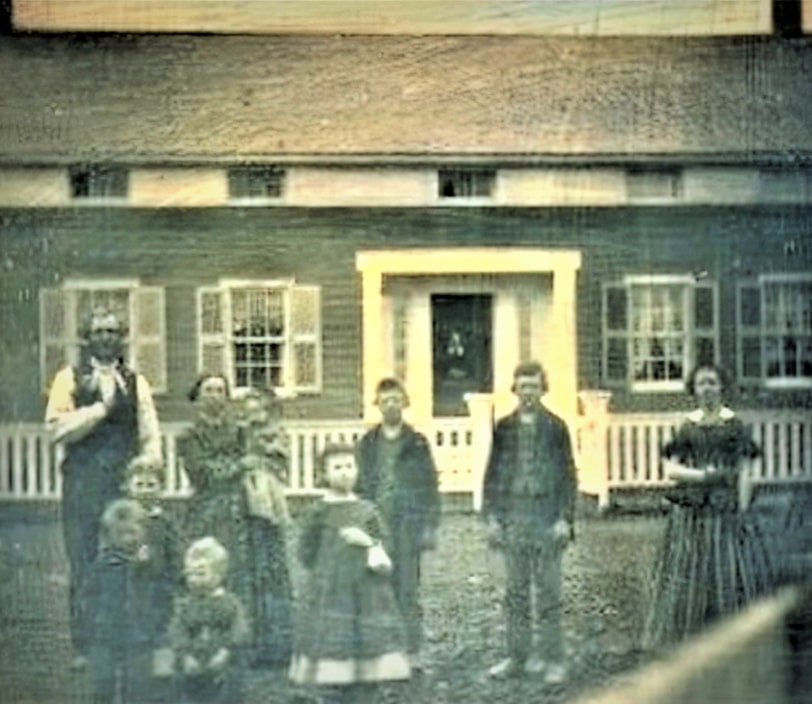 In this photo, we see Zenas and Rebecca Crocker with their children: Mary Bourne Crocker married Stephen Hamblin; Lucy Fessenden Crocker married Simeon Lumbert Ames, who married 2nd her sister Rebecca Sampson Crocker; Gideon Hawley Crocker married Ellen Harmon; Hannah B. Crocker married Abisha Phinney; Melatiah B. Crocker married Carrie C. Bourne and 2nd Eliza Ann Hamblin; and Katie's great great grandfather Zenas Crocker married Susan Augusta Jones.
This marriage connects Katie to another branch on her tree, of John Howland and Elizabeth Tilley: through her 5th great grandmother Hannah Bourne; the daughter of Melatiah Bourne Jr.; who was the son of Silas Bourne; who was the son of Melatiah Bourne Sr. and Desire Chipman; who was the daughter of John Chipman and Hope Howland; who was the daughter of John Howland and Elizabeth Tilley.
Katie's great uncle, (another Zenas Crocker), son of Zenas Crocker and Annie Jean McLean, was one of the last of the Crocker men to sport the name Zenas. He was a member of the Massachusetts Society of Mayflower Descendants.
An important note on Katie's great uncle is his involvement in the Cape Cod Airfield, as well as his connection to an infamous cocktail lounge opened during prohibition at the Aviation Country Club – which was raided and shut down by Katie's great grandfather Sheriff Lauchlan Crocker. Read more at the Barnstable Patriot.
With no speakeasy to date in 1926, Zenas made headlines in the Boston Herald when he bought 48,000 quarts of O. F. C. whiskey at 73 cents a quart. It was made clear that not even a drop would touch his lips, but he was free to resell the liquid spirits to dealers who possessed a federal license to distribute, exporters, hospitals, druggists, etc.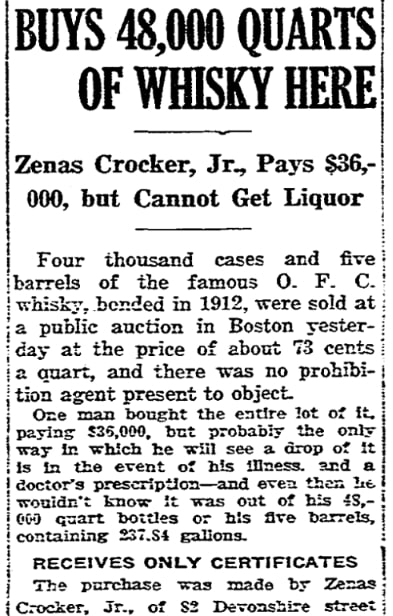 Three years later, Zenas was getting into the airport business. I found some information on the genesis of the Cape Cod Airfield in a 1929 Boston Herald article.
According to the article, Skyways, Inc. purchased the land of Bill and Daniels Farm at Marstons Mills. The plan was to make the biggest flying field and aviation school in New England.
The second-to-last paragraph of the article named Zenas Crocker, along with other Mayflower descendants – Minton W. Warren, Crocker Snow Jr., L. Sherman Adams, and Stephen Paine of Paine Webber Co. – as the future stockholders of the new airport enterprise.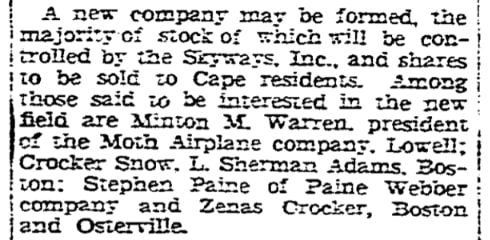 Here is a photo of the airport about a year after it opened.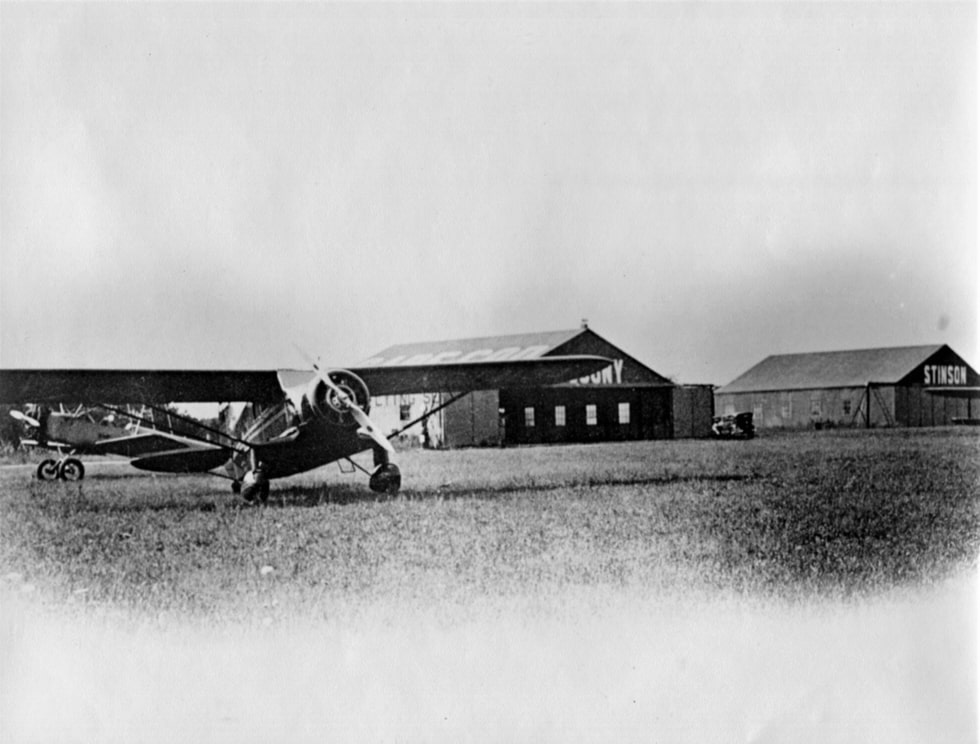 In 1934 Zenas donated the airfield's land and a building for the Aviation Country Club, as reported in the Patriot Ledger.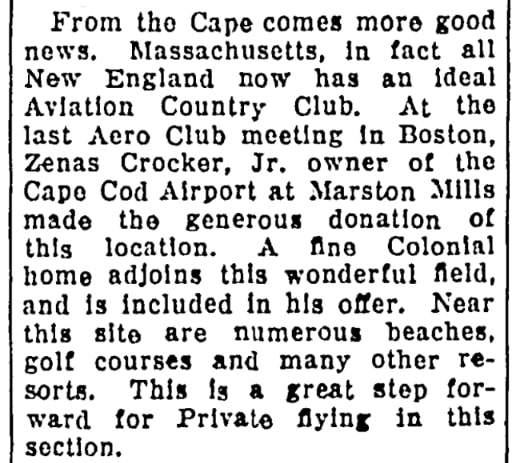 To be continued…
Explore over 330 years of newspapers and historical records in GenealogyBank. Discover your family story! Start a 7-Day Free Trial
Note on the header image: "Mayflower in Plymouth Harbor," by William Halsall, 1882. Credit: Wikimedia Commons.
Related Article: