Introduction: In this article, Mary Harrell-Sesniak tackles a problem many genealogists encounter: how to find newspaper articles about your ancestors when editors often abbreviated or hyphenated your ancestors' names. Mary is a genealogist, author and editor with a strong technology background.

So much has been written on searching newspapers for ancestors whose names have challenging spellings (see the links at the end of this article), but little has been written on dealing with ancestor name abbreviations and hyphenations. With narrow columns, newspaper editors often made adjustments in spacing to make an article fit. A wide variety of name abbreviations, hyphenations and spelling changes were used – as a result, genealogists' queries often miss their targets.
Ancestor Name Abbreviations
Names are often shortened to accommodate character spacing issues, and this poses a challenge for genealogists searching old newspapers.
Using abbreviations was even seen as a problem in the 19th century.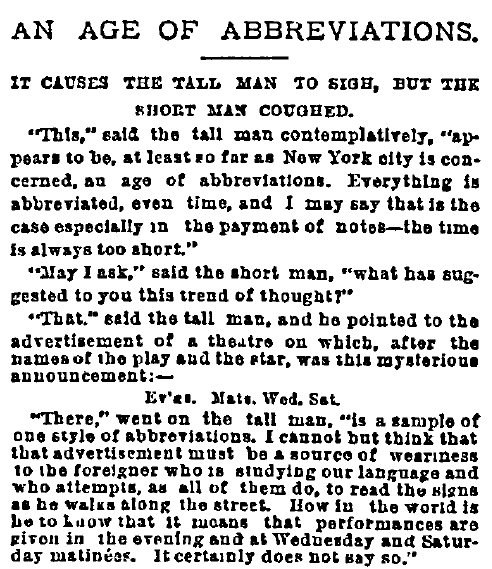 In 1826 there was a proposed New York state amendment that would have disqualified votes if a common abbreviation was used for the name on the ballot. The examples cited were "Alexr.," "Wm." and "Jno." (Alexander, William and Jonathan). If these abbreviations were used on the ballot, then the proposed amendment would require that "it would be imperative to reject all votes."
One state legislator rose to oppose the amendment, pointing out that use of abbreviations was common on ballots.
On a humorous note, the debate on abbreviations fell along geographical lines. Gen. Root was opposed to the proposed amendment based on the orthography and the dilemma of the many "Yankee electors" who "might be puzzled occasionally to write correctly the name of their candidate."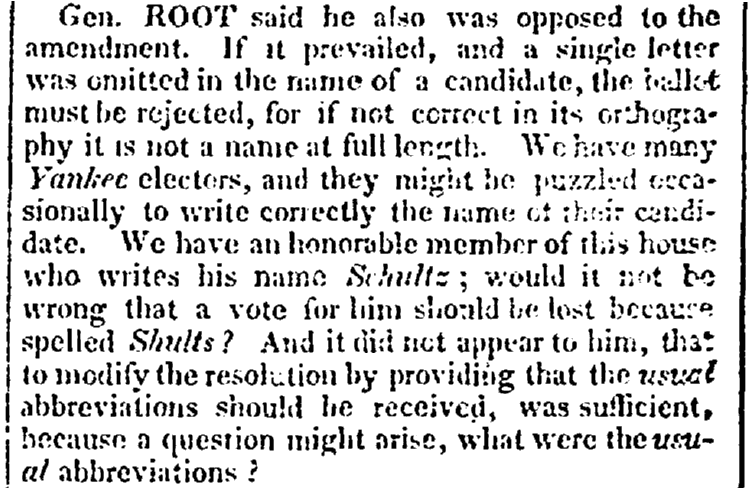 Resources for Finding Name Abbreviations
Several guides can be found on the web for finding name abbreviations. I recommend browsing several, since in one you may find "Abraham" abbreviated as "Ab.," while another guide might use "Abr." or "Abram."
More Abbreviations for Words & Terms
Lastly, don't forget that other words were commonly abbreviated, and they aren't always readily apparent.
Ancestor Name Hyphenations
Let's look at common pitfalls and techniques to overcome hyphenation issues.
If a name was split at the edge of the page, one portion may be on one page and the remaining on the next. When this occurs the search engine may return an unwanted result or no results at all.
When a word is split in two, it can result in two words which a search engine misses. For example: if the word "carnation" was split, the result would be "car" and "nation."
Search Tip: If your family names (given & surnames) can be broken into two words, such as "Newcomb," search for the individual parts.
Another idea is to add a Boolean wildcard, such as an asterisk (*), to the end of a shortened named. For example: you could search for "New*" instead of "Newcomb."

Customs & Common Expressions
Keep in mind that the customs of the day may have changed.
In the 16th and early 17th centuries, births from common families were rarely published in newspapers.
When they were, sometimes just a parent's name was recorded. This article from 1800 notes:
It is fashionable in England to announce the Births among the Nobility. As the fashion is creeping into this country, we must of course follow it.

Search Tip: If you notice a particular expression, such as "true American blood," incorporate it in your query along with a date and location. By doing this, I was able to locate other notices celebrating American births.
Newspaper Scanning Issues
Due to technical limitations, historical newspapers cannot always be scanned flat when they're being digitized for posting online. Occasionally small portions of the old news articles are truncated, so vary your queries by searching specific:
Dates
Locations
Types of Events
For example, notice that the left-hand edge of this newspaper article was not scanned.
Try some of these genealogy search tips to overcome abbreviation and hyphenation issues, and perhaps you'll finally find that long-sought newspaper article about your elusive ancestor!
Related Name Search Articles:
(Visited 266 times, 1 visits today)