Introduction: In this blog post, Mary Harrell-Sesniak provides some tips and tricks to find ancestors that are difficult to search for because they have common names, such as Smith or Jones. Mary is a genealogist, author and editor with a strong technology background.
One of my favorite genealogical expressions is: "My ancestor must have been in the Witness Protection Program, as there is absolutely no evidence of him [or her]!"
I always feel for people when they can't find even the tiniest tidbit about an ancestor when they search in an extensive collection of old newspapers, such as GenealogyBank's Historical Newspaper Archives.
[search_box]
Very often, information about the target ancestor is in the old newspapers—but the ancestor search may be made more difficult because their name may be tricky. This is especially true for ancestors with diabolically vexing common names, such as John Smith, John Jones, or William Scott (the name of one of my ancestors).
This blog article shows you some search tips and tricks to find these difficult ancestors with common names in newspapers.
Finding Your Target Smith or Jones
As is well known, Smith and Jones are incredibly common names, as are John and William. In this 1844 newspaper article, take a look at how many people named Smith and Jones attended this family's Christmas party.
I can't fathom how many historical characters were named John or William—and I know from first-hand experience, sorting them out is challenging.
Note how many Johns there were in this tongue-in-cheek account of an annual Smith Christmas party. Not only are there numerous family members named John Smith, but there seems to be an equal number by the given name of Charles, not to mention all of the John Joneses and their wives, famously known as "Mrs."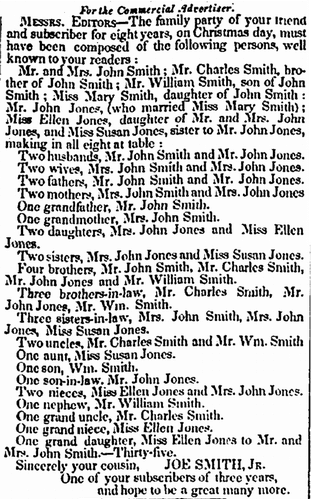 Although you may never sort out a complicated family such as the one attending the Smith Christmas party, let's review a few genealogy tips on how you might proceed with newspaper searches for ancestors with common names.
One-Name Ancestor Name Studies
Although tedious, consider undertaking a one-name study for a specific area, and cross-reference the results with persons by the same name in the same location. It will serve as a prospective list, and help you determine who's who.
For example, in the GenealogyBank search box do a search for all the John Smiths in the Boston area.
By incorporating a date range, such as 1844-1846, and a location, you may discover births, marriages, deaths, and even charming stories—such as this one, found doing a different John Smith search using the date 1856.
The John Smith in this newspaper article was a mate of the good ship Sally, and one day when the captain discovered him sleeping during his watch, John reacted vociferously: "do you supposed that I'm a d—–d horse to sleep standing up?" This quick and witty response caused the captain to laugh all the way back to his cabin, thereby allowing John Smith to finish his nap!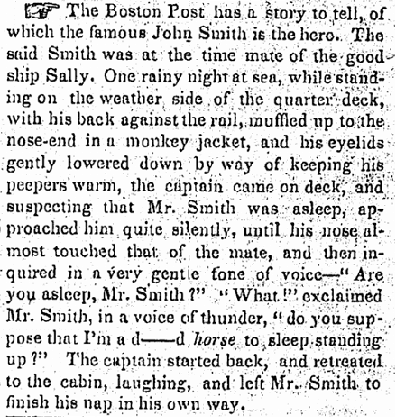 Search for Ancestor Names by Category
Another useful technique is to narrow a query using the various newspaper article categories found on GenealogyBank's Search Results page.
For example, when I did the search above for Boston and John Smith with the date range 1844-1846, this was the Search Results page.
First of all, this Search Results page shows there are 844 records matching the query. Notice the box on the left-hand side of the page: it breaks these 844 results down into various categories to make your searching easier. The most popular historical newspaper categories are shown first, including these results:
Initial Search Results
Historical Obituaries 19
Marriage Records 8
Passenger Lists 48
Newspaper Articles 203
Legal, Probate & Court 15
That accounts for the first 293 results. And the rest? See below the list of initial search results, where there is a blue arrow and it says "551 More"? Click on that blue arrow to see the remaining 551 results organized by category.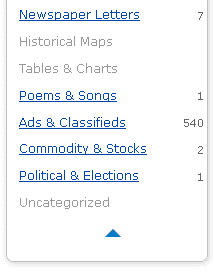 Expanded Search Results
Newspaper Letters 7
Poems & Songs 1
Ads & Classifieds 540
Commodity & Stocks 2
Political & Elections 1
To select a newspaper category, click on the blue link. Try not to rule out seemingly less interesting categories—even an advertisement can hold a clue to a family business or probate record.
When dealing with a return as large as 844 hits, it makes the task of examining the results easier if you break them down into smaller groups by category, then examine each category one by one—the lesser totals will help you retain your focus, and it's quicker to examine results when they're grouped by category because you know what to expect and can accelerate your examination.
Narrowing Your Ancestor Name Search
When an extended family has chosen to name many offspring with similar or identical names, sharpen your search by looking for nicknames and other appellations (such as Senior and Junior), along with search terms that denote a particular characteristic of your ancestor, in an attempt to find that one specific individual you're searching for.
Ancestor Nicknames & Distinctive Physical Characteristics
If you think we have a hard time straightening out complicated families, so did our ancestors. One of the ways they avoided confusion was to give people nicknames. The following comical 1876 newspaper article illustrates a breadth of creative nicknames.
A "respectable-looking old gentleman from the Eastern States" was trying to find a man named Smith in Austin, Nevada. The boy assisting him wanted to know which Smith the man was looking for and made many helpful suggestions, including: Big Smith, Little Smith, Three-fingered Smith, Bottle-nose Smith, Cock-eye Smith, Six-toed Smith, Mush-head Smith, One-legged Smith, Bow-legged Smith, and many more.
The old gentleman retorted: "My son, the Smith I am in search of possesses to his name none of the heathenish prefixes you have mentioned. His name is simply John Smith."
To which the boy promptly responded: "All them fellows is named John!"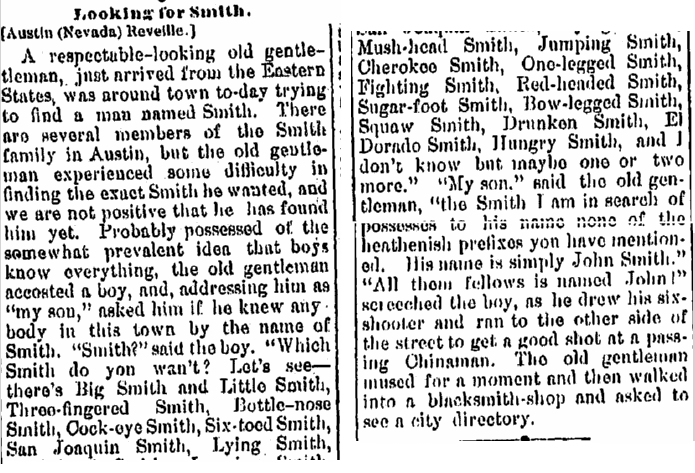 Searching by Generational Suffix: Senior & Junior
A common genealogical trap is thinking that "Seniors" and "Juniors" are related. From a historical perspective, senior means older, or of an advanced age, which is exactly how our ancestors interpreted the generational name designation. Two people with the same name, one a senior and one a junior, were not necessarily related.
Senior: indicates that there were two or more persons by the same name living in a community, with the senior being older than the junior.
Junior: indicates that there was another person by the same name, who was older than the person under discussion.
Distinctive Physical Characteristics
As seen in the humorous account of the many John Smiths of Austin, Nevada, people are often associated with their distinctive physical characteristics, whether it be their hair color, weight or height. An example from my own ancestry is finding two William Scotts, both of Revolutionary War fame.
Although cousins, one of the William Scotts (my ancestor) was shorter than the other. Family and other historical accounts refer to him as "Short Bill," and the other as "Tall Bill."
Prefix Name Titles & Initials
If someone held a position of honor, the title or the given (first name) might be ignored or abbreviated. Here are some examples of common name prefixes, which you could incorporate into an ancestor search:
Gen. Smith
Col. E. Smith
Rev. Dr. Smith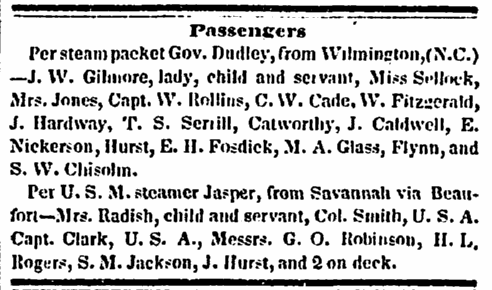 If you are searching for an ancestor with a common name, make note if you ever run across that ancestor's nickname, title, or distinctive characteristic—then incorporate that information into your search. You just might get lucky and find that individual needle in the haystack of common names.
Search Photos to Find Your Ancestor with a Common Name
One advantage to large families with common names is that you might find a family reunion newspaper article and—if lucky—a reunion photograph. Here is an example, displaying the "Largest Family in Mississippi," all related to William Smith and his wife Catherine Pinkie Smith—with each individual clearly identified.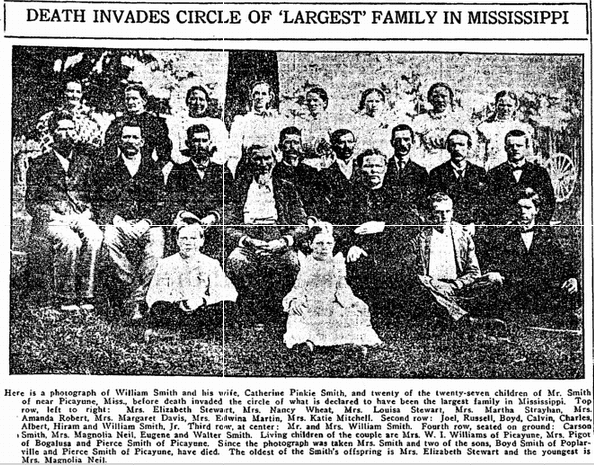 Search Locations, Dates & Publications
Finally, try searching for your ancestor with a common name by specific locations, such as New York or New Hampshire.
After selecting "New York" as a target area, I searched for my ancestor William Scott (he was from the Saratoga Springs area) and found some good information.
By expanding the search to all of New York, I found death notices in newspapers that were published outside of Saratoga Springs. These newspaper articles provided many exciting life details, including William Scott's approximate date of immigration prior to the Revolutionary War, information that he had fought in the battles of Bunker Hill, Trenton, White Plains and Saratoga, and that he had 38 battle wounds!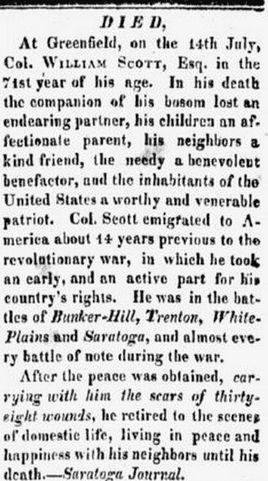 As in all genealogical searches, these death notices led to more searches with even more results, including information that William Scott had actually been captured at the Battle of Bunker Hill! If you search for more newspaper articles about him, you'll even discover that he wrote an account of what happened to the prisoners of war. This is a pretty cool research discovery for an ancestor whose common name posed search challenges, isn't it!
Here is one of the newspaper articles about William Scott that I found in my additional searches.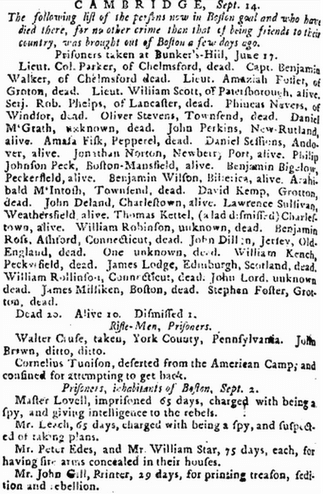 So don't despair if you're trying to find information about an ancestor with a common name. Yes, your first search may have turned up so many results you felt hopeless trying to weed through them, looking for information about your target ancestor. But if you use the ancestor search tips and tricks discussed in this article, you just might make that family history discovery you've spent years searching for! Good luck and have fun ancestor name hunting!