Introduction: Mary Harrell-Sesniak is a genealogist, author and editor with a strong technology background. In this guest blog post, Mary shares some of her readers' responses to an earlier blog article she wrote about the odd and humorous names she's run across while researching family history in old newspapers.
After publishing my Unusual & Funny Names of People blog article on 7 November 2013, readers wrote in droves, sharing additional funny—or should I say hilarious—names. Some were submitted directly to our blog, and others via Facebook pages such as the RootsWeb Genealogist page at www.facebook.com/groups/17834741205/.
We are chuckling over their submissions, and hope you will too!
Colors
Several submitters recounted tales of fun surnames reflecting colors.
"Sometimes when women get married, their new names are comical, too, like one I found recently whose last name was White, but when she married her name became Sarah White Rice." —K. Campbell
"I encountered two families, the Browns and the Greens, who named their children various colours. I remember one of the Brown's first names was Green. Other names were Orange, Violet, Purple, and Red but I'm sure there was another. There was another family who named their daughters Ruby and Sapphire, so when their son came along, of course they called him Emerald." —A. Smulders
Here is an item from a "Personal and Social" column from 1897, mentioning John Green Brown (see www.findagrave.com/cgi-bin/fg.cgi?page=gr&GRid=39512930). It also mentions another unusual name: Miss Scrap Wright.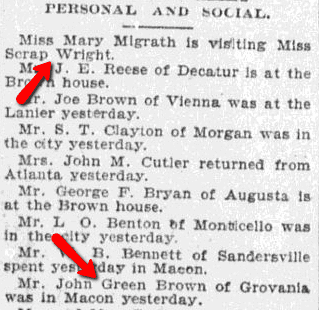 That made me think about all the reports of men and women marrying their Miss or Mr. Wrights!
I once found a Purley Wright, and wonder if anyone has ever encountered a Purley White?
Flowers
D. Peters reported these names: "Actress Poppy Montgomery and her siblings Poppy Petal, Rosie Thorn, Daisy Yellow, Lily Belle, Marigold Sun, and their brother Jethro Tull."
She was referring to Australian-born Poppy, who was born with a much longer name: Poppy Petal Emma Elizabeth Deveraux Donahue. If interested, be sure to read her Wikipedia bio at http://en.wikipedia.org/wiki/Poppy_Montgomery.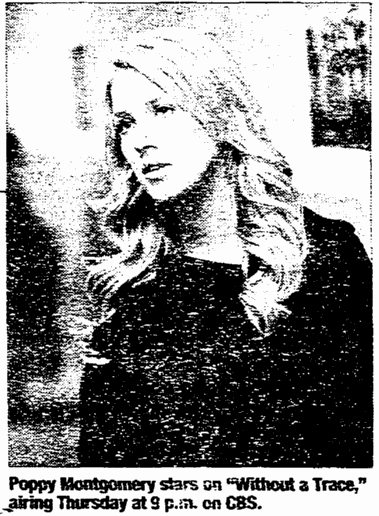 Expressions
In my earlier funny names blog article, I enquired if there were ever people by the names of R. U. A. Crook and Justin Case? I didn't discover a Crook with those initials, but just as I suspected—there really was someone by the name of Justin Case!
"In 2009 there was an individual who lived in the same area as where I was working. He was indeed named 'Justin Case.'" —S. Moore
And A. Smulders reported: "I transcribed the name Ah Choo once." She also reported seeing some names which sounded like profanity! She didn't repeat them, so you'll have to use your imagination.
Food Names
I'm wondering if this next woman's middle initial was B?
"My favorite name on my family tree is Barbara Cue." —Kathy
"I found Mr. FUDGE in a South Carolina census today. Still looking for the NUTS, DIVINITY and PEANUT BRITTLE." —M. Vanderpool Gormley
Musicians and Cartoonists
Artists have long been known to adopt unusual monikers. Dizzy Gillespie, Chubby Checkers and Fats Domino are some that come to mind, but M. Kates reported a person by the name of "Octave Piano," which is one I hadn't heard.
There was also a Pulitzer Prize winning cartoonist, Jay Norwood Darling, who shortened his Darling surname to "Ding." If you've ever visited Florida's Captiva Island, perhaps you've visited the National Wildlife Refuge named after him. See http://www.fws.gov/dingdarling/.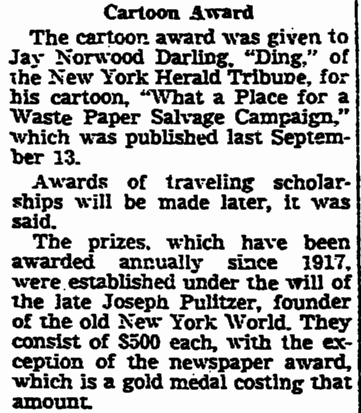 Native American Names
The descriptive nature of Indian names, such as Sitting Bull and Crazy Horse, is always intriguing.
However, I've found one a bit more graphic than usual. This man from Bullhead was elected a tribal councilman of the Standing Rock Indian Reservation in 1967, and he is also recorded on line 71 of this 1940 Census. If anyone has insight on the origin of the surname Kills Pretty Enemy, please enlighten us!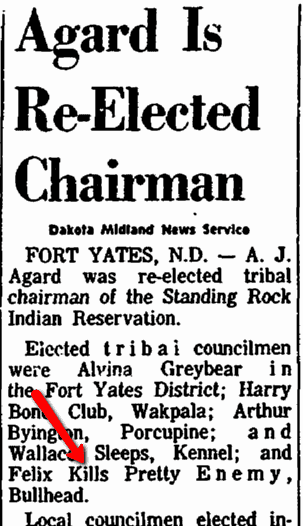 Double Meanings, Interchangeable Names and Relationships
One of my earlier blog articles was about someone named "B. A. Husband," and a "Husband" reader responded: "Thanks for posting this. It was fun to see my name in there."
When I enquired, "So, are you a wife who is a husband? (Sorry, couldn't resist.)," she replied:
"LOL. I am a Husband who is also an ex-wife and a future wife…Us Husband women are the only women that can be both husbands and wives at the same time. I don't mind if you use my comments at all Mary." —S. Husband
"I ran across a woman a while back whose name was Polly Esther Cotton. I had to look at it twice to make sure it wasn't an error. It still could have been a misspelling of the last name, I suppose…We have an artist here in town whose name is Mack Truck (real name; the local librarian told me about him)." —K. Campbell
"I went to high school with a girl named Harley Davidson…A friend's mother was named Dimple Dottie." —L. Boyd McLachlan
"And in the 1960s I went to grammar school with a boy named Rusty Bell." —S. Moore
I wasn't able to find a historical newspaper account for a Rusty Bell, but I did find three at Find-A-Grave, along with the grave of a gospel preacher named Ding Dong Bell:
(See www.findagrave.com/cgi-bin/fg.cgi?page=gr&GRid=85849251)
"I knew a woman years ago named Gwen and she married a man named Gwen, so her married name was Gwen Gwen." —D. Peters
Here Is an Assortment of Other Contributions from Readers!
"In researching the family who adopted my father-in-law, a ways back there was a marriage into the Snow line; while Fielding Snow is not so funny, other members of the lineage had a real sense of humor. One I found was Frost And Snow ('And' was his middle name), Mourning Snow, and Fountain Snow." —N. Morris Boyd
"I have a Manely Peacock in my family tree. He was a captain in the Union Army. My gg-gm's sister's maiden name was Sarah Madara. My favorite isn't in my family tree however. I came across this name on FamilySearch: Morris Morris, born in Morristown, Morris County, NJ. I wonder what he named his cat?!" —M. Guenther
"I found an Icy North in a census record. Went to school with the Flower sisters, Iris, Rose and Daisy." —G. Marshall
"I have a Major Buchanan; yes she was a girl." —S. O'wen
"In the Dutch [family] trees, you often see a difference of one letter between genders. Cornelis for male, Cornelia for female. End result: Aunt and Uncle Corny. We had a family around the corner from us whose kids were named April, May, and August." —A. Smulders
Genealogical Challenge
Thanks to everyone who shared their findings and brightened our day! If you run across more funny names during your family history research, please share them with us.
Next on the Funny Genealogy Names series will be hysterical town names! I've got a whole slew of funny place names in Texas, including the town of Ding Dong. When I publish it, I'll be sure to let you know how someone stole their bell!