Introduction: Mary Harrell-Sesniak is a genealogist, author and editor with a strong technology background. In this guest blog post, Mary shares some of the odd and humorous names she's run across while researching family history in old newspapers.
Like anyone else, genealogists enjoy a good laugh. Sometimes, when searching through old newspapers, we run across an old article or announcement that provides a welcome chuckle. This can be especially true with some of the old names we find while doing our genealogy research, such as those shown in this Blog post.
Some people seem to think that my own last name is "funny"—to be polite, they often comment that my hyphenated name is "unusual."
If you think about the name "Mary Harrell," it somewhat rhymes. Some people find that funny—although it's an honorable name, and one that suits me well! And I've always said: if someone can spell my name correctly, he or she would make a wonderful proofreader!
I often wonder how other families select their children's names, especially when I encounter people's names that seem more unusual than mine. Certainly the baby name choices affect the children throughout their lives—and when one has to deal with an unusually outrageous name, hopefully the child will grow up with a good sense of humor.
[search_box]
Preserved Fish
Take, for example, the name Preserved Fish.
Throughout history there have been numerous people by this moniker, including the Preserved Fish who married Mary Shepherd in 1840. The writer of their 1840 matrimonial notice reported:
"Not the first time that a Shepherd has hooked a fish. The victim is a great catch, for, though there is nothing scaly about him, he has plenty of shiners; and his nett income is immense."

Harry Bear
Ever met a Harry Bear? In 1913, Mary Myers married Harry Bear in Hagerstown, Maryland. So Mary married Harry, and was therefore in good company. I counted 25 Harry Bears at Find-A-Grave, which makes one wonder what happened when any of these Bear families gives birth to their first child.
Were they subjected to this kind of fairy tale banter?
"So Pappa, how are the three bears? Was this morning's porridge too cold, too warm or just right—or did Goldilocks come by and eat every bite?"
What about Byrds?
I've got a close friend whose maiden name is Byrd. Although she has a fairly common given name (Linda), her parents could have had fun with it. Have you ever heard of Earl E. Byrd, Lady Byrd, or Southern Byrd? And to take this further, there are even a few Byrds who were known to marry a Fish or a Bear.

Sterling Silver
It can be funny when people with unusual names work in related industries, such as tailors who were Taylors, aviators who were Pilots, funeral directors who were Graves, and Silvers and Sterlings who were jewelers. This report from 1961 notes that Mrs. Sterling Silver was a clerk at C. H. Lee's Silver and Jewelry Shop, and that her first name was Goldie!

Kitty Graves
Along this line are various kitties, including Kitty Graves of Stephenville, Texas, who gave one of the "swellest dinners of the season" in 1900.

Nutts
Ever met any real Nutts? If so, it shouldn't surprise you that W. N. Nutt was elected president of the National Nut Growers Association, or that Mr. Thomas James Nutty of Mamaroneck, New York, petitioned the court to change his surname to Nutley.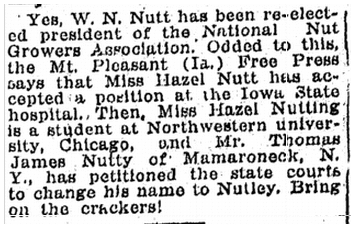 Ima Hogg
Here in Texas, we defend the honor of philanthropist Miss Ima Hogg (1882-1975), almost more than we do the Alamo.
She was the famous daughter of Sarah Ann "Sallie" Stimson and Governor James Stephen "Big Jim" Hogg, and a beautiful young woman. Her residence, the extraordinary Houston treasure "Bayou Bend," is part of the Museum of Fine Arts and one of my favorite places to visit. (See www.mfah.org/)
[search_box]
Here is a photo I took last month at the visitor center.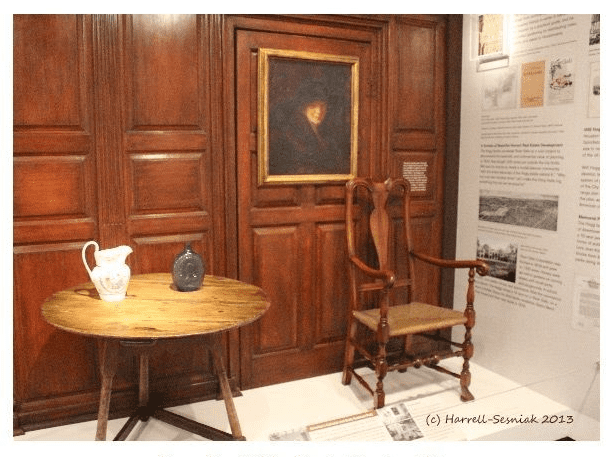 But let's dispel the myth that Ima Hogg had a sister named Ura; it certainly isn't true!
Kahaha Ka
Hawaii, our 50th state, has its share of residents with curious names, including Kahaha Ka. The daughter of Mr. and Mrs. Andrew J. Bright, she was named in honor of her uncle John E. Maia, who passed away after completing a fast of forty days. According to this newspaper article, her name means "40 days."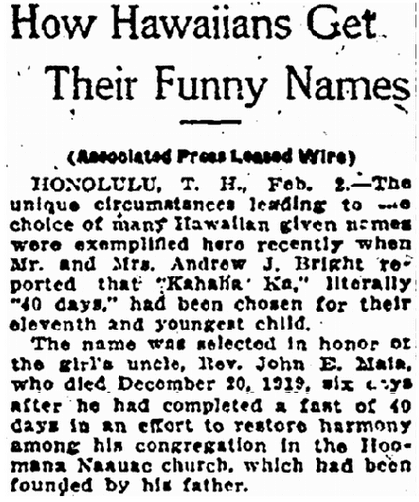 Unusual British Names of People
In 1891, it was reported that the British registry of births has many names of "dull propriety," but also some that put a smile on the clerk's face. A few of these were Ether Spray, Foot Bath, River Jordan and Rose Shamrock Anthistle, "whose name must please any patriotic man."
Weather & Holiday Names for People
There are also amusing weather and holiday people names, such as O. Snow, Mary Christmas and Chris Cringle of Cleveland, Ohio; Slay Bell of Merrysville, Ohio; and even A. S. Kating of Iceland—all distinguished guests of Richard's Euclid Avenue House in 1878.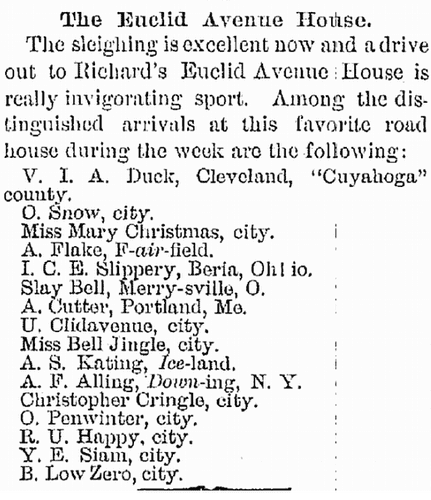 Genealogical Challenge
Other funny and unusual real people names that I've encountered in my genealogical research are B. A. Mann, B. A. Husband, Mother Hubbard, Peter Piper and Rose Bush. Do you suppose there is someone out there stuck with R. U. A. Crook or Justin Case?
It's possible, but readers—perhaps you have uncovered more humorous name examples!
So here is your genealogical challenge.
Let's see who can find the most belly busting, giggle producing, ridiculous or funny name ever to be found in newspapers! Share them with us in the comments section. Of course, if the name is too off-color, please check with us first. (No XXX rated examples.)
I'm thinking my Nantucket ancestors, Tristram and Dionis (Stevens) Coffin, had their share of death and dying jokes whenever someone in their family passed away!
"We're going to need a coffin for Coffin."

And certainly anyone by the name of Dunn heard "done" jokes, as was reported when Miss Gertrude Buell Dunn was "done" with her supposed soul mate, Ferdinand Pinney Earle.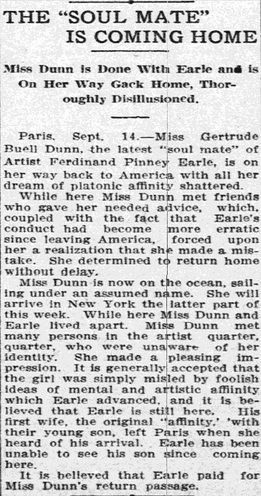 Now that I am "done," it's your turn to share your funny name finds with us in the comments!
[bottom_post_ad]