During this November week in American history a famous First Lady, a painter, and an actor died:
Anna Eleanor Roosevelt, American First Lady, died at 78 on 7 November 1962
Norman Perceval Rockwell, American painter, died at 84 on 8 November 1978
Terence Steven "Steve" McQueen, American actor, died at 50 on 7 November 1980
Newspapers are filled with profiles and obituaries that help us better understand the lives of our ancestors—and the famous people who lived during their times. You can use historical newspapers to research their public careers and trace their family trees. Who knows? You just might discover that you are related to the celebrity of your interest. The following old newspaper articles about these three famous Americans are great examples of how newspapers can be used to investigate the lives of the famous—as well as the not-so-famous—people that make up our family trees.
Eleanor Roosevelt (1884-1962)
Eleanor Roosevelt achieved many firsts in her long, active lifetime. Her list of accomplishments is equally long. The wife of U.S. President Franklin Delano Roosevelt, she is the longest-serving First Lady in American history (1933-1945), playing an active role throughout her husband's unprecedented 12-year, 4-term presidency—a record that will never be broken now that U.S. presidents are constitutionally limited to 2 terms.
Eleanor Roosevelt was the first First Lady to hold press conferences. As a women's rights activist she was upset that most newspapers only had male reporters; she insisted that only women reporters could attend her press conferences—forcing many newspapers to hire female reporters. She was the first First Lady to write a syndicated news column, which she wrote six days a week from 1936 until she died. She was also the first First Lady to speak at a national convention.
Her support for humanitarian causes she believed in (such as women's rights, civil rights, and child welfare) continued unabated after her husband's sudden death on 12 April 1945. She traveled constantly, meeting world leaders, and influencing opinions and policies. She avidly supported the United Nations, and was the first chair of the UN Commission on Human Rights.
Asked in her 75th year why she wouldn't slow down, Roosevelt replied: "When you cease to make a contribution, you begin to die. Therefore, I think it a necessity to be doing something which you feel is helpful in order to grow old gracefully and contentedly."
This obituary for Eleanor Roosevelt was published in a Georgia newspaper on 8 November 1962.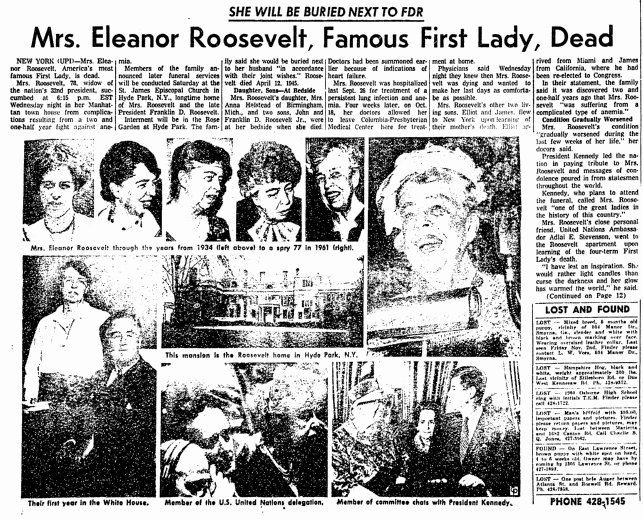 Along with many photos showing her at various stages in her life, this obituary provided details of her illness and death, and contained tributes from influential leaders.
For example, President Kennedy called Mrs. Roosevelt: "one of the great ladies in the history of this country."
United Nations Ambassador Adlai E. Stevenson said: "I have lost an inspiration. She would rather light candles than curse the darkness, and her glow has warmed the world."
A tribute on the Marietta Journal's editorial page offered this praise: "Her greatness is embodied in a life of service to humanity. Her name will long remain an inspiration to those who recognize that there is no loftier aim than serving one's fellow man."
In October 1984 the nation celebrated the 100th anniversary of Eleanor Roosevelt's birth by restoring and dedicating her home as a National Historic Site. The U.S. Postal Service issued a commemorative stamp.
This 1984 article began:
"She had no gift for small talk and was painfully shy. Her plain looks dismayed her and fed her grim sense of inadequacy.
"But Eleanor Roosevelt blossomed into one of the most liberated women of the century, wielding an influence over American policy and thought that would make many presidents itch with envy."
The news article went on to say that during FDR's years as president, "she played a major role, serving as a conduit for the viewpoints of women, blacks, the young, and helpless."
And this: "Her public activities continued long after FDR's death in 1945. President Truman appointed her to the U.S. delegation to the United Nations. In 1948, she pushed through the U.N. General Assembly, with Soviet approval, the Declaration of Human Rights.
"She continued work on her favorite causes—child welfare, displaced persons, peace, minority and women's rights—and continued globetrotting.
"Her opinion was sought by world leaders, including Truman. Kennedy nominated her for the Nobel Peace Prize. Her last 'working' trip to Europe was in 1962, nine months before she died of a form of aplastic anemia."
Norman Rockwell (1894-1978)
Norman Rockwell was one of the most popular and beloved artists in American history. A painter and illustrator who focused on everyday scenes of American life, especially family and childhood, his work reached a wide audience by gracing the cover of The Saturday Evening Post for more than four decades, as well as numerous other publications such as Popular Science and the Boy Scouts' Boys' Life. Rockwell also illustrated books and calendars.
His scenes often captured the innocence of childhood, such as this cover for The Saturday Evening Post.
A fine tribute to Rockwell is provided by the opening paragraph of this 1978 newspaper advertisement run by the Norman Rockwell Museum, offering the official commemorative plate entitled "Norman Rockwell Remembered":
"In more than 2,000 artworks, Norman Rockwell honored America, creating a pictorial history of our times…illuminating our lives with gifted warmth and insight."
This obituary for Norman Rockwell was published in a North Carolina newspaper on 9 November 1978.
Although Rockwell did paint some works about serious social issues in America such as racism (for example, his The Problem We All Live With was about integrating schools), he was best known for his sentimental views of American family life. This obituary contained this quote from Rockwell:
"Maybe as I grew up and found the world wasn't the perfectly pleasant place I had thought it to be, I unconsciously decided that if it wasn't an ideal world, it should be, and so painted only the ideal aspects of it—pictures in which there were no slatterns or self-centered mothers, in which, on the contrary, there were only Foxy Grandpas who played baseball with the kids and boys fished from logs and got up circuses in the backyard."
Steve McQueen (1930-1980)
Steve McQueen was an enormously popular American actor during the 1960s and 1970s, often playing tough characters that were cool and defied authority. That defiance extended to movie directors—he was notoriously difficult to work with—yet his popularity with the ticket-buying public kept him constantly in demand. In fact, in 1974 McQueen was the highest-paid actor in the world.
McQueen starred in such films as Bullitt, Papillon, The Magnificent Seven and The Towering Inferno. He loved speed, and was an accomplished motorcycle and racecar competitor. He often performed his own stunts, including the amazing motorcycle riding in The Great Escape—thanks to careful editing, in one scene McQueen is performing his own character's riding as well as the German chasing him on another motorcycle!
Steve McQueen died at the age of 50 due to cancer and related complications. This obituary was published in a Massachusetts newspaper on 8 November 1980.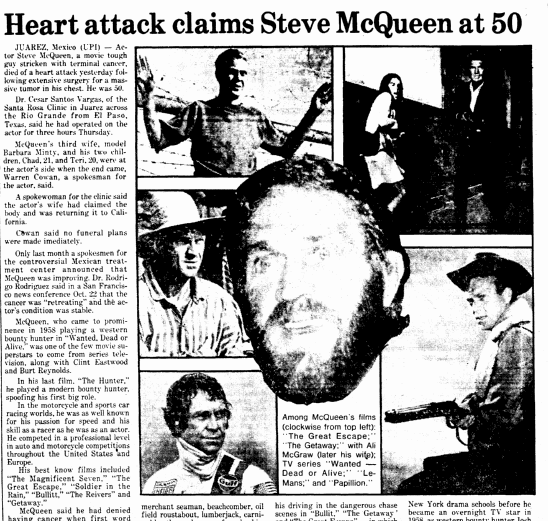 This obituary related how McQueen's acting was shaped by his own rebellious youth:
"Although he was often described as a rebel and nonconformist, his screen image was an updating of a Hollywood leading man tradition going back through Gary Cooper to silent film heroes—friendly Americans, smiling loners who become skillfully violent when pushed too far.
"It was founded in part on his own experiences, particularly his knockabout youth.
"Born Terrence Steven McQueen, he was placed in a Chino, Calif., boys home as a juvenile delinquent at 14. At 15 he ran away to sea.
"As he told it, before he was 24 he had been in and out of jails for fighting and theft, served a month on a Southern chain gang and was jailed briefly in Cuba."
The obituary reported how McQueen himself connected his acting with his rough background, especially when discussing the character Josh Randall from the television Western Wanted: Dead or Alive (1958-1961), the role that made him a Hollywood star:
"One of the strengths of Wanted was Randall's unromantically practical attitude toward heroics. McQueen, who often spoke in the argot of the 50s village hipster he once was, referred to Randall as 'an uncomplicated cat.'
"When the villain had him cornered and outnumbered, McQueen's Randall would smile disarmingly and back off, figuring he'd live to get his man some other day, an outlook McQueen credited to his own hard-earned survival skills.
"He even rewrote his dialogue to make Randall fit his own experience of men who live close to danger.
"'I couldn't play some happy-jack who shoots it out with four men without batting an eyelash. I've been whipped, man, and in real life I tell guys who outnumber me: You're right, you're right.'"
Although he gained fame and fortune playing tough guys, McQueen didn't want to be confined to those roles, as reported in this 1980 newspaper article.
According to this newspaper article:
"McQueen clearly wanted to expand if not destroy his image during the final years of his life. As far back as 1970, he was turning his back on the rugged image he earned in such action films as The Magnificent Seven, The Great Escape and Bullitt to tackle the role of a none-too-bright scalawag in The Reivers.
"By the time of this year's The Hunter—ironically, his celluloid swan song—McQueen was willing to indulge in subtle parody of the role that first brought him fame: Josh Randall, the super-efficient bounty hunter he essayed in the 1958-61 television series that brought him to stardom, Wanted: Dead or Alive.
"'I guess you could say I've come full circle,' McQueen conceded during the Hunter filming. 'I feel like this is where I came in.'"
Dig into GenealogyBank and discover more about the lives of your favorite famous people. Please share any interesting facts that you find out about them in the comments section.
(Visited 1,088 times, 1 visits today)