Introduction: Scott Phillips is a genealogical historian and owner of Onward To Our Past® genealogy services. In this guest blog post, Scott searches through old newspapers to find some truly weird, bizarre—and sometimes funny—family stories.
If your family is at all like my family and the family of my wife, you have your share of funny and weird stories. As a matter of fact, just the other day my wife and I were having a good laugh over one of these family stories when she said "good thing the newspapers never got a hold of that story." It was then that I decided it would be interesting to take a look at "News of the Weird & Wacky" family stories that did make their way into the newspapers of GenealogyBank.com.
An Unintentionally Incestuous Marriage
The first news article I found definitely falls into the "weird" category. I'd actually say it graduates to "extremely weird"! It's the story about a wedded couple in England that was published in a 1926 Georgia newspaper. The headline says it all: "Brother Marries Sister."
While truly bizarre, this old newspaper article does give some interesting facts regarding how the family was broken up and then, much later, these siblings "found each other," fell in love and got married—without knowing they were brother and sister! But no matter what the circumstances, the "weird" factor is way too high for me on this one.
Murder Victim's Twin Drives Murderer Insane
Then another newspaper headline grabbed my attention. Published in a 1909 Ohio newspaper, it states simply: "Driven Insane by Twin."
Now I have heard (and witnessed with my daughter-in-law and her twin sister) that twins can do some very special things, but drive someone insane? I think not! Then I read the article and discovered this amazingly weird story of an uncle who killed his nephew. This heinous crime went unsolved until the uncle happened upon his victim's twin walking down the street—upon seeing him and believing it to be the ghost of his victim, the murderer confessed to his crime and promptly went insane. Now this one is just plain weird for sure.
Heroic Ghost Saves Entire Family
By now I was in the mood for something a bit more cheerfully weird. I continued searching the newspaper archives and quickly came across an old article published in an 1893 New Mexico newspaper titled "Saved by a Ghost."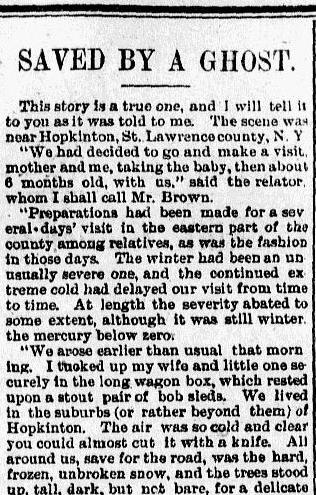 This was a ghost story with a decidedly nice twist in that the ghost in question came to the rescue of an entire family up in St. Lawrence County, New York. Although I usually conjure up images of ghosts as veiled in wispy white, this ghost is described as "a tall, heavily built man clad in furs to his chin, his fur cap pulled down over his ears, his head bowed, with both hands outstretched…" You really must read this story since, after all, the author says: "This story is a true one."
Laughed to Death?
As I continued searching, there was no way I could hold back my smile at the headline of the next article, "May Have Laughed to Death," which was published in an 1899 Connecticut newspaper.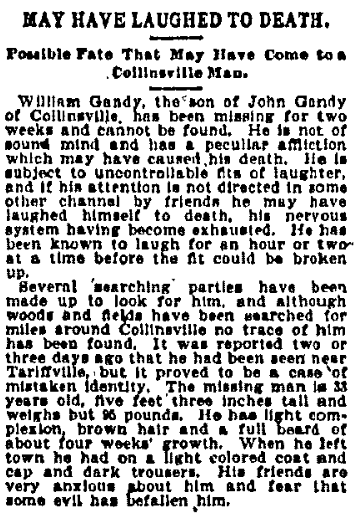 I read this article with a bit of skepticism, but there it was in black and white: "He [William Gandy] is subject to uncontrollable fits of laughter, and if his attention is not directed in some other channel by friends he may have laughed himself to death, his nervous system having become exhausted. He has been known to laugh for an hour or two at a time before the fit could be broken up." There is no conclusion in the historical newspaper article of what happened to the unfortunate Mr. Gandy, but I must admit to thinking that death by laughter is certainly more than just a bit weird.
Animals to the Rescue!
Moving along I was struck by the headline "Saved by Animals" from a 1900 Mississippi newspaper. The second headline heralded "Instances in Which They Have Been Known to Avert Serious Accidents."
Now the only "serious accident" averted for me by animals (a great many Labrador retrievers over the years) was that they never allowed any food to remain on the floor for more than a nanosecond, sparing me any slips. This newspaper article, however, describes a dog saving a baby from an open window, a whole family saved by a cat, rats saving a ship, a parrot saving a family from a flood, and more astonishing tales including a fellow saved by his…now this is weird…pet bear.
Quadruple Rainbow Sighting
Then I found an article from a 1905 Maryland newspaper titled "A Quadruple Rainbow."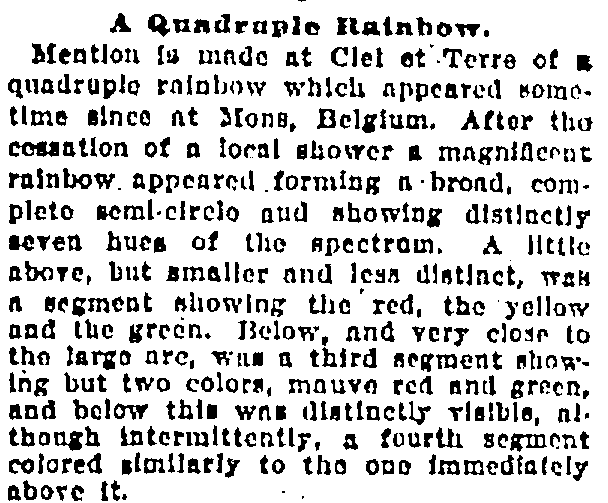 The article reported that a quadruple rainbow was sighted in Mons, Belgium. This 1900s news article caught my eye since I really love rainbows. I have seen my share of single rainbows and even a few lovely doubles (the best double I ever saw was out on the Great Plains just west of Lemmon, South Dakota), but I have never seen a triple and certainly never a quadruple rainbow. This rainbow weirdness made me click over to Google and see what the all-mighty search engine had to say about this seeming impossibility. It turns out that triple rainbows are a rarity and quadruples are almost unheard of! I noted that on 10 October 2011 the Mail in the United Kingdom reported "the world's only photograph" of a quadruple rainbow, but the photo only shows two rainbows. Now that is just plain weird all by itself!
Well, I am off now. It is starting to rain and I am hoping for my shot at fame with my camera and a quadruple rainbow I can call my own. Have you or anyone in your family ever seen a triple or quadruple rainbow? If you have, I'd love to know!
And if you have a weird family story of your own you'd like to share, please tell us in the comments section; thanks!
(Visited 2,005 times, 1 visits today)