I received the latest copy of the Ohio Genealogical Society Quarterly (OGSQ) in the mail this week and was interested in the cover story about "Mary Francis (Stokes) Huddleston Maxwell, Civil War Nurse."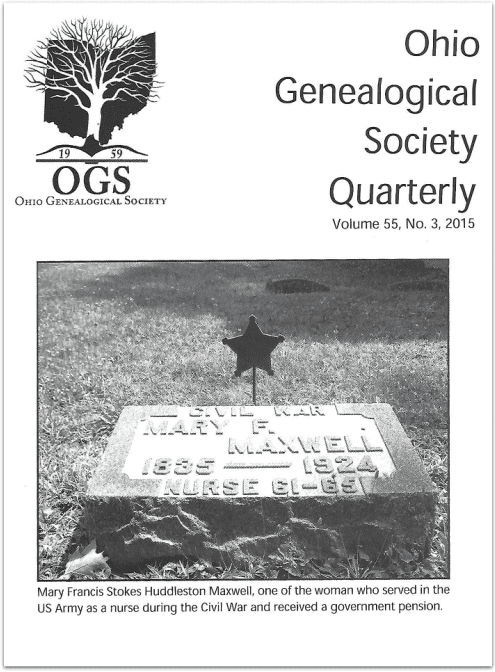 The article was written by Laurel Sheppard, the Assistant Editor of the OGSQ – who was assisted by Barbara Hart, Susan Lee and Daniel Reigel.
OK – I wondered if GenealogyBank had any articles about Mary Francis (Stokes) Maxwell (1835-1924).
I quickly found her obituary in the Plain Dealer (Cleveland, Ohio).
Lots of good data here.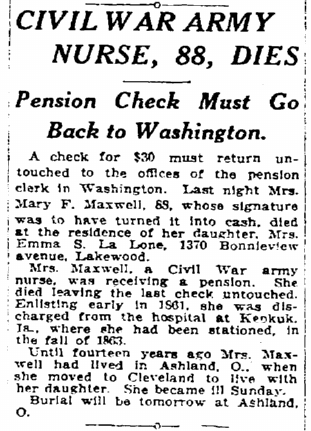 Mary's obituary reports that she died "last night" – on 12 January 1924.
She died at the home of her daughter in Lakewood, Ohio, on Bonnieview Avenue.
A quick search of Google Street View pulls up how that home looks today.
Mary's obituary tells us that she enlisted in the Civil War in 1861 and was stationed at the Civil War-era U.S. Army hospital in Keokuk, Iowa.
Click to Read: Kennedy, Gerald. U.S. Army Hospital: Keokuk, 1862-1865." Annals of Iowa (Fall 1969), Vol. 40, No. 2, pages 118-136.
[search_box]
Her obituary also reports:
She was receiving a pension
She lived in Ashland, Ohio
She moved from Ashland to Lakewood, Ohio, to live with her daughter in 1910
She was buried in Ashland, Ohio, on 14 January 1924
There are hundreds of millions of obituaries in GenealogyBank's Historical Newspaper Archives – come find your ancestor's today!
Note: FamilySearch International (FamilySearch.org) and GenealogyBank are partnering to make over a billion records from recent and historical obituaries searchable online. The tremendous undertaking will make a billion records from over 100 million U.S. newspaper obituaries readily searchable online. The newspapers are from all 50 states and cover the period 1730 to the present.  Find out more at: https://www.genealogybank.com/family-search/
If you are interested in Ohio genealogy research, then a membership in the Ohio Genealogical Society is essential. Do it!
Related Civil War Articles:
[bottom_post_ad]