Introduction: In this article, Gena Philibert-Ortega researches old newspaper articles to find stories about the young boys that served a crucial role in the American Civil War: drummer boys. Gena is a genealogist and author of the book "From the Family Kitchen."

With the recent commemoration of the 150th anniversary of the Civil War Battle of Gettysburg, your family history research time may be focused on learning more about your Civil War ancestry. Reading history sources and American Civil War period newspapers online, you can immerse yourself in the battles, the politics surrounding the war, and even the movement of the troops. While most soldiers in the Civil War were adult men, some women, disguised as men, were involved in the combat as well. We also know that young boys suited up for battle, often filling the crucial role of drummer boy.
Whether they added years to their age in order to enlist or recruiters looked the other way, teenagers and even boys served and died for their respective sides during the Civil War.
Yes, boys served and died in battle in the Civil War. According to the PBS American Experience webpage "Kids in the Civil War," as many as 20% of Civil War soldiers were under the age of 18 years. This is an amazing number of children participating in battle considering that over 3.2 million soldiers fought in the conflict, according to the Civil War Trust.
Many of these young boys played the battlefield music during the Civil War that stirred the troops and relayed important messages from the commanding officers. These young musicians bravely played their instruments as the opposing sides charged into battle. Looking through historical newspapers online in GenealogyBank, one can read various claims long after the Civil War ended about men said to be the youngest drummer boy during the war.
While some of the youngest Civil War drummer boys were 11 years old, there are even accounts of boys as young as 8 years of age joining on both sides of the conflict.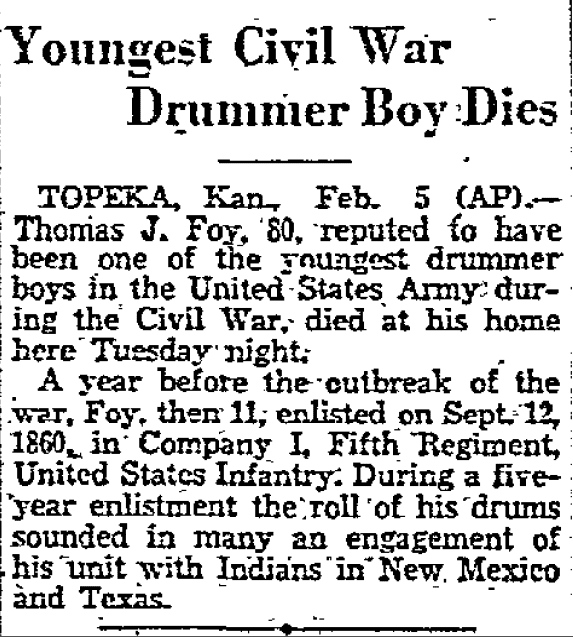 What did these boys do during the Civil War? Some served as musicians for their respective companies. While it was thought this would have been the "safest" place for them, I don't know of anyone who would want to go into battle with only a drum to defend yourself!
Civil War drummer boys like Johnny Clem, who went on to be the youngest non-commissioned officer in army history, sometimes dropped their drums and grabbed a gun during a battle to defend themselves and those around them. In an 1879 newspaper article Clem reportedly replied "Because I did not like to stand and be shot at without shooting back!" when asked about his shooting a Confederate colonel during the Battle of Shiloh.* According to his military service file index card, Clem was a musician in Company C of the 22nd Michigan Infantry.**
These boys, sometimes adopted by soldiers as "mascots," played an important role on the battlefield during the Civil War. When the roar of fighting was too loud to hear a commanding officer's orders, the drummer boys relayed those order via their drums. And just like their adult counterparts they suffered sickness, injury and even death during their military service.
Pvt. Clarence McKenzie was a 12-year-old drummer boy for the Brooklyn 13th Regiment when he was killed in June 1861 by friendly fire from a soldier in his own company. A statue of a drummer boy sits upon his final resting place at Green-Wood Cemetery. It is said that 3,000 people attended his funeral. You can read more about Pvt. McKenzie on the webpage "Brooklyn in the Civil War" found on the Brooklyn Public Library website.
Do you have any Civil War ancestors on your family tree? Dig into GenealogyBank's online historical newspaper archives and see what stories you can find about their military service during that great and terrible American conflict. And please share your Civil War genealogy discoveries with us in the comments. We love to hear your personal family stories!
________________________________
*Johnny Clem, "the Drummer-Boy of Chickamauga." Grand Forks Weekly Herald (Grand Forks, ND). Thursday, October 16, 1879 .Volume: I . Issue: 17 Page: 2 . Available on GenealogyBank.
**Available at Fold 3, http://www.fold3.com/image/295053556/