It is generally rare for families to change the spelling of their names (although some immigrant families did so in an attempt to make their names sound more familiar to American ears, so be aware of this possibility).
When doing your family history research, however, you may encounter variations on the spelling of your family's name for a reason that had nothing to do with the family: registrars often recorded names the way they heard them.
All my growing-up years I had to spell my last name because everyone wanted to write "Kent" instead of "Kemp."
Why?
Because they were unfamiliar with my surname.
Kemp is an uncommon surname, and for that reason it is spelled differently in various records.
Some variations of my last name I've encountered: Kent, Kamp, Camp, etc.
You know by name research experience which names could be a problem.
In the past some immigrants did decide to simplify their names in an attempt to fit in better with American society, revising their original foreign-spelled name when there was an obvious English equivalent. Names were Anglicized: Mueller became Miller; Johansson became Johnson; etc.
Contrary to movie portrayals, it was not government policy to change people's names.
There was no government official at Castle Garden or Ellis Island responsible for changing the names of incoming immigrants.
If you are having trouble finding your target ancestor searching by their surname, try searching on the first name.
In time Americans—whether they were government officials, teachers, etc.—became more familiar with immigrants' first names and were more likely to record them spelled correctly. While they had difficulty with seemingly one-off surnames, there was a smaller supply of first names. It was easy for Americans to remember Johann, Guido or Ludwig. Although, of course, the first name could also be Anglicized: Johann becoming John; Tâm becoming Tom; etc.
For all these reasons, it is a good idea to try searching for variations of your ancestors' first and last names when doing your family history research searches, to increase the chances of finding documents and records about them.
Let me give you a case in point.
I was recently searching the New Jersey State Archives for the death certificate of Isaac Meserole.
I went to the online index to New Jersey Death Certificates for 1878 to 1888 and searched for him.
I found several "Meserole" death certificates but not one for Isaac.
I knew Isaac had died in North Brunswick, Middlesex County, New Jersey, around 1882. So I searched using only his first name "Isaac"—leaving the surname field blank.
Bingo! His entry came right up, with his surname spelled as "Meseroll." The registrar had written the name as he heard it.
Here is the entry for Isaac: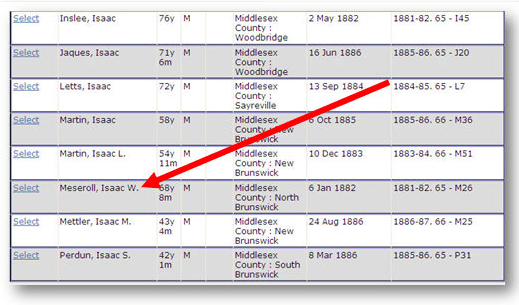 This is a good research tip for when you search for ancestors on GenealogyBank or any online resource. Begin your family search with the correct spelling of your ancestor's name. Then do follow-up searches, with name variations for both the first and last names, and see if you can find additional genealogy records. You may find that record you've long been searching for, but remained hidden because the ancestor's name had been misspelled.