Introduction: In this article, Mary Harrell-Sesniak explains that ancestral surnames may have been spelled differently in the past—or been completely different altogether—and provides tips for searching for these ancestral name variations. Mary is a genealogist, author and editor with a strong technology background.

Earlier this year, I asked some Facebook friends to help with family research on surnames. This type of research can be tricky; some ancestral surnames had spelling variations—or were completely different names.
My friends answered with a range of responses: some reported minor spelling changes in their ancestors' surnames, while others told of rather dramatic aberrations. After all, who would ever correlate the Bedenbaugh family with the name "Pitebag," the Cal family with the name "Carroll," or the Von Der Burg family with the name "Funderburg"!
My Question about Researching Surnames
This was my original Facebook request, with my friends' replies summarized in the following chart:
I'm looking for ancestral surnames with many alternate spelling variations. For instance, Smith can be spelled Smyth or Smythe. Harrell can be Herrall, Horrall, Herald, etc. Also, looking for names of emigrants that were Americanized. Thanks in advance!
| | |
| --- | --- |
| From | Surname Variations / Comments |
| Cindi S. | Amick: Emig, Emmick, Emmigh, Amig, Amik |
| Angela H. | Ammons: Amonds, Emmons, Almons, Aman. Ammonds in Germany; Americanized to Ammons. |
| Jim B. | Becherer: My "Becherer" ancestor changed it to Baker, although there are records where he was Becker and his tombstone is Bakar. |
| Cindi S. | Bedenbaugh came from a Pitebag. That's another one that has always been curious. |
| Victoria N. | Calley, Colley, Collier, Callie, Cally, Colly |
| Judi C-T. | Carroll, Carrell, Corall, Coral, Cal |
| Marge I. | Cilley, Celley, Cealy, Seley, Sealey, Selley, so on, so on |
| Judy J-L. | Cosky: Coskey, Kosky, Koskey, Koski, Koskie, Cuskie, Cusky—came across my ancestral name spelled all these ways on various documents. |
| Judy J-L. | Deegan, Deagan, Dagen, Degan, and Deegen |
| Cindi S. | Dominick, Dominy, Daming, and the oldest variation on this name that I could find: Durnermubhor? |
| Mary H-S. | Ebling, Ebeling, Hebling, Eblinger |
| Sandy G. | Finkenbinder: My grandmother was a Finkenbinder. It started in Germany as Fintboner, Finkboner, Finkbeiner, Finkenbeiner, Finkenbinder. |
| Cindi S. | Fulmer, Folmer, Follmer, Volmer, Vollmer |
| Mary H-S. | Harrell, Harel, Herald, Herrald, Horall, Horrell, Horald |
| Tammy H. | Henney, Heney, Hanney, Hanny, Henny, Heaney, Haney…started as Hennig |
| Cindi S. | Krell, Krelle, Crell, Crelle, Krehl, Kreil, Kreel, Creel, Crehl |
| Jim B. | Langendoerfer: Within the space of two pages, the same census taker for the 1860 Census for Wayne County, PA, listed the four Langendoerfer brothers as: John Longdone, Winesdale (actually Wendell) Langerford, Jacob Longendoff, [and] Nicholas Longendiffer. He probably spoke to each of them on the same day along the same stretch of road. He never realized they were all saying the same name.[Cindi S.] It was a cold day and a little nip helped the census taker make his rounds…lol |
| Mary H-S. | Miesse, Measey, Mease, Mise, Meise, spelled as Mȕsse in Germany |
| Leanne L. | Ouderkerk: Ouderkirk, Oudekerk, Oudekirk, Oderkirk, Odekirk from Holland to New York mid 1600s |
| Monica C. | Peats, Peets, Peetz, Pietz, Peet, Peat, Pyatt, Piatt… |
| Lisa F. | Penny, Penney, Pinny, Pinney |
| Jessica R. | Shultz, Schultz, Shulse, Shultze, Sholtz, Schulse… |
| Heidi N. | Smith can also be an Americanized version of Schmidt, Schmeid, Schmitt, etc. |
| Mary H-S. | Smith, Smyth, Smythe |
| Tammy H. | Sweezey, Sweazy, Sweasey, Swazy, Swazey, Swasey, Sweezy, Swasy. From Germany via France. |
| Trish W. | Von Der Burg family (Funderburg, Funderburgh, Funderburk, etc.) |
So Which Surname Spelling Is Correct?
Although some genealogists may disagree, I believe the correct answer is: "most of them!"
Names morph, or change, on documents for a variety of reasons. Obvious reasons include ignorance (simply didn't know the correct spelling) and sloppiness (typographical and handwriting issues)—but more complex reasons include other considerations.
In general, Old World names (given and last names) are, more often than not, converted from one spelling to another over time. Sometimes this evolves from alphabetical considerations, and other times from pronunciation or Anglicization issues.
1) Alphabetical Conversions
Alphabetical conversions occur when a letter from a foreign alphabet doesn't exist in English—such as ones with accents or umlauts (ȕ). An example from the chart is the name Miesse, which was spelled in Germany as Mȕsse. In 17th and 18th century church and civil records, this name is predominantly recorded with an umlaut, but English-speaking settlers had to convert the ȕ to "i," "ea" and "ie."
2) Surname Anglicization for Legal Reasons
Families might deliberately change or Anglicize the spellings of their surnames. Sometimes this occurs in daily practice (not formalized), but at other times during a court filing.
An example in the Sesniak family occurred when the name was legally changed from the traditional Polish spelling of Szczesniak. As my husband Tom explains:
On first try, nobody could pronounce or spell our last name, so my father had it shortened. Uniquely, he kept the same pronunciation by dropping two zs and a c. Although it broke all family tradition and upset the grandparents [who did not join in the court filing], it was the right thing to do. They were rooted to their Polish community, but it was only a small part of America. Although they never lost their ethnic pride, my parents' family immediately went from being Polish to Polish American.
3) Name Pronunciation Dilemmas
Whenever a surname is pronounced differently from what its written form would suggest, expect to find spelling variations—such as this example from my Irish ancestry.
Our family Bible recorded the name as Hoowee—causing some Fisher family cousins to doubt its authenticity. After visiting Ireland, we discovered that the name is spelled both as Hoowe and Hoowee in records.
Why it was changed, we'll never know—but after discovering it is often pronounced "Who ee" rather than "How," my theory is that the version "Hoowee" was chosen because it better reflected the correct pronunciation.
4) Recording Considerations
When examining records, always consider who recorded the information.
Was there an enumerator or interviewer—or did a family member write the information in original handwriting?
If a spelling variation came from a family member, perhaps this person was not very literate. If it came from an enumerator, the name might have been written the way the enumerator heard it (phonetically or otherwise). Or perhaps a spelling was altered to reflect a personal cultural background.
Enumerator name variations are commonly reported by census researchers. (See the Langendoerfer example in the chart.)
The Ellis Island Myth
One of the most written-about American experiences is the arrival of immigrants to Ellis Island—but one of the most incorrectly repeated statements is that names were changed (or Anglicized) upon arrival at Ellis Island.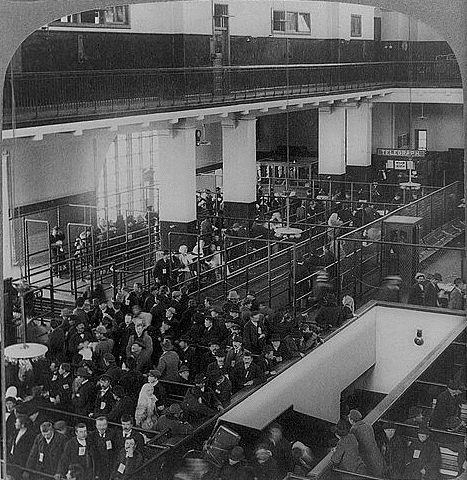 This widely repeated myth is easily dispelled by focusing on the steps undertaken when passengers arrived in the port.
During the interview process, immigrants' names were verified to see that they matched the names recorded on ship manifests, which had been created in foreign, not American, ports. If there were exceptions, it would arise if an immigrant disagreed with the recorded spelling.
(For an in-depth explanation, see the New York Public Library article at www.nypl.org/blog/2013/07/02/name-changes-ellis-island,)
What Are Your Family Spelling Variations?
If you've only uncovered 1-2 spelling variations for your family surname, I hope this article will inspire you to find more—and to consider reasons how and why they changed.
Please share your surname spelling examples with us in the comments section.