A few weeks ago I wrote about online cemetery records (See: Top Genealogy Websites, Pt. 3: Burial & Cemetery Records). In that article I wrote about the U.S. Veterans Administration's Nationwide Gravesite Locator, Find-A-Grave, and BillionGraves.
Now I want to show how you can help your family history research by using information from these three websites: Find-A-Grave, GenealogyBank and Nationwide Gravesite Locator.
As shown in my earlier blog article, I gave Find-A-Grave a try by registering and adding the tombstone photo of my great-grandfather John Henry Kemp (1866-1944).
Registering with Find-A-Grave triggered a mini-avalanche of requests by family members and genealogists from around the country asking if I could take photos of their relatives' tombstones at cemeteries in my local area. In the past week I've received almost 20 requests so far and they are still coming in: requests for me to take photos of gravestones in cemeteries all around my county.
Find-A-Grave has a "Request A Photo" feature that lets you ask nearby genealogists to take a photo of your target ancestor's tombstone and post it to Find-A-Grave.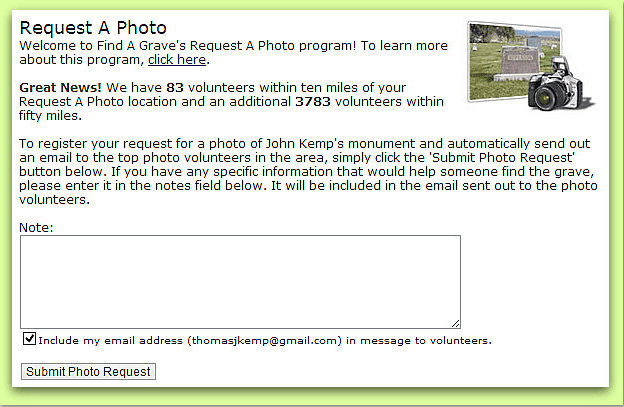 So I decided to give it a try and volunteered to be a gravesite photographer.
I received a request to photograph the tombstone of Daniel J. Clifford. They said that he was buried at the Connecticut State Veterans Cemetery in Middletown, Connecticut, in 1997.
First, I did a quick search on GenealogyBank and immediately pulled up Clifford's obituary, giving me more details about him. He was 86 years old when he died and yes, he was buried in the Connecticut State Veterans Cemetery.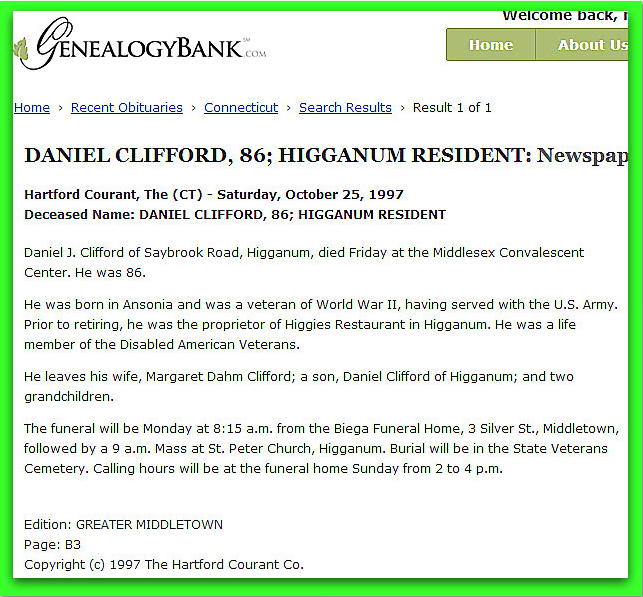 Next, I searched Nationwide Gravesite Locator to get a quick summary of Clifford's military service and burial site.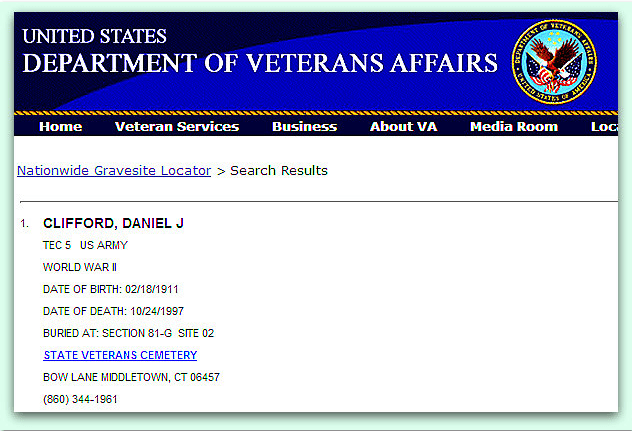 It shows that he was a Tec 5 in the U.S. Army and served in WWII. It also tells us that he was buried in Section 81-G, Site 02 in the State Veterans Cemetery.
That is a great feature of the network of military cemeteries: service members are not buried randomly—they are buried in neat, orderly rows. With that section and site number it is easy to go directly to Daniel Clifford's grave.
So—I headed out this morning to do just that. Armed with my iPad, I went to see if I could actually do this. As you drive into the cemetery you can see the small markers indicating the sections. There was Section 81-G.
Walking the rows I was able to quickly find tombstone 02 in Section 81-G. Notice that the stones have the location code engraved on the back of the tombstone.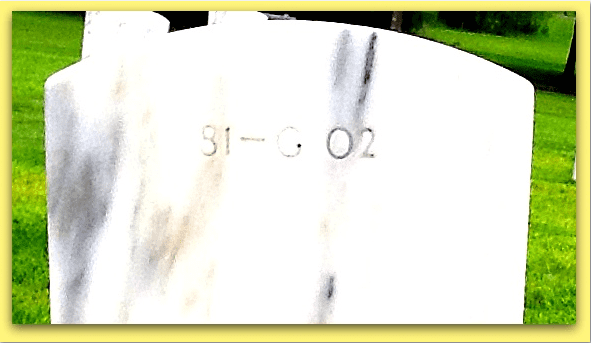 Simple.
Here is his gravestone.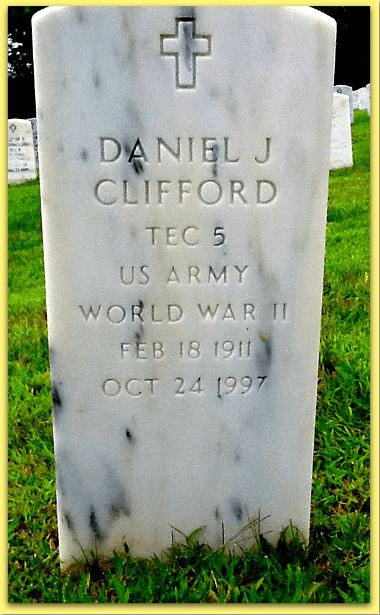 Sharp, clear and easy to read.
Find-A-Grave, Nationwide Gravesite Locator and GenealogyBank are essential tools genealogists rely on to get details of the lives of every member of their family.
Now—another word. I took these tombstone photos for Find-A-Grave with my iPad.
Imagine that.
When I first looked at an iPad I could see no practical value in having one. I could do everything I needed with my laptop—why would I need this extra tool? I quickly found that its always-on Apple software lets me check e-mail anytime, without having to wait for the laptop to crank up.
Now I see that it can actually take photos. Good ones, too.
It was easy to work with. When using it at the cemetery I could easily see the tombstone in the full screen image. It was even easier to frame the photo and to take the picture.
Wow. That was simple.
I have been working on my family history for the past 50 years. There's always something new to learn.
Last year I learned how to text, to keep in touch with the kids—and now I have an iPad.
Couple this technology with such core tools as Find-A-Grave, Nationwide Gravesite Locator and GenealogyBank, and it's clearly "A Great Day for Genealogy!"
Read these other blog articles about top genealogy websites:
Top Genealogy Websites, Pt. 1: Google
Top Genealogy Websites, Pt. 2: Google Books & Internet Archive
Top Genealogy Websites, Pt. 3: Burial & Cemetery Records
Top Genealogy Websites, Pt. 4: BillionGraves Smartphone App for Finding Graves
Top Genealogy Websites, Pt. 5: State Vital Records in the U.S.
(Visited 50 times, 1 visits today)