I have been working on my family history for 50 years now. So much has changed—family researchers today have a much different task then we had decades ago.
Looking at the online genealogy tools available today, I would like to focus on the top 13 websites that will save you time and money so that your family research is preserved, well documented and readily available to the rising generation of your extended family tree.
Over the next several blog posts in our ongoing content series I will show which genealogy websites are the best and why you need to be using them to trace and document your family tree. All of these genealogy websites are world-class, the crème de la crème.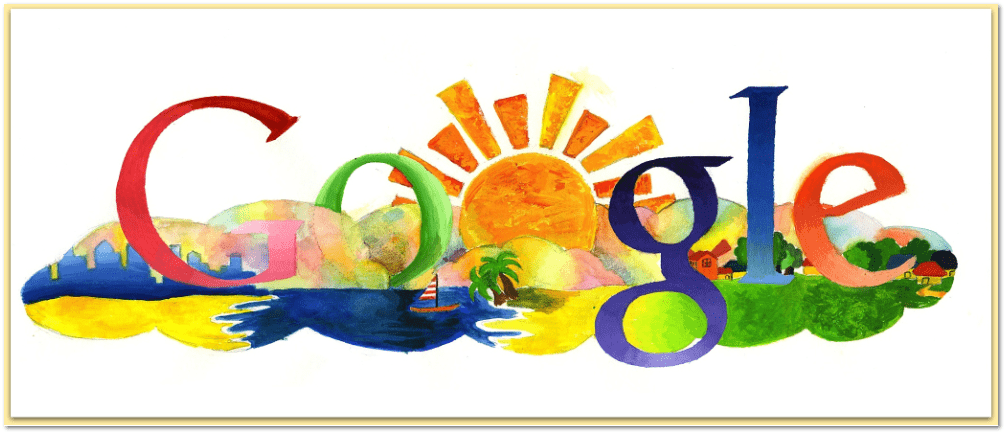 Top Genealogy Website #1 – Google
Yes, there are millions of genealogy-relevant items on the open Internet. Beginners and advanced researchers can quickly find valuable records about their target ancestors online—and doing a search on Google's search engine is an excellent way to find these ancestry records.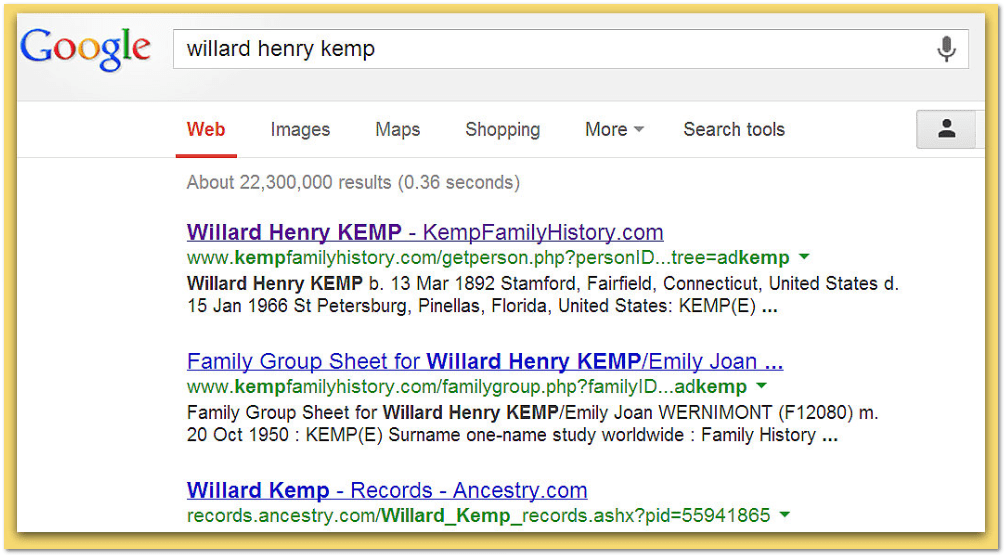 A Google search for my grandfather, Willard Henry Kemp, pulls up 22.3 million search results.
I can see that the first few results have accurately pointed me to online records that I can use. But—there are 22.3 million of these suggested matches! There must be a way to cut through this huge amount and get to the family records I really want to use.
Let's try that Google search for my grandfather again.
Helpful Genealogy Search Tool: the Phrase "~genealogy"
Use this handy tool ~genealogy to fine-tune your Google searches.
This tool tells the Google search engine that you want to focus on genealogy records and resources, narrowing your search results to those records. Use it in your Google searches to save time and get the most useful records for your family tree research.
This time I will search for information about my grandfather in Google by putting his name in quotation marks (to exactly match his name) and I will add: ~genealogy.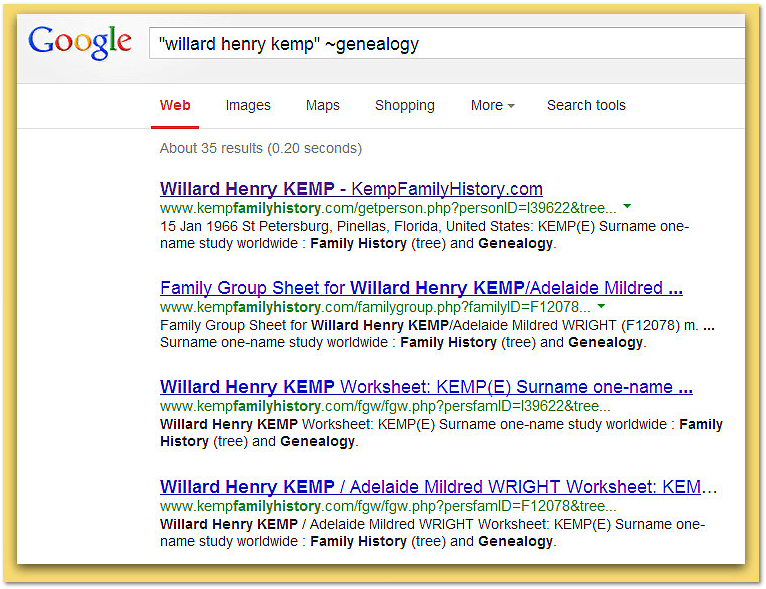 This time the Google search engine returned 35 targeted search results. That is a lot easier to review than 22.3 million.
I can quickly open and evaluate these records and then try alternate Google searches to expand my search results, such as:
"Willard Kemp" ~genealogy
Kemp and Stamford ~genealogy
etc.
I highly recommend you try a Google search to get an idea of what information might be out there on the web about your target ancestor—and then use the phrase ~genealogy to make the search results more manageable. Using Google is a great way to start exploring your family history.
Next article: #2 The Online Digital Book Sites