Introduction: Scott Phillips is a genealogical historian and owner of Onward To Our Past® genealogy services. In this guest blog post, Scott writes about the ten Jewish American newspapers available in GenealogyBank's online newspapers collection, and showcases some of the types of articles and information that can be found in these newspapers.
I spent a lot of my youth growing up in a small Ohio town whose lifeblood for the news was our local, community newspaper. Having this "paper route" was my first true job and other than one mix-up with an unhappy dachshund, it was a great job that gave me an early appreciation for how much people looked forward to their morning newspaper (and its timely delivery). So it is that I am pleased to see that GenealogyBank.com offers ten Jewish American newspapers in its database for all genealogists to use.
The ten Jewish American newspapers on GenealogyBank.com can be found in two locations on the website.
The following four Jewish American newspaper titles are in the Historical Newspaper Archives collection:
The following six titles are in the Recent Newspaper Obituaries collection:
One of the best features of these Jewish American newspapers is that they have a focus on local members of their respective communities. As an example, while major city dailies might skip the "breaking news" that student Arthur Feller earned his degree in engineering, the Jewish Journal covered the story.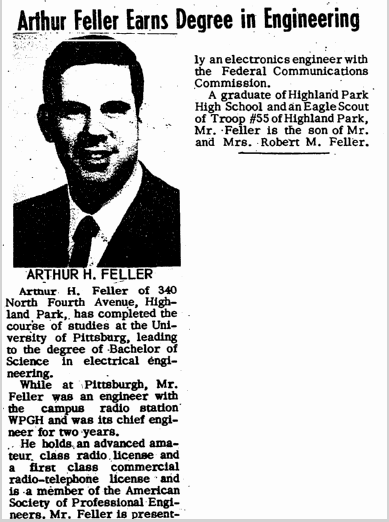 As you can see, this is a genealogist's delight because this news article gives us exceptional details into his life, career, education, Eagle Scout achievement, parents' names, and even a photograph of this young Jewish man. And this is just a single example.
There are also wonderful historical insights for us genealogists to glean from these Jewish American newspapers as well. One example is this 1920 article from the Jewish Daily News, which explains that the Jewish immigrants at Ellis Island would be able to participate in Rosh Hashanah services thanks to the Hebrew Sheltering and Immigrant Aid Society of America.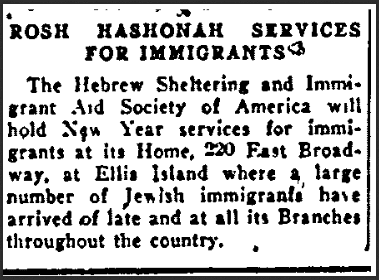 I was captivated by this 1917 article from the Jewish Daily News. This moving letter, written by a soldier fighting in the horrific trench warfare of World War I, gives us a sad but unique view into the meaning of Rosh Hashanah at such a challenging time.
In my personal genealogy I have struggled to find information about some of my ancestors who were placed in an orphanage. Because of this, I was pleased to find several articles in the Jewish Chronicle that included names and details of some of the children living in this orphanage. One example is this 1941 article, which reported on the final preparations for a Bar Mitzvah at the Hebrew Orphanage and Sheltering Home in Newark. This article not only reports the names of the "Bar Mitzvah Boys" (Walter Levy and Abraham Feigenbaum), but also provides a fine photograph of these youngsters.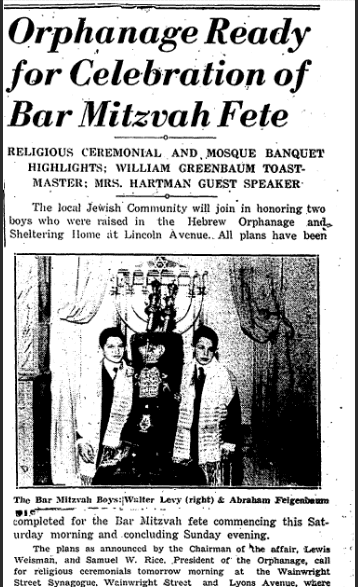 Local, ethnic and community newspapers can be an excellent source of very specific and complete information to assist us in our genealogical journeys. I encourage you to use these ten Jewish American newspapers on GenealogyBank.com to help with your own family history research.
Here is a printable list of the Jewish American newspapers on GenealogyBank for future reference. Feel free to share this on your blog or website using the embed code provided below.