A growing number of states in the U.S. are putting their vital records online, making it easier for genealogists to obtain these records.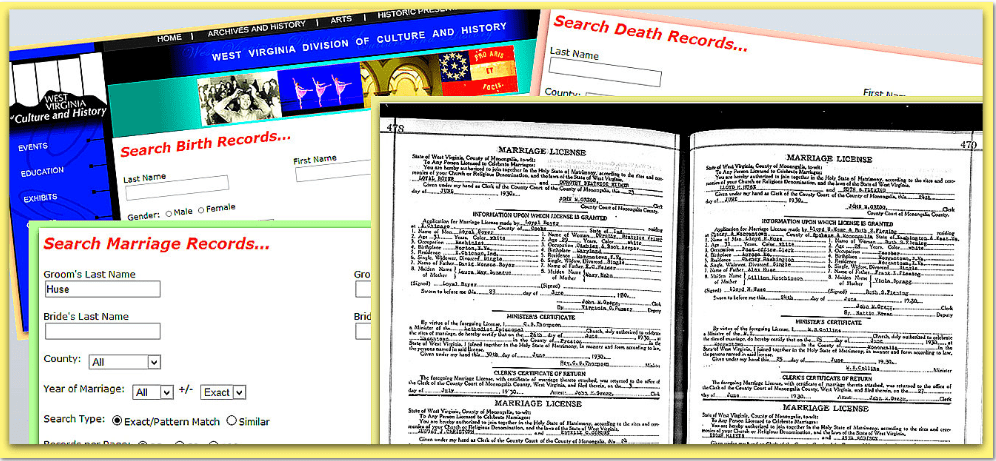 The West Virginia Division of Culture and History is a prime example of how these state projects are revolutionizing family history research in the 21st Century.
West Virginia has put up millions of genealogical documents including:
WV Births 1790-1937
WV Marriages 1780-1971
WV Deaths 1753-1978

With a click you can see the original vital records registers for the Mountain State.
Take for example the marriage of Joseph Strother and Amelia Davenport on 5 June 1808 in Charles Town, West Virginia.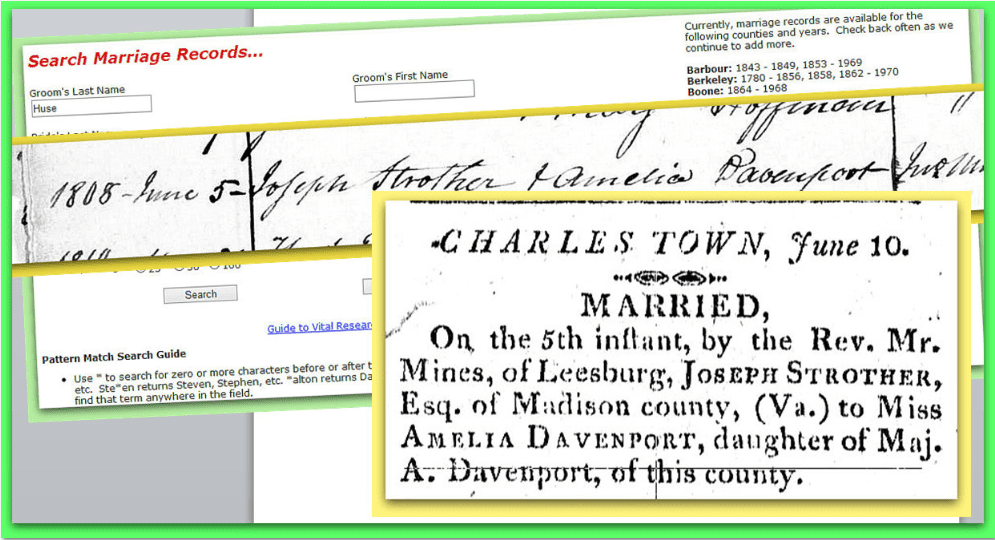 West Virginia has given us easy online access to the original entry in the 1808 marriage register for this couple's marriage.
Brief and to the point: we get the date of their marriage, their names and the name of the minister that performed the wedding.
Couple that information with their marriage announcement that we find in GenealogyBank and we get the rest of the story.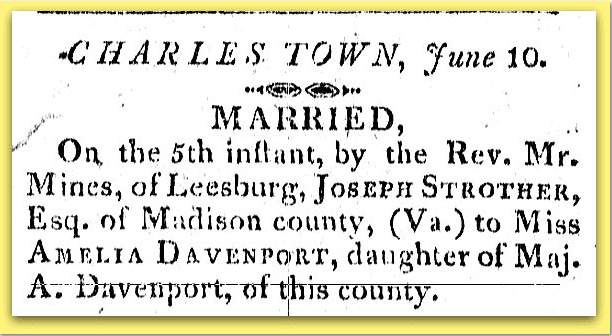 The marriage announcement tells us that the minister, Rev. Mr. Mines, is of Leesburg (Loudoun County), Virginia.
Now we know where to look for the church registers of that denomination.
From the marriage announcement we also learn that the groom, Joseph Strother, is of Madison County, Virginia, and that the bride, Miss Amelia Davenport, is the daughter of Major A. Davenport of Jefferson County, West Virginia.
This is critical information for genealogists.
Now we know where to dig deeper for information about the Strother and Davenport families: Jefferson, Loudoun and Madison counties.
Newspapers are the cutting-edge source for genealogists. GenealogyBank has made it easy to find facts like these details of the Strother-Davenport wedding. Combine this newspaper information with states like West Virginia putting digital copies of the original birth, marriage and death registers online—and it's easy to see that this is a great time for genealogists!
For reference, here is a list provided by the Centers for Disease Control and Prevention of all the state websites offering vital records across the United States: http://www.cdc.gov/nchs/w2w.htm