Introduction: In this article, Melissa Davenport Berry continues her series about one of the oldest and most storied families in America, the Biddles, focusing this time on their connection to the Shepard family. Melissa is a genealogist who has a blog, AnceStory Archives, and a Facebook group, New England Family Genealogy and History.
Sydney Biddle Barrows, the notorious "Mayflower Madam" of Manhattan, has some remarkably interesting ancestral lines. Her 4th great grandfather Captain Charles Manly Biddle, fifth child of William and Mary (Scull) Biddle, was a Revolutionary War privateer.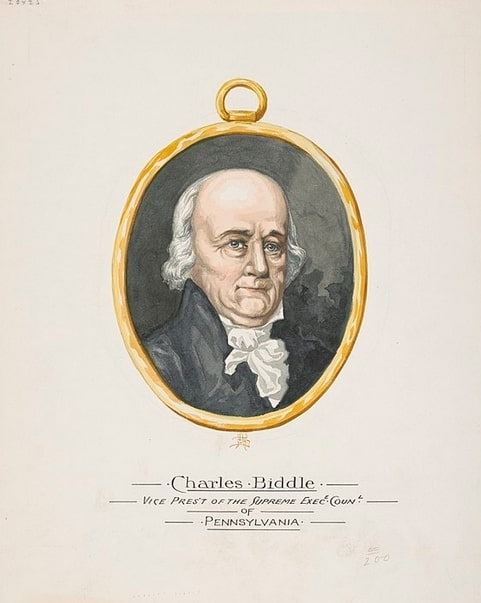 Charles left behind a treasure trove of memoirs and letters later published by grandson James Stokes Biddle in 1883, entitled Autobiography of Charles Biddle, Vice-President of the Supreme Executive Council of Pennsylvania, 1745-1821. It is quite an entertaining read which covers the American Revolution, various scandals, politics, bull fights, duels, insurrections, and anecdotes on the famous. I'll be writing more about Charles in my next article.
Before I cover the adventures of Captain Charles Biddle, however, I wanted to share the Shepard family connections. Charles married Hannah Shepard on 25 November 1778 in Beaufort, North Carolina. She was the daughter of New Bern, North Carolina, merchant Jacob Shepard and Sarah Lewis. Jacob was one of the county's representatives in the Assembly.
In one of his letters, Charles described his first meeting with Hannah in April 1777. He was aboard the schooner Three Sisters: "As there were a number of British cruisers on the coast, I was determined to get into the first port we could make. The first land we made on the coast near Cape Lookout, and the wind being fair for Beaufort in North Carolina, we entered harbor. Here it was I first became acquainted with Miss Hannah Shepard."
The marriage was a harmonious one and Charles later noted in another letter: "I can now [January 1812] say with truth [his marriage to Hannah was] the happiest circumstance of my life and that she has been everything to me I could wish."
In 1792 Charles and Hannah hosted the wedding of her sister Ann to William Lardner. The marriage notice was published in the Federal Gazette in 1792.
The Lardner family were among the early Quaker settlers of Pennsylvania. Williams Lardner's ancestor Hannah Lardner married Richard Penn, the youngest of William Penn's three sons. William Lardner served in the both the Revolutionary and post-Revolutionary period militia.
In another letter, Charles noted that his friendship with William Lardner was "invaluable," especially when William "sent his carriage as soon as he heard of the [yellow] fever to bring [the Biddle] family out of the city" when Charles was out to sea.
William and Ann Lardner's son, James Biddle Lardner, was named to honor Charles Biddle. James enlisted in the Navy at age 14, just as many Biddle men had done in the past, including Charles himself.
Charles' son Commodore James, cousin to James Lardner, was serving in the Navy at the same time. Commodore James was a noted hero, commanding the sloop Hornet in the War of 1812. James did not get the chance to fulfill his dream of naval glory because he died young, but should be noted just the same.
His obituary was published in the National Gazette and Literary Register in 1829.

Hannah Biddle outlived her husband Charles by almost four years, dying at the age of 63. Her obituary, published in Poulson's American Daily Advertiser in 1825, describes her character as beloved by all and completely devoted to her family.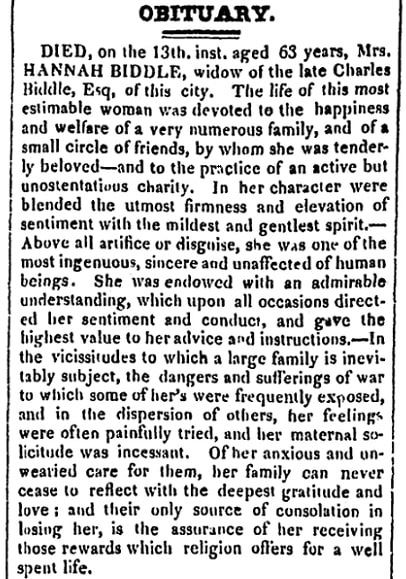 Hannah's brother William Shepard was part owner of the Three Sisters as well as the celebrated privateer Snap-Dragon. The obituary for William's wife Mary Blount Shepard, published in the North-Carolina Standard in 1864, talks about the Biddle connection and how William honored four of his children (Hannah, Charles, James, and William) with the middle name of Biddle:
"…on the 12th of May, 1794, having just arrived at the fullness of beauty and the loveliness of womanhood, [Mary] became united in marriage to William Shepard, a federalist in opinion, and by profession a planter and merchant of Newbern… He was the uncle of the Biddles of Pennsylvania – Nicholas, Richard, William and others, and of James Biddle – all of whom were very eminent."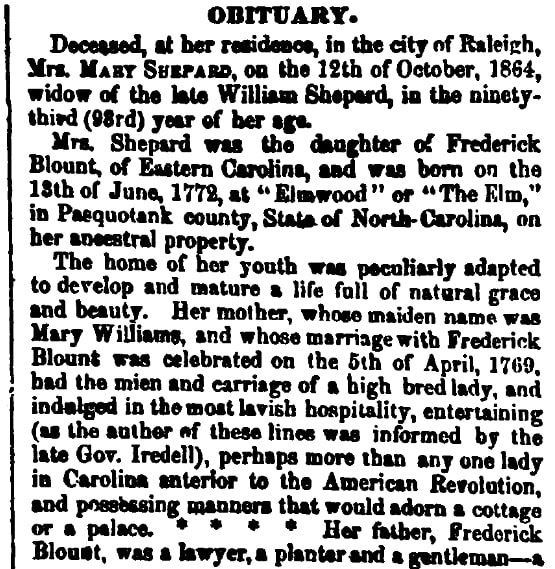 Stay tuned for Captain Charles Biddle and his adventures and anecdotes – one includes General George Washington!
Note: Just as an online collection of newspapers, such as GenealogyBank's Historical Newspaper Archives, told some of the stories of the Shepard family line, they can tell you stories about your ancestors that can't be found anywhere else. Come look today and see what you can discover!
Related Articles:
Further Reading:
Biddle, James S. Autobiography of Charles Biddle, Vice-President of the Supreme Executive Council of Pennsylvania, 1745-1821. E. Claxton and Company, Philadelphia, 1883.
Ancestral Records and Portraits: A Compilation from the Archives of Chapter I, the Colonial Dames of America, Volume 2. Genealogical Publishing Company. Colonial Dames of America, Baltimore Chapter. 1969.
Steve Hissem of San Diego, California, blog The Hissem-Montague Family
Genealogy:
Sydney Biddle Barrows (1952), daughter of Donald Byers Barrows (1926) and Jeanette Ballentine (1930-2011)
Sydney Biddle (1901-1986) and Donald Byers Barrows (1898–1991)
Alexander Mercer Biddle (1865-1946) and Harriet Fox (1867-1941)
Charles John Biddle (1819-1873) and Mary Emma Mather (1830-1913)
Nicholas Biddle (1786-1844) and Jane Margaret Craig (1793-1856)
Charles Manly Biddle (1745-1821) and Hannah Shepherd/Shepard (1755-1825), daughter of Jacob Shepherd/Shepard (1734-1773) and Sara Lewis (1740-1792); granddaughter of David Shepard and Sarah Jarratt. According to the Colonial Dames record, Jacob Shepard was an engineer and surveyor, and assisted George Washington in the Dismal Swamp Canal. Ann Shepard (abt. 1772-1811) married William Lardner (1758-1827); William Shepard (1767-1919) married Mary Blount (1772-1864), daughter of Frederick Blount and Mary Williams.
Children of Charles and Hannah Biddle:
Mary Biddle (1774-1854), married John Gideon Biddle (1793–1826), son of Clement Biddle (1740-1814) and Rebecca Cornell (1755-1831)
Martha Rebecca Biddle (1778-1878), married Rev. Daniel Ireland (1783-1848)
William Shephard Biddle (1781–1835), married Circe Deroneray and 2nd married Elizabeth Borden Hopkinson (1800-1891), daughter of Joseph Hopkinson and Emily Mifflin; granddaughter of Declaration of Independence signer Francis Hopkinson
James Biddle (1783–1848), a commodore with the U.S. Navy who died unmarried
Edward Biddle (1784–1800), a midshipman with the U.S. Navy who died at sea.
Nicholas Biddle (1786–1844), president of the Second Bank of the United States, who married Jane Margaret Craig
Charles Biddle Jr. (1787–1836), married Anna Harvey Stokes (1787-1827). Child: James Stokes Biddle (1818-1900), published Charles' autobiography, married his cousin Meta Craig Biddle (1825-1913), daughter of Nicholas Biddle and Jane Margaret Craig
Thomas Biddle (1790–1831), a War of 1812 hero who died after a duel with a Missouri congressman over a perceived insult to his brother Nicholas. He married Ann Mulllanphy (1800-1846), daughter of Missouri's first millionaire, John Mullanphy and Elizabeth Browne.
John Biddle (1792–1859), Michigan politician who married Eliza Falconer Bradish (1795-1865), daughter of James Bradish and Margaretta Thompson
Richard Biddle (1796–1847), a U.S. representative who married Ann Anderson (1819-1908), daughter of John Anderson, one of the pioneer merchants of Pittsburgh
William Biddle III (1697-1756), married Mary Scull (1709-1790), daughter of Nicholas Scull (1687–1761) and Abigail Heap (1688-1753)
William Biddle (1669-1743), married Lydia Wardwell (1670-1707), daughter of Eliakim Wardwell (1634-1692) and Lydia Perkins (1640-1699), daughter of Isaac Perkins (1611-1685) of Ipswich, Massachusetts. Records show that after Isaac's death in 1685 a deed to his son Ebenezer "for support of self and wife Susanna." Susannah removed with son Ebenezer Perkins and family to Brandywine Hundred, New Castle, Delaware. Eliakim, son of Thomas Wardwell (1603-1743) and Elizabeth Woodruff (1610-1697), who married on the voyage over to America aboard the Griffen. According to W. Sloane Kennedy, in John Greenleaf Whittier: His Life, Genius, and Writings, Mr. Whittier stated to a member of the Massachusetts Historical Society that it was his intention "at some time to prepare a full and exhaustive history of the relations of Puritan and Quaker in the seventeenth century." It may all be found in the Proceedings of the Massachusetts Historical Society for 1880-81.
William Biddle (1630-1712), married Sarah Kemp (1634-1709), widow of Roger Kemp and daughter of John Smith (1589-1642) and Hannah Wright (1590-1634). According to Colonial and Revolutionary Families of Pennsylvania, Volume I, William was an officer in the Parliamentary army during the civil war of England, but soon after its close joined the Society of Friends.