Introduction: In this article, Melissa Davenport Berry continues her series about one of the oldest and most storied families in America, the Biddles, focusing this time on their connection to the Scull family. Melissa is a genealogist who has a blog, AnceStory Archives, and a Facebook group, New England Family Genealogy and History.
Sydney Biddle Barrows, the notorious "Mayflower Madam" of Manhattan, has some remarkably interesting ancestral lines (see Quaker Trailblazers: The Unconventional Biddles). In this article I focus on Quaker William Biddle III, who married into the Scull family of Pennsylvania. The children born to William Biddle III and Mary Scull would comprise the first major branch of the prominent Philadelphia Biddle line. Sydney descends from Charles Biddle, the sixth child born to William and Mary.
I searched GenealogyBank's Historical Newspaper Archives and found an 1874 article about the Scull family in the Sunday Dispatch, which referenced Westcott's History of Philadelphia. According to this article, the old burial ground of the family is part of a 400-acre estate called "Springfield Manor," purchased by Nicholas Scull in 1688. Nicholas, along with seven servants and his family, came to Chester, Pennsylvania, from Bristol, England, on the ship Bristol Merchant in 1685. Nicholas was a surveyor and his son Nicholas II followed in his footsteps.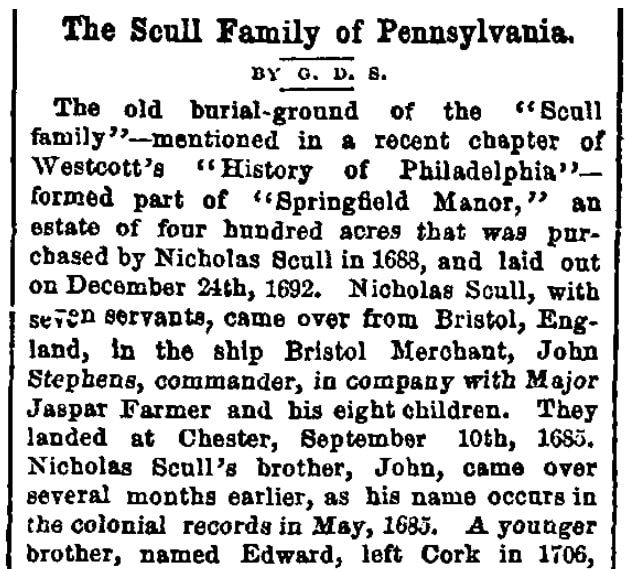 Nicholas II married Abigail Heap in 1708. They had nine children, one of whom, Mary, married William Biddle III, thereby connecting the Biddle and Scull families.

During his life Nicholas II was deputy surveyor of the counties of Philadelphia and Bucks. He also was commissioned sheriff.
He was a friend of Dr. Benjamin Franklin, and in 1730 he was elected to the "Junto," Franklin's intellectual circle that became the American Philosophical Society. In his autobiography, Franklin wrote of Scull: "We have a member who loves books and sometimes makes verse."
The Philadelphia Inquirer told the story of how Nicholas II and John Lukens surveyed up the Delaware River north of Philadelphia in 1730. The surveyors were "much surprised by seeing large groves of apple trees far beyond the size of any near Philadelphia."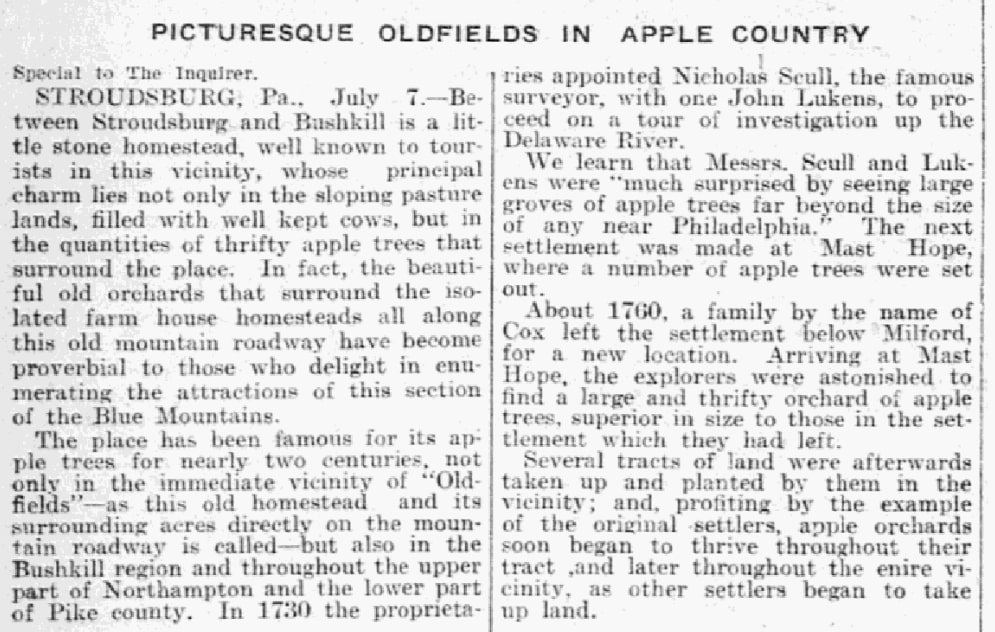 I found a notice in the Pennsylvania Gazette from 1747 about an estate sale of leather at "the late dwelling house of John Howell" at which Nicholas II served as sheriff.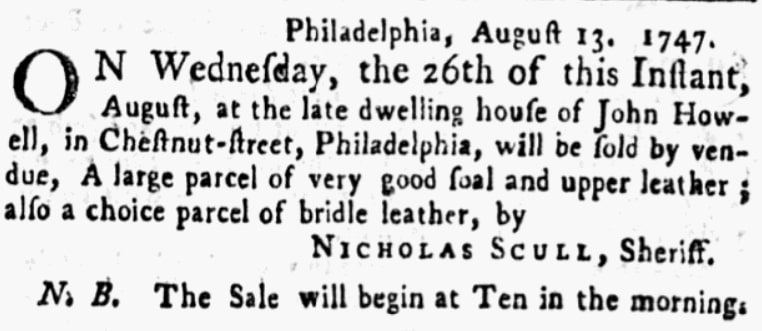 I also found an advertisement for one of his maps in the Pennsylvania Gazette from 1752.

Nicholas II died in 1761. More than a century later, the Sunday Dispatch wrote a detailed article about his life, and included the verse he wrote to adorn his wife's tombstone. (Remember Benjamin Franklin said that Nicholas II "sometimes makes verse"?) Abigail Scull died in 1753.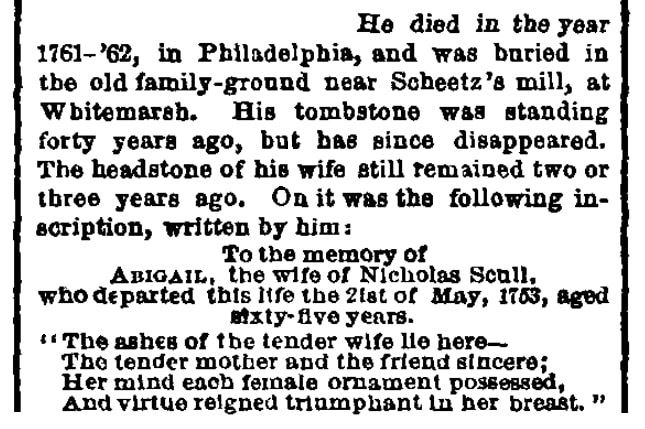 There's an interesting story about Abigail's lone tombstone. Just how important to Pennsylvania was this one surviving grave marker in the old Scull family burial plot? Enough to block the Van Rensselaer millions from removing it!
According to an article in the Philadelphia Inquirer, when the wealthy Van Rensselaers purchased land for the building of their tower mansion, they expected to remove the tiny Scull burial plot.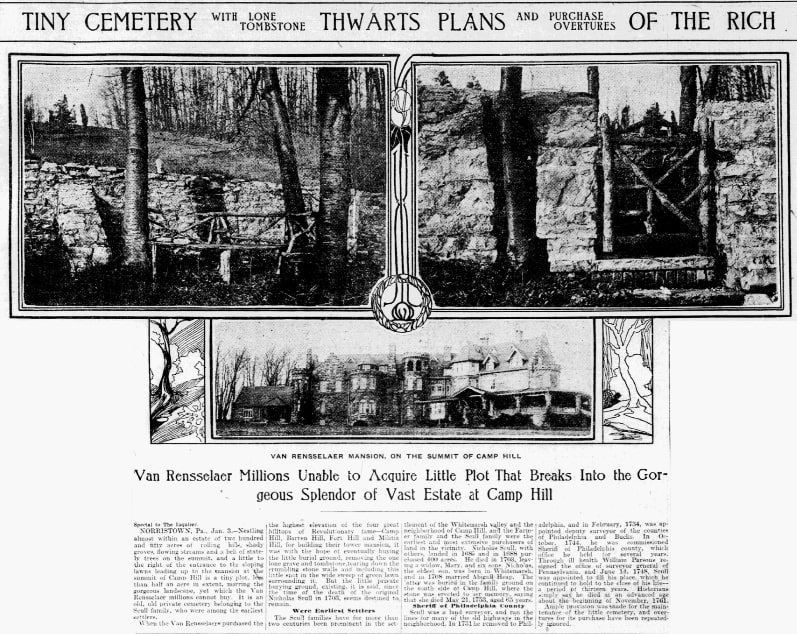 What seemed a nuisance to the lofty palatial plans – the lone tombstone of Abigail Scull and the stone wall fragments of the burial ground – were sacred to many, and destined to remain. Abundant provision had been made for the maintenance of the burial ground, and overtures from the Van Rensselaers for its purchase were repeatedly rebuffed.
As the article explained: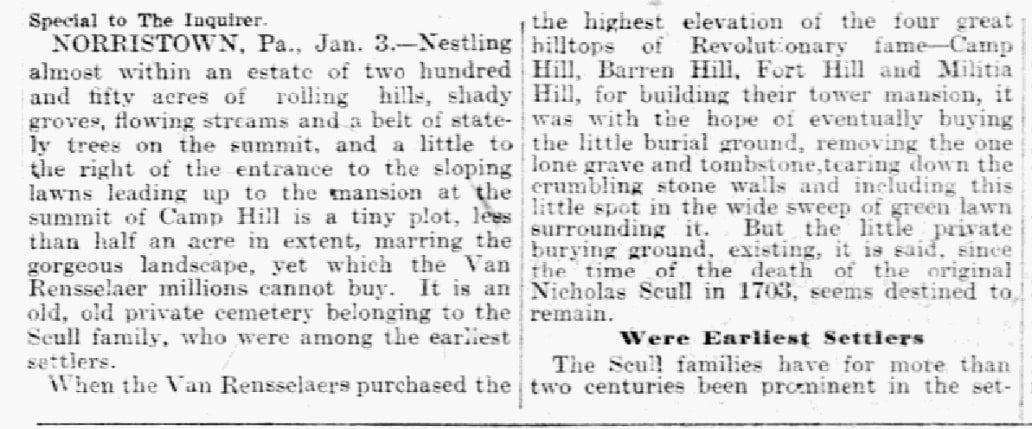 The descendants of William and Mary (Scull) Biddle held government offices and served in the American Revolution. Later Biddle family members were honored for their professional contributions in the field of arts and letters.
Stay tuned as I cover the children of William and Mary, which includes Sydney's article "The Biddles: Four Centuries, One of America's First Families," noting many of her prominent Biddle ancestors who married into Mayflower lines.
Related Article:
Further Reading:
Pennsylvania Conservation Heritage Project: Nicholas Scull II.
Jordon, John Woolf. "Colonial and Revolutionary Families of Pennsylvania." Genealogical Publishing Company, 2004.
Berry, Melissa. "Pious Pilgrims and Mayflower Misbehavior." Genealogy Magazine, November 2016.
Biddle family papers are housed at Special Collections, University of Delaware Library, Newark, Delaware.
Parkhill, S. M. "Despite Surveyor General Post, Lasting Fame Eluded Scull." The Morning Call Online, 4 August 1998.
Westcott, Thomas. History of Philadelphia.
A Map of Philadelphia and Parts Adjacent by N. Scull and G. Heap 1753 The Lower Merion Historical Society, Bala Cynwyd, Pennsylvania.
Genealogy:
Sydney Biddle Barrows (1952), daughter of Donald Byers Barrows (1926) and Jeanette Ballentine (1930-2011)
Sydney Biddle (1901-1986) and Donald Byers Barrows (1898–1991)
Alexander Mercer Biddle (1865-1946) and Harriet Fox (1867-1941)
Charles John Biddle (1819-1873) and Mary Emma Mather (1830-1913)
Nicholas Biddle (1786-1844) and Jane Margaret Craig (1793-1856)
Charles Manly Biddle (1745-1821) and Hannah Shepard (1755-1825)
William Biddle III (1697-1756) and Mary Scull (1709-1790), daughter of Nicholas Scull (1687-1761) and Abigail Heap (1688-1753)
William Biddle (1669-1743) and Lydia Wardwell (1670-1707), daughter of Eliakim Wardwell (1634-1692) and Lydia Perkins (1640-1699), daughter of Isaac Perkins (1611-1685) of Ipswich, Massachusetts. Records show that after Isaac's death in 1685 a deed to his son Ebenezer "for support of self and wife Susanna." Susannah removed with son Ebenezer Perkins and family to Brandywine Hundred, New Castle, Delaware. Eliakim, son of Thomas Wardwell (1603-1743) and Elizabeth Woodruff (1610-1697), who married on the voyage over to America aboard the Griffen. According to W. Sloane Kennedy, in John Greenleaf Whittier: His Life, Genius, and Writings, Mr. Whittier stated to a member of the Massachusetts Historical Society that it was his intention "at some time to prepare a full and exhaustive history of the relations of Puritan and Quaker in the seventeenth century." It may all be found in the Proceedings of the Massachusetts Historical Society for 1880-81.
William Biddle (1630-1712) and Sarah Kemp (1634-1709), widow of Roger Kemp and daughter of John Smith (1589-1642) and Hannah Wright (1590-1634). According to "Colonial and Revolutionary Families of Pennsylvania, Volume I," William was an officer in the Parliamentary army during the civil war of England, but soon after its close joined the Society of Friends.