Introduction: In this article, Melissa Davenport Berry begins a series about one of the oldest and most storied families in America: the Biddles. Melissa is a genealogist who has a blog, AnceStory Archives, and a Facebook group, New England Family Genealogy and History.
Sydney Biddle Barrows, the notorious "Mayflower Madam" of Manhattan, has some remarkably interesting ancestral lines – and like her ancestors, she is a "trailblazer." But before cataloging her many firebrand Mayflower ties, I first searched GenealogyBank's Historical Newspaper Archives for her early Biddle line and allied families, who proved just as revolutionary!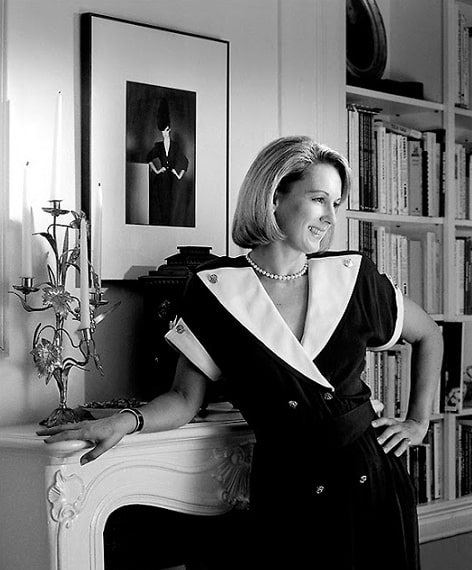 An article "What Won't These Biddles Do Next!" by Madelin Blitzstein, published in the Evansville Press in 1932, clearly demonstrated that being a Biddle by tradition meant that you were bred to be unconventional – and you were expected to outrage the society circles.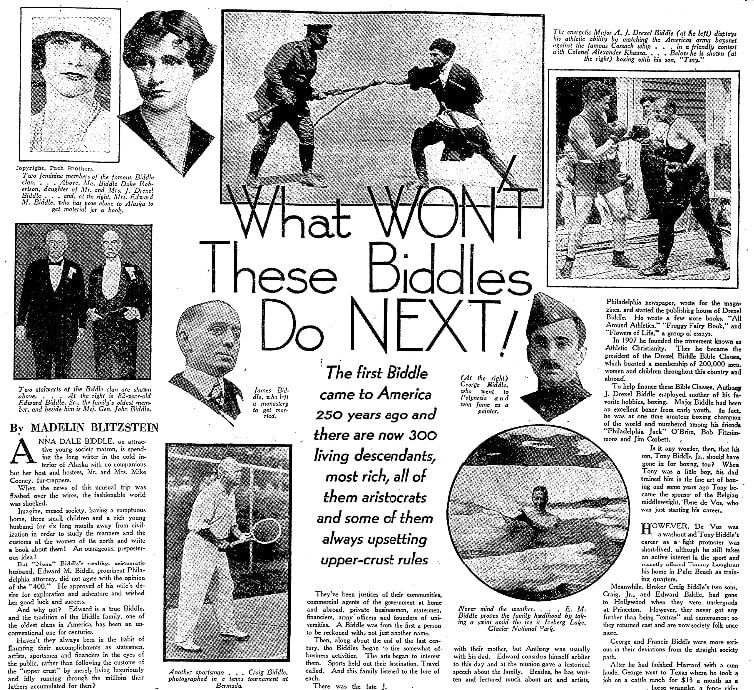 Blitzstein wrote: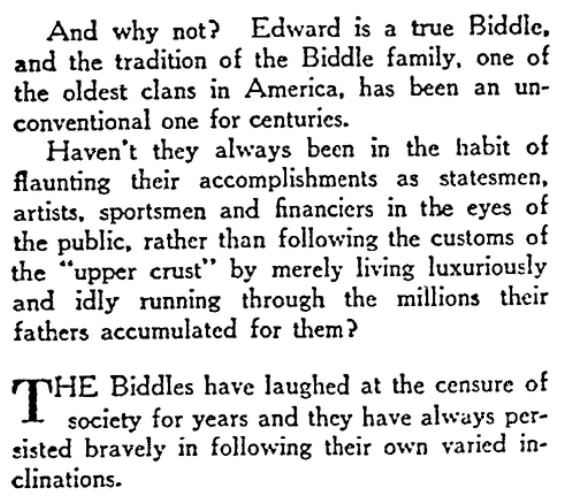 All the wealthy aristocrats featured in this newspaper article will be covered later, but today I start with the spark plug forerunners.
Blitzstein wrote that the Philadelphia Biddle line came out of a 500-acre plantation called "Mount Hope," the seat of the New Jersey Biddle family. The first Biddle to settle in America, William Biddle, was a Quaker who arrived before Pennsylvania's William Penn. William sailed over with Sarah Smith Kemp from England. The family archives note that William had been raised by his uncle Thomas Biddle and wife Esther/Hester.
A 1985 article in the San Francisco Chronicle about the "Mayflower Madam's" upcoming trial provided background on her Biddle family line: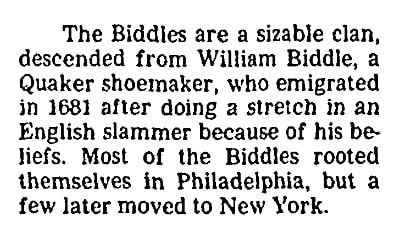 William Biddle was not the only jail bird in his family. Esther and Thomas appear on London's Mayor Brown prison list along with him from 1660-61 for attending "nonconformist" meetings. Esther was arrested 14 times for "Truth's sake" and composed "The trumpet of the Lord sounded forth unto these three nations" during one of her lockups. She traveled abroad to spread her ministry, which included a trip to Newfoundland with Quakeress Mary Fisher.
William was a close friend of William Penn, and helped him get out of prison in England. The evidence is in the letters and diary of Penn. According to descendant Tony Biddle of Philadelphia, when William Penn was released from prison his repayment to Biddle was land in America. Penn, paraphrased by Tony Biddle: "I want to repay you, and the good news is, I have a lot of land. The bad news is, it's about 3,000 miles that way."
William Biddle was a signer of "Concessions and Agreements." the constitution signed by the first West Jersey proprietors. In 1952 Lydia Rickman published "The Source of William Biddle's English Fortune," and provided substantial evidence that his wife Sarah bankrolled the property in New Jersey with her inheritance from wealthy family merchants. The Biddles owned one-eighth of the providence of West Jersey, nearly 43,000 acres!
William's son, William Biddle II, was prominent in the affairs of West Jersey; he was appointed by the Council of Proprietors on 2 November 1703 to treat with the Indians for lands above the Falls, and at his father's death inherited 12,905 acres of land in the Lotting Purchase.
He married Lydia Wardwell, daughter of Eliakim and Lydia (Perkins) Wardwell. The Wardwells had their share of religious persecution, and Eliakim's wife Lydia is cited in a New York Journal of Commerce newspaper article about how she addressed her discontent with the wicked Puritan rulers. She stripped down naked at the meeting house to make her point! John Greenleaf Whittier, America's "Quaker poet," published a poem and story on the drama.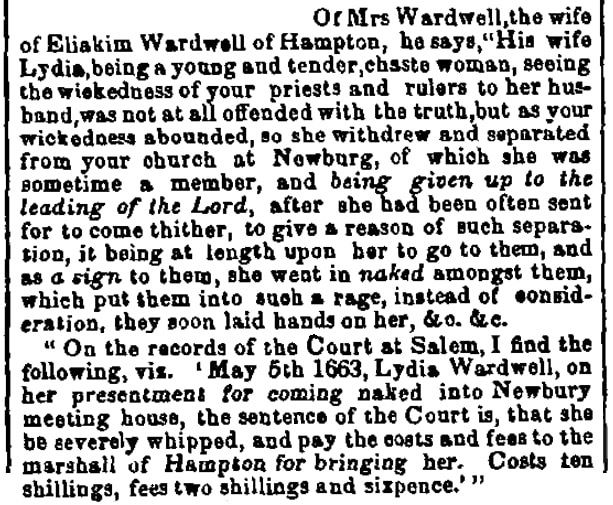 The Wardwells moved to Shrewsbury, New Jersey, and Eliakim became one of the first Quaker ministers in the town. He also served as sheriff of Monmouth County and was a member of the House of Deputies and General Assembly. The Biddle-Wardwell marriage is recorded in the Society of Friends.
The family also has ties to the Salem Witchcraft hysteria of 1692. Eliakim's brother Samuel Wardwell of Andover, Massachusetts, would hang for witchcraft and Lydia's aunt, Mary Perkins Bradbury, was jailed, but escaped the rope.
Coming: Sydney Biddle Barrows' 5th great grandparents, William Biddle III and his wife Mary Scull, who relocated to Philadelphia, and descendants who would comprise the first major branch of the prominent Philadelphia Biddle line.
Sources & Further Reading:
Corman, Amy. "The Secret Lives of Wasps." Philadelphia Magazine, 1 November 2005.
Berry, Melissa. "Pious Pilgrims and Mayflower Misbehavior." Genealogy Magazine, November 2016.
Berry, Melissa. "Seventeenth-Century Quaker Sought Redress by Undressing-Lydia Perkins Wardwell." Genealogy Magazine, 2015.
Seger, Donna. "Salem Witch Trial: Salem Women of Note: 1839."
The Papers of William Penn, Volume 4: 1701-1718.
Rickman, Lydia. "The Source of William Biddle's Fortune." Genealogies of Pennsylvania Families from the Pennsylvania Genealogical Magazine, Volume I.
Society of Friends (Quakers) in the United States Familysearch.com
Skidmore, Gil. Esther Biddle.
Berry, Melissa. "The Witchcraft Trial of Mary Perkins Bradbury." Genealogy Magazine, 2015.
Genealogy:
Sydney Biddle Barrows (1952), daughter of Donald Byers Barrows (1926) and Jeanette Ballentine (1930-2011)
Sydney Biddle (1901-1986) and Donald Byers Barrows (1898–1991)
Alexander Mercer Biddle (1865-1946) and Harriet Fox (1867-1941)
Charles John Biddle (1819-1873) and Mary Emma Mather (1830-1913)
Nicholas Biddle (1786-1844) and Jane Margaret Craig (1793-1856)
Charles Manly Biddle (1745-1821) and Hannah Shepard (1755-1825)
William Biddle III (1697-1756) and Mary Scull (1709-1790), daughter of Nicholas Scull (1687-1761) and Abigail Heap (1688-1753)
William Biddle (1669-1743) and Lydia Wardwell (1670-1707), daughter of Eliakim Wardwell (1634-1692) and Lydia Perkins (1640-1699), daughter of Isaac Perkins (1611-1685) of Ipswich, Massachusetts. Records show that after Isaac's death in 1685 a deed to his son Ebenezer "for support of self and wife Susanna." Susannah removed with son Ebenezer Perkins and family to Brandywine Hundred, New Castle, Delaware. Eliakim, son of Thomas Wardwell (1603-1743) and Elizabeth Woodruff (1610-1697), who married on the voyage over to America aboard the Griffen. According to W. Sloane Kennedy, in John Greenleaf Whittier: His Life, Genius, and Writings, Mr. Whittier stated to a member of the Massachusetts Historical Society that it was his intention "at some time to prepare a full and exhaustive history of the relations of Puritan and Quaker in the seventeenth century." It may all be found in the Proceedings of the Massachusetts Historical Society for 1880-81.
William Biddle (1630-1712) and Sarah Kemp (1634-1709), widow of Roger Kemp and daughter of John Smith (1589-1642) and Hannah Wright (1590-1634). According to "Colonial and Revolutionary Families of Pennsylvania, Volume I," William was an officer in the Parliamentary army during the civil war of England, but soon after its close joined the Society of Friends.