Introduction: In this article, Gena Philibert-Ortega writes about the time she misspelled her ancestor's name in her search – and the great benefits of making that "mistake." Gena is a genealogist and author of the book "From the Family Kitchen."
After finding the right newspaper(s) to search, one of the most challenging aspects of finding an ancestor is their name. Why? Our ancestors could be listed in the newspaper by any number of name variations, including initials substituting for a first and middle name, nicknames, and the countless possible misspellings of a first and last name. On top of that, women might be listed by their husband's name – and all of the variations of his name. What's a genealogist to do?
The answer: search more than one name variation and keep track of the possibilities you've tried. And here's a tip that might not seem intuitive: don't assume that the "correct" spelling of your ancestor's name is the only – or even best – way to go.
I was reminded of this recently when I found an ancestor despite making a mistake in spelling his name.
Peterson or Petersen?
I searched GenealogyBank's Historical Newspaper Archives for my grandmother's maternal grandfather, Lars Petersen. Except that I accidentally spelled his last name Peterson (with an o instead of an e).
My initial search resulted in 1800 hits! I decided to narrow those results by just looking at Arizona newspapers, specifically the titles from Holbrook and Snowflake, since he lived part of his life in northern Arizona near those two cities.
Using the search tools on the left-hand side of GenealogyBank's search results page allowed me to filter my results by location, which then narrowed the results to 91 hits – a number I could easily manage to go through.
As I was going through these results, I was excited to find Lars in numerous newspapers, chronicling: the death of his second wife; his third marriage; his daughter's (my great-grandmother's) illness; his World War I soldier son's death from tuberculosis; and his comings and goings around town.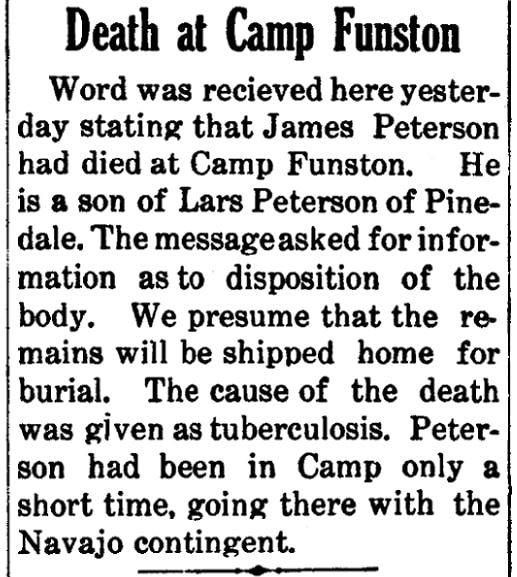 However, amidst the excitement of finding all of this information, I realized something was wrong: Lars' last name was Petersen, not Peterson.
But searching on Lars Peterson did yield relevant results, so that "mistake" wasn't a mistake at all – it revealed that there was more information out there that I had yet to find, using an incorrect spelling of his last name.
After checking all the Peterson results, I then needed to start again searching on the correct spelling of his name: Petersen with an "e."
This search for Lars Petersen surprisingly only returned 507 results. Narrowing those results by the place again (Arizona and then Holbrook and Snowflake) returned 74 hits. What I found this time spanned notices of his homestead application, his visits to town, and the birth of a child.

In my first search, I misspelled his name – but so too did the newspaper reporters, and I ended up finding useful and interesting articles about his life.
But here's a secret that's vital to researching your family history: the correct spelling isn't everything.
How important was it to do both name searches? Very! Each search brought new information that was missing from the other. If I had only completed one search, I would have missed important vital record information about Lars and his family, as well as stories that gave me a look at his everyday life.
And now I need to think of other variations of his first and last name, and do searches on those.
The Correct Spelling Isn't Everything
The correct spelling isn't everything, and when you assume that your ancestor was only known by one spelling, you can inadvertently miss big chunks of your ancestor's story. I bet you've had times where your name was misspelled. I know I have. So why would you search for your ancestor using only one variation or spelling of their name?
Search again for that elusive ancestor. But this time, conduct multiple searches based on name variations.
Because correct spelling isn't everything in genealogy.