Introduction: In this article, Jane Hampton Cook searches old newspapers to learn about another president stricken during a pandemic: Woodrow Wilson. Jane is a presidential historian and author of ten books, including her new book Resilience on Parade: Short Stories of Suffragists & Women's Battle for the Vote. She is the author of Stories of Faith and Courage from the Revolutionary War. She was the first female White House webmaster (2001-03). Her works can be found at Janecook.com.
Have other presidents become ill during a pandemic, similar to President Trump's contraction of COVID-19?
President George Washington did not catch yellow fever during the yellow fever epidemic in Philadelphia in 1793. His Treasury Secretary Alexander Hamilton wasn't so lucky. Although he caught yellow fever, Hamilton recovered and published treatment recommendations in the Federal Gazette on 11 September 1793.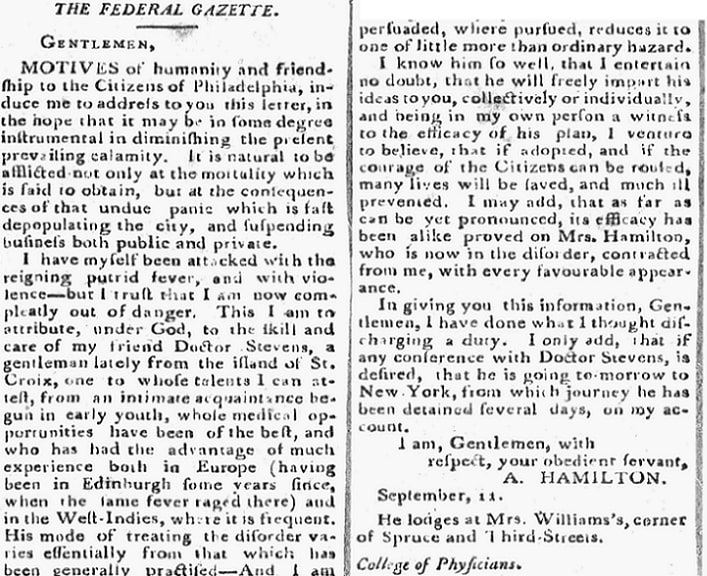 When President Trump was in the hospital recovering from COVID-19, many in today's media reported that during the Spanish Flu pandemic, President Woodrow Wilson caught the flu.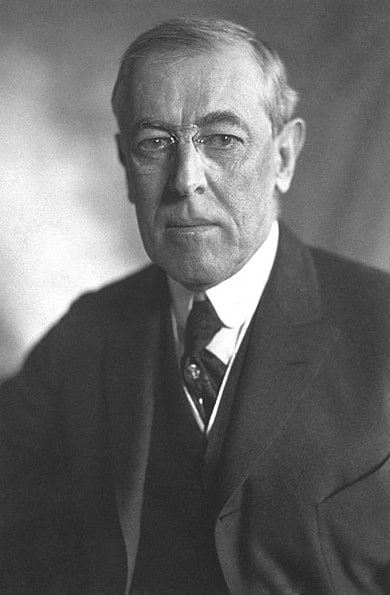 GenealogyBank's Historical Newspaper Archives give some interesting perspective on Wilson and the flu, and show how far we have come in diagnosing viruses.
The world began dealing with the pandemic known as the Spanish Flu in 1918. President Wilson was meeting with European leaders in Paris about the League of Nations when he became ill in early April 1919. His illness kept him from attending the deliberations.
Wilson's physician, Admiral Grayson, took his condition seriously.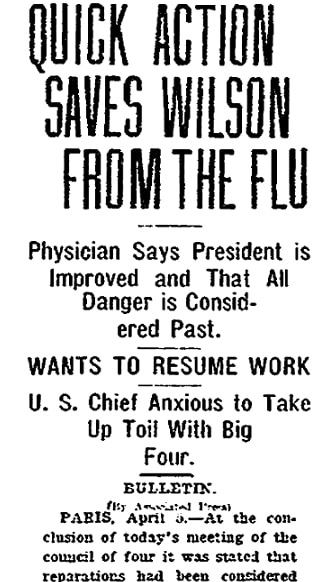 Was there a test for the flu at that time? Unlike today, where scientists developed testing for COVID-19, doctors did not have a test for the Spanish Flu. A diagnosis was up to a physician's assessment of the patient's symptoms. Without concrete evidence of a flu or a cold, Dr. Grayson was able to publicly downplay his diagnosis.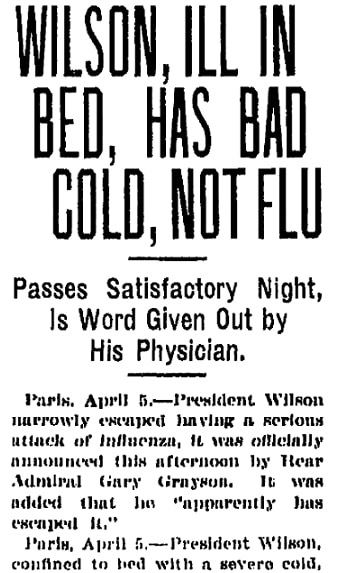 How did Wilson avoid the flu? Did he put on a mask? Nope. He went to bed.
The Philadelphia Inquirer quoted the president's physician, Admiral Grayson:
"The President has come very near having a serious attack of influenza, but by going to bed at once, by my direction, he has apparently escaped, but still is necessarily confined to his bed."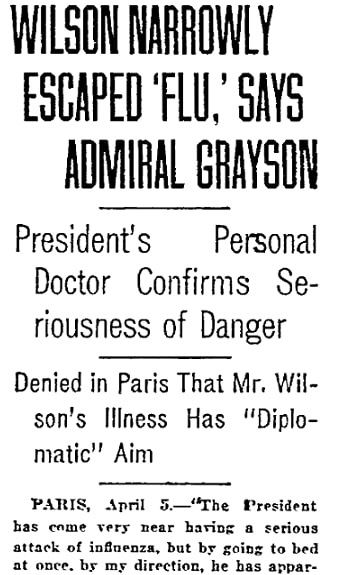 Was Wilson's sickness politicized? Yes.
Because Wilson could not participate in the talks, he sent an emissary. Some of the European leaders suspected Wilson's illness may have been a ruse or a diplomatic strategy to get them to change their minds on some issues, instead of a legitimate illness.
Note one of the subheads in the above newspaper article: "Denied in Paris That Mr. Wilson's illness has 'Diplomatic' Aim." The issue arose in a meeting with the leaders of France, Great Britain and Italy.
The Philadelphia Inquirer reported:
"The suggestion that his illness had something of a 'diplomatic' aspect found prompt refutation at the Paris 'White House' and likewise at the Council Chamber."
Despite their suspicions, the prospect of catching whatever Wilson had was enough to make the other European leaders grateful that he was not participating in person.
Was there a national response to the Spanish Flu? Unlike today, there was no Centers for Disease Control and Prevention (CDC) to gather and disseminate information. There was no national response led by President Wilson. It was entirely a local and hospital-driven effort.
Because there was no test for the flu, we will never know for sure if Wilson had the Spanish Flu. But the inability to test and the lack of a national CDC for that pandemic show just how far medicine has come in 100 years in testing and coordinating a public health response to a pandemic.
Note: Just as an online collection of newspapers, such as GenealogyBank's Historical Newspaper Archives, told the story of Woodrow Wilson and the Spanish Flu, they can tell you stories about your ancestors that can't be found anywhere else. Come look today and see what you can discover!
Related Article: