Introduction: In this article, Mary Harrell-Sesniak searches the U.S. Federal Census to find funny names that parents have given their children. Mary is a genealogist, author and editor with a strong technology background.
Call me curious or call me bored, but odd and unusual names tickle my fancy.
So, it shouldn't surprise anyone who follows my popular, shared (and, sadly, often stolen) humor articles that I've researched a literal plethora of funny monikers in the U.S. Federal Census.
Mary Had a Little Lamb
For instance, if your surname was Lamb and the family lived on a farm, were the parents tempted to name their child Mary – so that they could say: "Mary was and had a little lamb"?
To find out, I searched the U.S. Federal Census on GenealogyBank. The "Mary Lamb" query returned over 7,000 results – although I was disappointed not to find a girl with the middle name of "Hadda."
I found a parent named Mary Lamb who had a daughter called Little Lamb!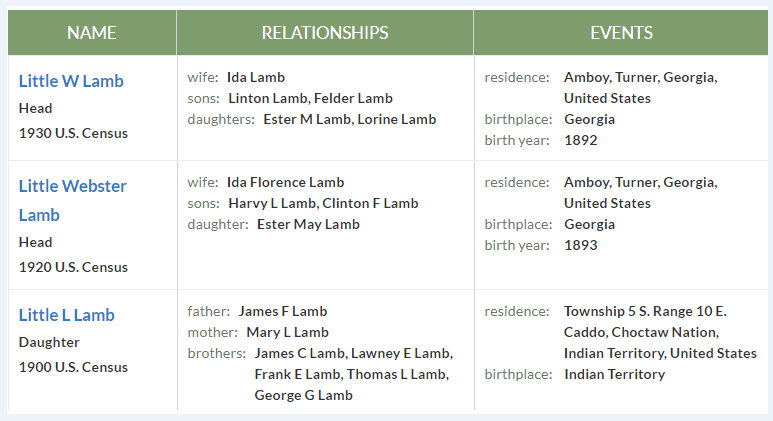 Animal Names
Turns out there are all kinds of word play names if your surname happens to be an animal name. Some are reversible names like Bird Byrd.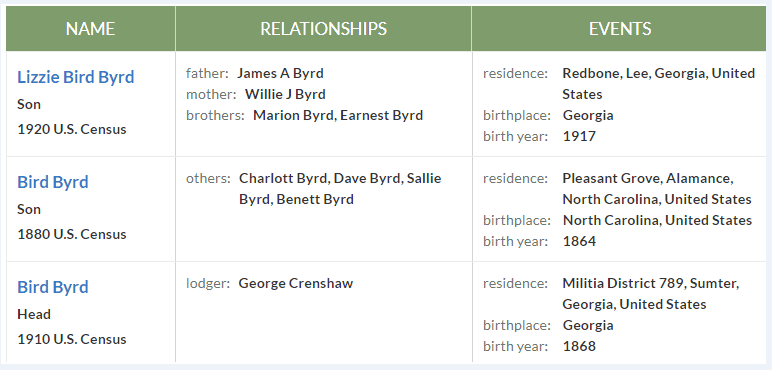 Others are avian combos. Consider Bird Parrott, Bird Peacock or even I. M. Peacock. They're all found on the census, so try querying if you don't believe it.

Some of my favorites are the names Ada or Etta Parrott whose name sound like "ate a parrot." Meal time humor must have gotten old when siblings and friends asked them if they just ate a parrot!
One Etta had others in the family with funny names, such as Minnie and M. E. Parrott – and the bird lover in me notes that there is a type of bird called Myrtle which also showed up in this family.

To be fair, it isn't just bird names that parents with a droll sense of humor choose. How would you like to be named L. E. Fant?

These are right up there with Cricket Duty – but you can also find parent pranksters who named their children Law Duty, Visa Duty, Washington Duty, Guy Duty and even A. M. Duty.
This last one makes me think that little A. M. must have woken the family up very early as a crying baby!

Harry B.
Sometimes a person's initials create a sentence, such as Harry B. Sharp.
He is in good company with a variety of "Harry B." names. Try searching for Harry B. Good or Harry B. Wright and you'll be certain to find a number of similar examples for people with the middle initial C, not to mention all of the Harry Mann and Harry [animal] names.

Ima Names
A female counterpart is the name Ima, such as Ima Nutt who lived in Texas for many years – but you'll also find women named Ima Mann, Ima Valentine and even Ima Payne.

Double Meanings
Almost any name with a "double entendre," or double meaning, can be cleverly chosen, such as Smart Enemy, Smart Shellman or Venus Mars.

Phrases
In the phrase category is High Price along with several counterparts.

Payne Family
In addition to Ima Payne, B. A. Payne, U. S. Payne and Mary A. Payne, you'll even find several women saddled with the name Fanny Payne!

I could go on and on about funny names recorded on the census, so let me leave you with a patriotic example: Liberty Bond. During World War I, Liberty Bonds were sold to support the Allied cause, about the time that this Liberty Bond was really born.

Isn't this more fun than a sack full of kittens – an expression undoubtedly heard in the Kitten family?

Here are links to my previous articles on funny names. Don't forget to query the U.S. Federal Census on GenealogyBank and let us know about any new ones you find.