You've likely been researching your family history for years.
Today you're much better at seeing and running with the clues in various documents than you were when you started years ago.
That's why I encourage you to dial it back and go over the notes and records you used when you began documenting your family history.
Look again at the newspaper, census and other records you have for your parents, grandparents, and each generation back in time.
What did you miss?
What clues do you see now – that you overlooked years ago?
When I started researching in the early 1960s, I was only looking for newspaper articles and documents that gave birth, marriage and death dates – the core facts of our family history.
If I had found this article about the discovery of an old painting in Whitman Bailey's attic in 1963 – would I have realized how valuable this information was? Or, would I have dismissed it and pushed ahead looking for newspaper articles with "real" genealogical information?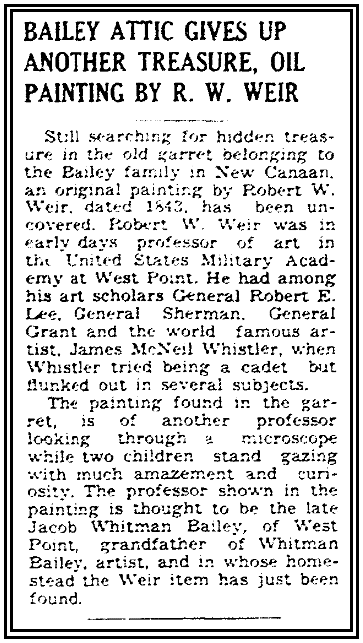 It would be another year before the Yale Center for British Art acquired that painting in 1964 and decades longer before this painting would be digitized and put online. Fortunately when I found that article last year I realized its value, and that led me to seeing this painting of my cousins.
I am sure that I looked at the census records for my grandparents and great-grandparents decades ago, as I pieced together our family tree. But it was only a few weeks ago that I looked at their census entries again and really noticed this handwritten comment by the census taker: Sarah (Reed) Wright was temporarily limited by the "effects of a fall."

Did I absorb the "family history" impact of this comment in the census, or notice the checkmark in column 20 in the line above hers, when I first looked at it? That was her husband's line in the census, and that checkmark tells us that he was disabled. The census also tells us that in 1880 the parents, the son and his family lived in adjoining homes on the same street.
Families living on the same street – that's not common today, but it was the norm when I was growing up.
Did I see all of these clues?
When I re-read this census record a few weeks ago I saw the family stories that brought home their lives to me. I could picture them.
Finding the article about a rediscovered oil painting led me to following the clues to locating and seeing this painting. It let me add not just a new piece of the family's history but a painting of the family itself. Invaluable.
Genealogy Tip: Review your early research notes and sources and see if there are clues and details that you missed when you began constructing your family tree.