I was looking in GenealogyBank's Historical Newspaper Archives for articles about Whitman Bailey (1883-1954), celebrated artist of scenes from Stamford, Connecticut.
I was intrigued by this 1942 newspaper article that describes the discovery of a painting by another artist, Robert Walter Weir (1803-1889). Weir's painting was found in the attic of Whitman Bailey's home.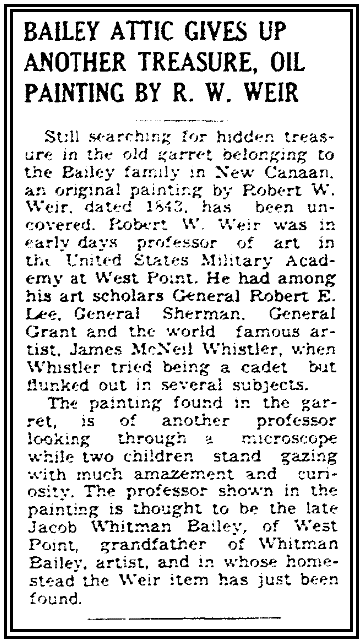 The article reports that:
"The professor shown in the painting is thought to be the late Jacob Whitman Bailey, of West Point, grandfather of Whitman Bailey, artist, and in whose homestead the Weir item has just been found."
Whitman Bailey was my cousin – through the Bailey family line – so I wanted to know more about this painting and if it was in fact of his grandfather Jacob Whitman Bailey (1811-1857).
According to the newspaper article, "The painting found in the garret is of another professor looking through a microscope." That fits – according to Wikipedia, Whitman's grandfather "was an American naturalist, known as the pioneer in microscopic research in America."
Digging further, I found that the painting was acquired by Yale University and is on display there. The descriptive caption posted with the painting reads:
"Robert Walter Weir captured the mid-nineteenth-century fascination with science and devotion to domestic education in The Microscope. In the painting, Jacob Whitman Bailey, the pioneer of American microscopy and a professor at the United States Military Academy at West Point, instructs his sons and daughter, Maria, at right. At a time when education for girls focused on music, dance, and needlework, Bailey taught Maria science. The costumes of Maria and her father recall the period of Galileo, evoking the power of science and tempering rational inquiry with fanciful wonderment. As they became affordable tools for home teaching, microscopes took on religious overtones because they unveiled what many believed to be 'the inner labyrinths of creation.' Weir's portrayal of Bailey as both scientist and father exemplifies the Romantic belief in the sacred duty to educate children."

 – Yale University
So, the painting described in the 1942 newspaper article has been preserved – and it is of Jacob Whitman Bailey and his four children.
Jacob was a world-renowned scientist. The desert marigold was named for him and is called the Baileya multiradiata.
Without this clue from the newspaper article about Whitman Bailey I never would have known these details about my cousin's life.
Search GenealogyBank's Historical Newspaper Archives today and see what discoveries you can find about members of your own family tree.
Related Article: